The most powerful chatbots for social media
Chatbots is the new buzzword of the web. Companies are trying to get visitors to become clients, without having to fork over huge amounts of money to have actual people interact with those visitors.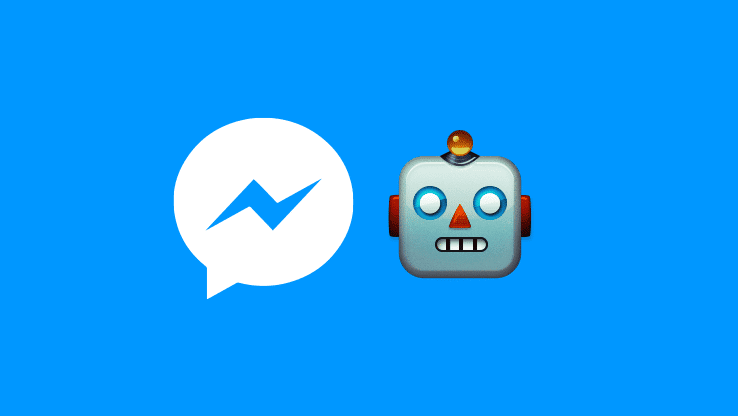 The point of chatbots is to allow people to communicate far more naturally and easily with computers. No longer do we have to follow links or use warped and technical language to get what we want, but we just ask a human question and get a human response. Admittedly, that is what we have been waiting for all this time.
It is the future. It is today (kind of).
If you have decided not to pay too much attention to the hoo-ha (and I cannot really blame you) and you are only just tuning in, here is a quick rundown of some of the most interesting chatbots out there so that you can see first-hand what all the fuss is about.
Healthtap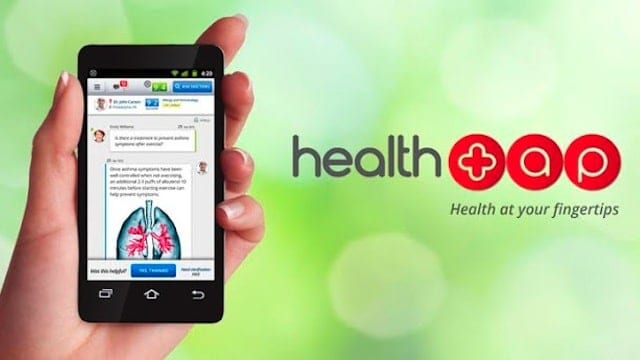 After the fact, it is quite an obvious adaptation of diagnostic tools out there. Instead of picking your symptoms from drop-down menus or by choosing them through links, you just chat to Healthtap, who will then help you understand what you've got and what you've got to do about it.
There is the possibility to ask for more specific follow-up questions, but these will take anywhere from 24 to 48 hours to get answered (or you can pay $25 for the premium service, to get a faster response – a great option for big families and hypochondriacs)
Fify Chatbot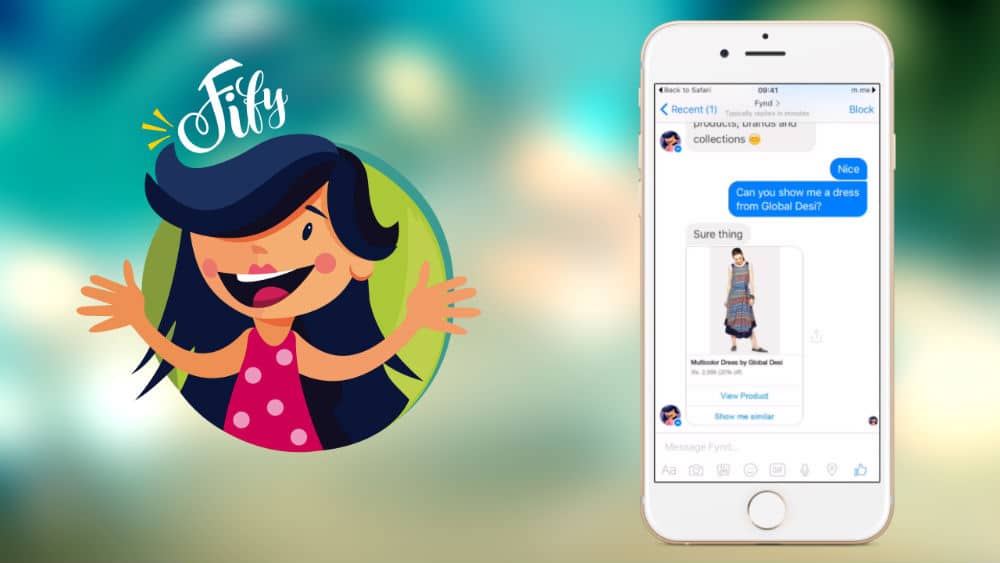 With Fify, you get a pretty intelligent chatbot dedicated to helping you out in the fashion department (with the aim of getting you to buy Fynd's products). Obviously, it is not perfect, but it does a pretty good job of giving you what you need.
What's more, it will remember your style preferences, so that next time you do not have to go through the entire trouble of telling it you really do not like purple polka dotted tiger jeans.
The plan is to make it more than just a sales device. Eventually, it will also discuss trends, tell you when new products you might like have arrived, and make certain that you have a warm coat for when winter rolls around.
Kayak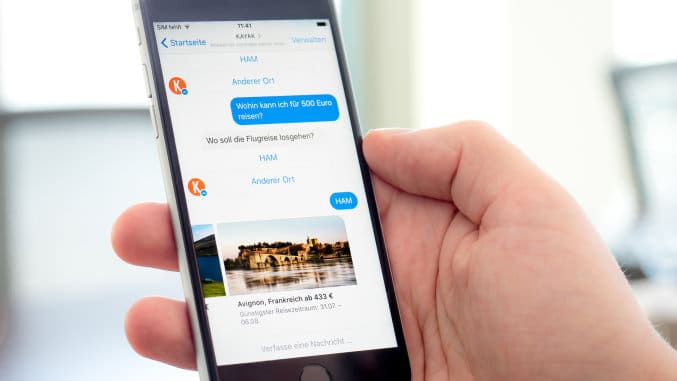 Kayak is a travel chatbot specifically designed to make traveling easier and faster. Just type in such questions as 'where can I find a ticket to Atlanta for less than $200' or anything like that and it will give you the right answer and even ask the right follow up questions (like 'when do you want to fly back') so that it is even better informed and is in an even better position to find you the deals you need.
The CNN Bot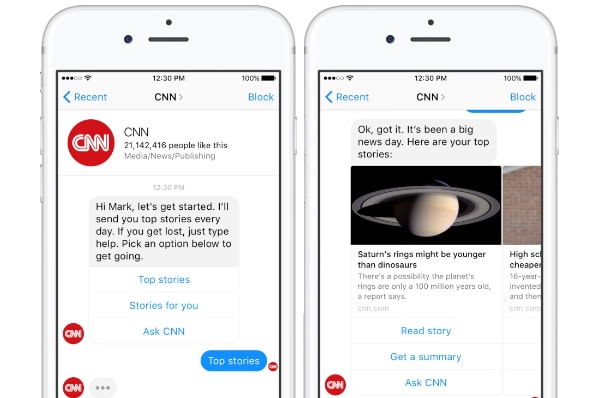 Left alone the CNN bot will shoot headlines your way about things that might interest you. You can ask it to give you more headlines in a specific direction, however (like politics and such) and it will give you more headlines related to that topic.
Then you can either read a summary of what is going on, or – if you have actually got a life – you can read the whole article. Naturally, it will also learn about your preferences so that the headlines it shoots of your way are going to be closer to your field of interest. Neat, if you do not mind getting more and more ignorant about the things you do not really care about.
Poncho Chatbot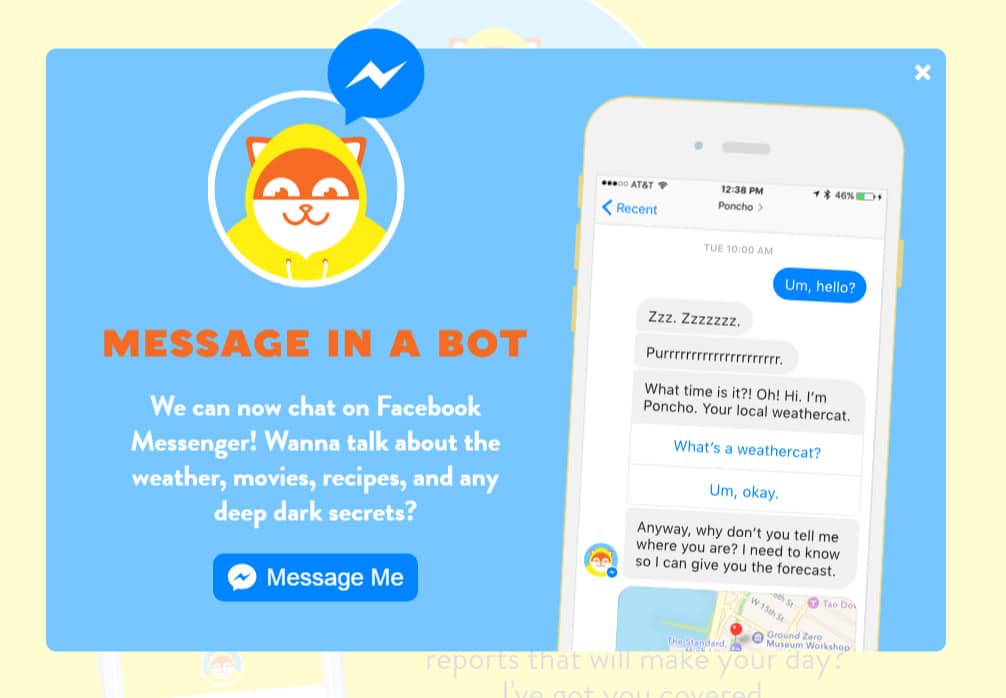 This weather bot (which sounds much cooler than what it actually does – when are we going to have weather bots? I am just imagining big robots destroying cities, Japanese style now) will allow you to converse naturally with it to find out what the weather will be like.
Jarvis Chatbot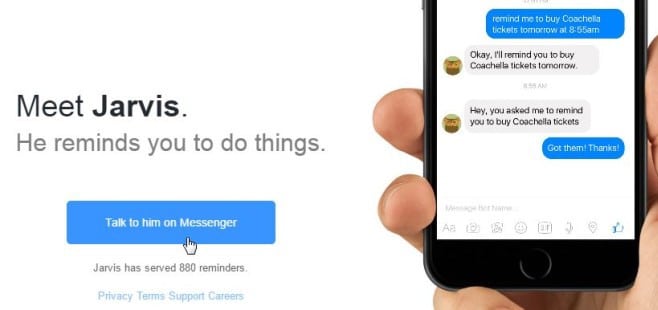 Jarvis chatbot with the icon of an owl is great for helping you to set up reminders, much as Siri or Cortana will do. That can be useful for those of us who are forgetful and do not want to take the time to install an app that will actually remind us (perhaps because we already have enough apps on our phones, thank you very much).
Wall Street Journal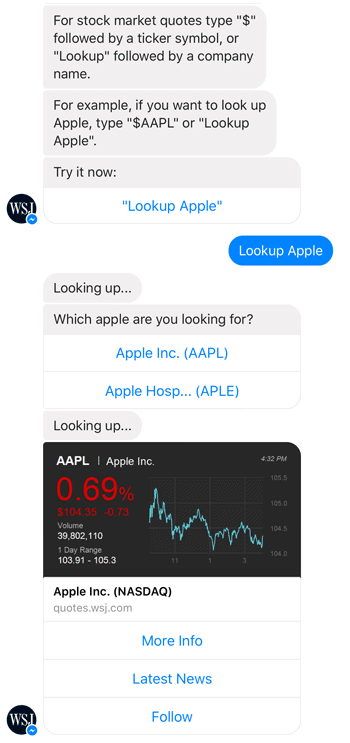 Another great app (chatbot) that helps you get the breaking news, as well as stock market information and other market data. Another very useful feature is that you can follow specific companies. In this case, the chatbot will let you know if there are any stories in which that company got mentioned – which will make it far easier to stay up to date and will really give you the jump on your competition.
Besure Messenger Chatbot
Just tell Besure what kind of food you want to eat and the messenger app will go out and find the restaurant for you. Admittedly, it only serves Copenhagen and San Francisco, but if you are in either of those two cities, you are really sitting pretty.
And going to go out on a limb here and assume that soon enough they'll be including other cities in their lineup so that the rest of the world will get to use this wonderfully useful chat bot as well.
KLM Airlines Chatbot
And why shouldn't you use a chatbot to book your flights? After all, it is not like there are that many choices. There is where you want to go, what day and what class. A bot should be able to handle something like that quite easily and in the process make the entire process of buying tickets that much easier. That is exactly what I found KLM's chatbot to do. Now we just have to wait for one of the budget compare sites to do the same thing so that we can actually find the cheapest tickets for the different airlines and we will be golden.
Last words
Okay, the chatbots are not quite Einsteins, but they are good at what you need them to do and show some of the interesting applications that bots can make. What's more, this is only the very first generation of what is out there. We will no doubt see incredible leaps and advancements in the next couple of years.
The question is, will those advancements come quickly enough for end users or will they get annoyed with the eccentricities of most of the bots before then? Will we really see the bot revolution that everybody has been predicting, or will we see another Microsoft Paperclip like a disaster? I guess only time will tell.
Follow us on Flipboard, Google News, or Apple News