Unleashing the VTOMAN FlashSpeed 1500 portable power station
The power-packed VTOMAN FlashSpeed 1500 portable power station has impressive features, and excellent performance, it's a game-changer in the portable power industry.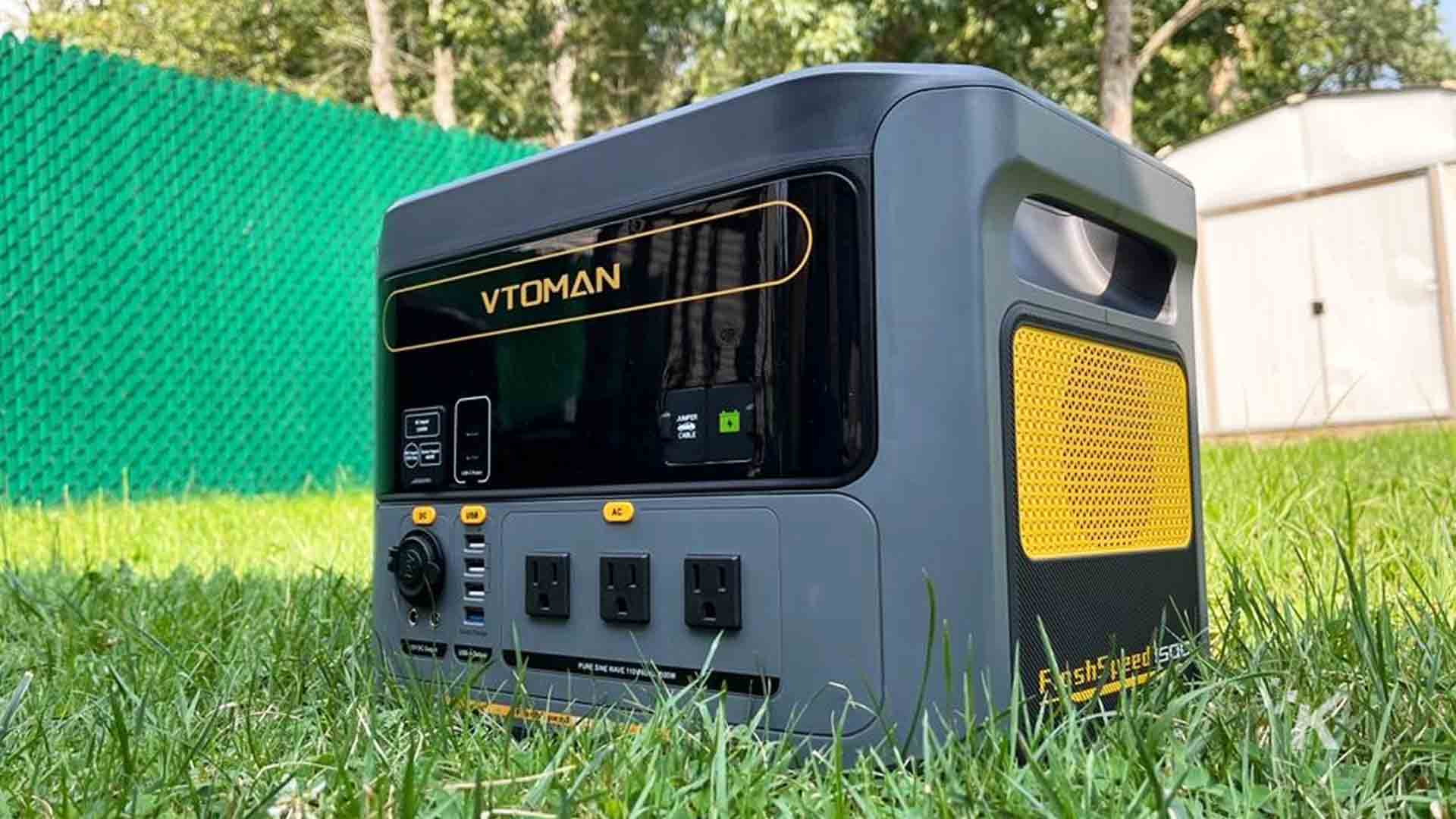 If you're in the market for a reliable, fast-charging, portable, and high-performing power station, then your search ends here.
Whether you're planning a camping trip, preparing for an emergency, or simply need a reliable power source for your devices and appliances, the VTOMAN FlashSpeed 1500 power station is a worthy contender.
Read on as we delve deeper into the features, performance, and versatility of this impressive portable power station.
Get $300 off with Amazon coupon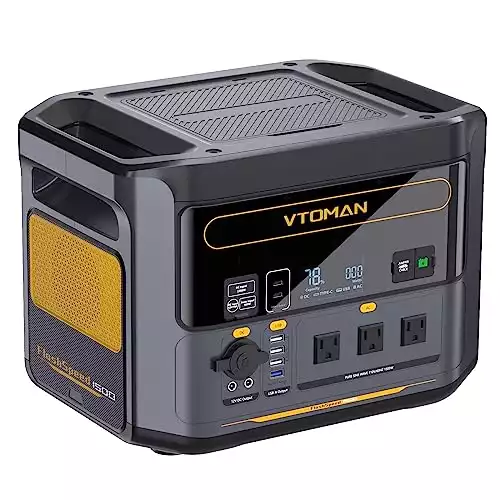 VTOMAN FlashSpeed 1500 Portable Power Station
The VTOMAN FlashSpeed 1500 redefines portable power. Achieve a full charge in an hour with 1500W AC input or in 45 minutes using solar and DC inputs. Enjoy safety with LFP battery, V-Beyond Technology, and simultaneous 12-device charging.
What We Like:
Rapid Charging: Charges fully in 1 hour with a powerful 1500W AC input, or just 45 minutes using solar and DC inputs.
Safety First: Equipped with a sophisticated LIFEBMS protection system, ensuring 10 layers of charging safeguards.
Longevity: Utilizes a durable LiFePO4 (LFP) battery for over 3000 cycles before reaching 80% capacity.
Enhanced Performance: V-Beyond Technology empowers the AC inverter, enabling it to handle devices over 1500W.
Expandable Capacity: Linkable with the FlashSpeed 1500 Extra Battery for a massive 3096Wh capacity boost.
Versatile Charging: Supports simultaneous charging of up to 12 devices with various output ports, including AC, USB, and DC.
Blackout Assurance: Functions as an uninterruptible power supply (UPS) with quick switchover, keeping essential devices running during outages.
KnowTechie is supported by its audience, so if you buy something through our links, we may get a small share of the sale.
09/24/2023 02:30 am GMT
Key features and performance
One of the most impressive features of the FlashSpeed 1500 is its lightning-fast charging capability.
Thanks to its massive 1500W AC input port, this power station can recharge from 0-100% within an hour – no AC adapter needed.
With 12 output ports that can work simultaneously, the FlashSpeed 1500 is a versatile power solution for all your devices. It features four AC outlets, four USB-A ports, two USB-C ports, two DC output ports, and one car cigarette lighter port.
All these output ports support pass-through charging, allowing you to charge your devices while the power station itself is being charged.
Combine this with 400W solar input and 200W DC input, and you can fully charge the FlashSpeed 1500 in just 45 minutes! This fast charging feature is a real game-changer, especially when you're on the go and need power quickly.
SuperSafe LIFEBMS power station with LFP Battery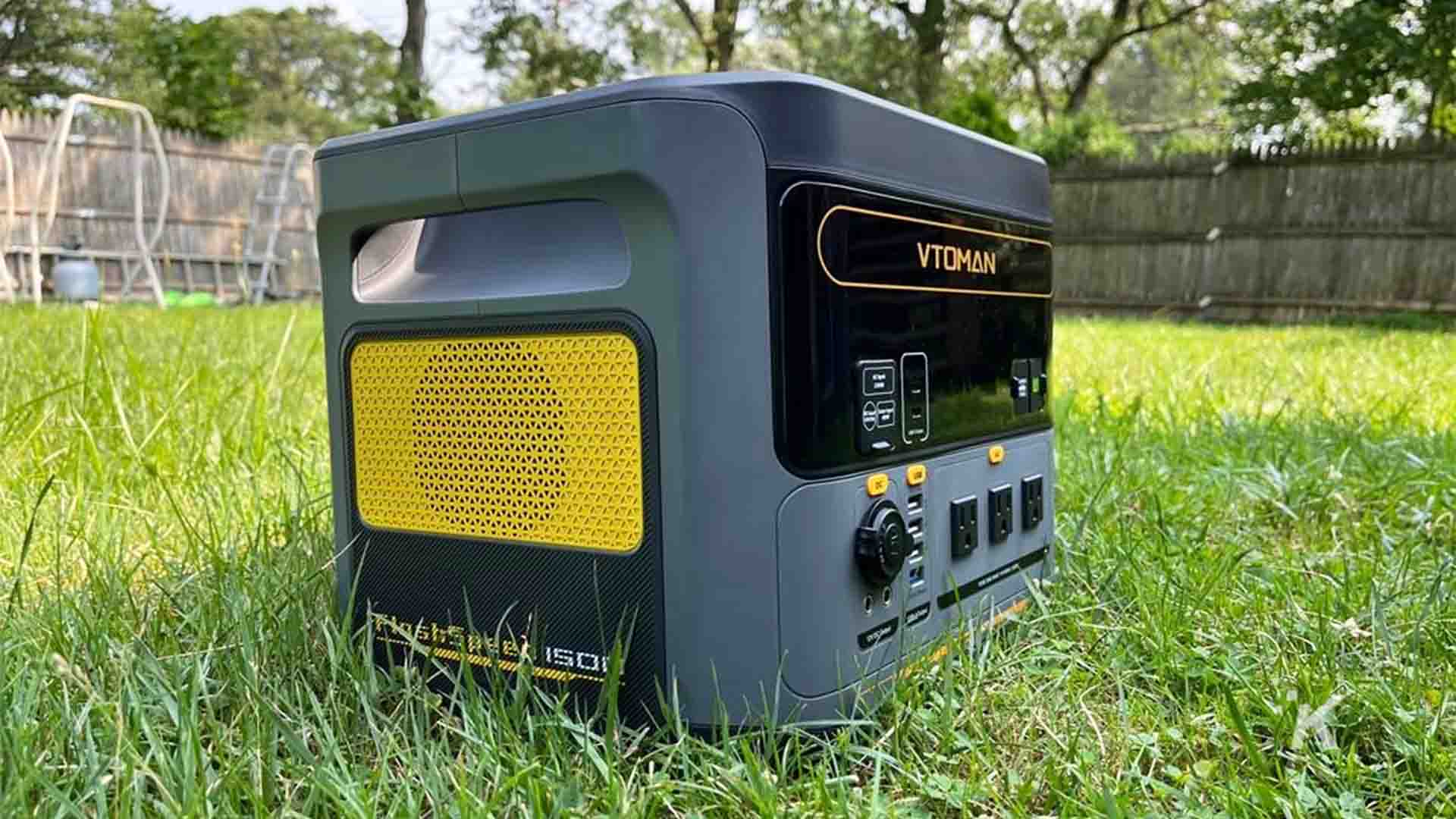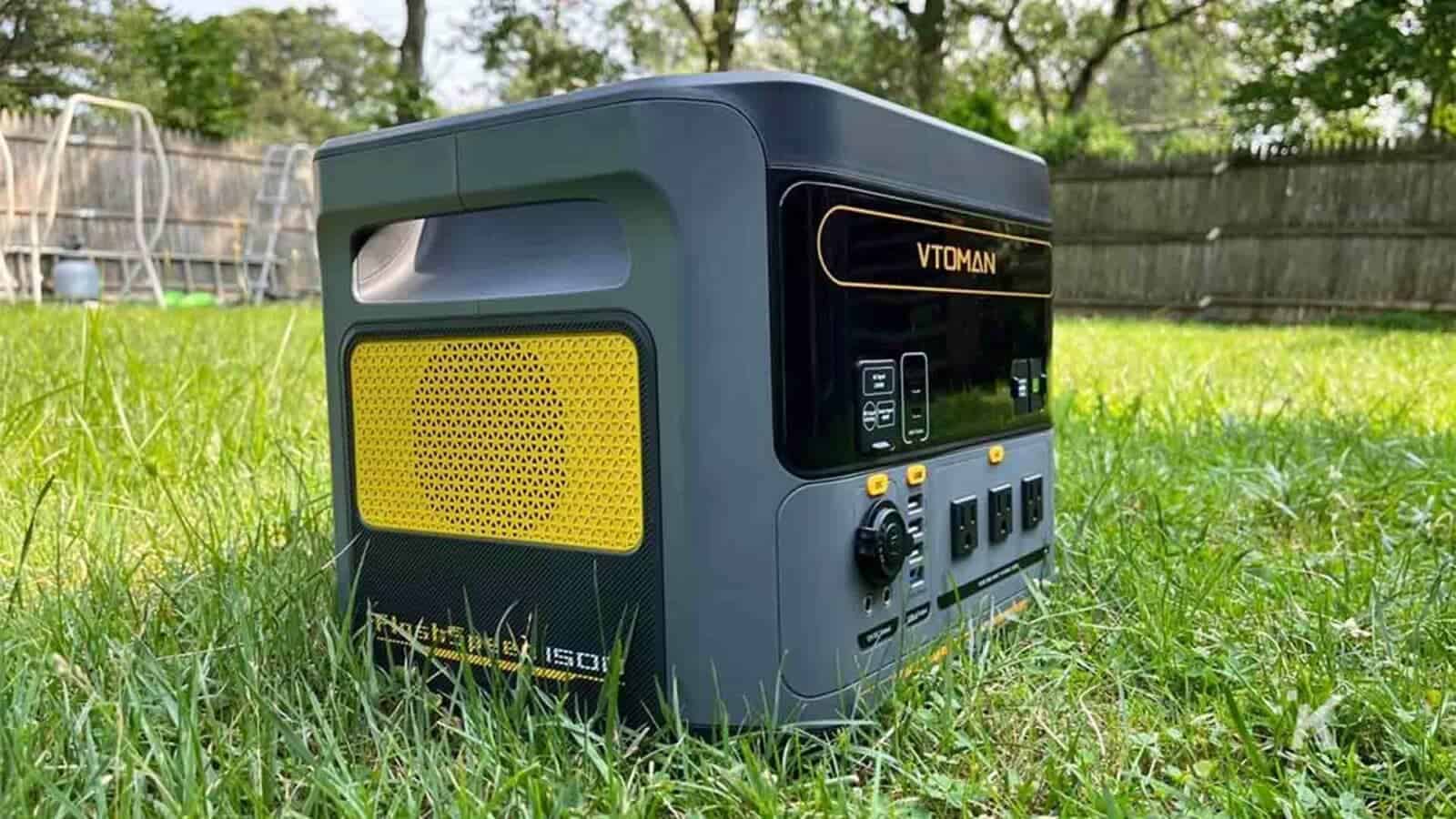 Safety is paramount when dealing with power devices, and VTOMAN has taken this into account with its super-safe LIFEBMS protection system.
The FlashSpeed 1500 boasts up to 10 types of charging protection, including over-charge, over-discharge, over-voltage, over-current, and short-circuit protection.
Moreover, the FlashSpeed 1500 is equipped with a durable and safer LiFePO4 (LFP) battery, boasting a 3000+ cycle life before it drops to 80% of its original capacity. This means you can rely on the FlashSpeed 1500 for years to come.
The FlashSpeed 1500 is not just powerful; it's expandable. By linking it with the add-on FlashSpeed 1500 Extra Battery (sold separately), you can double its capacity from 1548Wh to a whopping 3096Wh.
This significantly extends the running time of your devices and appliances. And even with this added capacity, the total charging time from 0-100% is just about 2 hours.
Value for money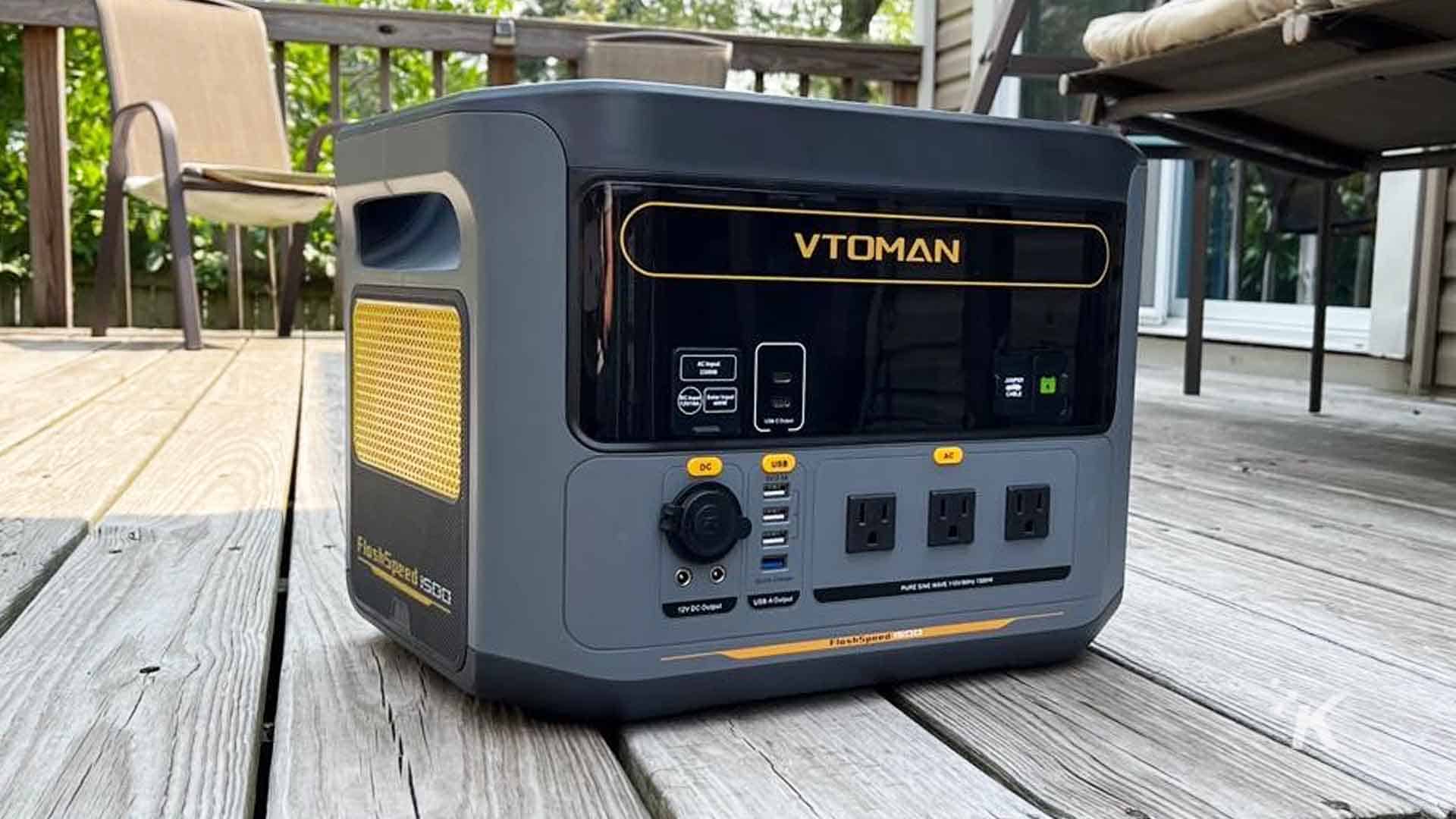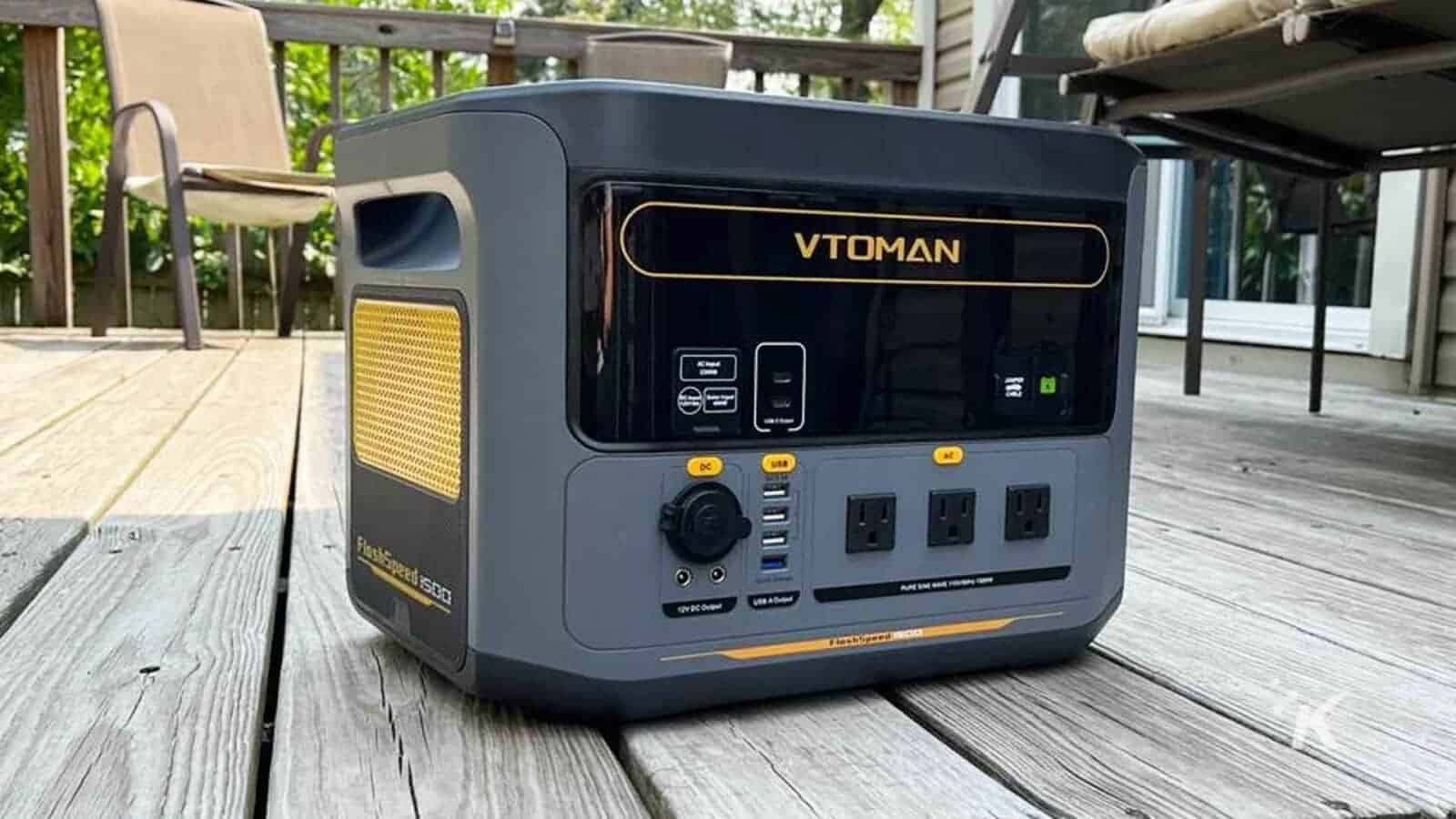 When considering the purchase of a portable power station, one of the key factors that potential buyers look at is the value for money. With the VTOMAN FlashSpeed 1500, you can rest assured that every dollar spent is well worth it.
The FlashSpeed 1500 may not be the cheapest option in the market, but when you consider what it brings to the table, it's easy to see why it offers excellent value for money.
Firstly, it boasts a high-capacity battery, which ensures you have a reliable power source when you need it most. This alone is a significant selling point, but the FlashSpeed 1500 doesn't stop there.
Its robust build ensures it can withstand the rigors of outdoor use, while its compact design and easy-carry handle make it incredibly portable.
You can pick one up on Amazon for just under $999 with a current coupon that knocks off about $300. This makes it even more enticing.
Likes and dislikes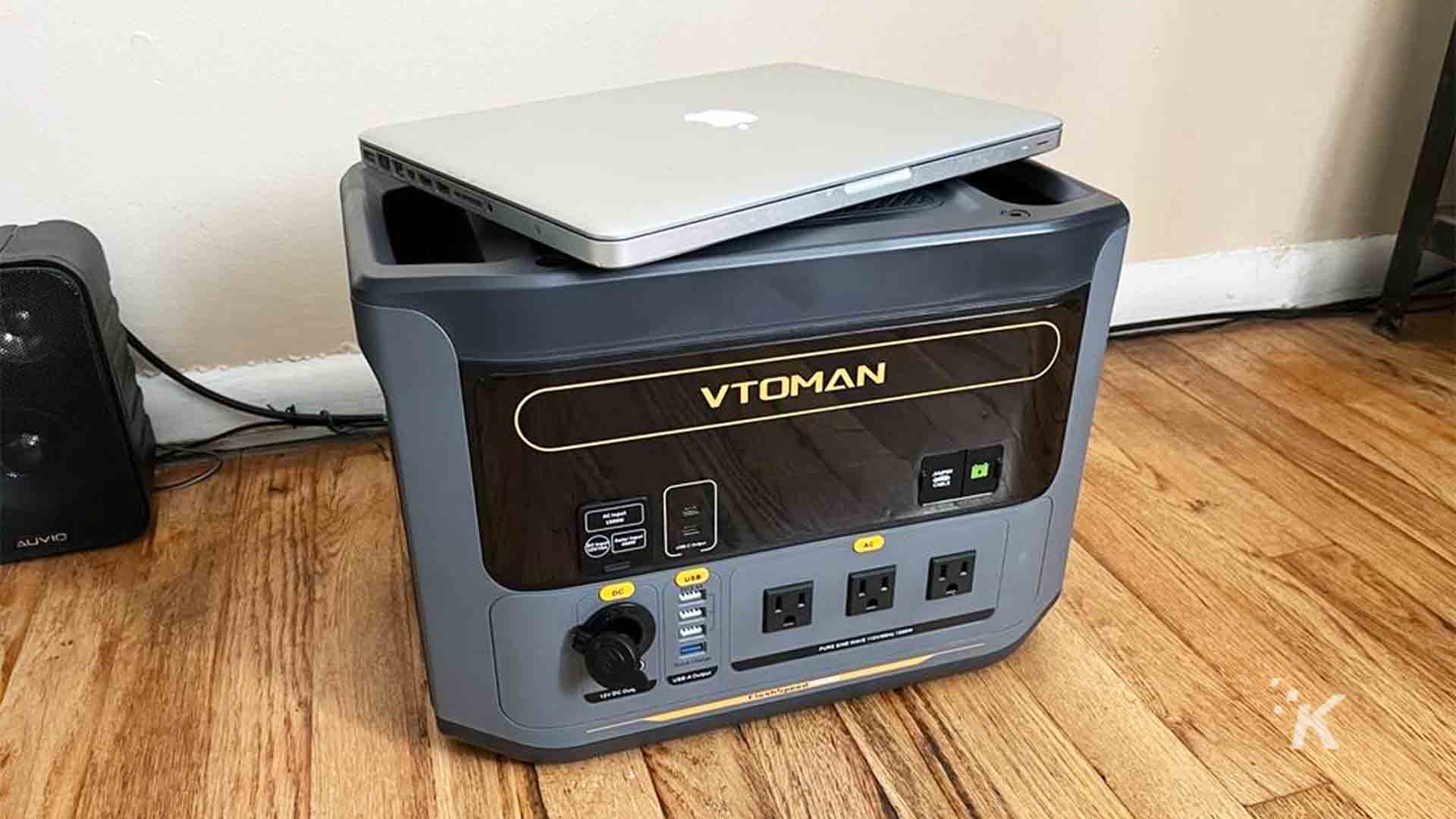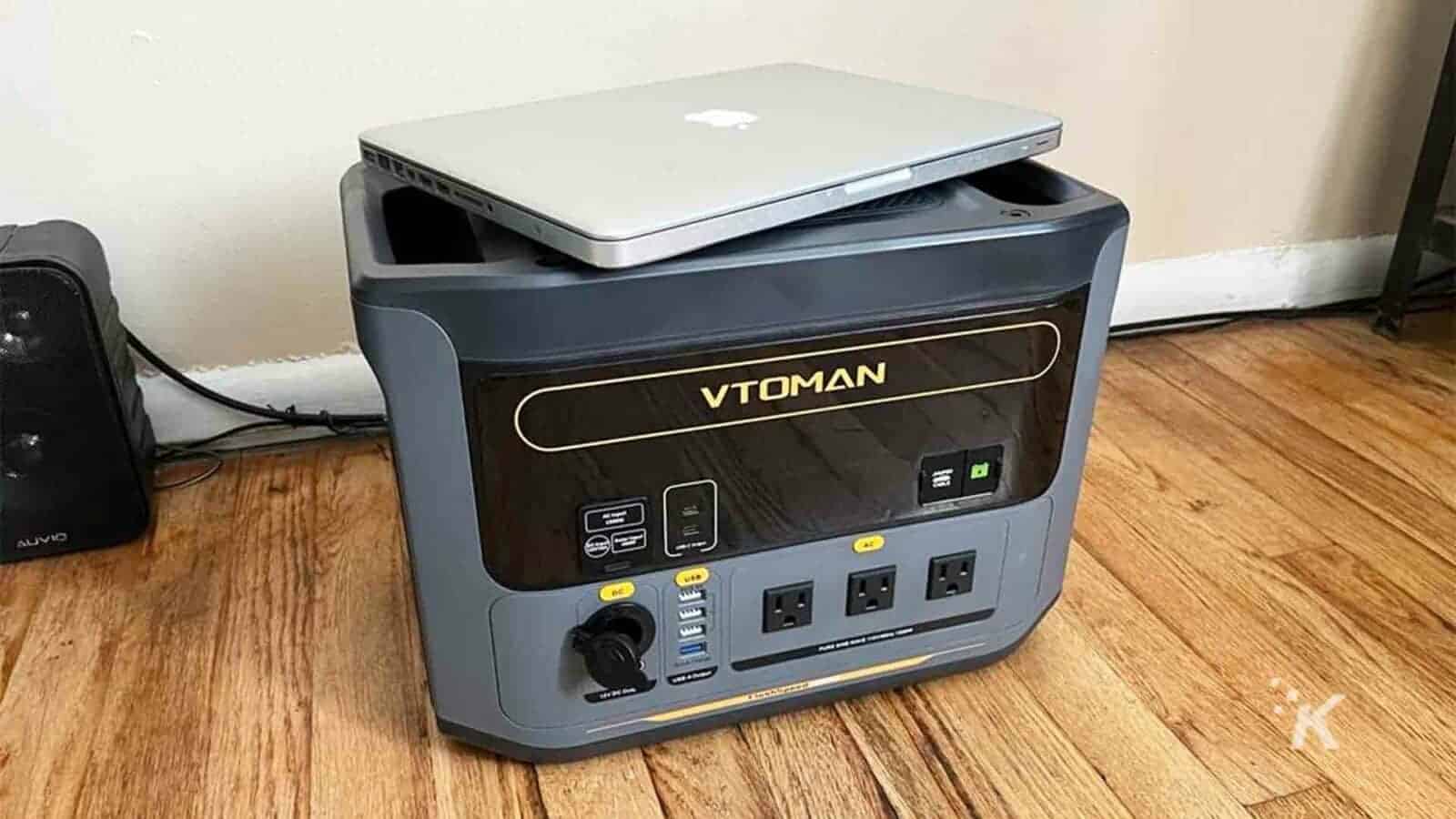 The FlashSpeed 1500 scores high on power output, portability, and fast charging. Its comprehensive display provides clear information about power input, output, and battery status, a feature not found in many competitors.
Another small but very helpful addition is the top compartment for your cables; no more worrying about having to search all around the house in case of an emergency.
While its weight is reasonable for its capacity, those looking for ultra-lightweight options might find it a bit heavy.
Comparison with other products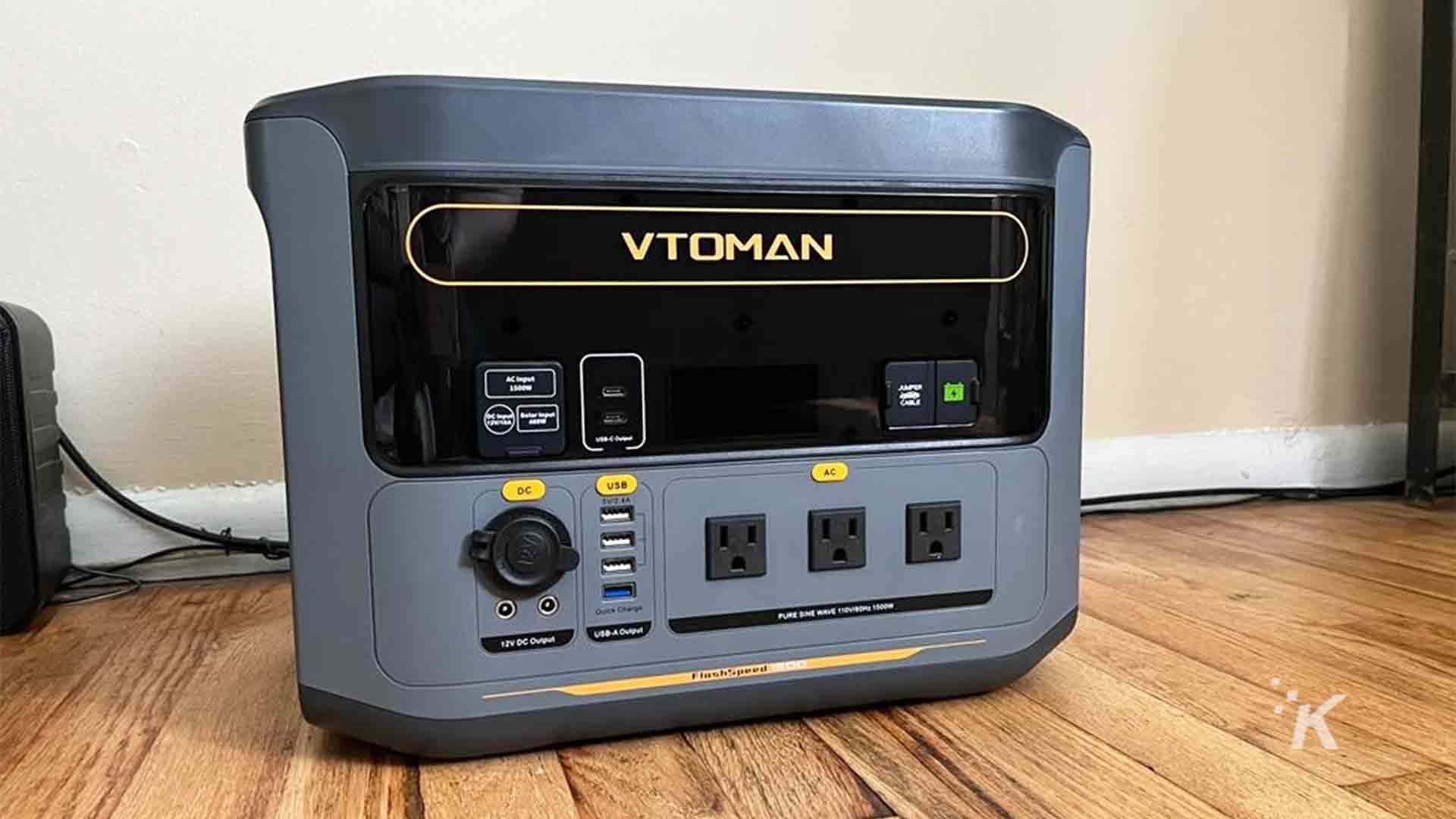 When compared to other portable power stations in its category, the FlashSpeed 1500 holds its own. It offers more power output and charging options than many similar-priced models, and its solar charging efficiency is among the best.
However, some competitors offer waterproof models or include additional features like wireless charging. But when it comes to a balance of power, features, and price, the FlashSpeed 1500 is a strong contender.
Who would benefit from the VTOMAN FlashSpeed 1500?
The VTOMAN FlashSpeed 1500 is a versatile power solution suitable for a wide range of users.
Outdoor enthusiasts will appreciate its portability, and solar charging capabilities, while those preparing for emergencies will find its high capacity, fast charging, and multiple charging options a must-have.
It's also an excellent choice for those needing a portable power source for work or leisure activities.
The FlashSpeed 1500 also functions as an uninterruptible power supply (UPS) with a switchover time of less than 20ms. This ensures continuous power to your CPAP machines, refrigerators, computers, and more, even during a blackout.
So, if you are writing a paper that's due the next day and your power goes out, you won't have to worry about losing everything.
Final thoughts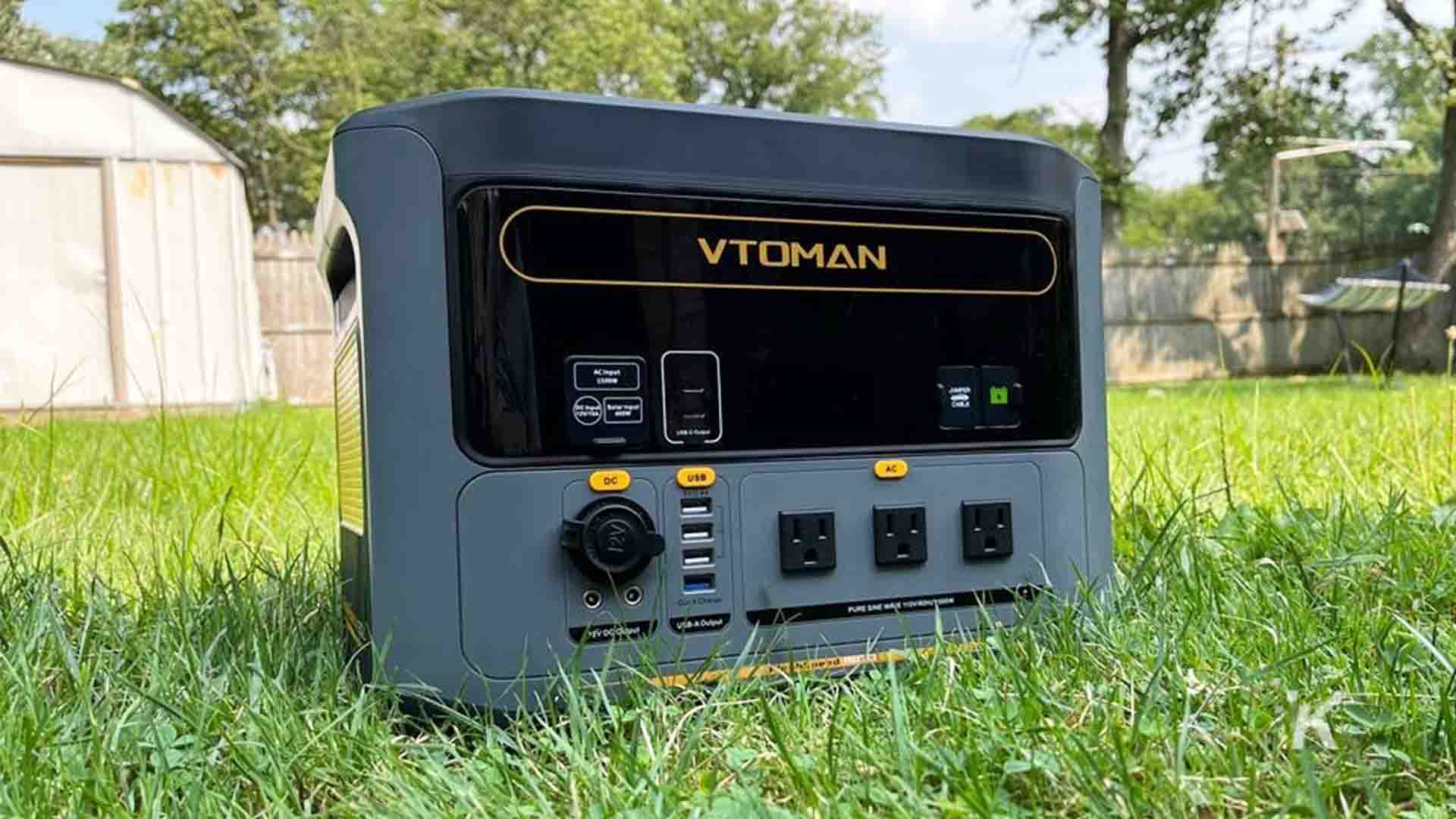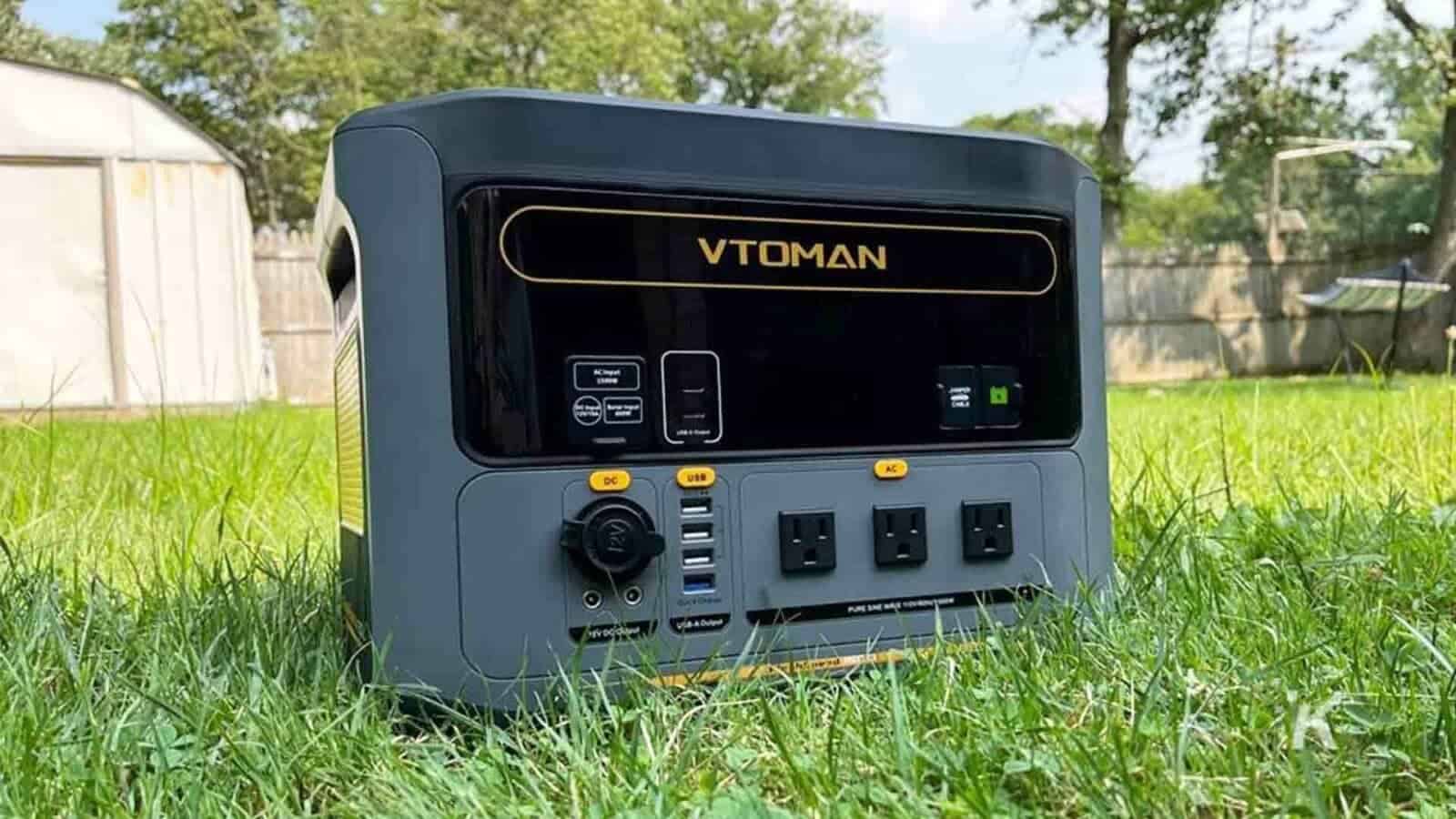 In conclusion, the VTOMAN FlashSpeed 1500 portable power station is a robust, reliable, and versatile power solution. It offers a great balance of power, features, and value for money, making it a worthy investment for those in need of portable power.
However, like any product, it has its strengths and weaknesses, and potential buyers should consider these in relation to their specific needs.
If you're looking for a portable power station that delivers on performance, efficiency, and reliability, the VTOMAN FlashSpeed 1500 is a strong contender worth considering.
Have any thoughts on this? Drop us a line below in the comments, or carry the discussion to our Twitter or Facebook.
Editors' Recommendations:
Disclosure: This is a sponsored post. However, our opinions, reviews, and other editorial content are not influenced by the sponsorship and remain objective.
Follow us on Flipboard, Google News, or Apple News