Tikteck Smart Light Bulb Review – Packs an amazing punch at $9.99
I didn't think a $9.99 color-changing lightbulb would impress me, but it totally did, and then some.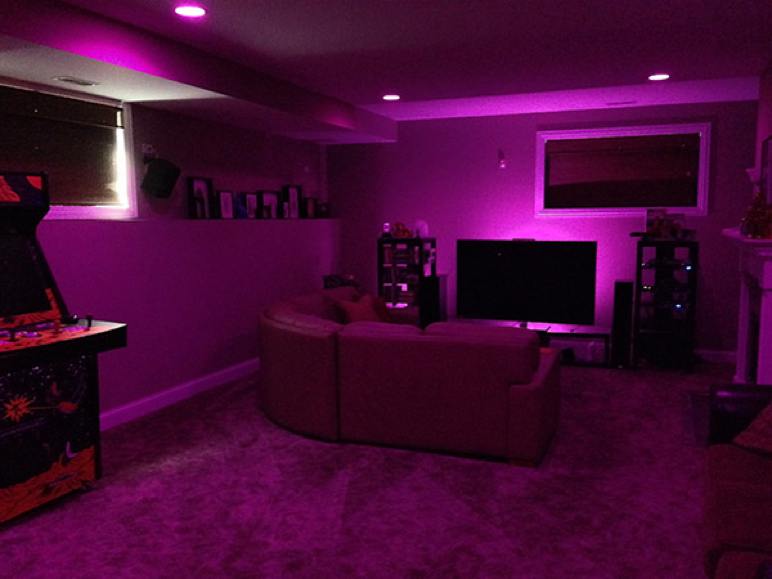 Not too long ago I was first introduced to the world of connected lightbulbs with the Philips Hue Starter Kit. Simply put, it blew me away. The fact that something as simple as a lightbulb could get me excited wasn't something I was expecting, but it totally did.
Since then, I still use them in my daily routine. But truth be told, I haven't purchased any extra bulbs since the review – I'm still rocking the three that were provided in the starter kit. Why? Because they're expensive as hell.
But here's the kicker, I really do want to get more, but I can't justify spending $30-$50 on a lightbulb, that's just how I roll.
So when TikTeck's $9.99 lightbulb came on my radar, a color-changing bulb you can control with a smartphone or tablet without the need for an expensive hub, let's just say they had my attention. I mean, the promise of a bulb that offers most of the same features the bigger names offer for only $10 sounds alluring, but does it live up to its promise? For $10, you bet it did.
Design & Specs
I'm not going to spend too much time on the bulb's design. At the end of the day, it's a light bulb, and I don't think there's much I could describe that you couldn't make out from the pictures. But the vital info here is that it measures 4.17 inches in length and 2.36 inches in diameter which should be able to fit the same bases as a regular incandescent bulb.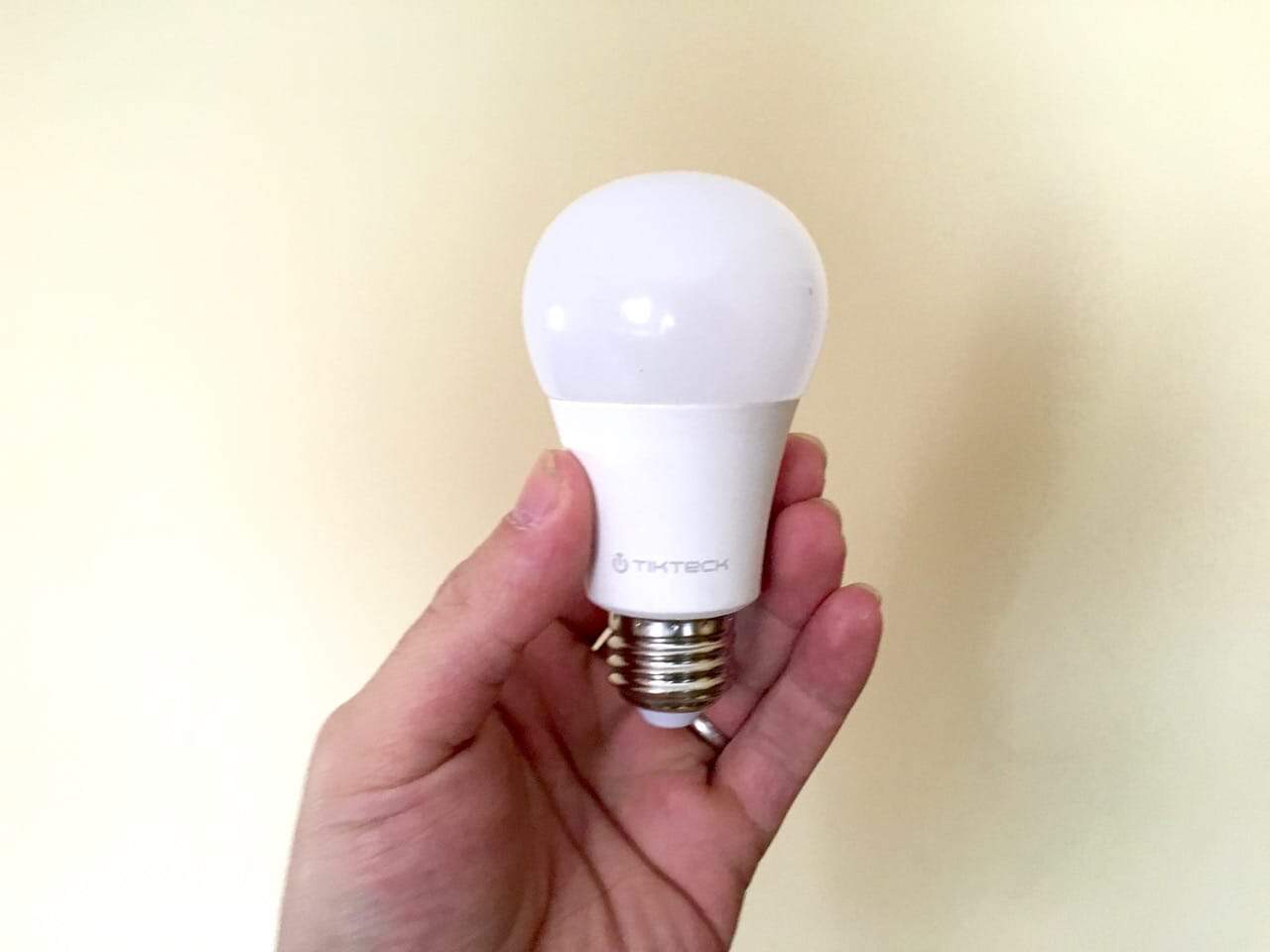 Here's some detailed specs:
Power: 7.5W

Lumen: 600lm

Input Voltage: 100-240V

Color Temp: 2700K~6500K

RGB Color: 16M RGB colors

Size: A60

Life Time: 20,000 hours
7.5W consumption, 50W incandescent equivalent makes this LED bulb an ideal replacement for old halogen bulbs.
Setup
One of the biggest advantages TikTeck has going for themselves is that their bulbs don't require a central hub – a lot of smart bulbs on the market do. TikTeck's magic is thanks to bluetooth mesh technology, which means you can manage up to 32 separate lights in a single home without the need of WiFi or a costly hub.
In my Philips Hue review, here's what I had to say about the setup:
"Surprisingly, getting your Philips Hue starter kit up and running is as simple as, well, screwing in a lightbulb."
I sheepishly take that back. Setting up TikTeck's Smart Bulb is literally as easy as screwing in a lightbulb. Other than installing an app on your Android or iOS device and a few taps to pair the bulb, that's pretty much it when it comes to setting these up.
Funny story: Before I even got a chance to set it up, my wife beat me to the punch. I think she had it all set up in roughly 3 minutes? She's convinced it was faster than that.
App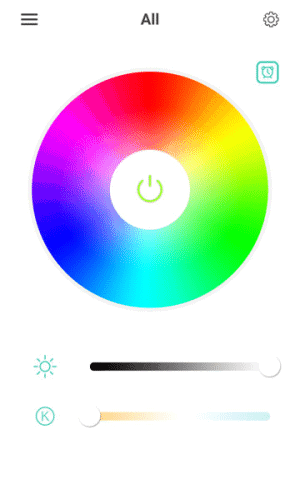 When it comes to TikTeck's app, there's really nothing special about it. Don't get me wrong, it does its job when it comes to controlling the lights, but it could totally use some more work.
Once your light is all setup and connected, the main screen will display a color wheel along with a power button in the middle that turns lights on or off when you tap it. Below the wheel is a slider where you can adjust the brightness as well as the color temperature of the bulb. More options can be accessed via the Setting or Timer icons in the upper right corner. There's even a section in the Lab submenu that allows you to sync the light with music played through the app as well as mobile games.
At last, there's the Timer, which is accessed though the main screen. This is where you can schedule lights to turn on or off, choose colors, and whether it should repeat on multiple days of the week or not. You could even assign a number of lights to the same group, giving you the option to control all the lights together.
Final Verdict
It's probably safe to assume that for only $10, TikTeck's Smart Light Bulb is definitely a no-brainer. It's the cheapest color-changing bulb on the market and it kicks some serious ass. I was totally blown away by its results.
Sure, there's other options like Cree Connected LED, GE Link, and even Phillips Hue. But when pricing is a concern, TikTeck's $9 option makes it easer to pull the trigger. So, with that being said, if you're interested in venturing into the world of color-changing lightbulbs, TikTeck is surely the way to go. Unless you're cool with spending over $100 on some of the other bigger names.
The Smart Light Bulb from TikTek is available for purchase via their official website, but plans for an Amazon release are in the works for the near future.
The Good
Insanely affordable
Easy setup
No hub required
Decent scheduling options
The Bad
The app could use some work
Had some hiccups with connectivity at first, but nothing major
Follow us on Flipboard, Google News, or Apple News