5 best web AR tools to use right now
In this article, we'll delve deep into the heart of Web AR's magnificent possibilities and discover a whole new dimension of digital enchantment.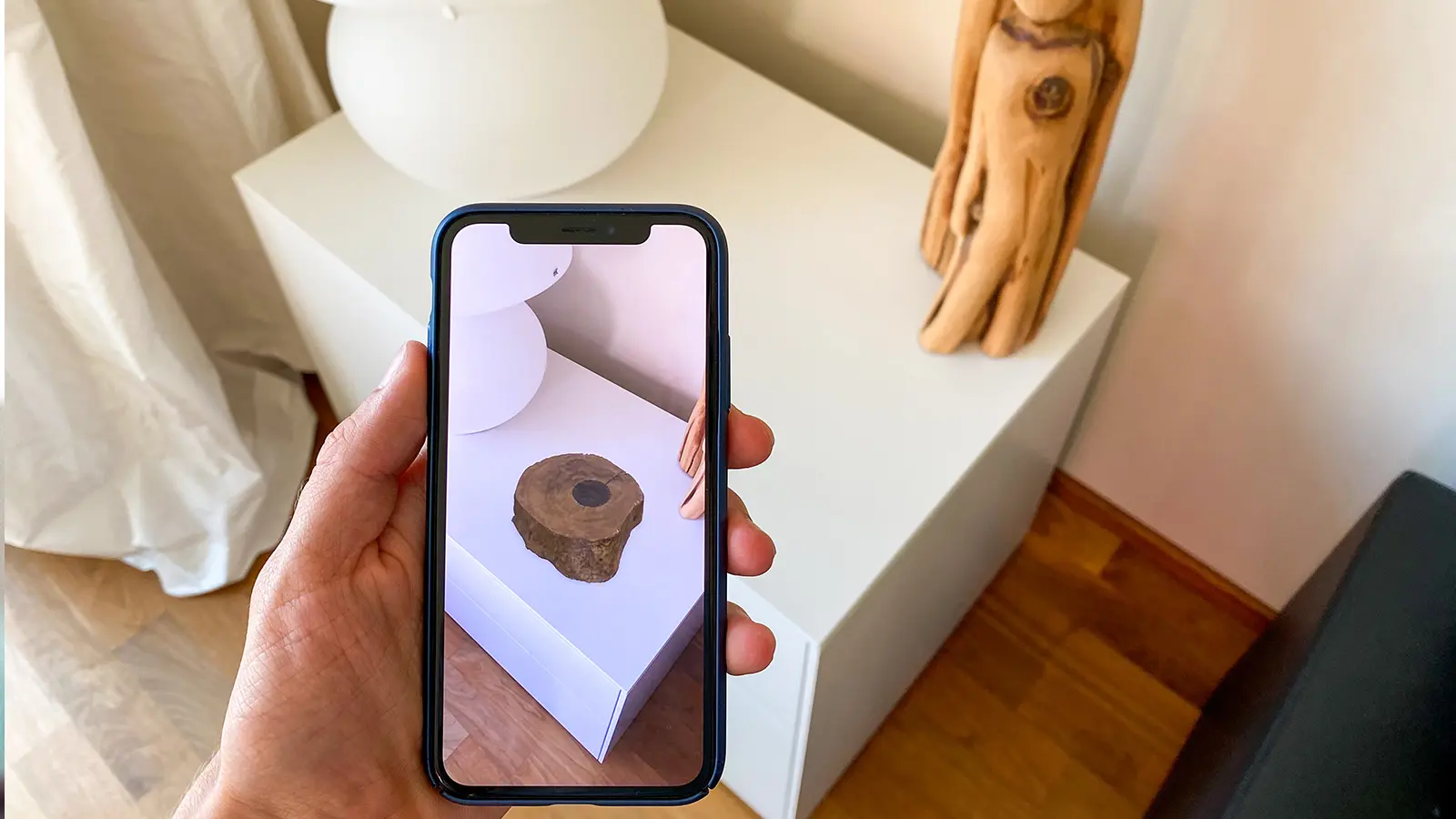 Enter the captivating world of the digital realm, where endless possibilities and thrilling advancements shape our online experiences. At the forefront of this ever-evolving landscape stands Augmented Reality (AR).
A remarkable tool that seamlessly blends the virtual and real worlds. And now, a new era has dawned with the arrival of Web AR, making this immersive technology more accessible than ever before.
Prepare to be amazed as we unravel the wonders of Web AR, where imagination and reality converge in a seamless tapestry of awe-inspiring experiences.
Together, let's delve deep into the heart of Web AR's magnificent possibilities and discover a whole new dimension of digital enchantment.
Banuba's Web AR API: making dreams come alive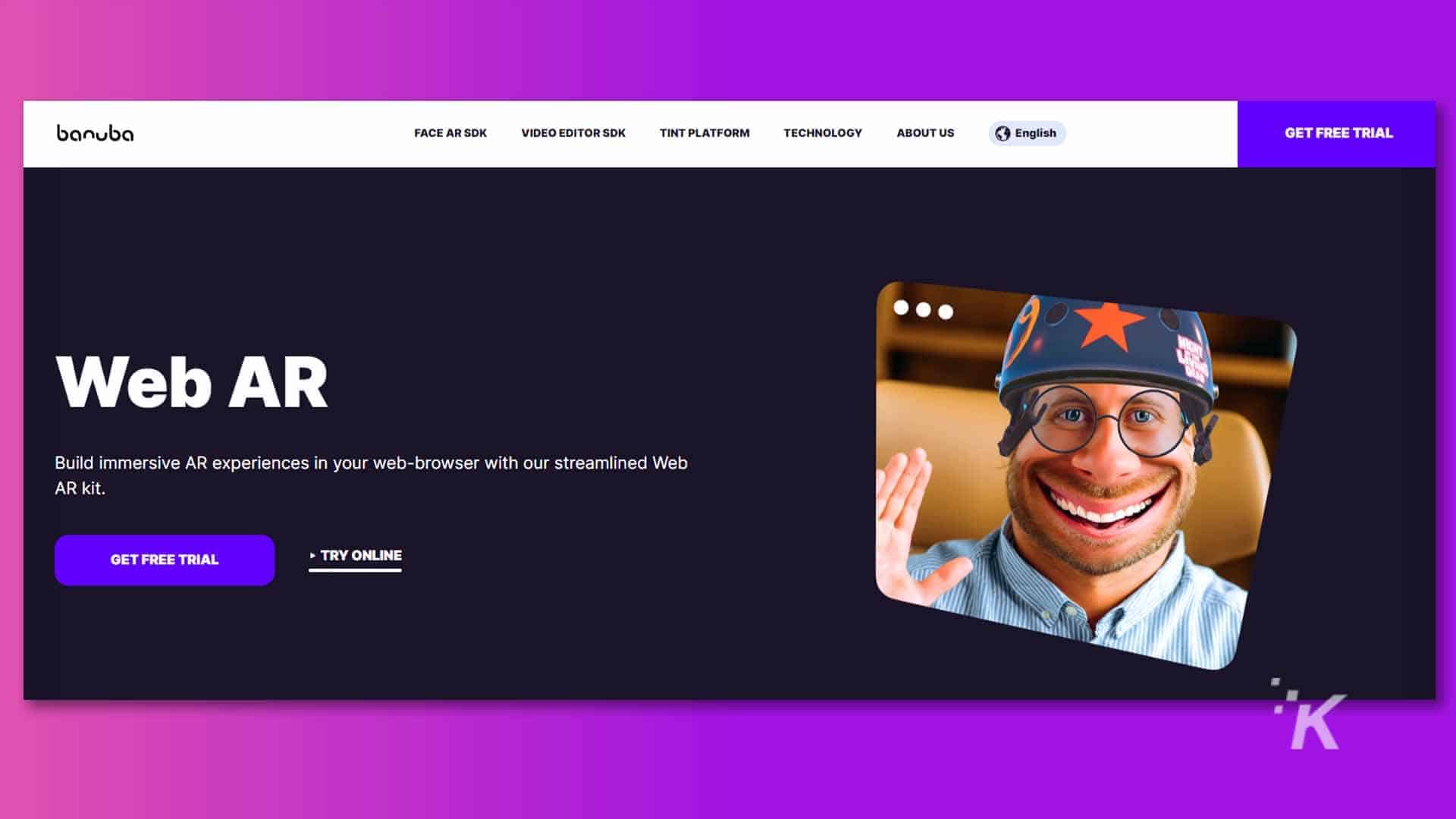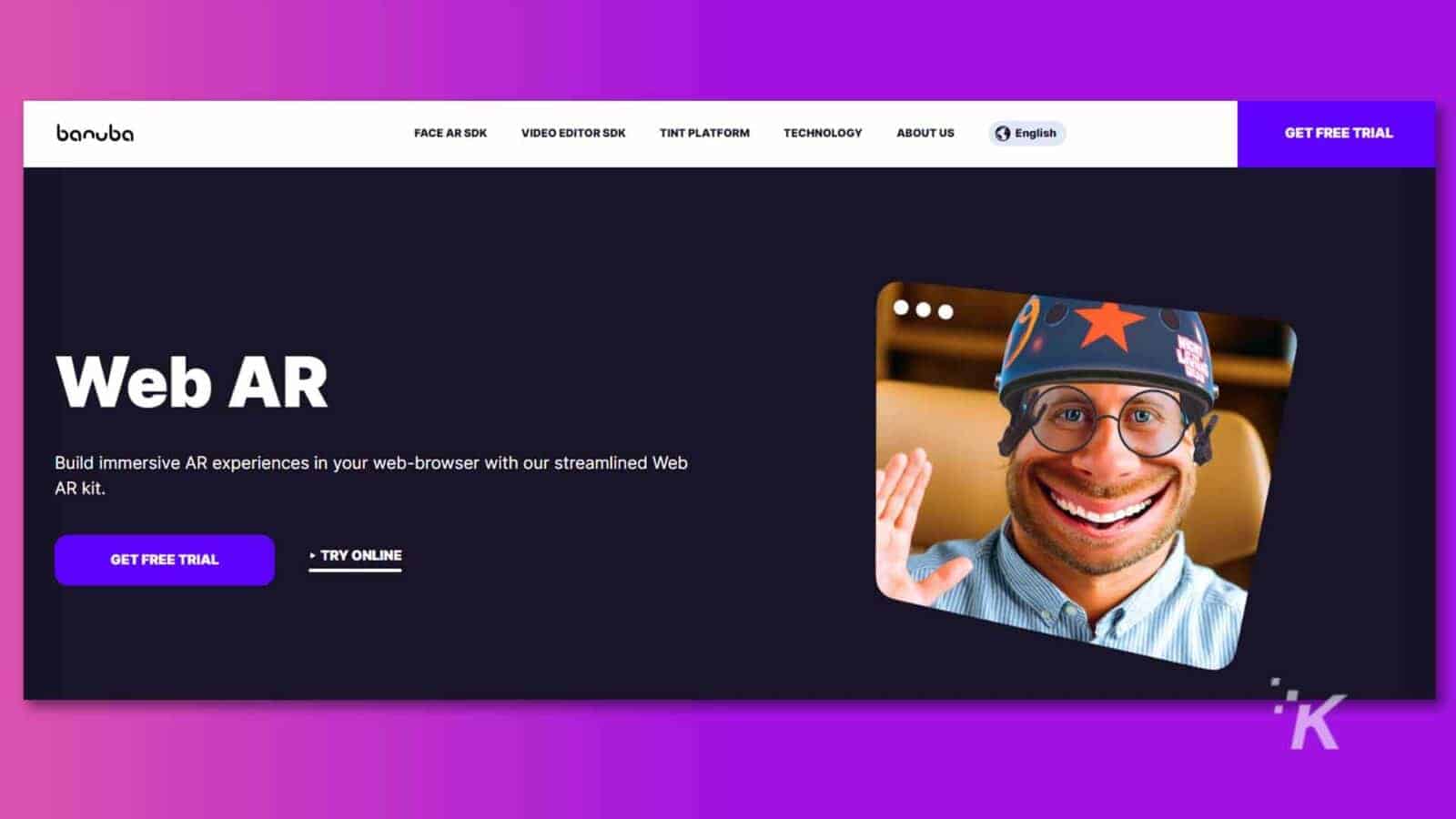 Unleash your imagination with Banuba's extraordinary Web AR solution. With awe-inspiring augmented reality capabilities, the platform empowers developers, marketers, and enthusiasts to create engaging AR experiences effortlessly.
Seamlessly integrate AR features into websites with its user-friendly interface. From facuba.com/webar-sdke detection and tracking to hair and lips segmentation, our Web AR kit offers endless possibilities.
Supported by popular browsers like Chrome, Firefox, and Safari, Banuba's Web AR finds applications in education, video conferencing, live streaming, gaming, e-commerce, advertising, photo booths, and photo/video editors.
Meet Therabody's All-New TheraFace Mask
TheraFace Mask is a breakthrough FDA-cleared LED skincare mask with added tension-relieving vibration therapy. Clinically proven results include firmer, smoother, healthier-looking skin with a visible reduction in fine lines, wrinkles, and uneven tone in as little as 8 weeks
Revolutionize the way you engage, communicate, and create with Banuba's Web AR—where dreams become immersive realities! And if you're interested, you can Try Banuba Web AR live on the Banuba website.
ZapWorks: empowering AR creators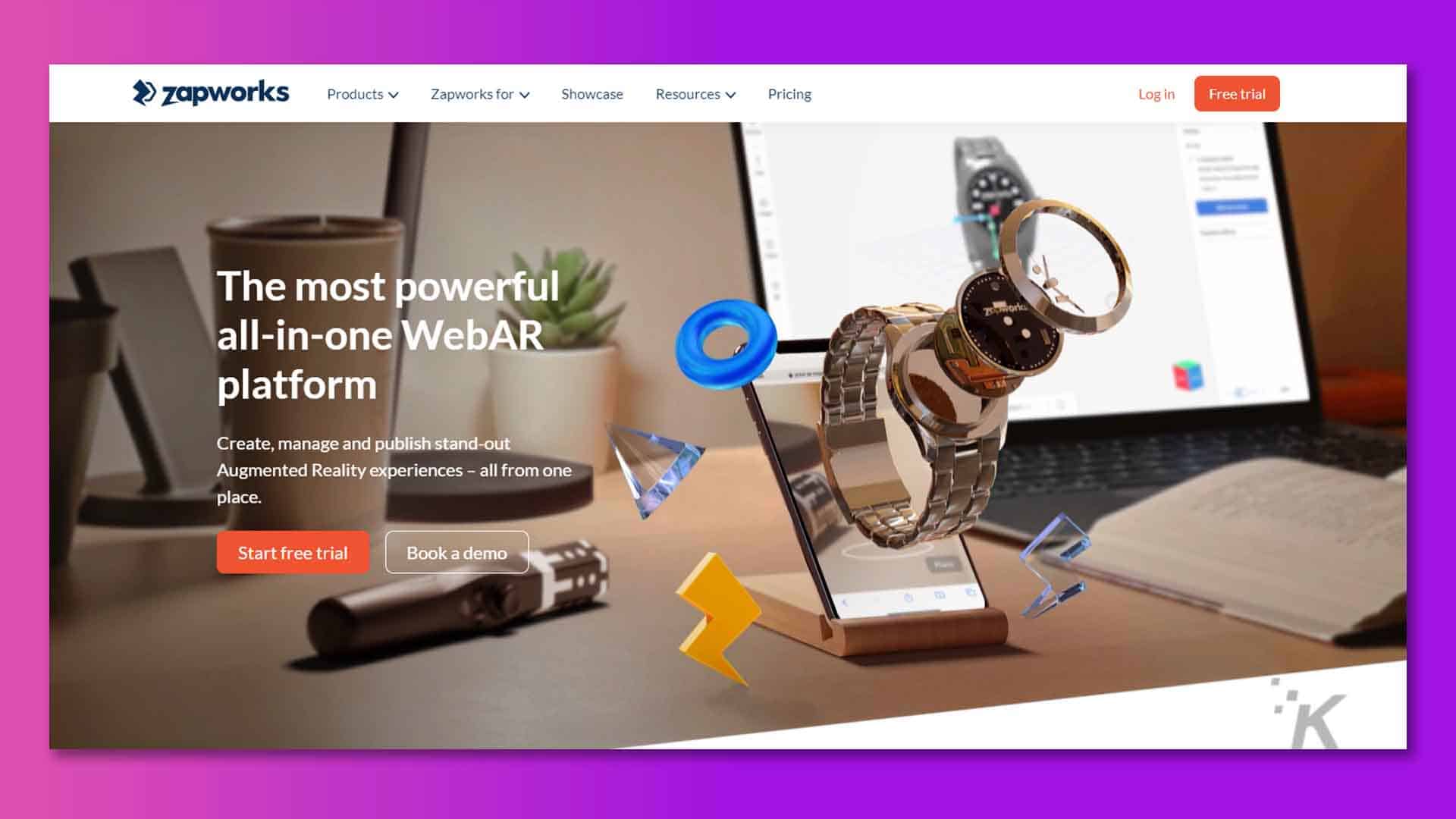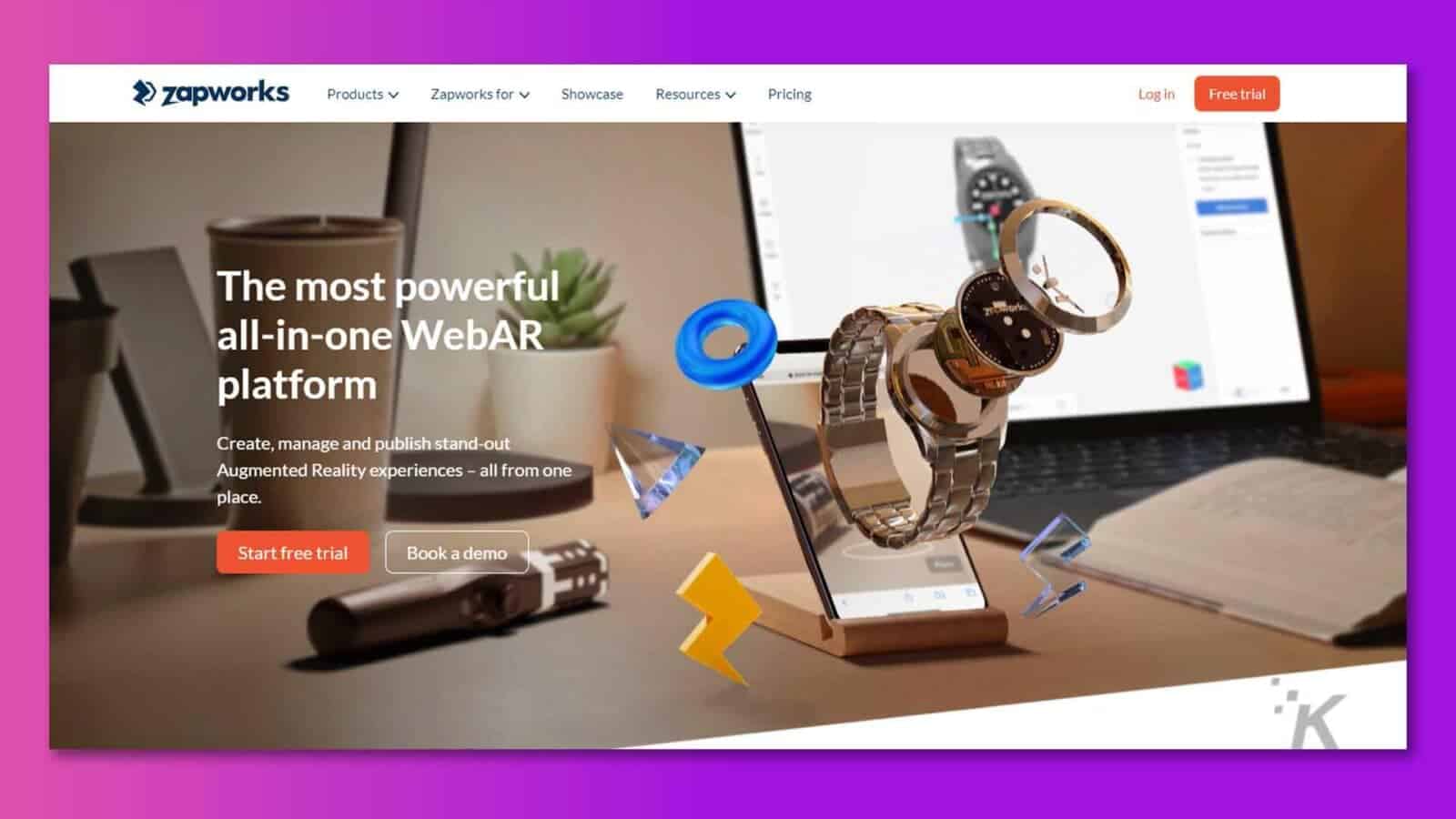 Enter the realm of boundless creativity with ZapWorks, an exceptional platform that empowers users to craft captivating and immersive Web AR experiences.
Whether you're a novice or a seasoned developer, ZapWorks welcomes you with open arms, offering a feature-rich sanctuary where interactive wonders come to life.
With its intuitive drag-and-drop editor and an extensive treasure trove of templates and animations, ZapWorks transforms the complex into accessible, empowering you to create AR campaigns that mesmerize your audience and etch an indelible mark in their minds.
Prepare to embark on a journey where imagination knows no bounds, and let ZapWorks be your trusted companion in crafting unforgettable AR adventures.
8th Wall: unleashing AR potential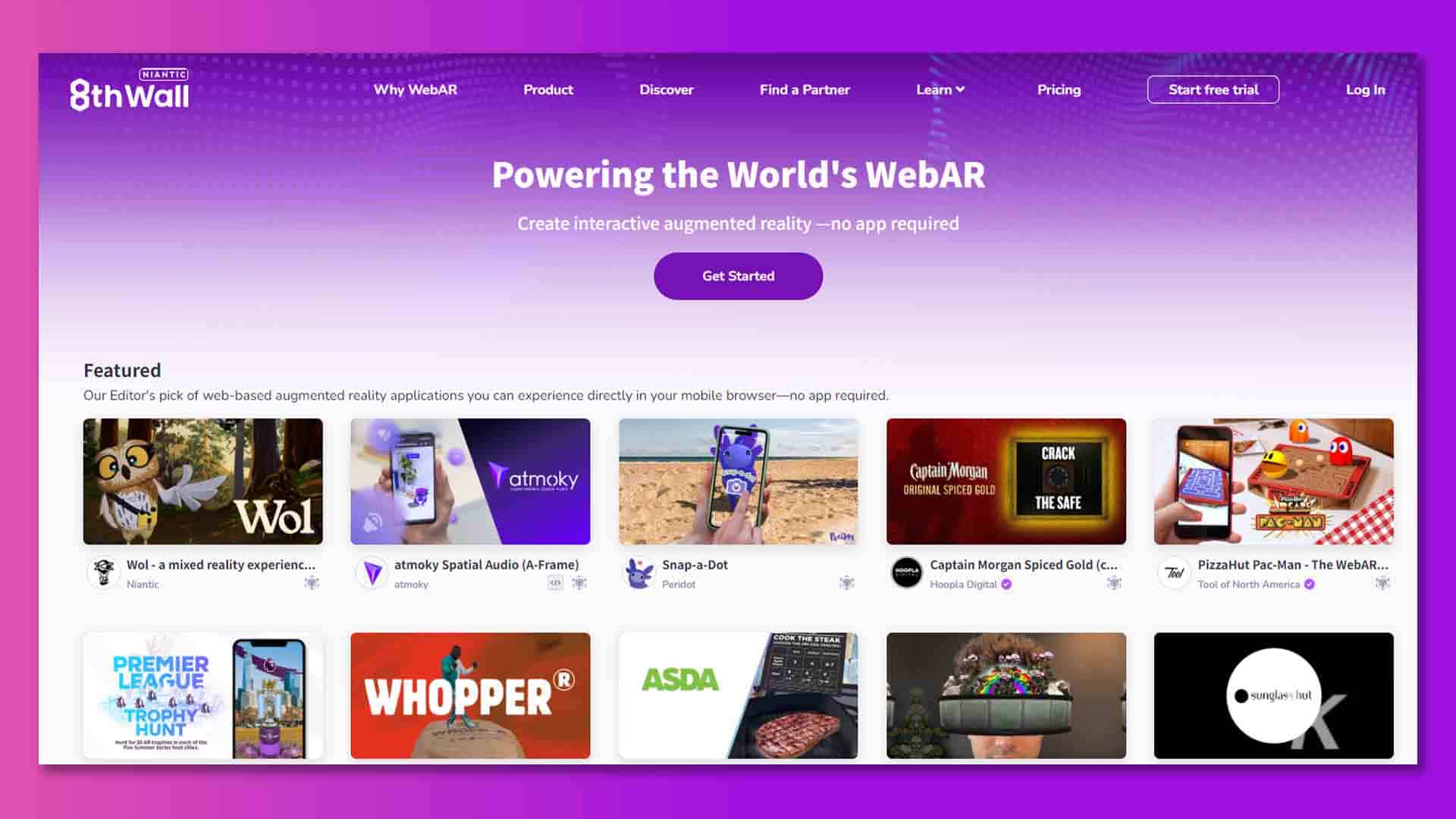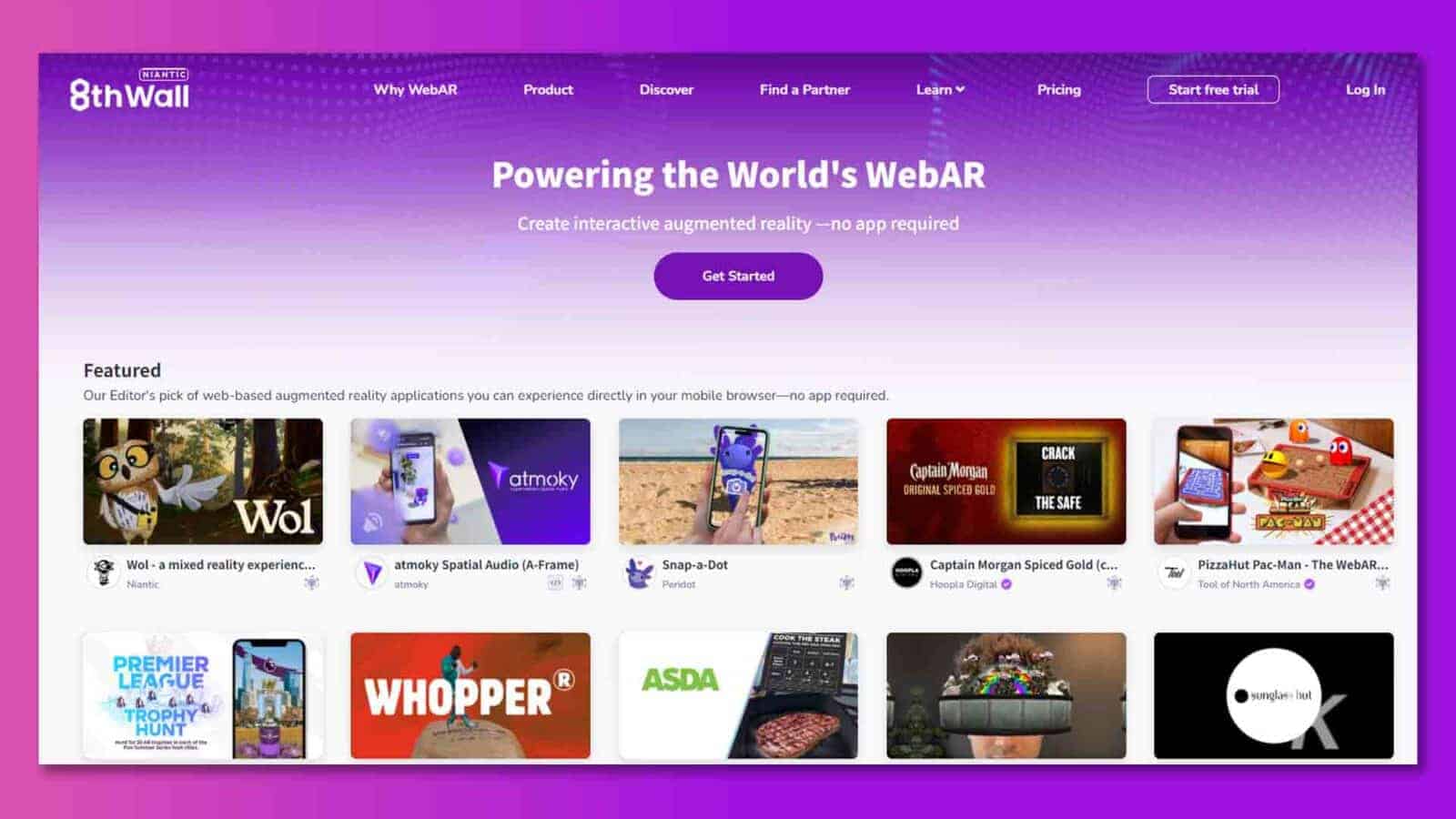 Experience the freedom of creativity as 8th Wall grants you the power to unleash your imagination and bring your wildest AR visions to life.
With a user-friendly interface and a vast library of cutting-edge tools, templates, and animations at your fingertips, you'll effortlessly transform your ideas into interactive masterpieces that mesmerize and engage.
From iOS and Android to computers and AR/VR headsets, your AR experiences will transcend boundaries and captivate users across diverse platforms.
Join the ranks of renowned brands which have witnessed remarkable success with 8th Wall's Web AR capabilities.
From Nickelodeon to Toyota, Jergens to Samsung, these industry leaders have harnessed the power of 8th Wall to captivate and enchant their audience in arts, automotive, banking, beauty, corporate, fashion, food, games, and sports.
Now, it's your turn to step into the spotlight and revolutionize your customer experiences.
Adobe Aero: AR meets creativity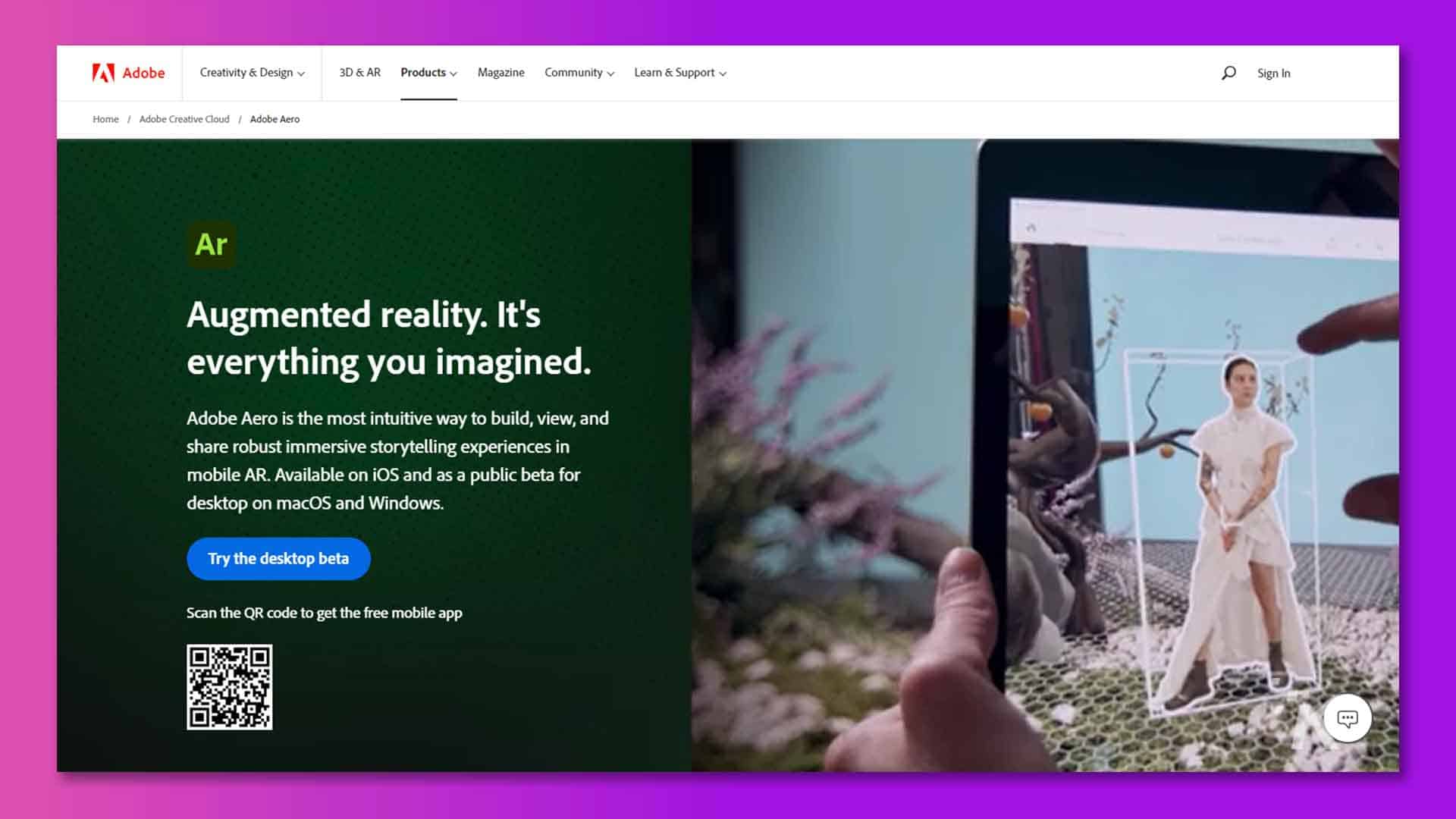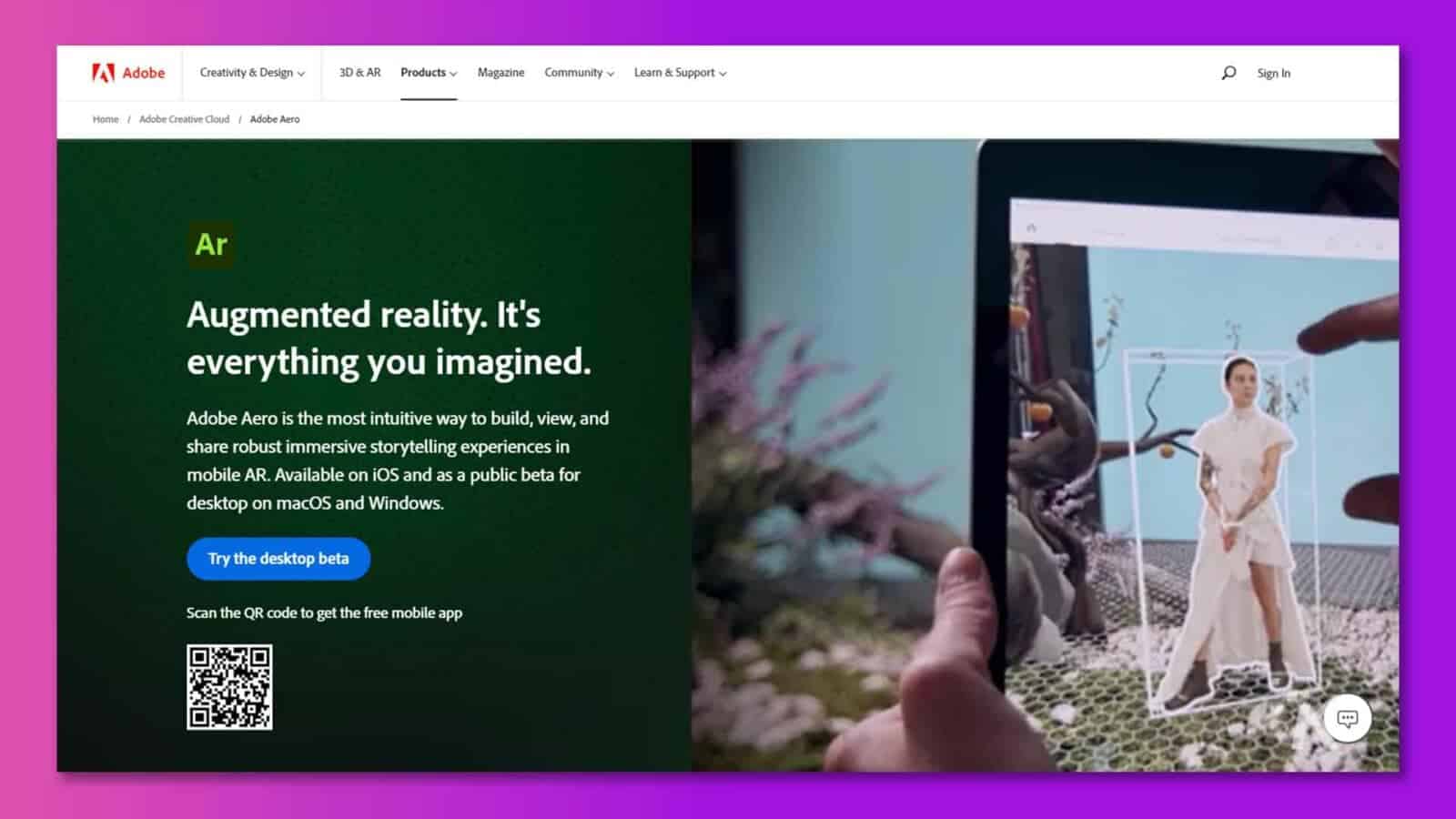 Known for its creative software, Adobe enters the AR space with Aero, a Web AR tool that seamlessly blends digital content with the real world.
Aero's intuitive interface empowers designers to bring their imaginations to life by creating visually stunning and interactive AR experiences.
No coding is required—just unleash your imagination and let Aero transform your storytelling into captivating augmented reality adventures.
Share your projects effortlessly using Aero's QR code feature, making AR accessible to anyone with a smart device. Join the AR revolution with Adobe Aero and explore the boundless possibilities of immersive storytelling.
AR.js: Open-source AR excellence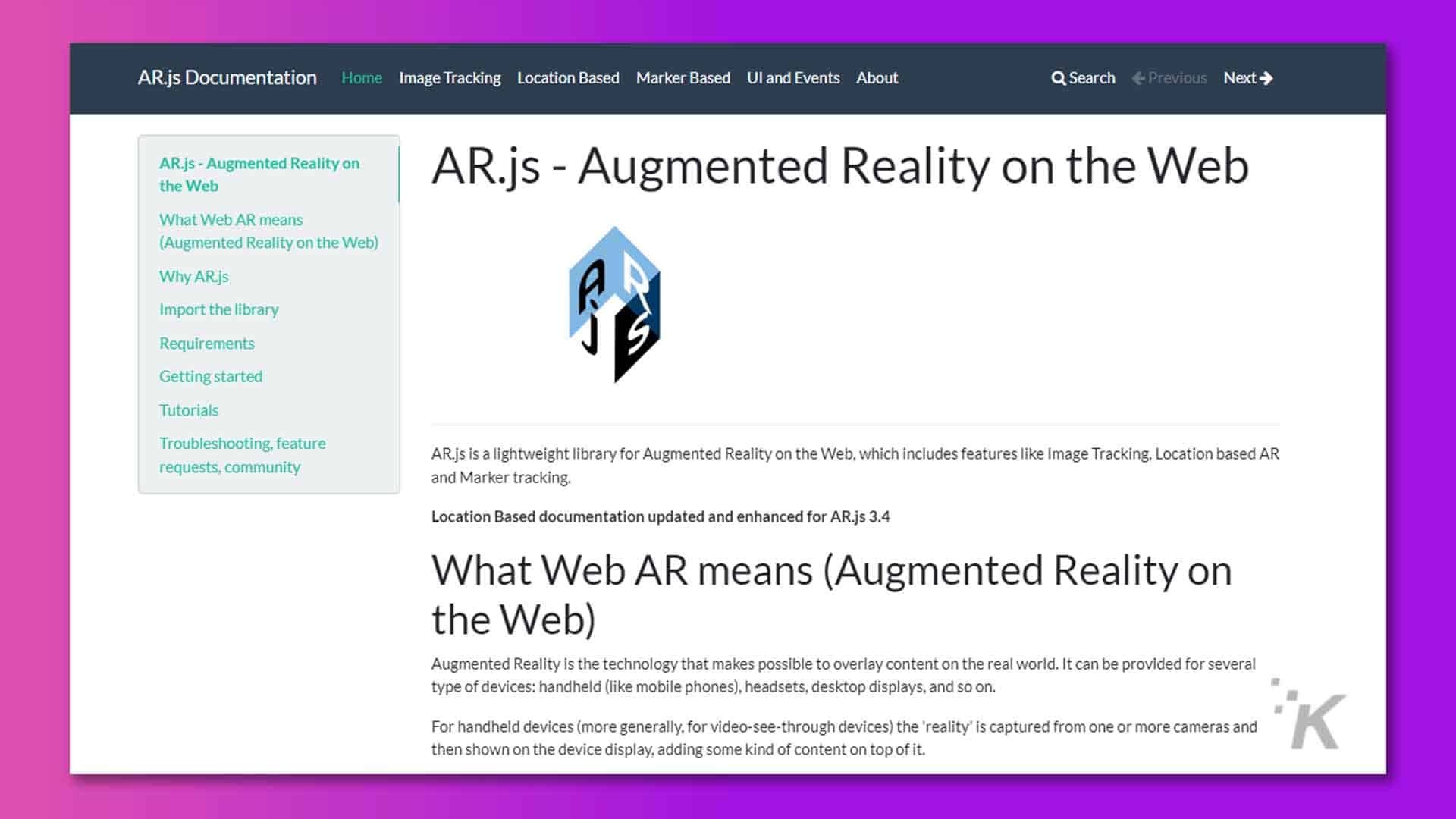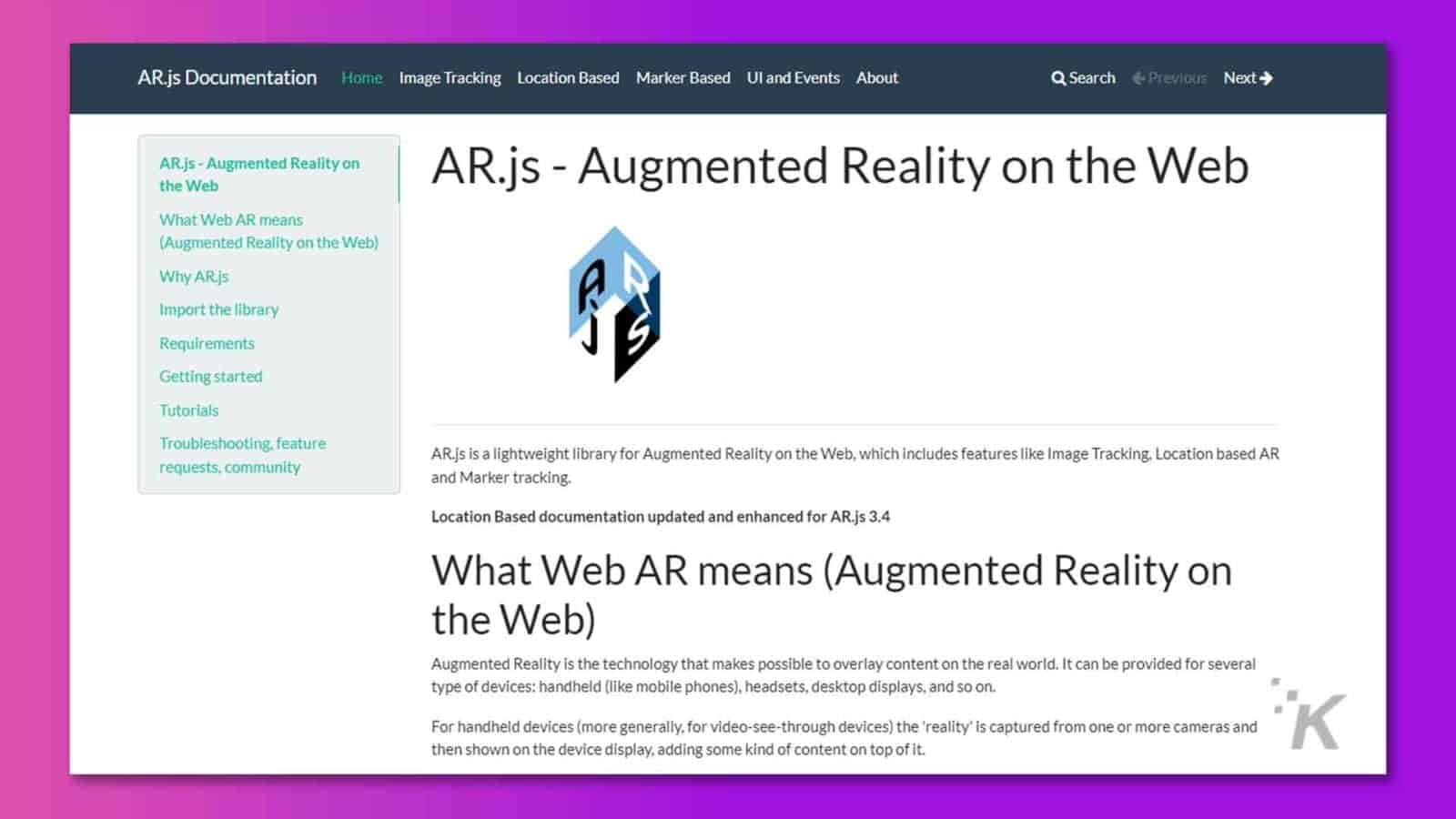 AR.js is an open-source library that makes AR development accessible to developers of all levels. Using JavaScript, you can create exciting AR experiences based on markers or locations.
Whether you're a beginner or an experienced developer, AR.js provides extensive documentation and a supportive community to help you confidently dive into AR development.
Enjoy lightweight AR experiences on the web, including image tracking and marker tracking, without the hassle of developing a mobile app. Simply visit a website or scan a QR code to access AR content.
Summing up
As we conclude this captivating exploration of Web AR, we invite you to reflect upon the vast array of possibilities that lie on the horizon.
In a world where the transformative power of augmented reality continues to reshape our digital landscape, these remarkable tools of Web AR emerge as portals to boundless innovation and profound engagement.
Whether you are an avid AR enthusiast, a shrewd marketer, or a skilled developer, the realm of Web AR beckons you forth.
It extends an open invitation to unlock the depths of your creativity, mesmerize your audience, and redefine the very limits of what is possible in the digital realm.
Embrace this wondrous leap into the realm of augmented reality, and allow your imagination to take flight, empowered by the exceptional Web AR tools that are readily available to you today!
Have any thoughts on this? Drop us a line below in the comments, or carry the discussion to our Twitter or Facebook.
Editors' Recommendations:
Disclosure: This is a sponsored post. However, our opinions, reviews, and other editorial content are not influenced by the sponsorship and remain objective.
Follow us on Flipboard, Google News, or Apple News