[UPDATE] Tell someone how you really feel, anonymously with Leak
Here's a new web app you can use to anonymously email anyone! I tried it, here's what I think about it.
***This post was updated on 8/11/2014 and 8/9/2014. Continue to the bottom of the article for further developments to the story***
With so many anonymous messaging apps sprouting up around us, it's kind of hard to pick which one you'd like to try. There's Secret, Whisper, and another new app we can add to the list: Leak.
If you're not hip with anonymous messaging apps like Whisper and Secret, it's essentially social media without the personal profile. Nothing ever comes back to you, personally. You're able to post confessions, insider knowledge, pretty much whatever you want to shout to the masses, all without anything coming back to tarnish that good name of yours.
The New Player
It's simple, Leak is a new online email service that allows you to send an anonymous email to ANYONE.
Here's how easy it is to use:
Enter in the person you want to send an email to.
Let the recipient know it's from either a friend, co-worker, family, or simply "someone"
Write what you've always wanted to say
Send!
My Experience
To see how it all worked, I gave it a try. For testing purposes I sent one to myself. From what I found, it's extremely easy to use, just like sending a regular email through Gmail.
Here's what an email from Leak looks like (keep in mind, I had send this to myself):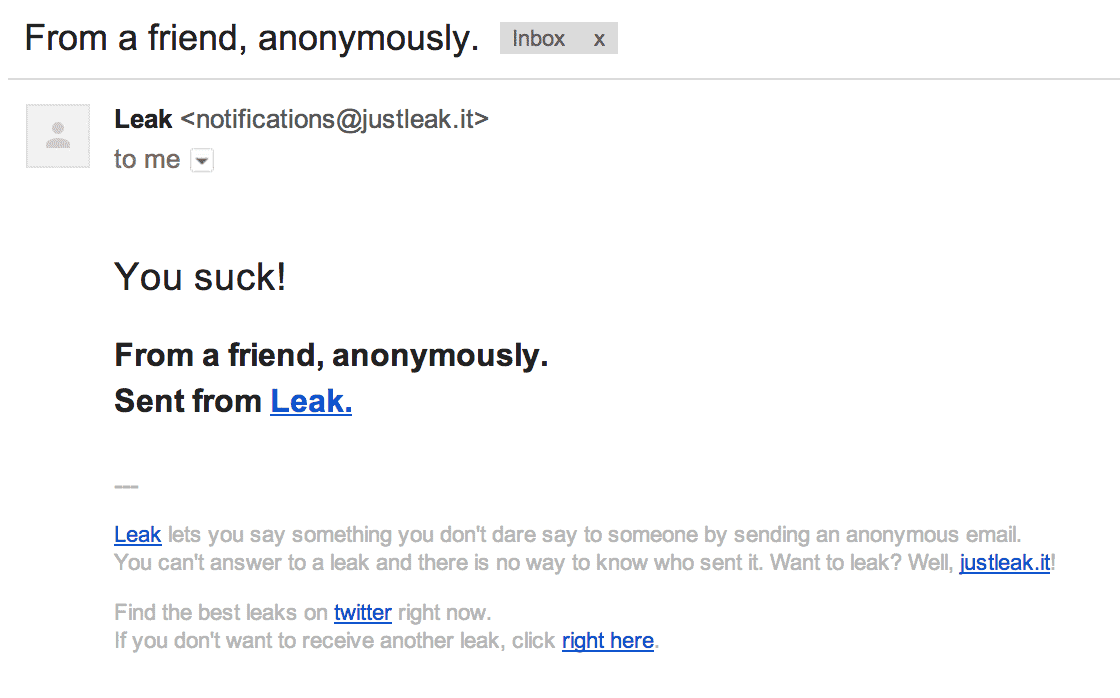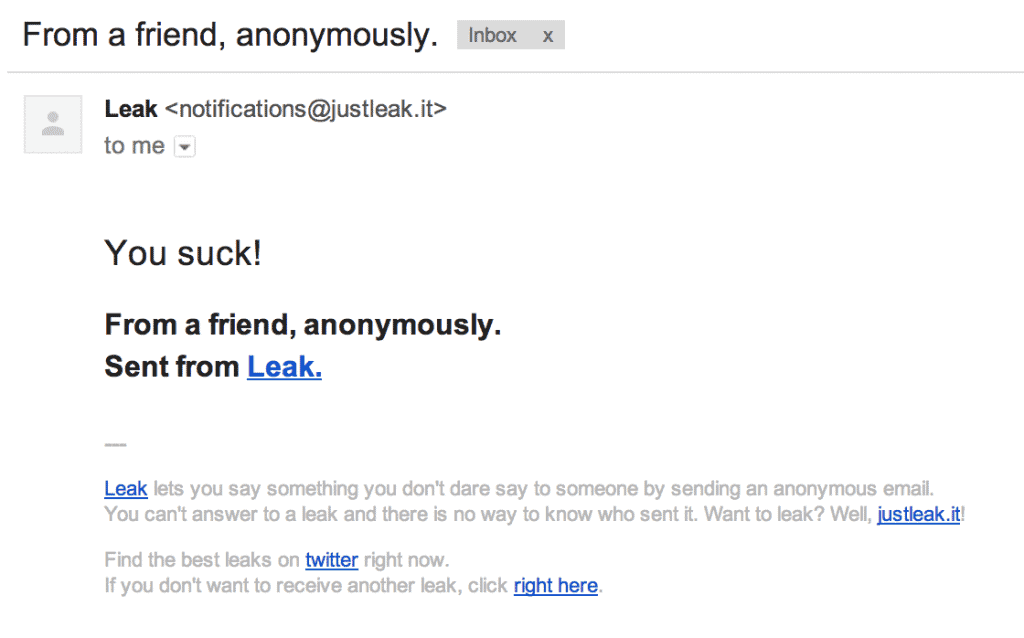 When I sent the message, I waited 5 minutes to see if anything I had hit my inbox. Nothing. After a little searching, I had found that the message was sitting there in my spam folder. Not sure if this is going to be a common issue, but I can see how that could turn users away in the end.
A chat with one of the co-founders:
I had some concerns with the app. I was wondering what Leak did with all those emails that they collected. And what about the security of the app, was it fully secure?
I reached out to one of the co-founders through email, Laurent DESSERREY and asked what they did with all those emails: "We don't do anything with emails. It allows us to find a leak that someone want to report". When asked about the security: "Of course they're secured. Security and Deliverability are our main concerns. That's what we're currently working on."
Good to hear that security is a top priority.
Leak Hall of Fame:
To show you how users are utilizing Leak, Check out this slideshow of hilarious Leaks:
Now you  never have to talk about someone behind their back, because now you can do it to their face, in a sense. Try it out for yourself, but please, refrain from sending them to me. I've been constantly getting these telling me I suck. I get it.
Have you tried or used Leak yet? If you have, share your experience int he comments! 
**UPDATE: 12 days after launching the anonymous email service, the creators were forced shut it down due to infrastructure issues with their server and email client according to a recent post.  They're currently working to get it back online. KnowTechie reached out for comment via email, no response has been given at this time. We'll be sure to update you of any further developments. 
**UPDATE: Just got an email from one of the co-founders, Laurent Desserrey: "Seb and I didn't expect that people would be sending that much leaks over the week. It's actually a good issue. We totally understand the reaction of Mandrill and Sendgrid, that's why we're currently building a dedicated email server with specific features needed by our service. "
Follow us on Flipboard, Google News, or Apple News