Cubbit review: Peer-to-peer, zero-knowledge cloud storage
This is the review of Cubbit – the zero-knowledge cloud storage solution that you only pay once.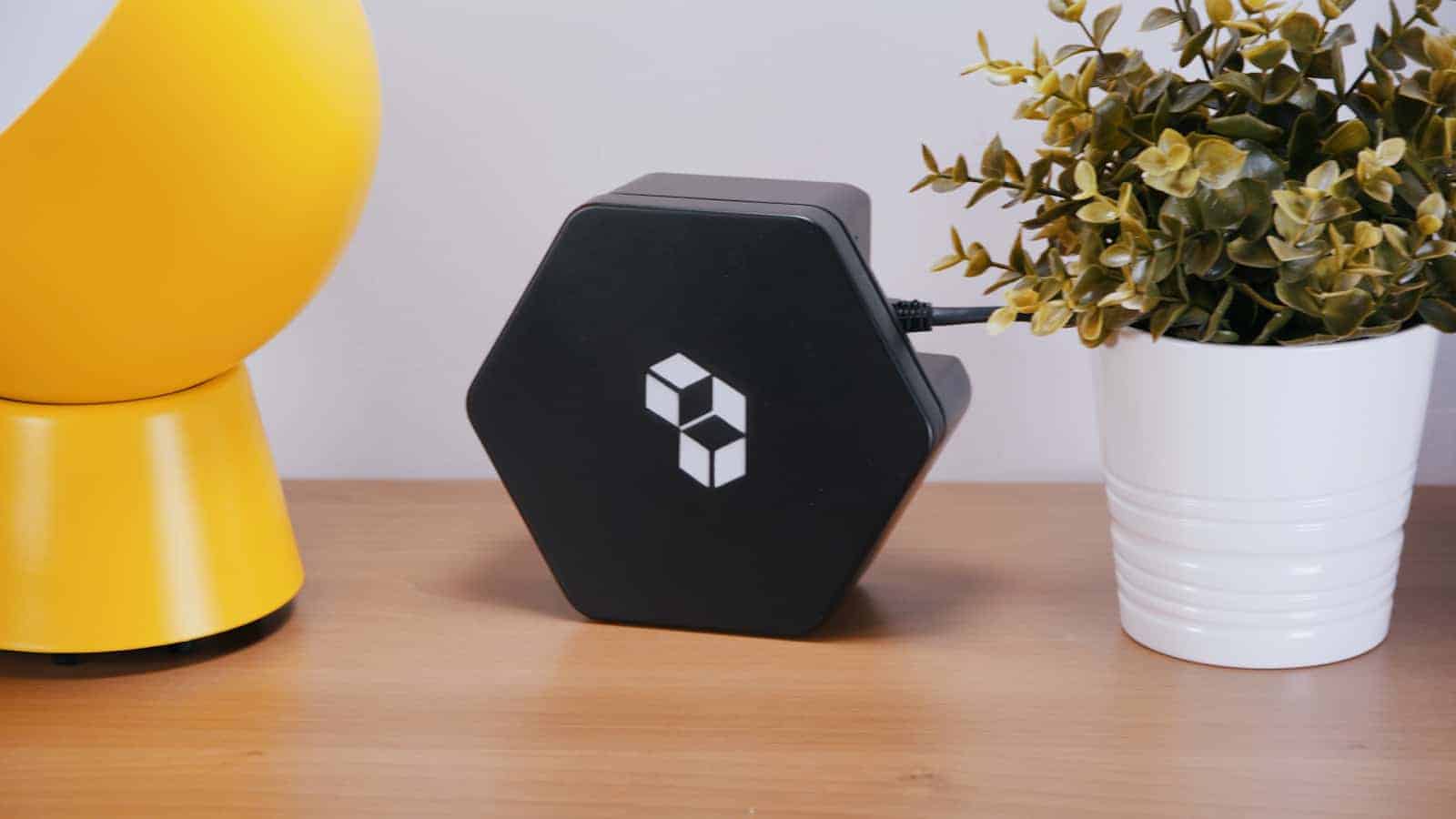 Cloud storage has been around for ages and yet, it's still the same. But recently, an Italian startup has come up with a device that, they promise, is going to reinvent cloud storage as we know it. Being skeptical by trade, I decided not to drink the Kool-Aid and instead give it a try.
(r)Evolutionizing cloud storage?
Privacy. No monthly fees. Eco-sustainability. A ton of storage space, accessible anywhere, anytime, whatever happens. These are the claims of Cubbit, which so far has raised a little more than one million dollars on Kickstarter and Indiegogo and over 10 million dollars in total funding. Do these statements hold water? Let's see.
First thing first: Cubbit is not what you expect. When I say cloud storage, what you're thinking is some kind of software as a service like Dropbox or Google Drive. You get some GBs for free and if you exceed the threshold you have to pay. Not with Cubbit.
READ MORE: Cubbit launches Cubbit Cloud: peer-to-peer cloud storage at $3.49/mo
Meet Therabody's All-New TheraFace Mask
TheraFace Mask is a breakthrough FDA-cleared LED skincare mask with added tension-relieving vibration therapy. Clinically proven results include firmer, smoother, healthier-looking skin with a visible reduction in fine lines, wrinkles, and uneven tone in as little as 8 weeks
Cubbit is what they call peer-to-peer zero-knowledge encrypted cloud storage. In other words, a zero-knowledge cloud storage platform built on top of a distributed architecture. Think BitTorrent.
Like BitTorrent, Cubbit relies on a network of nodes. What nodes? They are called "Cubbit Cells". Basically, a Cubbit Cell is a hexagon-shaped storage unit that for as little as $419 gives you 1TB of cloud space, no monthly fees, with a 4-year warranty (keep reading to get the special discount code reserved to KnowTechie's readers). But, is it safe?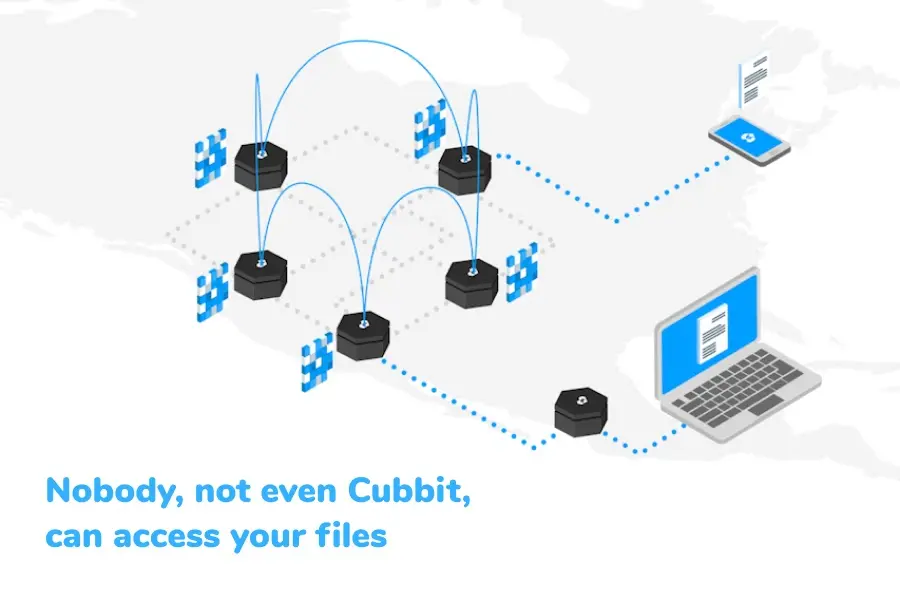 Super secure, super private – zero knowledge cloud storage
Cubbit may not be as fancy as Google Drive, but it is secure. Unlike other services, they apply a "can't be evil" approach to your data. Simply put, they can't look at them, not even willingly. And they go to great lengths to make sure they can.
In the industry, this architecture goes by the name of zero-knowledge cloud storage. It means that thanks to end-to-end encryption and proper cryptographic tools, the service provider is not able to pry into your stuff, since your private information never lands on their servers.
Usually, this means it stays on your client, such as your home computer, which implies you can't access it when you are outdoors. But Cubbit has a workaround.
Rather than storing your data on some proprietary server, as Google does, Cubbit encrypts it and spreads it over a peer-to-peer network of Cubbit nodes – the Cubbit Cells.
As a result, nobody can access your files without your permission. It also means that small chunks of your data are in other people's Cubbit Cells. Creepy, right?
But if you think about it, it's always been this way. Not only are your Dropbox files stored in Dropbox servers, they also are accessible to Dropbox the company, and all their employees. That's not the case with Cubbit. Why?
Because whoever is hosting your data on its Cubbit Cell only has a small chunk of your files. Plus, this chunk is encrypted, and they don't have the encryption key. In fact, no one has it but you, since the encryption key is generated on the client.
This is how zero-knowledge cloud storage works.
Sustainable cloud storage
End-to-end encryption and zero-knowledge cloud storage are not the end-all-be-all of Cubbit. Respect for the environment is central to their vision. One thing Cubbit says about their service that struck my attention from the start is indeed that Cubbit is green.
How green? Isn't traditional cloud storage already green? Well, no.
As of today, data centers are responsible for about 3.7% of CO2 produced globally while the ICT ecosystem is estimated to be responsible, as of today, for 10% of the total worldwide energy demand – equivalent to the combined energy production of Germany and Japan.
So no, traditional cloud storage isn't green. After all, it's a bunch of always-on remote servers, why should it ever be green?
In fact, why should Cubbit be green? Isn't it the very same thing? The Cubbit network also has to stay on in order to function. So what? The big difference here is peer-to-peer. Being distributed, Cubbit is more energy-efficient.
When you save a file in Dropbox, it gets stored in a Dropbox server. Now, the question is: where, exactly? That's an impossible question since traditional cloud service providers don't say where their servers are located.
But the thing is unless you live next to a Dropbox storage facility, odds are your data is stored in some other country who knows where. This has powerful implications if you consider that the lion's share of data centers' energy consumption comes from data transfers.
Cubbit, on the other hand, is designed to be energy-efficient. Its coordination server uses cryptographically blind AI to spread your files' chunks as far as possible, while also minimizing network latency and other factors (bandwidth usage, storage optimization, etc), meaning that you can avoid long data transfers, which sometimes can consume as much energy as storage itself.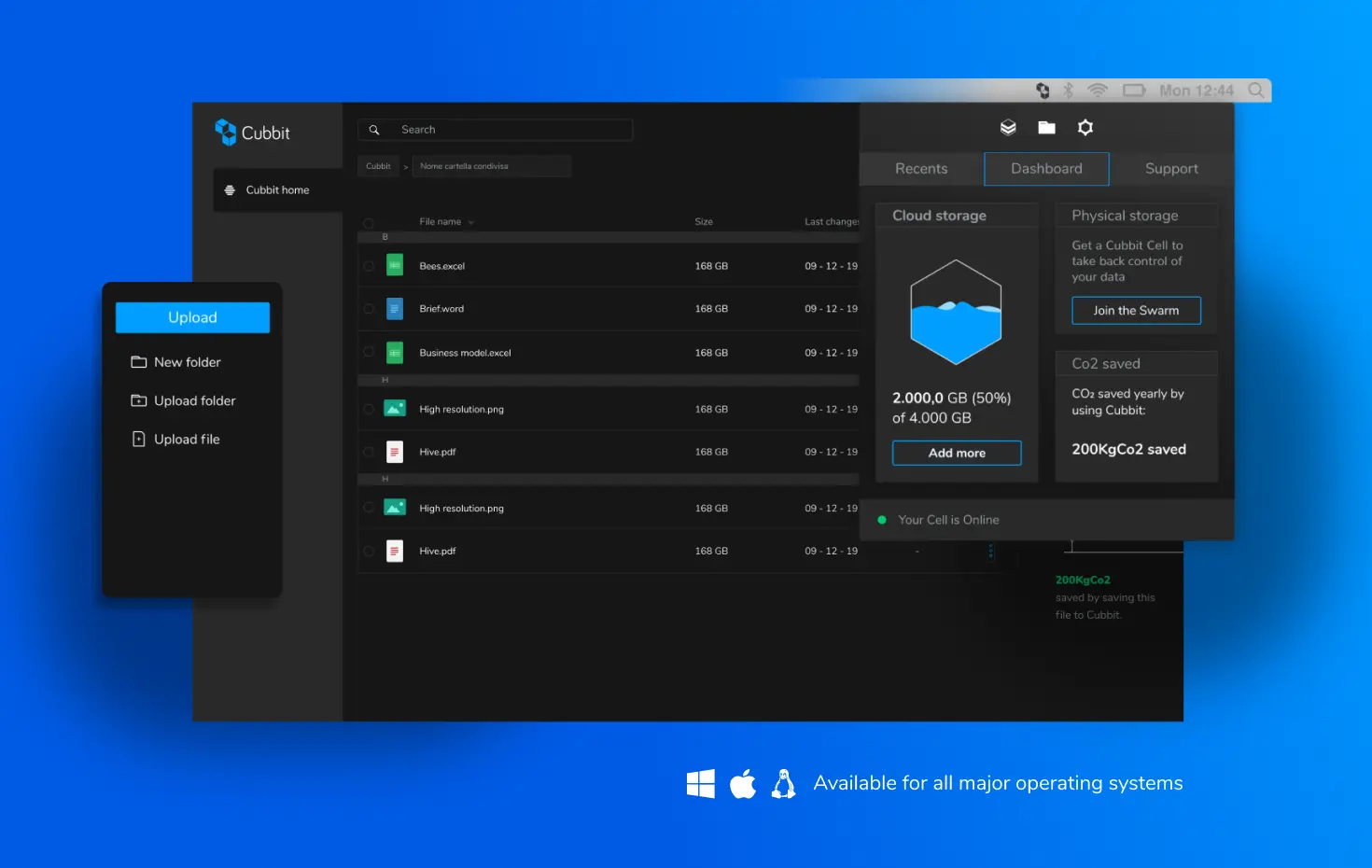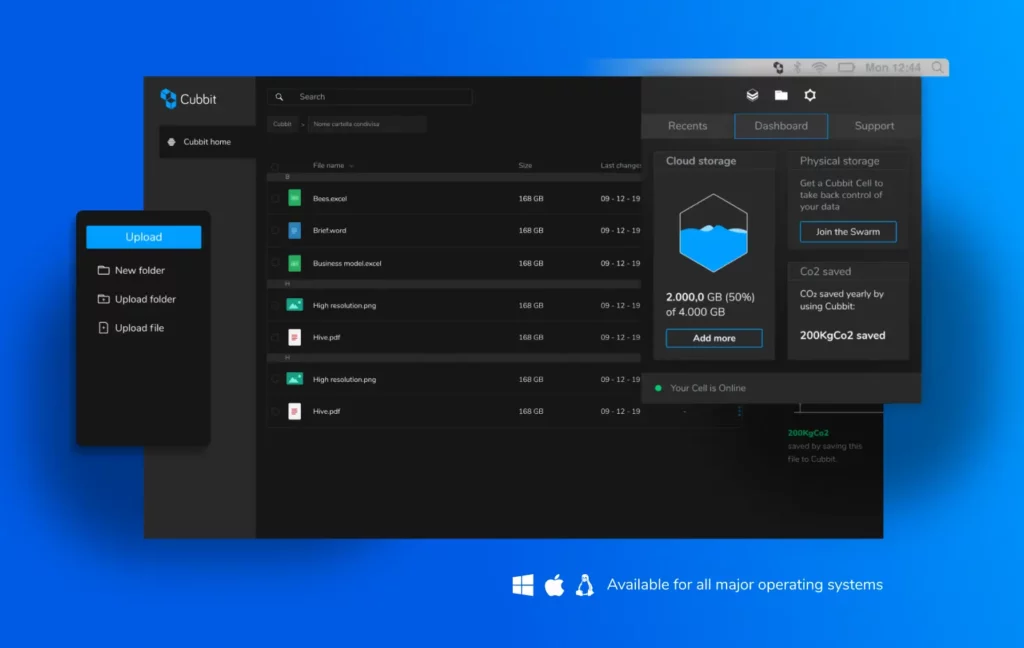 Features
Compared to most traditional cloud providers, Cubbit has some interesting features that make it stand out from the crowd:
Expandability: you can increase your cloud storage space up to +3TB by connecting a hard drive to the Cubbit Cell via USB port. It's like turning your HDD into cloud storage for free.
4 Account: one Cubbit Cell lets you create up to 4 independent accounts.
Cubbit Private Links: as every cloud provider, Cubbit lets you share links to your Cubbit files. In Cubbit, these are called "public links." In addition, Cubbit also lets you share private links. Let's say you want to send a link to some confidential file to Michael. If you create a private link, Cubbit will return a link and, separately, its encryption key. In order to send the private link to Michael, you will need to also send him the encryption key. This makes sharing more secure, since you can use two different channels to share the link.
Selective Sync: selective sync lets you decide which files are stored both on Cubbit and your device and which are stored in Cubbit alone. This way you can significantly expand the storage of your devices. If, for instance, you save all your photos in Cubbit and enable Selective Sync, you can free up a lot of space on your mobile phone.
Disaster-proof: so what if there's a power outage and your Cubbit Cell goes offline? Do you lose access to your data? Not at all. Remember: your data is not inside your Cubbit Cell. It's spread over the network! Your Cubbit Cell going offline has no impact on your ability to access your files.
Two-factor authentication: if you want to be extra paranoid, Cubbit has you covered with two-factor authentication, adding a second layer of security to your identity verification.
Should you get a Cubbit Cell?
You should definitely get a Cubbit Cell if you're one of these people:
A privacy enthusiast: if you deeply care about privacy, then Cubbit is for you.
A wannabe NAS owner: if you already own a NAS, you might not be interested in Cubbit. However, if you've always wanted a NAS and never bought one, then give Cubbit some consideration. The Cubbit Cell is cheaper than most NAS devices and certainly much more user-friendly.
A photographer / video maker: if you have a ton of photos and videos flying around, Cubbit is your cup of tea. Most cloud providers don't give you as much cloud space as you need, and for all that space you'd pay a fortune anyway.
A designer: if you're a designer, you're already short on cloud space – unless you are a premium user, of course. If that's the case, Cubbit offers you as much space as you want, privacy, and all of this for $0 a month.
At the end of the day, if you are a tech enthusiast and you think privacy is important, or if you just have a ton of videos and pictures to secure, you should get Cubbit.
And if you haven't made up your mind yet, you might consider taking advantage of their money-back guarantee 30-day trial – not to mention that right now you can try Cubbit at a 15% discount using the code KNOWTECHIE at checkout!
The cherry on top, they also have free shipping, four-year warranty, and their customer service is very good. Think about it.
Have any thoughts on this? Let us know down below in the comments or carry the discussion over to our Twitter or Facebook.
Editors' Recommendations:
What are the must-have tools for remote collaboration to survive during COVID-19?
Disclosure: This is a sponsored post. KnowTechie's opinions, reviews, and other editorial content remain objective and are not influenced by the sponsorship.
Follow us on Flipboard, Google News, or Apple News