The chat battle between Facebook, Google, and Microsoft escalates
Read about the latest battle developing between Microsoft, Facebook and and Google, the search engine heavyweights.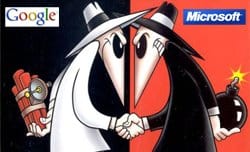 In a less-than-surprising move, Microsoft has decided to move forward with eliminating Google Talk and Facebook Chat options from their mail service Outlook.com.
Google Talk
Given their recent decision to shut down the Google Talk add-on in favor of their Hangout platform, search mega giant Google has practically forced Microsoft's hand in eliminating a long-held chat option from their Outlook.com service. Over the next few weeks, users will gradually have the Google Talk platform removed from their account as both companies move back towards equilibrium with one another. This move by Google will undoubtedly fuel tensions between the two companies that have been ongoing for years now. This is clear from Microsoft's public declaration, which states that their decision to remove Google Talk from their Outlook service was "due to Google's decision to discontinue the chat protocol used by the Google Talk platform." Google Talk went offline on February 16th, and Microsoft has begun removing support for the service as of today.
Facebook Chat
Recent legal battles and contract negotiations between software and search mega companies is sure to result in more frustration as services are cut and users are disappointed. This is further represented by Microsoft's synonymous declaration that they would be removing Facebook Chat as an option on Outlook, suggesting that users move on to Skype as a chat service. In a move similar to that of the retirement of Windows Live Messenger in 2012, this service removal stands to be a frustrating experience for users who had come to rely on it. As recently as 2013, users were clamouring for Google Talk and support services, although this has been muted in recent months.
The Future
While most users of Google Talk and Facebook Chat also operate Skype accounts with regularity, the loss of a major Google platform is a rarity when they are doing their best to retain clients through new releases. Many preferred the old Google Talk platform due to it's ease of use and no-complications framework. It seems that technology giants are clashing more and more frequently as their contracts conclude and long-time power holders begin to lose their grip.
It is not surprising that each of these companies is attempting to find a way to either "go it alone" or to "partner up" in relation to each other.
Follow us on Flipboard, Google News, or Apple News