G-RO carry-on helps travelers roll with the travel punches
Carry-on luggage can be pain, especially when it isn't yours. But the G-RO is a new carry-on luggage that's looking to transform the game.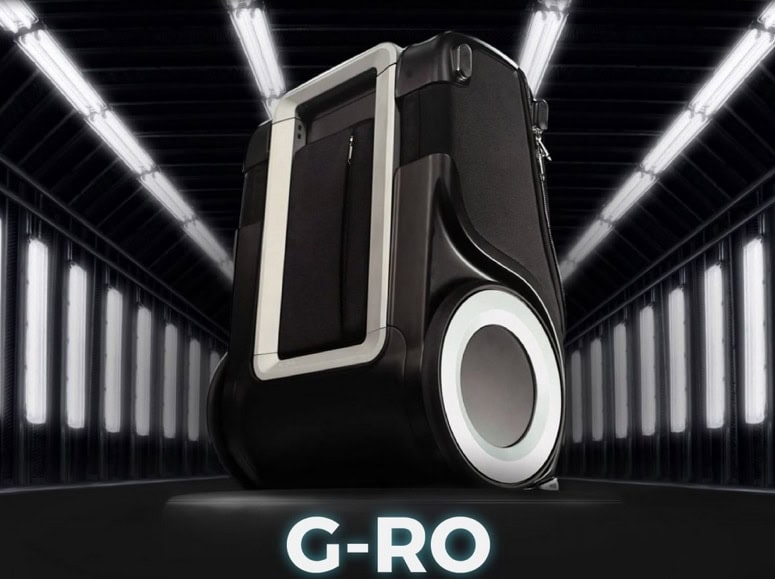 When was the last time air travel was fun?  From the mind-numbing tedious security screenings to the back-breaking sprint to the gate, the last thing holding you back should be your cumbersome suitcase. Thankfully a company called Travel-Light understands your pain and has designed a carry-on that could make you an even savvier traveler.
Founders Netta Shalgi and Ken Hertz launched their crowdfunding campaign on Kickstarter today with the goal of raising 125 thousand dollars. The proceeds will go towards funding the mass production phase of their carry-on bag G-RO, that features larger, more maneuverable wheels, a universal charging station, and optional module for location tracking and much more. I spoke with CEO Shalgi, who shared his creative process and the lessons he learned as a entrepreneur.
Shalgi's team tackled the many needs of the traveler when designing G-RO. The larger diameter wheels made of a "strong aerospace and firearm-grade polymer" lower the center of gravity and make it easier and lighter to pull the bag along. The carry-on also features multiple compartments as well as an easily accessible compartment for those TSA-approved liquids,  your laptop, and anything else TSA needs you to take out nowadays.
G-RO offers two USB ports, a universal power outlet, and an optional electronic module powerful enough to charge a typical smartphone up to ten times. The module is also equipped with location tracking and proximity detection. Thanks to G-RO's electronic capabilities, travelers can avoid the stress of scouring the terminal and fighting other flyers for a vacant outlet. Shalgi, who has had a passion for travel from a young age, hopes Travel-Light's crowdfunding campaign will bring the G-RO to a much larger scale.  
Shalgi says crowdfunding is a "very green" effort to get his startup going, saving time and costs compared to traditional fundraising (i.e. knocking on every investor's door). He is said he is also ready to start mass production, having visited China many times to source factories and prepare them for G-RO. He also sees crowdfunding as a way to keep his production costs low, which he sees as one of many benefits for customers. Shalgi has been working on the G-RO idea since 2010, but it was by lucky coincidence that he and Hertz met and realized their shared passion to revolutionize the way people travel.
A little backstory….
When Shalgi shared his idea for a new carry-on to a colleague shortly after graduating from Holon Institute of Technology, this person told him, "There is someone who talks just like you." Shalgi was happy to meet this person from L.A.  who shared his vision, and they agreed to meet in London. Hertz and Shalgi commiserated about their travel pains and knew it was time to get this innovative idea rolling.
This time in London convinced Shalgi he had partnered with the right person. After a couple days of meetings and presenting the G-RO prototype, Hertz invited Shalgi to his apartment to talk business. Shalgi walked and noticed something peculiar about Hertz's home. Then realization struck. The table in Hertz's place was designed by Shalgi himself!
"What are the odds?" Shalgi said.
Since that fateful meeting, Shalgi has collaborated with his team to perfect G-RO while always keeping the customer in mind. He views a suitcase as an extension of life when someone is constantly on-the-go.
"We all have relationships with our items and devices," he said. "But we have a love-hate relationship with our luggage."
So what is Shalgi mission?
"We wanted to make your relationship with your luggage a romance."
By making G-RO a "travel companion" rather than a travel nuisance, Shalgi wants the traveler, such as frequent business travelers, to "get more joy from their bag."  He hopes the human-centric design will alleviate the stress of traveling with this "comforting bag" because it directly addresses the needs of a frequent traveler.  
As an entrepreneur, Shalgi said his daily struggle as a CEO was keeping this vision clear while also maintaining a flexible, open mind when collaborating with others.  Even though he started the company by himself, he soon realized he could only stretch himself so far. He learned how to find the right people, engage their interest in his idea, and listen to their ideas.
"I had to force myself to be flexible in my mind," he said.
He found a way to balance the voices of many others with his own by imagining his vision as a lighthouse.
"The beacon is the user," he said. "Not just the traveler but also the worker."
No matter which direction his colleagues wanted to go, Shalgi would ask, "Is this good for the user?" By keeping that in mind throughout the entire process, he guided his team to create a product that really listened to travelers' plight. With the launch of G-RO Kickstarter campaign, Shalgi admits he feels excited and nervous to build his dream on a larger scale.
"I hope to have the opportunity for the next stages, but I am very excited for this one," he said.  
Follow us on Flipboard, Google News, or Apple News