Kiwi for Gmail is a thing that exists that may assuage your email woes
Moar email for your email bro.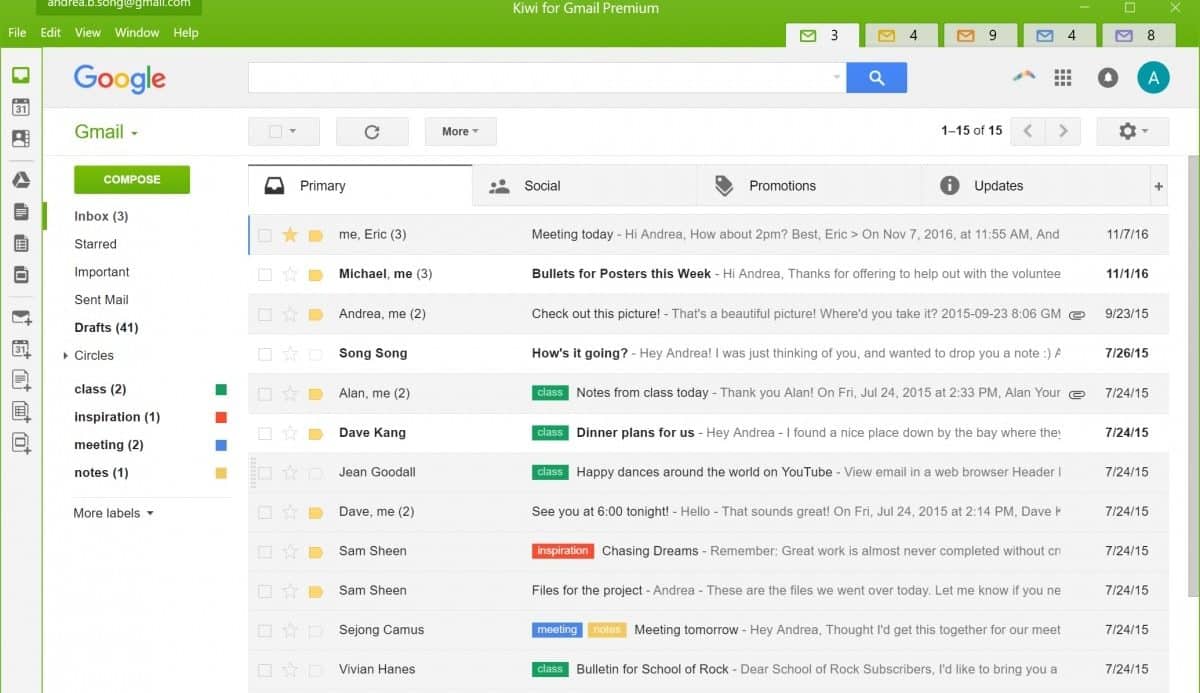 Kiwi for Gmail is one of those applications that you only use if you use those kinds of applications. It basically drags Google's Gmail and G Suite out of the browser and onto your mess of a desktop. So this is the kind of thing you use if you, for instance, use TweetDeck as a standalone app instead of in the browser (browser-based for life yo). It's not the kind of thing you generally use if you are still running Microsoft XP and Lotus Notes.
With Google's Inbox shutting down and Gmail adding a bunch of right-click features, it seems that Gmail is always in flux. That's not a problem for you though bro, you're still rocking a Hotmail email address that matches your AOL user name from back in the day. The selling point of Kiwi for Gmail (as it is a yearly subscription service) is that it allegedly cleans up your inbox through filters and views and calling your mom when your virtual room is a mess.
Email is more of a mess than the timeline after Barry farts around in the Speed Force. Between Gmail deciding what is important or spam on your behalf, a focused inbox that might let in the trash and the overwhelming, anxiety-inducing annoyance of task lists, your inbox is most likely a slice of pure hell. Like carrot cake at a birthday party. Just like that shitty cake being devoured with the same enthusiasm as ice cream cake, quitting email altogether is somewhat of a perverse fantasy.
"Part of the problem with previous approaches is that they force users into these fixed views of their inbox," said Eric Shashoua, CEO and Founder of Kiwi for Gmail, in a press release. "If you archive an email, suddenly you can't find it. If you only see email Google marks important, you constantly know you're missing things and need to go digging in the 'unimportant' email.'"
The Focused Filter is where it's at
So, what does Kiwi for Gmail offer as a relief from the knuckle cracking blizzard of emotional turmoil that is email? The aptly named and properly capitalized Focus Filtered Inbox for Gmail is what makes Kiwi worth paying for, if you like paying for things that don't offer immediate tangible rewards like cheese platters and tiny tattoos of butterflies on your wrist.
With the (cue ominous music) Focus Filtered Inbox you can alter your view, combine filters, quickly find emails and generally cut out all the noise. Here are some videos for Windows and for Mac because visual aids for your brain.
Kiwi for Gmail looks a lot like, well, Gmail. However, it makes it a lot easier to spin through emails kind of like how it's much more fun in the ball pit once you've eaten two pizzas dunked in a pitcher of Mr. Pibb. The Enterprise version offers a bunch more features that you might want if you work in an office with other people who spend at least an hour a day talking about their shitty emails through a mouthful of salad. Shashoua supports a more lackadaisical approach to email, while still finding what one needs.
"The fact is, people don't have time to organize their inboxes, and it gets messy. So we don't expect them to," says Shashoua. "More than 80% of users have tried repeatedly to get their emails under control, and while they tend to have initial success, the average amount of time it lasts is just six days."
We generally take email for granted, as much as we obsess and stress about it. As fax machines have yet to fade into the abyss, it bodes well for the future of email as a method of communication. Unless someone is training a bunch of supersonic pigeons embedded with Google Glass and SSD drives, email is here to stay.
Quitting email — while often making sense if you are a journalist digging through hundreds of pitches a day, most addressed to "[First Name, Last Name]" — is easier said than done. We're hitched to it like Kevin James to Adam Sandler.
So Kiwi for Gmail is a thing, that exists, that might help salve that festering wound between 'important and unread' and just plain 'important.'
What do you use for email management? Is this something you'd consider? Let us know down below in the comments or carry the discussion over to our Twitter or Facebook.
Editors' Recommendations:
Follow us on Flipboard, Google News, or Apple News