Review: Kodak Printomatic
Is nostalgia worth $70?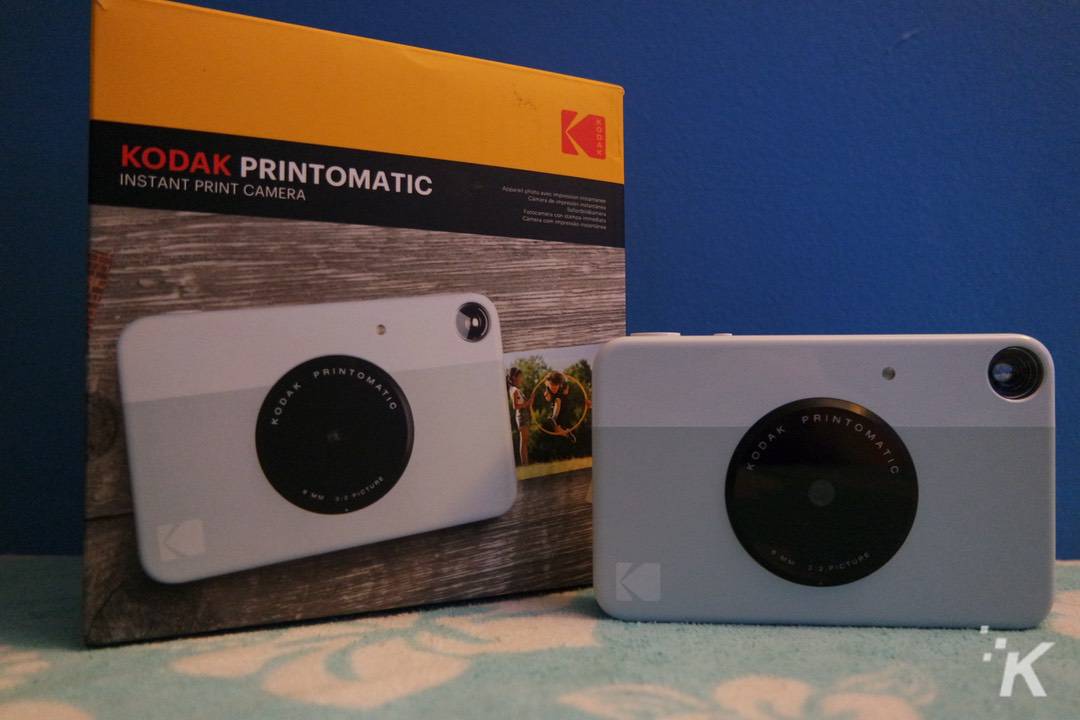 The Good
Quick print speed
Plastic case can stand bumping while protecting internals and in-progress print
Easy to load and align paper
The Bad
Pictures often turn out overexposed
MicroSD required
Not ideal for party or inside use
Picture quality best in black and white
In an attempt to push back against Polaroid's Snap, Kodak and C+A Global released the Printomatic in September. The Printomatic is a point-and-shoot instant print camera designed for simplicity and ease. This camera is set at 5 megapixels, with a maximum setting of 10 megapixels. The Printomatic works in an aperture of f2.2 along with automatic focus.
Photos print directly from the camera on no-ink photo paper, and the paper has an adhesible back for easy scrapbooking. The Printomatic has a built-in lithium-ion battery for longer shoots along with micro-SD card capabilities for sharing your photos digitally. The best part is that it can shoot in black and white along with color.
Taking the camera out of the box, I was surprised at its size. It was bigger than my phone, and I had difficulty seeing somebody sticking this in their pocket without breaking it. The shell is plastic along with most of the internals. One thing to note with the Printomatic; You need to insert a microSD card to operate the camera. It's annoying if you don't have a need to port your photos digitally, but it's mandatory.
Putting the ZINK paper into the Printomatic was easy enough, and within minutes I was shooting numerous pictures. I tried the camera in different levels of light, environments, day and night. I wanted to put the Printomatic through every different scenario to see what worked and what didn't. I certainly got my answers.
My first shot was somewhat disappointing as I shot a picture of my dog. I know my house doesn't have the best lighting, but my color picture came out looking like I shot it in the dark. Any extreme light or darkness does not pick up well with the Printomatic. Taking pictures at night is nearly impossible. I tried to take a few pictures of my friends playing Rocket League on the Xbox One, and the screen came out overexposed.
Black and white pictures turned out better than color ones, especially in the day. Color photos just seem to blend and come off as flat. The printer within the camera works much better with black and white pictures. The option for color is cool, but if you are looking for quality, then stick to your nostalgic black and white.
Printing a picture takes about 20-30 seconds, and thanks to the advanced technology in the Printomatic, you can print another picture while waiting. Shaking the camera doesn't affect the quality of the photo either, which is convenient for a camera that will often be on the go. I dropped my camera 6 inches while it was printing, and the shell, internals, and picture remained intact and unaffected. Investing in a camera and watching it tumble to the floor is always a scary feeling, but the Printomatic seems up to be up to the challenge.
I feel like $70 is a bit of a stretch for Kodak's Printomatic. With the quality of the photos, I would feel more comfortable with a $50 price tag. Keeping in mind that the Printomatic's rival, the Polaroid Snap, is $100. If you are looking for a point-and-shoot instant print camera, then the Printomatic would be the best choice. If you are looking for quality, then stick to your smartphone.
A sample unit was provided to KnowTechie for the purpose of this review.
The Good
Quick print speed
Plastic case can stand bumping while protecting internals and in-progress print
Easy to load and align paper
The Bad
Pictures often turn out overexposed
MicroSD required
Not ideal for party or inside use
Picture quality best in black and white
Follow us on Flipboard, Google News, or Apple News