Let's take a look at Sony's free PlayStation games for September with PS Plus
We dive in to the PS Plus games for September

We're a little late to the party this month, but Sony's usual collection of free games with PS Plus is actually nothing to scoff at. On top of the usual collection, this month features a game that was voted on by the community, which just so happens to be a very popular indie game. Let's take a look at what is available this month!
Grow Home (PS4)
The easiest way to describe this game is to take the concept of a traditional 3D platformer and add a dash of Minecraft and Quantum Conundrum in with it as well. A creative and actually relaxing game that rewards creativity and thinking outside of the box, Grow Home just so happens to be the game that PS Plus members voted into the free game rotation this month. Good choice!
Xeodrifter (PS Vita)
It's been a good little bit since we've had a decent Metroidvania-style title make an experience. Xeodrifter is a game that obviously draws inspiration from the original Metroid as well as games like Cave Story. While some players find that the old-school difficulty (not a ton of checkpoints, backtracking) takes away from the game, my only complaint was that boss combat isn't really a mixed bag and most fights are very straightforward. Still, free is a great price for this game.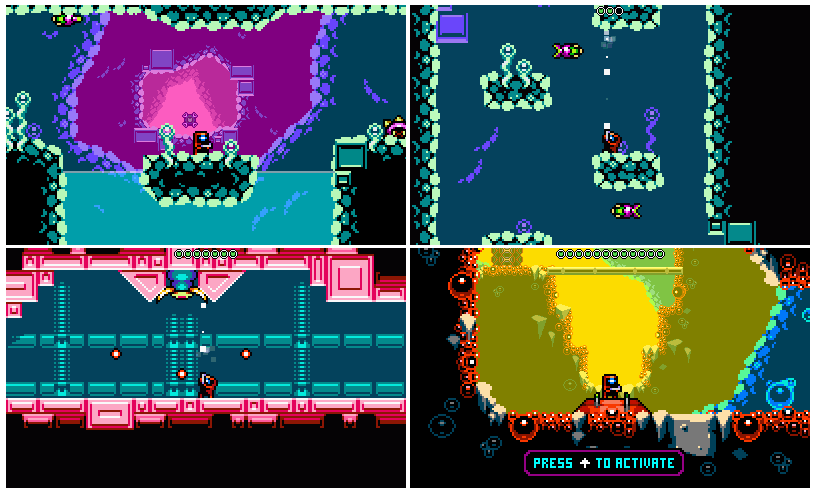 Super Time Force Ultra (PS4)
First off, Super Time Force Ultra is a great game. It's hard to sum the game up in just a few sentences but I'll do my best. Take the controls and action of a Contra game, add in a heaping helping of time control mechanics and tons of fun characters and I think that may give you a decent idea. As a bonus, along with the extra content of Ultra, you can also play as SCE President Shuhei Yoshida, as he uses his social media presence to disperse attacks much like Mega Man. If you have already played this one, play it again. If you haven't, buckle up!
Teslagrad (PS3)
Probably one of the better 2D puzzle platformers to get a release in the last few years, Teslagrad really is something special. It takes some solid concepts that were established in games like Limbo and adds in physics and game mechanics like a Portal game. Beautifully artistic and filled with an interesting story with cool characters and challenging bosses, this game basically sums up exactly what an indie game should be.
La-Mulana EX (PS Vita)
Remember when most platforming games had some sort of odd Indiana Jones clone in it? La-Mulana EX lets you relive those classic games with what could best be described as an old-school NES game remade for current systems. Explore the temple, find all sorts of treasures and power-ups and get amazingly frustrated when you get cheesed by a boss the first time you fight him because he changes it up when his health gets low. It everything you loved about old school games.
Twisted Metal (PS3)
The last installment of the Twisted Metal series, I am actually surprised to see this game in the lineup. When it came out, this car-combat game was well received but was quickly forgotten with the release of some major FPS game releases within the next week. A huge departure from the original Twisted Metal with far less individual characters and more focus on an overall story, it'll be interesting to see if the online servers face a resurgence with the release of the game for free this month.
Well, as you see, this month's offerings are quite good. I am actually surprised at the quality of the games and I will definitely be spending some time with the free games this month!
Follow us on Flipboard, Google News, or Apple News