Review: MantelMount MM540 full range television mount
We ripped a hole in our wall, but solid product overall.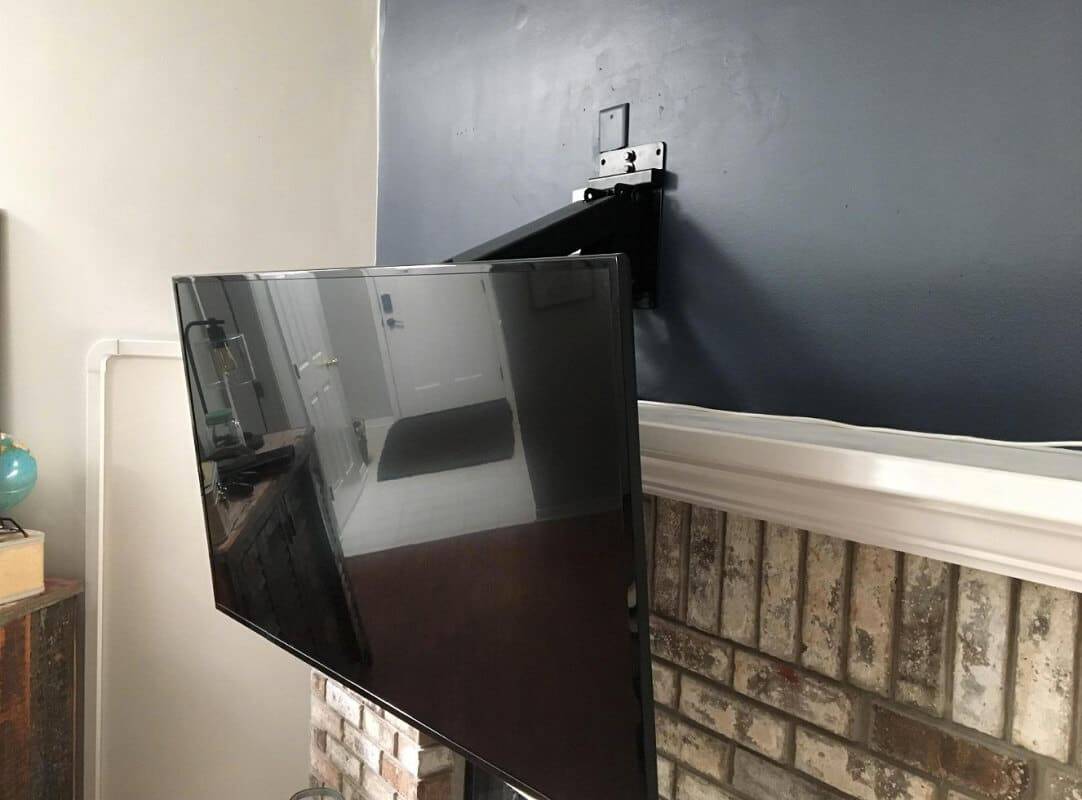 The Good
This thing is legit.
No seriously, I used to think OMNImounts were the best and MantelMount makes them look cheap.
The Bad
I didn't have all the info going in and ripped out 2 holes in my wall. Instructions NEED to be better.
I have owned a big-screen TV since the days of DLP projection. From the time I owned my first plasma TV, I've always thought that putting it on the wall would be a fantastic idea. Unfortunately, I'm one of the least coordinated people ever when it comes to tools. Sure, I can get the job done, but I'll make Tim the Toolman Taylor look like a complete pro in the process.
The idea of taking an expensive electronic item, attaching it to some metal and securing it to the studs in my wall sounds like a recipe for disaster. Then MantelMount asked us to take a look at their most popular mount and I just so happened to be the dude who doesn't have a mounting solution for their 60″ LCD TV.
Before we get started, I used to work at Circuit City back in the day and among other things, ran the TV department. I know about mounts and I know the more features they have, the pricier they get.
MantelMount makes a very specific mount, focusing on pull-down mounts for areas like the fireplace. As a Florida resident, I don't really have to worry about a fireplace all that much, but I have to respect a company that sticks to their guns. While I hadn't heard of their products prior, they seem to have cornered (or mounted) the market on mantel mounts.
Once the MantelMount MM540 arrived, I bribed my dad to come over by offering to buy him a Sam's Club pizza (no idea why he likes trash pizza) so that he could help me put up the mount.
Fortunately, even though I don't have a fireplace in my house, I do own a nice IKEA shelf that has been my TV mount for a few years. It's large, holds all my electronics and isn't tall enough to keep my kids' hands of the damn TV. The MantelMountMM540 was going to fix this once and for all. We took the TV down, cracked open the box and started to measure out where the mount and TV would go.
READ MORE: Why you shouldn't mount your TV over a fireplace
At initial glance, the directions for the MM540 are fairly straightforward. Measure stuff out, put the pieces in place and ultimately secure everything where it needs to be. Obviously, since I suck at doing things right and my dad is the most stubborn human that ever walked the planet, things turned sour. Our first issue was that through skimming through the instructions, I had assumed that I had the right size tools for the job. Turned out I needed a specific size socket wrench and I didn't own one.
We took a trip out to ACE Hardware where my 4-year old son pooped himself (trusted the wrong fart) because he's a jerk, and honestly, because who doesn't feel like that when you are in an ACE Hardware? I got the tool I needed and headed back. We then discovered that the MM540 is for 16″ stud walls and mine are 24″. We fumbled with some solutions and ended up deciding that anchoring the mount into the wall along with a stud would be good enough.
See where this is going?
After aligning the mount to the exact calculations of my dad, we then secured the mount to the wall with the anchors. We were able to reach one of the stud points without moving the mount, but the second stud point was under the arm of the mount. After some debating, we decided to loosen the arm and pull it out so that we could secure the mount to the wall.
As you may expect, we read the instructions and it appeared to be easy to pull it out after a little loosening but couldn't get the arm out because there wasn't any weight or force to keep it pulled out. We decided the best course of action was going to be to pull out the arm, push the stop pin in and try to get the bolt in behind the hand-guillotine. We both pulled the mount arm and tore the anchors and about 3 inches of drywall on each side right out of the wall. We done good.
We did eventually get it up, but it wasn't pretty.
After mounting the unit, I spoke to MantelMount about our issue. I was then told that there was an adapter they hadn't told us about and that they would happily pay for the damages to the wall. Honestly, they could have just assumed that we were a bunch of idiots, but I really do like that they stepped up to the plate like that. I haven't asked them for anything yet, as I'm still trying to see if my initial quote is normal. Sadly though, had the instructions talked about the wall plates, I don't think I would have had to tell you all about a father-son duo of destruction.
Therein lies the biggest issue with the MantelMount MM5540, the instructions kind of suck. Yes, it has instructions, but they are framed in the way that almost assumes the person installing the mount has done it before. We made a bunch of stupid mistakes because sometimes it was necessary to look a step or two forward to prepare for what needed to happen next. It also didn't recommend any tools or warn of anything extra that could have been needed. That isn't totally on them, but this is a review, I need to nitpick.
Quality-wise, the MM540 is top-notch. Seriously, my TV has been floating in the air long enough that I have almost forgotten what it looked like on the base. I can raise or lift it with a single finger and turn it to face the kitchen or outside. The best part is that it even though it technically isn't secured correctly, it is still strong enough to not warp or anything. The MantelMount MM540 is a good mount.
All in all, the only real issue with the MM540 is the fact that as a $399 pull-down mount, it isn't cheap. The price doesn't bother me, but the fact that someone could spend that much and have to fumble through instructions does. MantelMount's product is best-in-class and I recommend it to anyone, not just fireplace owners. Just keep in mind that you may want to make sure you look to see that your tools are adequate and that you have prepped for all the steps.
A sample unit was provided to KnowTechie for the purpose of this review.
The Good
This thing is legit.
No seriously, I used to think OMNImounts were the best and MantelMount makes them look cheap.
The Bad
I didn't have all the info going in and ripped out 2 holes in my wall. Instructions NEED to be better.
Follow us on Flipboard, Google News, or Apple News