Review: AmpliFi HD Mesh Kit and Teleport VPN
Stylish and capable.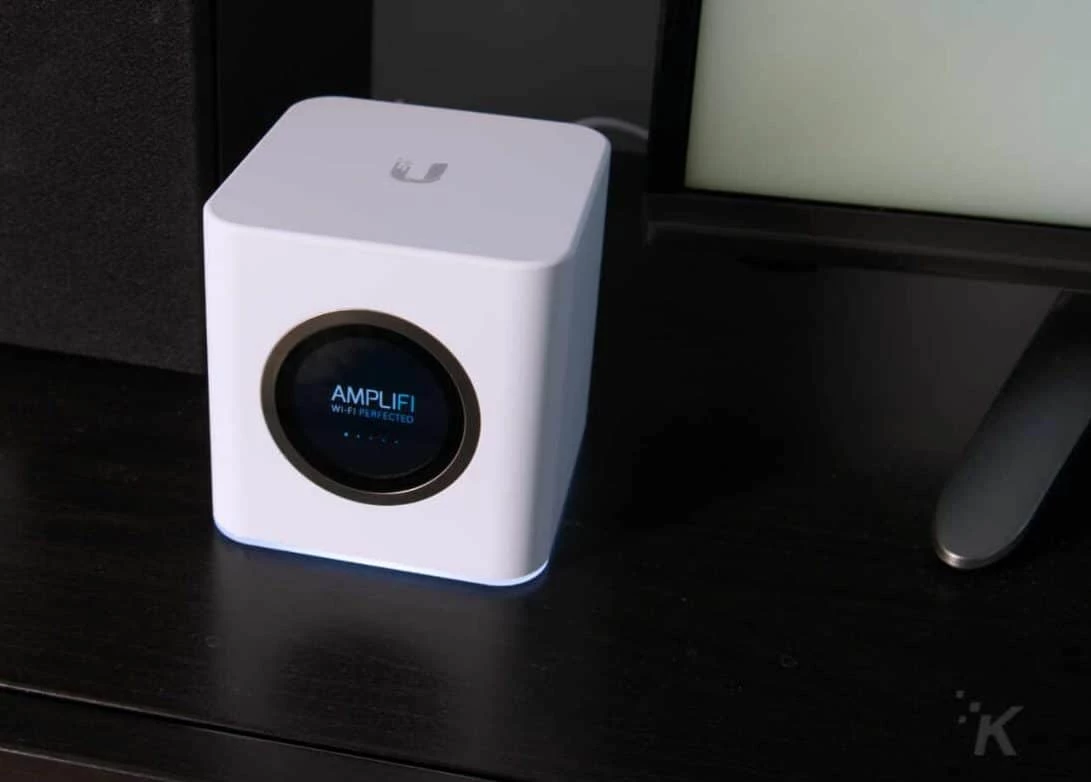 The Good
Router is pretty enough to display
Set up is easy
Intuitive app
Strong signal performance
Extenders work well
The Bad
Expensive
MeshPointHD design is a little obtrusive
Browser-based interface limited to setup only
In our ever-connected life, stable internet with oodles of bandwidth is almost as necessary as oxygen. Traditional router configurations just aren't able to keep up, especially with larger houses. One solution that's gaining ubiquity is the mesh network, like this AmpliFi HD kit.
This AmpliFi mesh kit comes with a cute and stylish 802.11ac router and two mesh points that amplify and repeat the WiFi signal from the main router. It's not cheap at $339, but what you pay for is returned tenfold in ease-of-use. Everything can either be configured from the easy-to-use Amplifi app, and the touchscreen on the device shows handy information at a glance.
Mesh networking kits are designed to blanket your home in wireless coverage so you don't get any of the dead spots that traditional router/extender setups can have. With a central router and a series of mesh nodes placed around your home, they communicate between them and continuously self-adjust to keep your wireless consistent across the network.
Unlike range extenders, which halve the bandwidth going through them, mesh nodes keep the full available bandwidth and can also communicate to each other without going through the router.
Design
The main unit in the kit, the router, is beautiful to look at. It's a well-designed palm-sized white cube with a diffused white LED layer at the base, with a useful touchscreen on the front. You don't lose out on functionality either, with four Gigabit Ethernet ports, another Gigabit port to connect to your modem, a USB port for sharing printers and storage devices across your network (once enabled in the firmware, you can't currently), and a USB-C power port.
Robert Pera, the CEO of Ubiquiti, used to work at Apple and their design influences are apparent here.
[envira-gallery id="64413″]
You definitely won't feel the need to hide it away in a cupboard, which will aid your wireless signal strength. The router itself is supposed to be able to cover a staggering 20,000 square feet, even without the MeshPointHDs additional coverage. The router also supports wired backhaul, so you could set up two of them in that way if your house is wired for ethernet.
Unlike competing units, not all the devices in the kit are the same, with the MeshPointHDs having a more obtrusive design. There are some interesting design choices here, with a magnetic retaining ball for the antenna so it can both be adjusted and offers a level of damage-resistance.
Some nice touches here, with a third ground plug for stability, when plugged in, and a line of small LEDs on the MeshPointHDs that show signal strength, for ease of setup and optimizing.
Performance
Ookla Speed Test 5GHz (Download):

Within 5 feet; no obstructions: 339 Mbps, 5ms ping

Within 13 feet; one floor above: 198 Mbps, 7ms ping

Within 30 feet; opposite side of house: 187 Mbps, 7 ms ping

Ookla Speed Test 5GHz with MeshPointHD extender (Download | Upload):

Within 13 feet; one floor above: 198 Mbps, 7 ms ping

Within 30 feet; opposite side of house: 194 Mbps, 7 ms ping
Some good figures here, especially with the 194Mbps from being on the other side of the apartment next to the MeshPointHD.
Ease of setup and use
Networking has been traditionally a bit of an arcane science and setting up anything more complicated than a single router/modem combination can be a frustrating experience. Mesh routers try to do all the heavy lifting for you, and the AmpliFi HD kit is no exception. We were up and running in minutes, and that included the time taken to walk to where we plugged in the MeshPointHDs.
Plug in the router, open the companion app on your phone with Bluetooth turned on, and follow the simple instructions. You can even use the touchscreen on the router to do the initial setup. Adding the MeshPointHDs is even easier, those only need to be plugged into a socket and they automatically configure themselves after a minute.
[envira-gallery id="64414″]
The app is intuitive with a stylish UI and has most of the functions you would expect for a consumer-focused device. I like that on top of the usual management screens there's both an integrated bandwidth test and a diagnostic routine for optimization and fixing issues. It's also good for at-a-glance monitoring.
There's also a newly added option to create Groups, attach devices to them, and then control internet use on a timer if you want to limit your children's screen time or turn off the internet at dinnertime so nobody's distracted. It's also packed with advanced networking tools, such as port forwarding and guest network access, all in the same easy-to-use interface. There's even 24hr chat support from the sidebar.
[envira-gallery id="64424″]
AmpliFi also sent over their Teleport unit (MSRP $99), which is a user-friendly way to create an encrypted Virtual Private Network (VPN) back to your Amplifi-equipped home network. Initial setup is fairly straightforward, plug it in while you're at home and on the Amplifi router's network, which first links the Teleport to your home router.
Then, you connect to the WiFi point given off by the Teleport and set up the WiFi settings that you'll use to connect to the device in future through the captive portal. Then wherever you are in the world, you plug it in, either connect to wifi through the captive portal or use the ethernet to automatically create an encrypted tunnel back to your home network. This lets you access NAS resources, use Netflix or other geo-fenced apps as if you're at home, and stops anyone on the public network spying on your data.
This worked great, and just like the AmpliFi HD router – took allo the pain out of setting up what's usually a fairly complicated function.
Wrapping Up the AmpliFi
While the AmpliFi HD kit might be overkill for a >1500ft home, it's still the classiest looking piece of network equipment that I've used. If your home is bigger than this, and you don't want to run Ethernet everywhere – the AmpliFi HD kit is perfect for your needs.
Coupled with the ease-of-setup and use, this is the first plug-and-play-and-forget networking kit that I've used that actually delivered on it's promises. If you need to bathe your home in sweet, Netflix-giving WiFi signals, and in less time that it takes to make a cup of coffee, the AmpliFi HD is just what you need.
The Good
Router is pretty enough to display
Set up is easy
Intuitive app
Strong signal performance
Extenders work well
The Bad
Expensive
MeshPointHD design is a little obtrusive
Browser-based interface limited to setup only
Follow us on Flipboard, Google News, or Apple News