Review: Hercules DJ Monitor 5 – Do two 5's add up to 10?
For $300, you'll be hard-pressed to find a better set of monitors.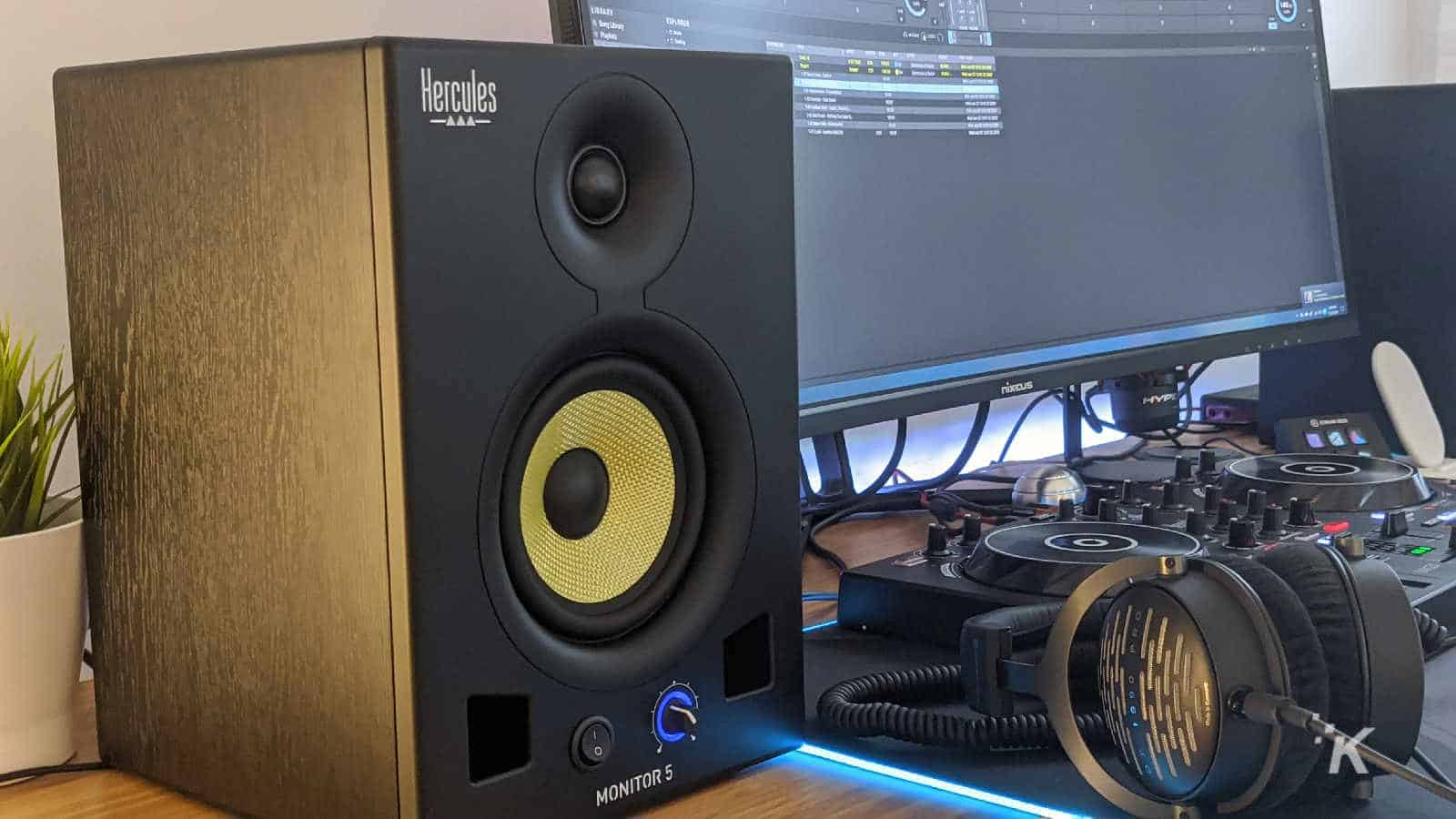 The Good
Stylish
with those yellow woofers
Quality sound for the price
The Bad
Bass could be a little more substantial
So, you want to learn to mix, eh? Take your turn at the wheels of steel (or plastic or aluminum as they are nowadays)? Well, you'll need some good speakers to monitor your mix with, so you know it'll sound tight in the room.
Hercules has long been a stalwart of the industry and has just recently updated its Monitor 5 active monitoring speakers. These $300 active speakers have all the inputs you could need, plus some nifty tricks to get them sounding sweet, no matter what the size of your room.
So, what has changed since 2013 when the Monitor 5′s were last released?
So, what's it all about?
Okay, since the original Monitor 5's back in 2013, customers have been clamoring for a new, updated set. Hercules listened, updating the style and widening their audience, to content creators, content consumers, and yes, DJs.
Oh, if you don't recognize Hercules by name, maybe have a look at your gaming accessories. See anything Thrustmaster? Both brands are owned by Guillemot. There, now you're caught up.
Each speaker in the set is active, which means each has its own matched amplifier, separate volume control, and inputs. There's a balanced XLR input on each, a 6.35mm jack, and RCA connectors, so pretty much anything you've got with an output can be attached to them. I've got them hooked up by RCA to my Hercules Inpulse 300 DJ controller, which is the original use case that Hercules created the line for.
They pack a 50 watt RMA 5-inch Kevlar composite woofer into each speaker (yes, that's where the 5 comes from), a 30-watt silk-dome tweeter, high- and low-frequency adjustments of +/- 2 dB, and an adjustable low-frequency cutoff at either 56, 80 or 100 Hz. The frequency response is 60 Hz to 20,000 Hz, which is about the upper reaches of human hearing. That's a lot of oomph, so it's starting to shape up nicely here.
The solid MDF surrounds help to reduce any annoying vibrations, and the dual bass ports on each speaker are on the front, so you don't have to worry about keeping them away from your wall if you only have a small space to work with. They also sound the same stood up, laid down, or even stacked. How's that for versatility? Just make sure your desk/cabinet/shelf is big enough to carry the heft, each Monitor 5 is 15.1 lbs, with an 8.6-inch by 9.1-inch footprint, and a 12.2-inch height.
I've gotta say, the kevlar woofers look sweet, as does the dimpled tweeter area. The weight makes me not worry about hitting them on my desk, but I'll probably pick up some speaker stands to screw them to in the future. Having the volume and power controls on the front is great as well, as I can push them up against the wall and not have to worry about blindly looking for controls.
So, how do they sound?
Okay, so the only real thing you need to know about the sound is that it's pretty darn close to reference. That means a fairly flat frequency response, which is great for mastering or other production work. It's pretty darn good for movie watching too unless you love that Dolby Atmos braaaapppp bass note that never translates well into a stereo speaker setup. For aspiring DJs, this is also a pretty good starting point, as you'll get a low-cost set of powered monitors that perform well.
Volume levels even at max aren't that high, but that's fine since you're probably only going to be trying to fill your room with sound and not setting up your own rave in the back garden.
So, should I buy them?
If you're looking to dip your toes into the world of music production, content creation, or even DJing – the Monitor 5's are worth a look. They're competent enough as monitors, and there's a bonus as they're pretty darn good for watching movies with too. For $300, you'd be hard-pressed to find another set of active monitors that come with the same combination of inputs and power.
Oh, and as another bonus? You'll be able to shake your room, but not your neighbors! That's nice to know when so many powered speakers go for loudness over quality of sound.
Editors' Recommendations:
Just a heads up, if you buy something through our links, we may get a small share of the sale. Click here for more. A sample unit was provided for the purpose of this review.
The Good
Stylish, with those yellow woofers
Quality sound for the price
The Bad
Bass could be a little more substantial
Follow us on Flipboard, Google News, or Apple News