Review: Inateck MarsBox Bluetooth speaker – Don't let its gamer-like design fool you
The Inateck MarsBox is a great speaker for the price, but like any speaker, it has some caveats.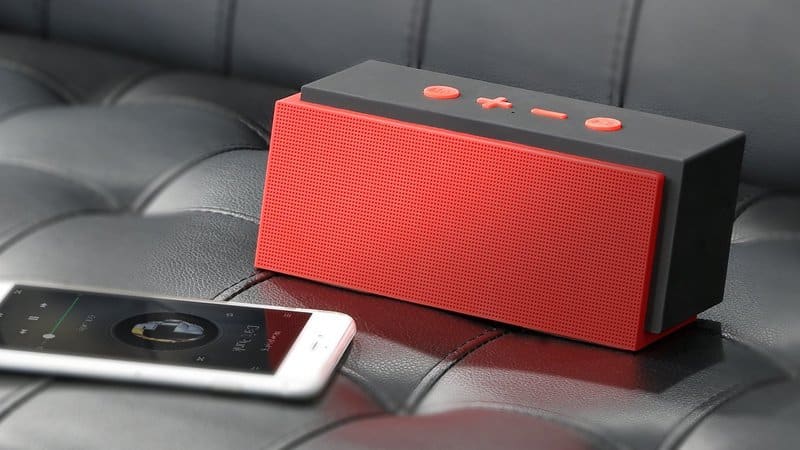 One thing I've learned when it comes to portable Bluetooth speakers is that there's a lot of them. I've reviewed quite a few of them, so it's safe to assume at this point that I can tell the difference between a good and bad one – I hope.
When it comes to these types of speakers, there's three or four main factors that come to mind when purchasing these sort of devices.
Sound, Bluetooth range, battery life, and depending on your budget, price.
Well, today brings us a portable Bluetooth speaker from Inateck called the MarsBox, and unfortunately, it misses out on some of the factors I listed above. Although it wows the eye on the outside, I had some issues with it when it came to its performance. Don't get me wrong, it's not the worst speaker out there, but it's safe to say it's certainly not the best either.
Here's what comes in the box: 
Bluetooth 4.0 Speaker
USB Charging Cable
3.5mm Audio Cable
Manual
First impressions: If there's one thing Inateck did right, it's definitely the speaker's design
I'm not going to lie, when I was offered the chance to review the MarsBox, my decision in saying yes was purely based off the speaker's design. If you're a person who gets a hard on over shapes and geometrical  symmetries, then you'll get your rocks off' with this.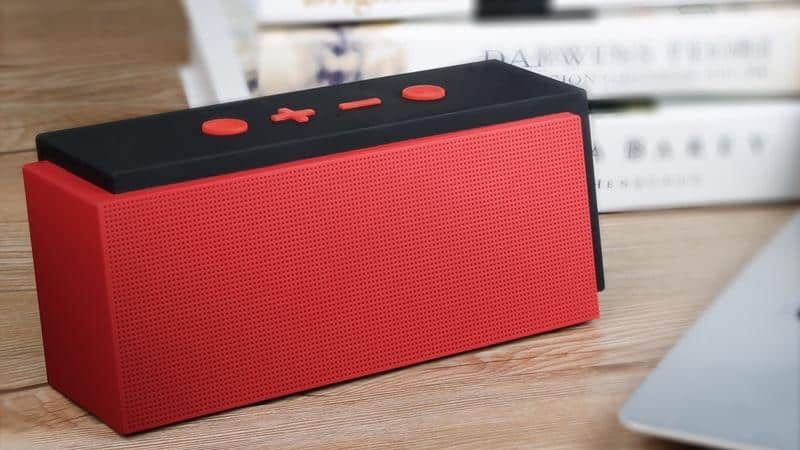 The speaker is quilted in a black rubber-like material accompanied by a solid blood-red color the speakers grill and buttons. It feels great in the hand and doesn't seem like something I'll accidentally drop out of my hands. When it comes to the buttons, the right is a play/pause button, and the opposite round button is a multi-function switch that allows you to toggle between FM radio and a hands-free mode (if your smartphone is paired). A blue LED buried deep behind the grille flashes blue when the speaker is on.
Sound is surprisingly good for this speaker's size
When it comes to the speaker's sound, the Marsbox rocks a pair of 8W speakers, and obviously streams audio via Bluetooth 4.0 as well as an AUX line. According to Inateck, MarsBox provides "great bass". Don't get me wrong, it does, so much in fact that you can feel the thump when holding the speaker in your hand, however, depending on what type of music you're listening to, at times it feels like it could use a little more.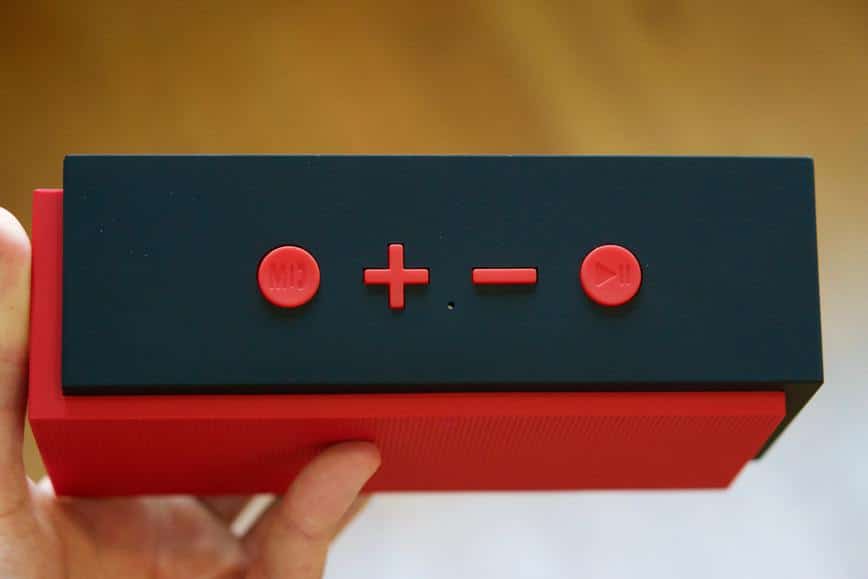 Overall though, it's not the worst sounding speaker. I've heard worse. I listen to a lot of heavy metal so I found that the speaker performed pretty well while not diluting the sound. The Inateck MarsBox gets my approval when it comes to its sound.
Final Verdict – For the price, it's not a bad bet
One of the only bad things I experienced with this speaker is the Bluetooth range. To put it simply, it's horrible. I found that I couldn't walk past 5-feet without the audio cutting out. I mean, when it comes to these sort of speakers, I understand that keeping the range wide is hard, but man, I couldn't keep this thing connected past 5-feet in a straight line of site. If I had one major gripe, this would be it.
For the price, you can't beat it. The MarsBox comes is priced at $59, but if you're a heavy Amazon user, they usually keep the price at around $30, which is a steal in my book.
In the end, the speaker did its job.
The Good
The gamer-like design is slick
Pumps the bass pretty well
The sound comes through clear with a perfect amount of bass
The Bad
The Bluetooth range on this speaker performed poorly
It's sounds good, designed perfectly, and very well made. Depending on your budget, this might be your next speaker purchase.
Follow us on Flipboard, Google News, or Apple News