Review: Noblechair Icon gaming chair – German engineered for results
The Noblechair Icon is expensive, but if you are gaming with a majority of your free time, why would you spend any less?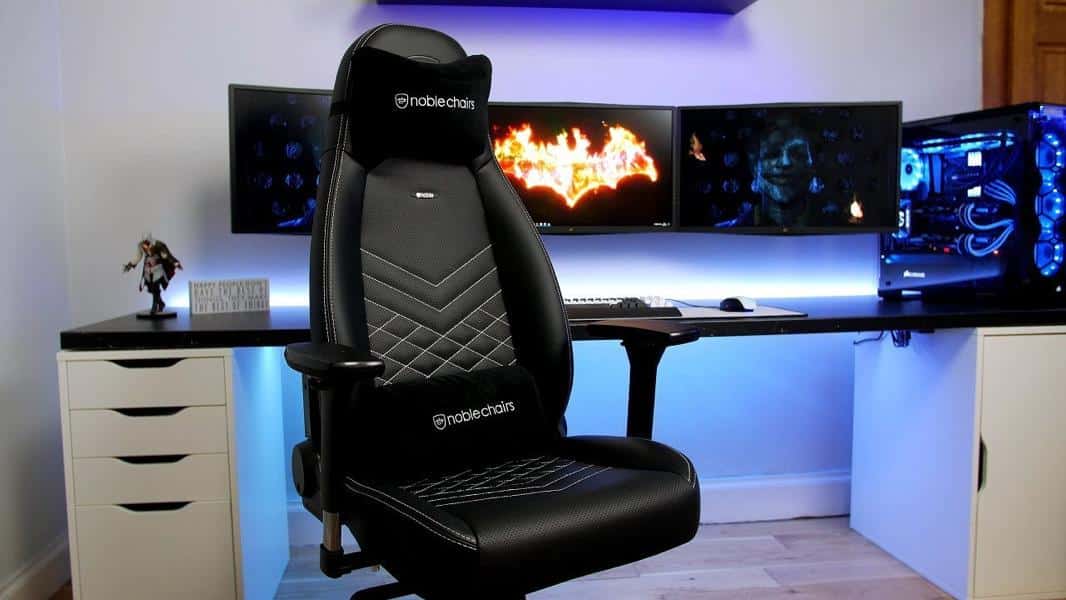 Gaming chairs are commonplace these days, there are high-end models, and there are plenty of cheap foreign knockoffs. The standard pricing for one of these bad-boys is usually in the range of $250-$400, with higher-end chairs offering a plethora of features.
What happens when gaming chairs go well above the $400 price-point? Are they total wastes of money or is there a market for ultra-premium models? Well, Noblechairs makes one thing clear, you can't put a price on quality.
I happened to meet the Noblechairs team at E3. They invited me to rest my weary feet for a bit and kick back in one of their chairs. While the team seemed friendly, the brief moment I spent in their Icon chair seemed like it was still and uncomfortable. Their PR person told me to connect with them after the show, so we could arrange for a review. I figured it wouldn't hurt to try.
When the Noblechair Icon arrived at my house, I was surprised that the box was slightly bigger than the Ewin Flash gaming chair that I had also received around the same time. While the Ewin boasted a unique design and was supposed to be a bit wider, the Noble Icon was designed uniquely and wasn't pushed with a ton of fancy buzzwords. Assembly was relatively straightforward, with the most significant issue being that the backrest arm bracket was really tight, causing a struggle to get it set at the correct angle.
Upon completion of assembly, I was greeted by a beautiful and amazingly designed chair that matched form and function with comfort. Simply put, this chair is amazing. Now, as I gush about how great of an experience it is putting my butt in this chair, your next logical follow-up should be "Josh, why is it so good?" So here's a list of why I like it.
"Noblechair Icon is real leather, not this faux leather or pleather you find out there in similar gaming chairs."
So, the Noblechair Icon is real leather, not this faux leather or pleather you find out there in similar gaming chairs. This is genuine, smelly, comfortable-on-the-skin leather. Yeah, I could have definitely let the chair air out for a day before sitting in it, but it's so comfortable that it didn't matter. Here's the funny thing I realized about real leather, it doesn't seem like the substitution is a big deal until you can freely swap from a real to fake. After doing that, the Ewin Flash simply felt a bit cheap in comparison. Maybe that is because it actually is a bit cheaper.
I expected the backrest of the Noblechair Icon to be a little lacking, primarily because the chair lacked all the curves and contours of other models. Of course, I was wrong because the curves are still there, but they are also much more subtle, allowing you to adjust your position without suddenly feeling like you were sitting in your chair wrong. The Icon enabled me to sit in the chair in a variety of ways without feeling like a round peg in a square hole. The armrests offer the typical amount of movement that should be expected with a nice chair., there aren't any hard plastic pieces to take away from the aesthetics. As a matter of fact, the adjustment buttons on the armrests that allow for movement are actually metal and are flush with everything else, so there is no risk of catching.
"You don't feel like the chair was designed to race around a track. Instead, you feel like the chair was designed to comfort and pamper your body."
The pleated chair is absolutely incredible, as a matter of fact, I love just sitting in the chair and relaxing. The chair isn't the standard racer-design. Instead, the chair is designed off of high-end luxury vehicles. You don't feel like the chair was designed to race around a track. Instead, you feel like the chair was designed to comfort and pamper your body as you trust the chair to provide the luxury your body deserves. It's incredible and the fact that it is real leather makes it that much more comfortable. Let's be honest; everyone ends up playing games in their underwear or less.
I put the chair through the same tests that I put the Ewin Flash through, including the "plop and drop" test that resulted in the base of the chair breaking. The Noble Icon didn't lose any integrity or start to wobble. The chair's casters didn't warp or stick, and the armrests still stay in place after considerable movement.
I decided to push the chair to limits and let my kids sit in the chair with me, trying to push weight limits a bit further and see if the chair failed. It did not. In fact, the chair is wide enough that I can have both my kids sit in my lap or sit by myself in the chair with sitting "Indian style."
If there's any complaint here, and it really isn't serious, it is that the head pillow and lumbar pillow are not fantastic. The head pillow loops around the top of the chair, it stays in place and is super comfy. The biggest issue with that is that the ultra-plush pillow picks up dandruff and dog hair like no other and doesn't adjust well. The lumbar pillow is just there. There's no way to secure it in place and half the time I end up sitting on it and warping it all silly. It's also super soft and leaves a butt-print when I do this. Awkward.
Overall, if I were given an open budget and was told to buy a gaming chair, the Noble Icon chair did nothing but impress. They make other chairs too, one that is much more designed like a "traditional" gaming chair, so there are plenty of options from Noblechairs. The Noblechair Icon may be expensive, and the price can be off-putting, but this is literally the best thing I've ever put my butt in.
A sample unit was provided to KnowTechie for the purpose of this review. 
The Good
Man, I could sleep in this chair
The color is as amazing as the way this makes my derriere feel
The real leather doesn't stick or get too hot, creating the perfect feel for long-term gaming sessions
The Bad
The optional pillows are oddly designed and get dirty or don't stay in position
Follow us on Flipboard, Google News, or Apple News