Review: ReadyDesk Desktop Riser
A desk made out of wooden legos… kinda.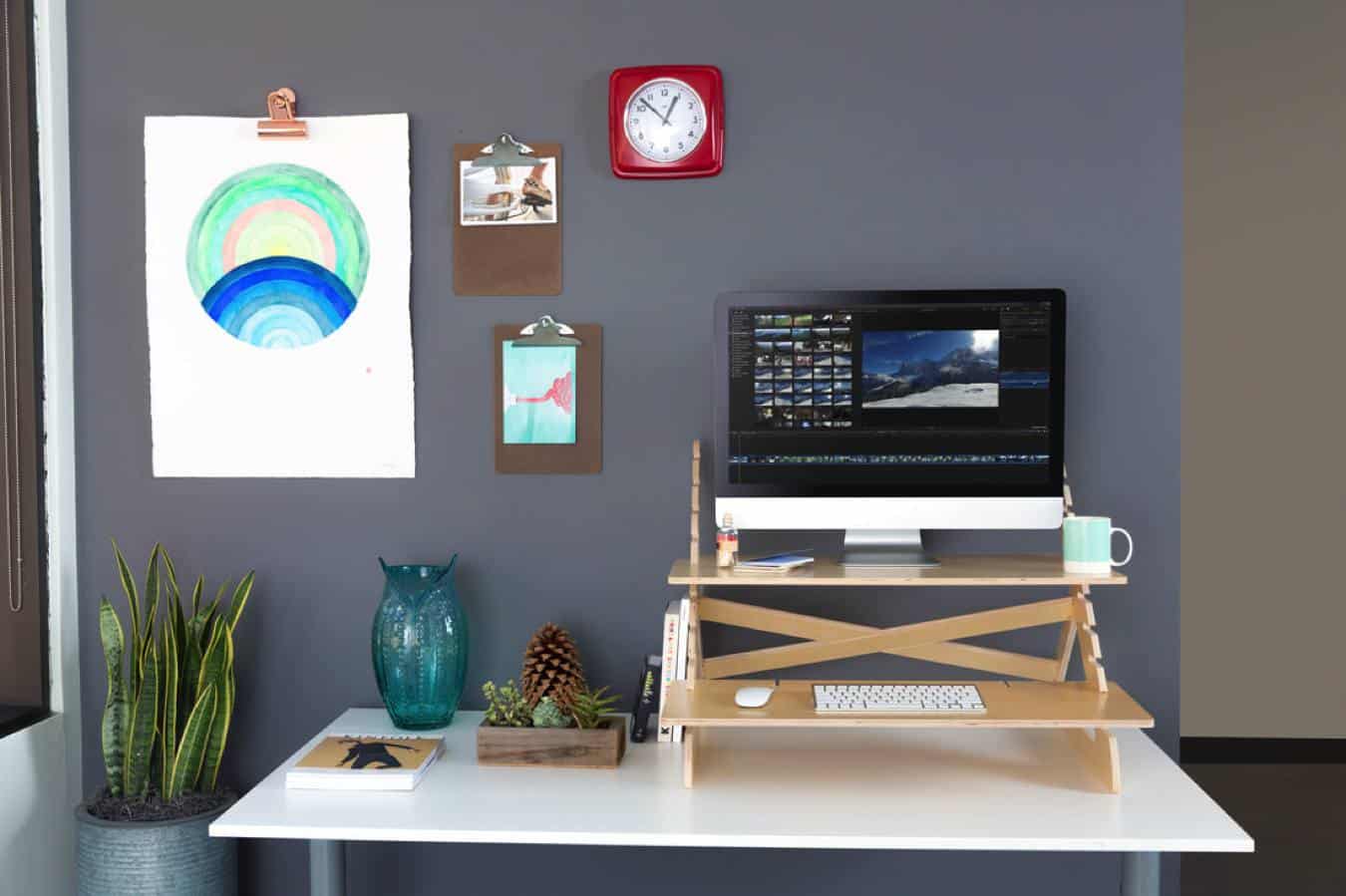 The Good
Sturdy birchwood to hold computer perephrials
Cable management slots in the back
Adjustable shelves to fit user's heigh needs
Easy to pack up and store
The Bad
Wood can scratch easy during storage
First-time set up took some effort and banging to get pieces to fit together
Its been scientifically proven that standing is healthier than sitting when it comes to working in front of a computer for long periods of time. If you are looking to try out a standing desk option before committing to a whole new desk, or you don't have the money, this is where ReadyDesk comes into play. ReadyDesk is an affordable solution for people curious about the whole "standing desk craze".
ReadyDesk is an all-wood desktop riser that is simple to assemble and sits right on top of your current desk. You can adjust the wooden shelves to your height and is comfortable for users who are 5'2 to 6'3. The box markets that the desk is for customers who are as short at 5'3, but I am 5'2, and it was comfortable for me. It is an easy and simple solution for people looking to jump into a standing workstation, but don't want to get rid of their current desk.
ReadyDesk is simple and straight-forward. There are no expensive metal parts to knock the price up, and the wood is undoubtedly sturdy enough to hold multiple monitors, keyboard, mouse, and a few extra work accessories. There are slots on the back of the shelves for wire management too. If you need to pack up your ReadyDesk, the shelves and bracket all slide in together without the need for tools. It's almost like the ReadyDesk is a wooden lego model. Convenience for an affordable price.
The ReadyDesk is relatively light for being built out of sturdy European Birchwood and is excellent for different environments. No matter if you work in a business office, cubicle, or home office, the ReadyDesk is excellent. Since I work from home, I am in different rooms throughout my day. The ReadyDesk was great as I moved from my bedroom, office, and living room. I even set up the ReadyDesk so I could lay in bed and work on a hard surface.
The ReadyDesk's simplistic design is it's biggest asset. You can set up the standing-desk-solution on different surfaces to create an on-the-go solution, but as light and comfortable the ReadyDesk is to assemble, it is difficult to travel with it.
The ReadyDesk desktop riser is an excellent alternative to the expensive steel, and cheap plastic risers, and is sturdy enough to survive in any environment. The shelves are wide and deep enough to fit two 24-inch monitors and all your computer peripherals. I had plenty of room to fit my keyboard, mouse, coffee, phone, and my other work accessories. I was never interested in utilizing a standing desk, but now I can't stand to sit.
A sample unit was provided to KnowTechie for the purpose of this review.
The Good
Sturdy birchwood to hold computer perephrials
Cable management slots in the back
Adjustable shelves to fit user's heigh needs
Easy to pack up and store
The Bad
Wood can scratch easy during storage
First-time set up took some effort and banging to get pieces to fit together
Follow us on Flipboard, Google News, or Apple News