Review: WWE 2K17 – Should be called WTF 2K17
WWE 2K17 might possibly be the absolute worst 2K WWE game of all time.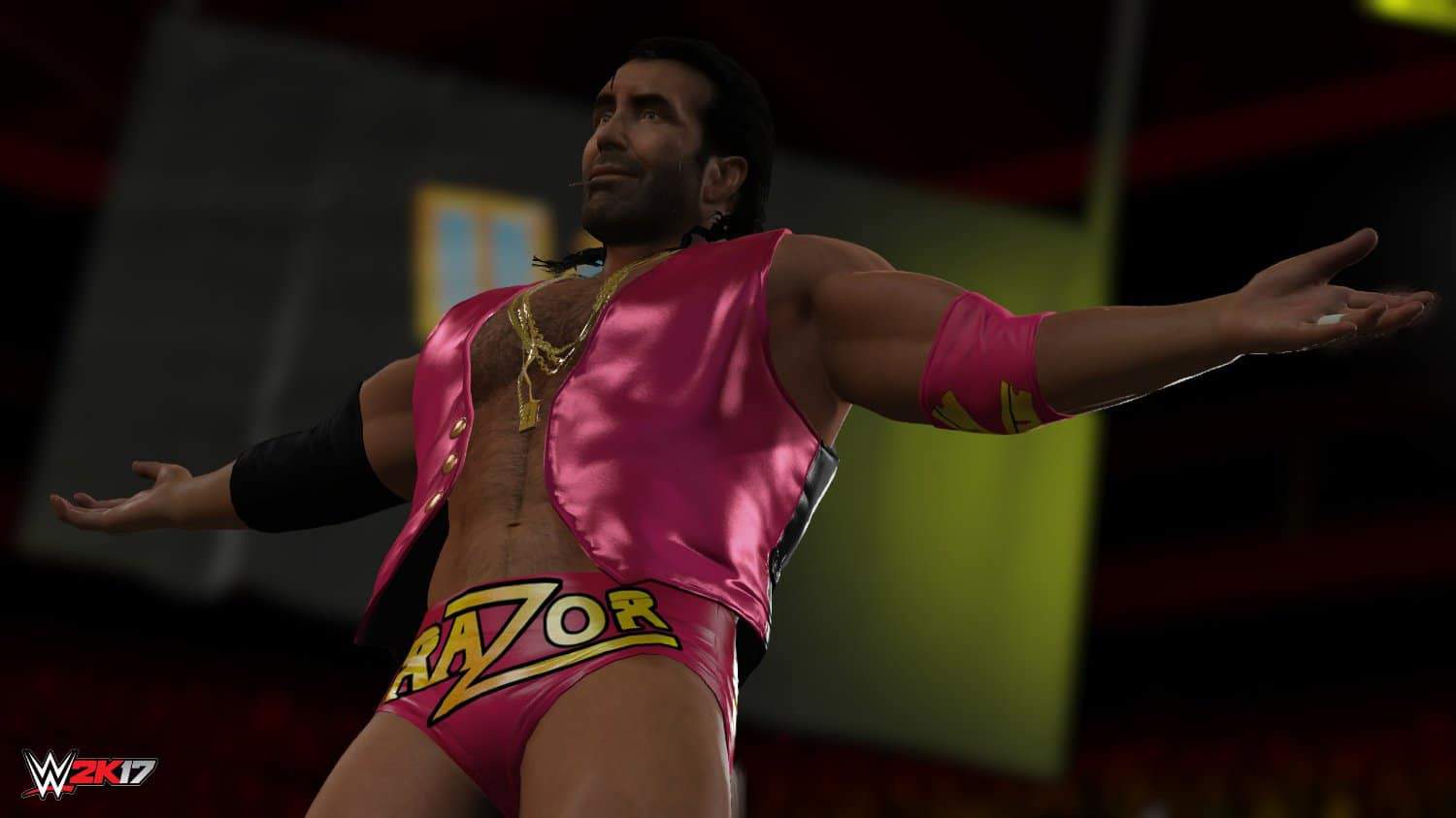 It's no secret when it comes to wrestling fans – WWE games have suffered from a severe degradation in quality since leaving THQ and going to 2K. Some would even argue that they've been garbage since Yukes took over from AKI.
While I can appreciate what 2K has done trying to turn WWE games into a simulator so that it falls in line with NBA 2K, the changes have made this franchise go from a fun and fast-paced brawler into a sluggish abortion of writhing bodies that sometimes stay near each other in motion.
The same silly glitches from last year return, with virtually no addressing. One of the first matches I played, Apollo Crews somehow got randomly stuck walking back and forth on the middle rope. Other times I've hit someone with a chair only for someone else to sell the hit.
Punches and kicks feel pretty much worthless now, since they're easily reversed. It's great that reversals are limited, but they're still fairly abundant which gives those who learn the animations the upper hand, as they can easily reverse everything you do – especially at critical moments.
For a game that's now tried to emulate the back and forth pace of a wrestling match, they've done a fairly terrible job because of how lazy the whole system is. In fact, the whole damn game is nothing but lazy. A terribly lazy part of last year's boring and uninspired title with a few changes tacked on as if that's worth paying $60 for.
As a fan, it feels like the developers only seem to be partially paying attention to the product they're emulating. There's a decent base game here, but instead of expanding on it to create a better experience, these games feel like they're taking a tremendous step backwards. My Career is interesting, but you can easily simulate entire months leaving little reason to actually slog through every match. Trying to get a five star ranking for your match is tedious, and damn near impossible to do with the women because of their limited move sets. Some Women's Revolution, eh 2K?
Looking at the roster: This game focuses on things that happened before and around Wrestlemania this year. The Authority storyline ended several months ago with the brand split (though Stephanie McMahon refuses to let it go on RAW). This game didn't come out until October. Why is the story for next year's title 7-8 months behind the current on-screen product? Even the create-a-promo system in MyCareer is all about face reactions complaining about The Authority.
I fully understand it takes time to model the new RAW and SmackDown Live! sets, but a lot of the stuff in the game could have been released later on with title updates. The only arena that really needed showcasing was the Wrestlemania stage, and even that's stunted by the terrible camera work in the entrances this year.
Seriously, the camera cuts to the crowd, music hits, eventually it cuts back to the wrestler already standing at some point in their entrance – either on the stage or progressing down the ramp. Next year can we maybe get some title updates to effect changes in the storylines so that maybe the WWE Universe mode is worth playing?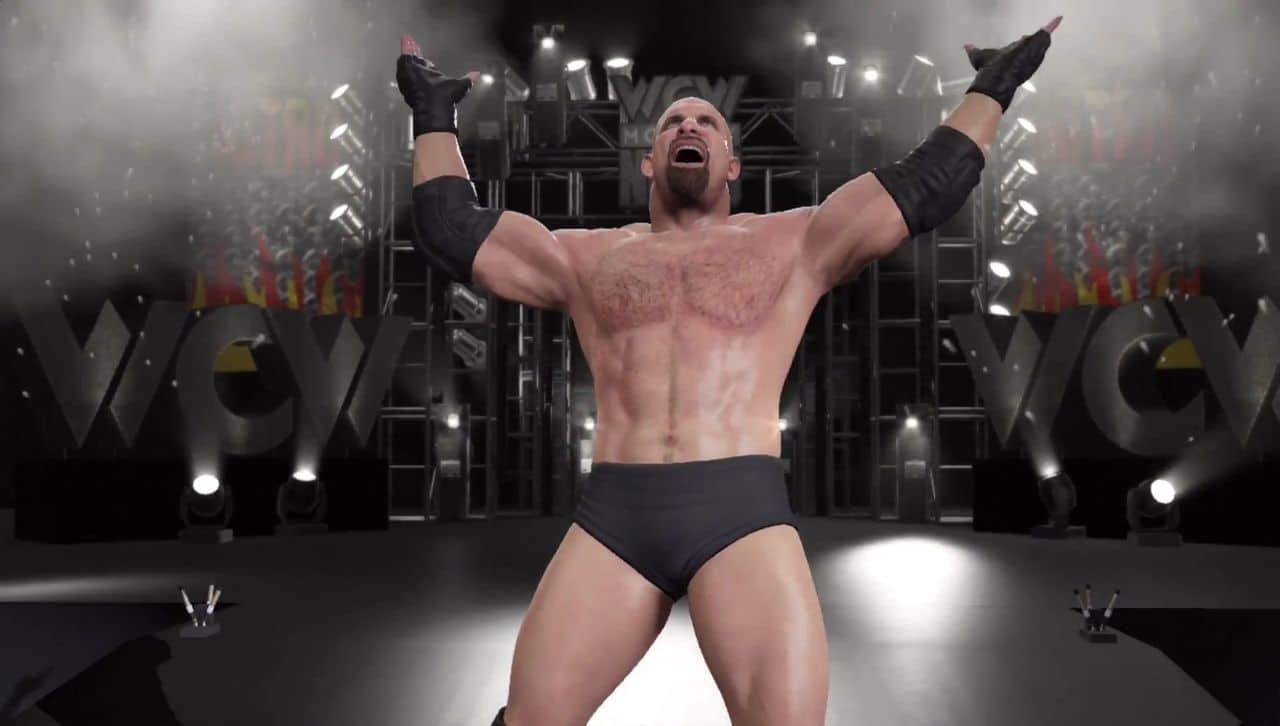 So let's talk about the entrances, and why I feel like the franchise is being neglected. Last year we got some really awfully designed DLC characters. Emma had her new music, but still had her terrible bubbly gimmick from when she was dancing around with Santino Marella. That was one of the few I really had an issue with, but this year things are a little more forgivable.
Shinsuke Nakamura (and his movements aren't quite right since he was mo-capped by TJ Perkins) is in WWE 2K17 from the start, but he's hidden behind the "NXT edition" paywall. This means you needed to buy the NXT branded version of WWE 2K17, which cost $40 more than the base game. For this $40 you get a statue of Finn Balor which is cool – but irrelevant since he was drafted to RAW on July 19th, so why is he in this NXT branded edition? This edition also comes with a Topps trading card featuring a piece of the mat from an NXT event – mine happened to be Finn Balor from NXT Takeover London. I'll give that a pass cause it's a trading card and was from NXT. There's also a signed print of current NXT champion Shinsuke Nakamura inside, which is cool and probably the most NXT thing about the NXT edition.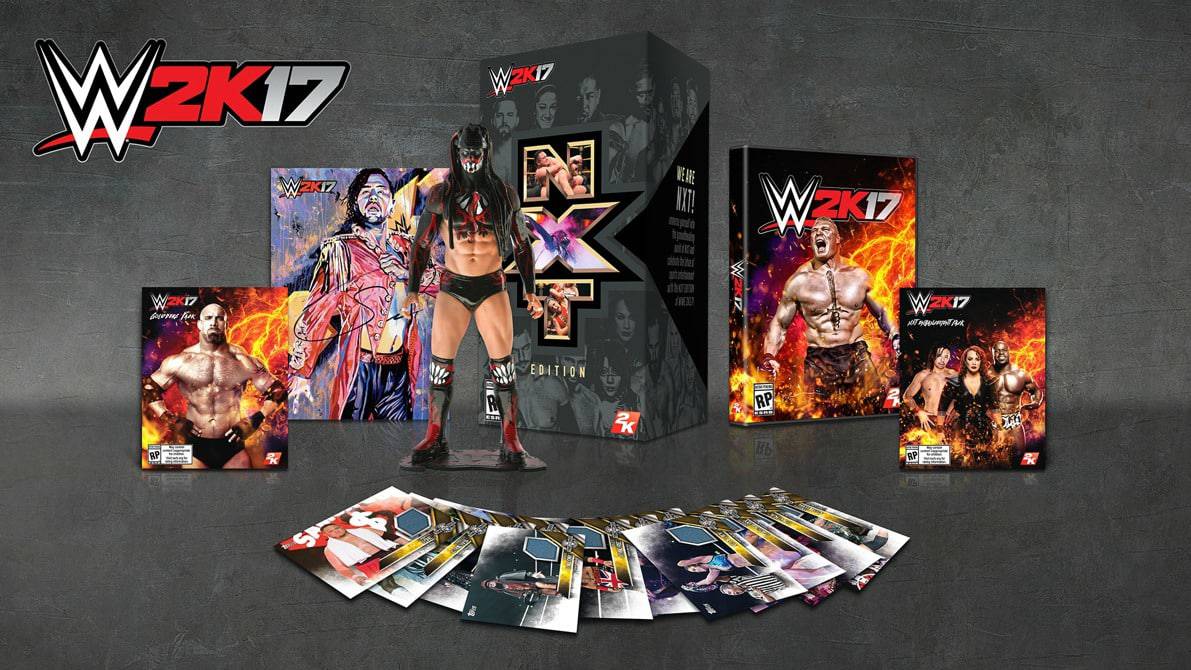 Eventually the NXT enhancement pack will be available to everyone, but for now it's locked. This means you can't play as Shinsuke Nakamura, the current NXT champion (who, for some reason, is the champion in the game even though he just won the belt on August 20th) or main roster members RAW's Nia Jax and SmackDown Live's Apollo Crews.
On top of that, there are references that refer to the brand split in the current game even though they're still on the shared roster. Michael Cole even has a voice line that says "this is some of the finest action you'll see from either locker room" which doesn't even make sense because the brand split isn't here.
Speaking of Cole, voice lines are either great or absolutely terrible in this game. I can't imagine after three years of these games there isn't a faster way to have the game seek out the audio files for names. Even in the digital copy of WWE 2K17 it still takes a second or two to find the names and you can hear the delay in the match up screen as it searches for who's going to be facing off. I know it can't be easy to program, but I don't remember hearing the delay this bad in the NBA 2K games.
Aside from the voice delays, the voice acting is terrible. Carmella delivers her intro with absolutely no energy, and Enzo Amore sounds like someone held a gun to his head and forced him to recite their ring entrance speech. The only lines from the wrestlers that sound good are Bray Wyatt's taunt where he emphatically shouts "I'm the eater of worlds!" and Paige's "This is my house!" when she's on the top rope. They both delivered the lines with emotion and feel "real".
I'll give Matt Bloom a pass since his voice acting is mainly just talking to you as a coach would, but it's still a shame. In fact, I'd argue that they'd do better to just record the voice line live at a show and edit the crowd down instead of bringing these guys into the studio. JBL is also somehow even worse in this game than he is on TV, and that's quite a feat.
In fact, my biggest complaint with this game isn't so much the gameplay as it is the lack of attention to details. Some characters they absolutely nailed. Finn Balor's entrance is amazingly accurate from NXT Takeover Dallas – but that blue and red Texas Chainsaw Massacre demon isn't the one the crowd is familiar with. Where is his original NXT demon paint? The one with the spikes down the spine, or even, why not use his Demon King paint from the night he debuted the demon on RAW? That would have been far more recognizable.
This is two years in a row that they've chosen Finn Balor's demon paint from an NXT Takeover event, but never the original paint. Why can't they just have the palette swaps for the different designs? If we have different eras of the same wrestler, is it hard to choose from Balor Club Finn Balor vs one of the paint variations?
Original demon, Dragon Wing demon (the one in last year's game), Eyeball demon, Oni demon, Fallen Angel demon, Jack the Ripper demon, Texas Chainsaw Massacre demon, and NXT The End's black and white demon. Since all of the characters feel like they've been created with WWE 2K's in-game create-a-wrestler engine, couldn't it have been easy to copy Finn Balor seven more times for all his paint variations so far and then give the player the option on which demon they'd like to use?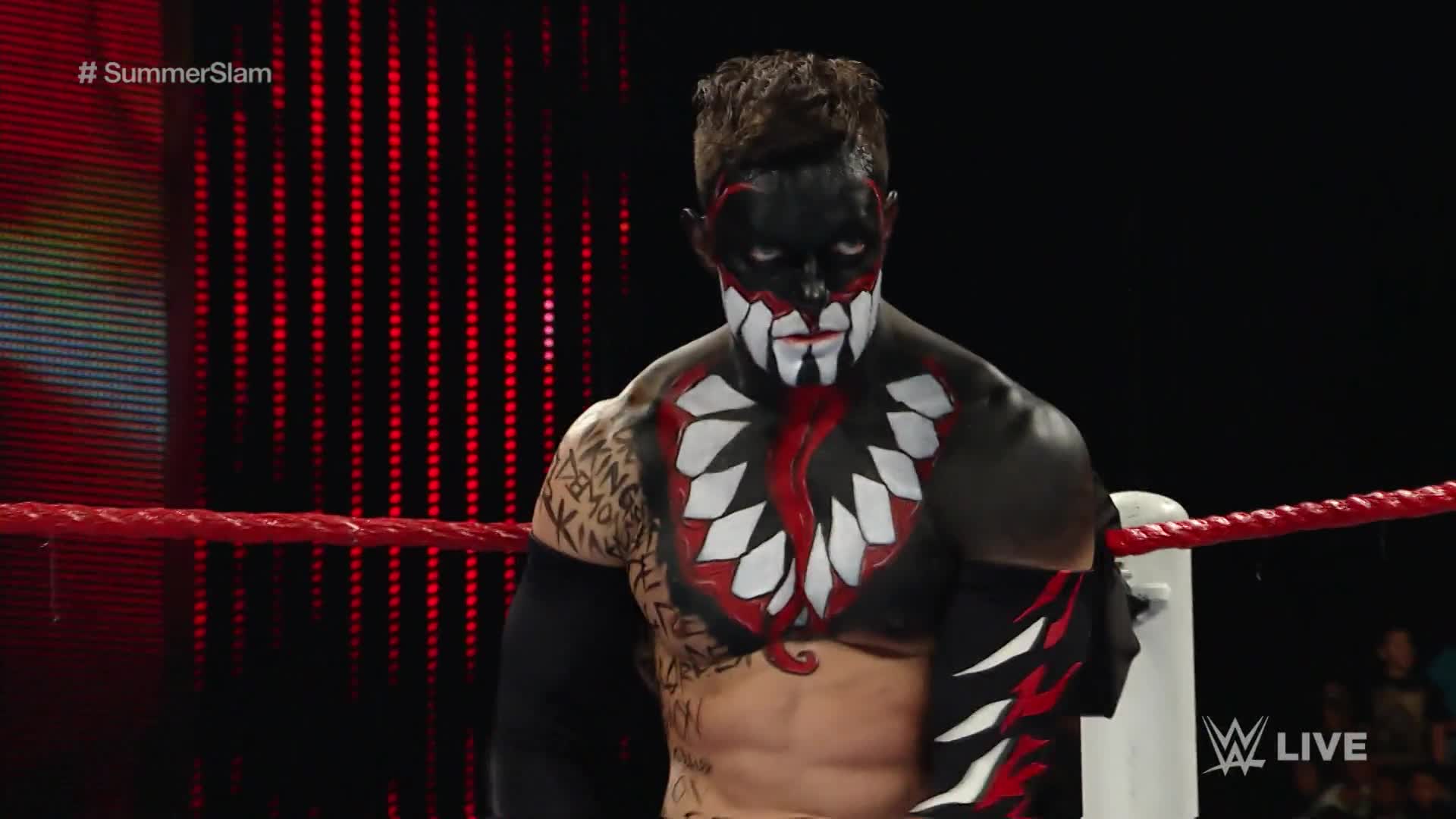 Finn Balor complaints are just one of the many issues with the presentation this game offers. I'd argue that in a WWE game, nailing all the little intricacies of a character is more important than the gameplay itself. WWE literally puts on a show that is mostly about the presentation, yet somehow WWE games are always lesser in presentation quality than NBA 2K.
Take for example Alexa Bliss: They nailed her entrance, but when she walks out, she rubs her hand through her hair and her hair flails around. She does this in the game, but her hair never moves or makes contact with her hair, so it looks like she's just shaking her hand behind her hair (and let's not even get started about the shitty PS2 era hair – it doesn't have to be Tomb Raider quality but jeez).
Baron Corbin stretches his arms out way too slowly. He looks like Kane getting ready to set off his pyro, as to where Corbin just raises his arms up and taunts the crowd. It's not slow – but hey, at least they announce him from Kansas City this year instead of Louisville like last year. Tyler Breeze has his pink and purple gear but is still for some reason carrying the blue and white selfie stick from last year. This must have been overlooked by some uggo who doesn't appreciate gorgeousness. Seth Rollins looks like a raccoon and Dana Brooke looks like a ghoul. Kevin Owens doesn't even look like himself. This isn't acceptable.
I have faith that 2K can deliver an amazing WWE experience, but in the current state, it's not at all fun to play. There's no counterplay for getting knocked down outside the ring with low health, you just lay there until your character decides to get up – or you get counted out. There's still that issue with not even getting a chance to kick out at one if you're severely beaten up, which is silly because it's just one less opportunity to hit the tiny little green section of the circle.
I get that 2K is going for a real-world simulation experience, but that's why we watch wrestling on TV because we don't have any control over it. When we can control the action, we want fast-paced action and good counterplay – not to lay there for three minutes and get beat to death because we have the no-reversal debuff or our character has taken too much damage and takes forever to get up.
It's an instinct to pump the buttons to get your characters to stand up faster and now that's not possible, which makes things more frustrating than fun. Please 2K, give us fewer glitches, more attention to details, and faster pacing for next year. Oh, and maybe bring WWE's standards up to par with those of NBA 2K instead of feeling like the rushed stepchild. Consider releasing them once every two years or something if you need the extra time to get it right.
Follow us on Flipboard, Google News, or Apple News