Here's how to snooze emails in Gmail for Web, Android, and iOS
It's not only a very helpful feature, but it is extremely easy to use.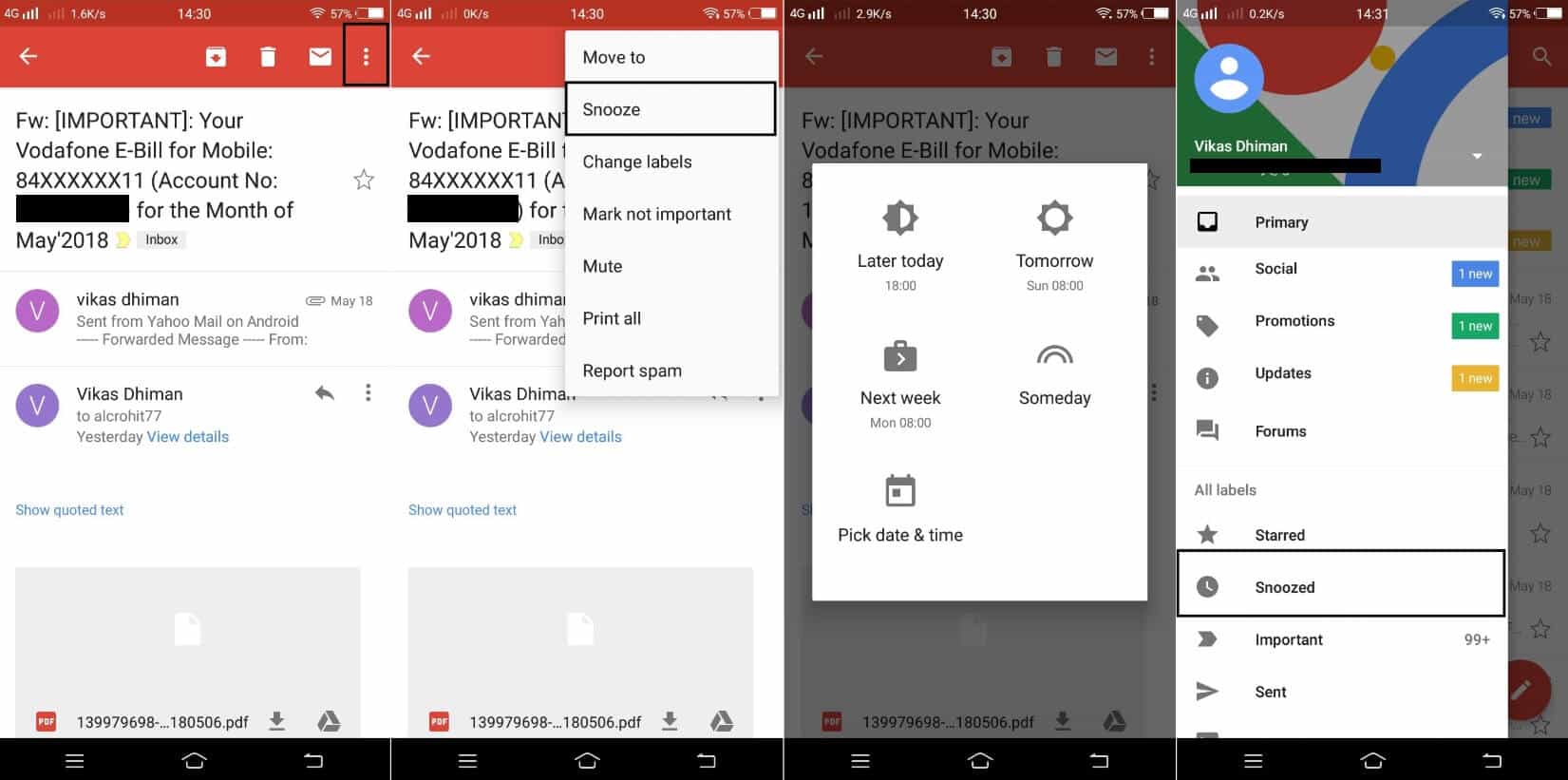 Recently Google introduced the new Gmail. There are many great features included, with on being the exciting feature that lets users snooze emails for later acknowledgment.
Gmail's Snooze feature is a useful feature for those that suffer from busy inboxes. With the help of this feature, users can temporarily hide emails, and tell Gmail when you want them to appear again. The Snooze feature in a Gmail is handy if you receive lots of emails but want to concentrate on the important ones by making sure that you won't skip replying an urgent email.
Snoozed emails disappear from the mailbox for a specific time. It could be later in the day, tomorrow, next week, or any day of your choice.
How to use the Snooze Email feature in Gmail
The Snooze button is available in Gmail for Web. You can snooze particular emails right from the inbox by clicking on the Snooze (Clock icon) available on the right side or the menu available on the top when you open the email.
Snooze Emails in Gmail for Web
Here are the steps to snooze emails in Gmail for the web version:
1. Visit Gmail.com and login to your account.
2. With the default Settings, the inbox will open up. Here, scroll down to the email and then click on the Snooze icon available on the right side. Here's what it looks like:
The Snooze until menu will appear, here you can select when you want emails to appear in the inbox again.
Once done, you will get a notification which reads "Your email is Snoozed" accompanied by an Undo option.
To check your Snoozed email, you need to head over to the Snooze tab available on the left panel.
Alternatively, you're like me who prefer to check emails on the phone, then don't worry! Snooze Email option is also available in Gmail for Android and iOS.
Snooze Emails in Gmail for Android & iOS
Whether you're running Android or iOS, here is what you need to:
1. Launch the Gmail app.
2. Open the email and then tap on the Menu icon available on the top right side.
3. Tap on the Snooze option available in the menu.
This will then show you the Snooze until dialog box:
Here, select a particular date and time until when you want to snooze the email, and that's it, you're done!
Note: Keep in mind that if you snooze email from the app, it will not appear in the web version and vice versa.
There are lots of features which Google introduced in the new Gmail. What are your thoughts about the Snooze Email Feature? Share your thoughts with us in comments.
Follow us on Flipboard, Google News, or Apple News