The new Gmail experience has arrived, here's what it looks like
From a new confidential mode to a functional sidebar, there's a lot going on here.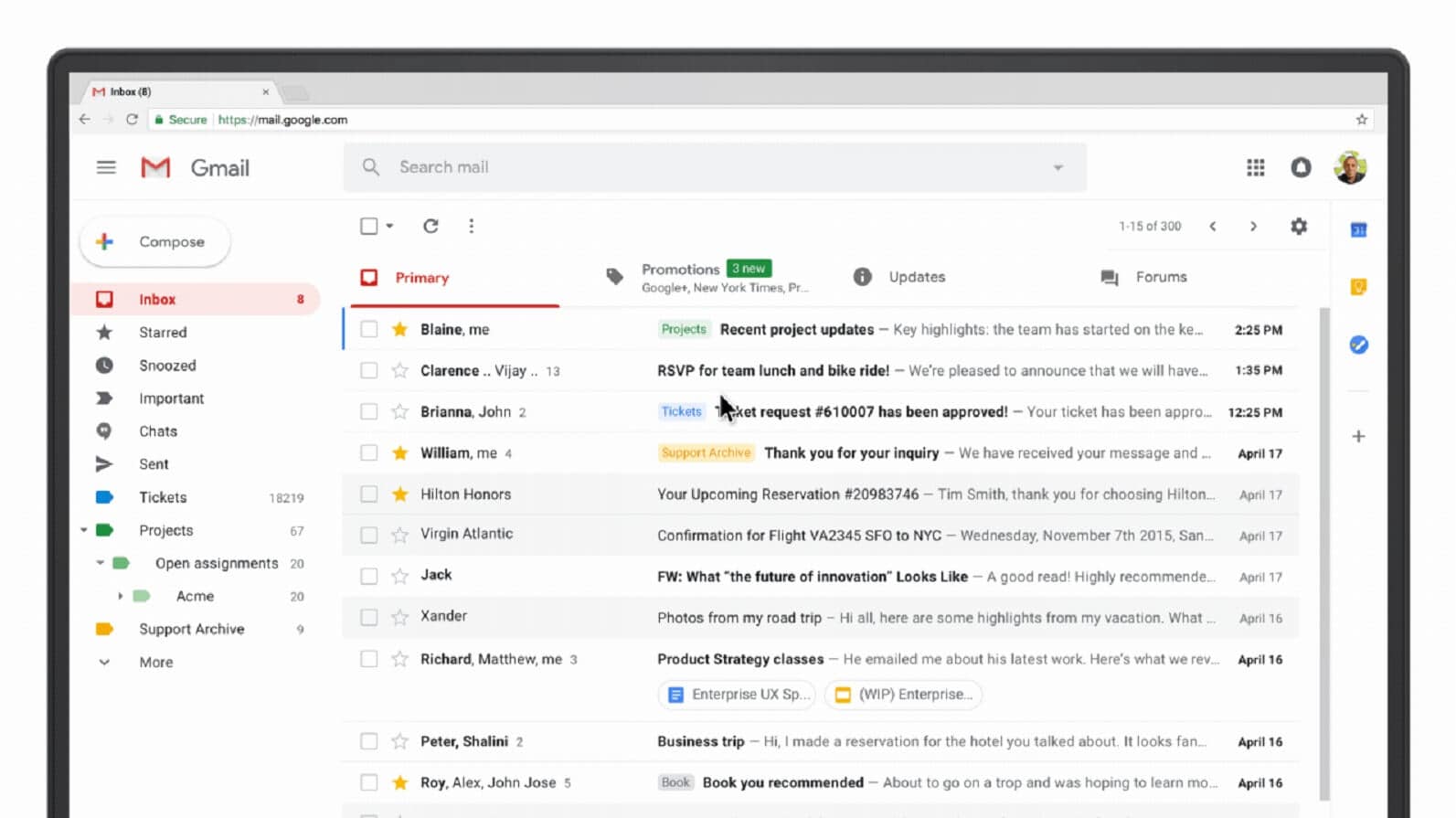 Recently announced in a blog post, users now have the chance to try out the biggest update to hit Gmail in years. There was nothing necessarily wrong with previous Gmail offerings, but the quality of life improvements and new features being introduced to the platform are very welcome.
Users will not only get an updated look, but the new features will give users so much more control over their email client, as well. We have highlighted many of these changes below.
Integration with other Google apps
Now, with the desktop version, users will have a side panel that allows quick access to other Google apps. Instead of having to open a new window or tab, the app will slide out from this panel to offer users options for things like Calendar and Tasks.
Hover options for archive, delete, mark unread, and the new feature, snooze
A smaller feature, but no less handy, users will be able to hover over emails to quickly mark emails for archiving and unread notifications. In addition to this features, users can also now "snooze" emails. Snooze gives you the ability to clear clutter from your feed, while still addressing the email in the future. Basically, you'll be able to snooze it for a set amount of time and that removes it from your inbox until the snooze length expires.
Get Nudge notifications for emails, both received and sent, that need addressing
This feature uses Google AI to determine what messages qualify for this feature, but essentially, Nudge is another reminder system. If Google believes an email in your inbox needs responding to, it will remind you of this in the title of the email and as a notification. Nudge also works for when Google determines a sent email warrants a response.
Users can now access attachments without going into the email
Email attachments will now show up as rounded icons directly below the subject line of the email. This is another one of those small features, yes, but for people that receive large amounts of attachments that have to be accessed from time to time, this is a great addition for streamlining that process.
Also, please, don't open attachments from people you don't know.
Gmail adds new Confidential mode for emails
For privacy and time-sensitive materials, Gmail will now let users add a "confidential" option to emails. This feature will allow you to revoke access to old emails or set expiration dates on sent mail. Users that receive the email will be notified of the restrictions, like a timer for when the email will no longer be able to be accessed (this includes any attachments in the email).
Other features for desktop, mobile, and the app suite
Google isn't playing around with this update, and mobile users should expect updates to the UI and experience, as well. For one, you can now set it so Gmail only sends you push notifications for important emails. If you use Tasks on desktop or mobile, it is also being upgraded with new features. The most notable being that desktop users can drag an email directly from Gmail and place it in the new Tasks sidebar (mentioned above).
Want to try some of these new features for yourself? Simply click "Try the new Gmail" option under your settings menu. Certain features will be available in a couple weeks when the update fully releases, but you can try things like hover and the side panel right now.
Follow us on Flipboard, Google News, or Apple News