Why opt for digital signage?
Digital signage is truly making its mark on the global industry.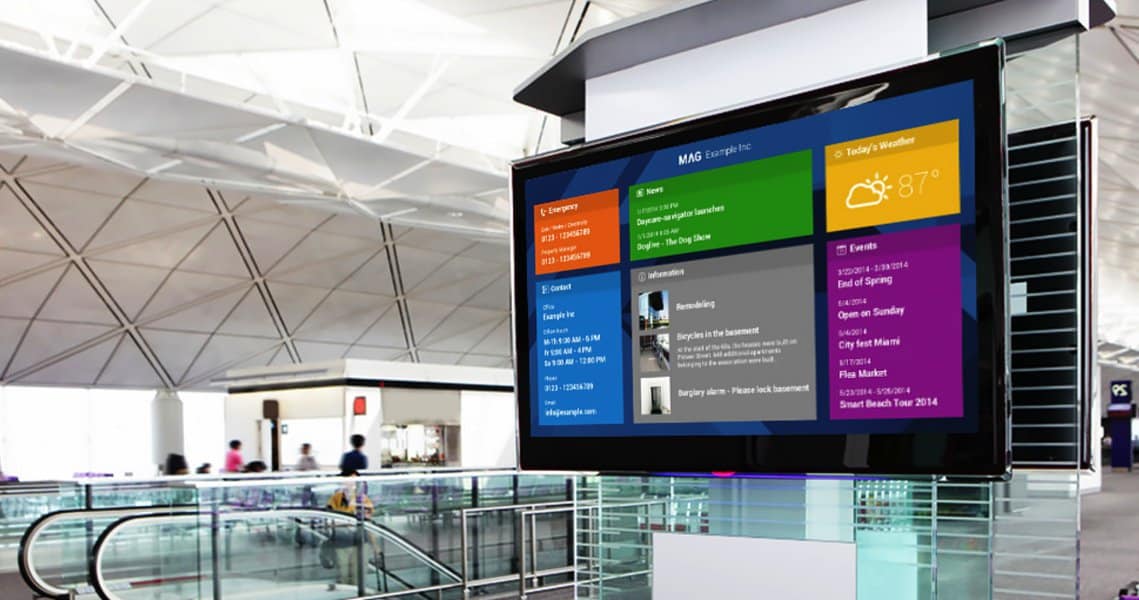 Technology has made hardware more cost-effective than ever, and choosing the right partner makes implementation simple and sustainable. Screens are everywhere, from video conferencing systems in offices to digital signage in malls.
Individuals today are caught up in a passionate love affair with all things digital, from work to personal use.  And no matter what the industry, digital screens help get your message across and create a lasting impression on the audience. Before discussing why to choose digital signage, look at what it is actually and why it is gaining a lot of popularity.
What is Digital Signage?
Digital signage is an electronic display used to relay information to in-store viewers and consumers. Use an LCD, LED, or projection screen to display videos and graphics that educate, interact, and inform nearby audiences. A state of the art fusion of software-hardware, digital signage allows businesses to create dynamic screen layouts and HD signage content.
Digital signage can be used in a broad spectrum of consumer touchpoints, and its uses are almost infinite. Businesses can design and change digital signage to suit their particular needs. As digital signage increasingly impacts our lives and presents different opportunities for the world of business, its capabilities are also improving from a passive system that pushes content to a more advanced strategy that connects, interacts, and pulls content from diverse sources in real-time.
Where to display Digital Signage?
When determining where digital signage should be used in your market, remember all the areas where your customers spend their time. Think of how you can use digital knowledge to enhance your interaction at these sites. Digital signs can display inside a company at all possible consumer touchpoints. These touchpoints will vary with each business but typically involve the following places.
At the entrance to the building ( hospitals, restaurants, and grocery stores)
Near to Product display
Near to Sales Counters
At airports and stations.
Outside the malls
In hotels, specifically dining areas.
Near to Check-Out Queues.
Importance of Digital Signage
1. Customer Engagement
Digital screens are catching interest. Consumers find modern signage much more fascinating and appealing than traditional types of signage. 63% of people report that digital signage catches their attention.  If you're advertising a special deal or disseminating details in a hospital waiting area, customers can pay more attention using multimedia screens.
2. Accelerate Revenue
Displaying deals and specials, showcasing goods and services, and leveraging additional signage space to showcase advertisements for non-competing companies are all ways that digital signage can boost company revenue.
Digital signs have been proven to boost sales when used in a retail environment. There is no wonder, then, that digital screens have a significant effect on sales figures. If you wish to see a rise in revenue for your brand. Maybe it's time to think about investments in signage.
3. Optimize Communication with Customers
People better comprehend and recall details presented by images than through text-only content. Using new media tools to convey crucial information allows consumers to retain messages longer.
The latest study showed that 55 percent of people who saw a digital sign or billboard could remember a particular message shown every time they passed one. If you want to make sure the message has a lasting impact, you have to invest in digital signage.
4. Fast Content Updates
For companies who periodically modify their service packages or upgrade their menu products, digital signage is an inexpensive and easy way to update material quickly. This eliminates the expense of ordering new posters on an ongoing basis.
5. Remarkable Digital Expression
Companies need to change frequently to catch up with or replace their rivals. With digital signage in a business, you're putting a new foot on the road and showing consumers that you care about keeping up with the latest technologies and offering the right resources to support them.
6. Reduced Expected Wait Time
As digital signage is installed in the waiting areas of the customer or client, it offers amusement that lowers perceived wait times.
7. Brand Awareness
The world's market atmosphere is transforming. More and more businesses are selling the same goods and services as more rivalry. This is where brand recognition plays a crucial role in defining your company and ensuring its sustainability. Digital signage has the potential to make the brand remain even longer in the eyes of customers than conventional POS signage.
Conclusion
Digital signage is truly making its mark on the global industry. The way people communicate and view is evolving rapidly. Not only is there a demand to provide consumers with information quicker, but that information is expected to be more authentic and more personal, too.
They are smart, easily customizable, and remote-controlled. The high quality LED signs promises the best out-of-home advertising experience for all brands and promotes a positive customer experience and better reviews.
Have any thoughts on this? Let us know down below in the comments or carry the discussion over to our Twitter or Facebook.
Editors' Recommendations: