What is 3D printing, and what can it do for you?
Hearing all the fuss about 3D printing, and wondering what all the hype is? This quick guide will provide all the answers you've been looking for.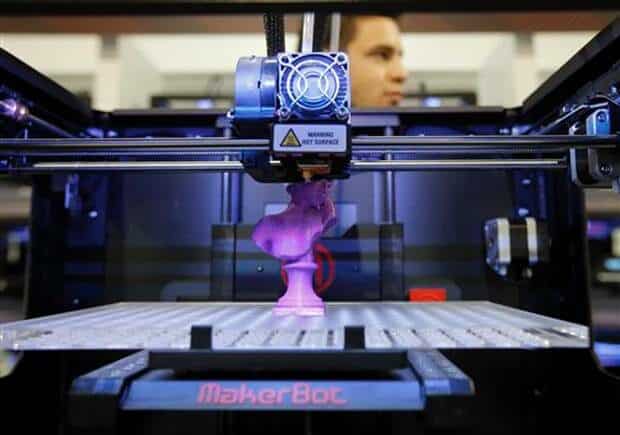 When I first heard about 3D printing, I always had a lingering question in the back of my mind…
What the heck is it?
3D printing is the process of making three dimensional solid objects from a digital file. For a visual illustration, check out this video from WSJD.
I got to see 3D printers in action this past January in Las Vegas at the Consumer Electronics Show (CES), a massive annual tech convention. I snagged a front row view in this video, taken during a demo at the show. Check it out for yourself:
A decade ago, 3D printers were hulking machines you'd find in an MIT laboratory.
The cost and physical footprint of these printers have dropped dramatically in recent years. Printers that once cost in the neighbourhood of $20,000 are now available for less than $1,000. In fact, the first three results for 3D printers on Amazon are all under $699. The industry leader is undoubtedly MakerBot, with a range of models at varying price points.
While 3D printing is becoming more affordable, bear in mind that you first have to design what it is you want printed. You'll have to use software that can render 3D images, such as AutoCAD. Fortunately, there are services such as Thingiverse that simply the process of creating and uploading 3D designs.
Although 3D printing is still in its infancy, the industry is set to explode over the next few years as it moves further away from exclusive use by large commercial interests and closer to filling the needs of individual consumers. Hospitals currently use the process to replace parts of a patient's bone with a 3D printed version. And, earlier this month, a team of researchers at a Boston hospital successfully replicated human blood vessels with a 3D printer.
What does the future for consumer products look like? A Harvard graduate has created a prototype for a printer called "Mink" that will let users print makeup in the hue of their choice. Even McDonald's has jumped into the fray,saying they're looking at adding 3D printers to restaurants to start printing Happy Meal toys.
The range of what's being 3D printed is simply insane. My friend Lauren Orsini over at ReadWrite wrote this piece on the crazy things 3D printers can produce. It includes:
Body Parts
Pizza
Chocolate
Clothing
Musical Instruments
Cars
Guns
Drones (Yup, I own one of these)
Adult products
And…3D Printers! (That last one is no joke, although it could make for a great punch line: Which came first, the printer or the printer?)
Have you seen a 3D printer in action? Would you like to get your hands on one?
Follow us on Flipboard, Google News, or Apple News