Review: BulletStorm: Full Clip Edition – Hail to the King of Dick Killing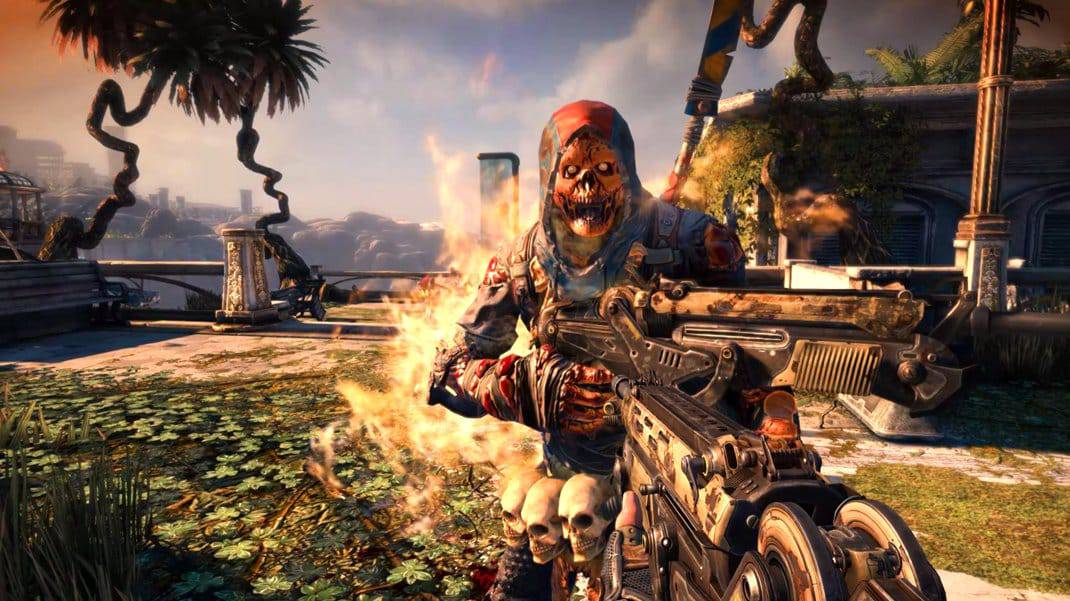 Bulletstorm originally released back in 2011. While it gained a large cult following, the game didn't do well in sales – mostly blamed on the PC version's uncontrollable piracy and the fact that the game has one of the most unsatisfying endings in gaming history. Bulletstorm isn't the best shooter, nor is it the best campaign, and it's full of ridiculously immature humor (in the vein of Gears of War) but if you can put aside your offenses, it's an absolute blast to go romping through.
If you're easily bothered by intense gore (dismemberment, impaling, explosions) or bad language (this game says "fuck" and "goddamn" like a middle school playground conversation, and uses a ton of other randomly phallic based insults such as "dick tits") Bulletstorm does offer the ability to turn the violence down and censor the language – which is ultimately funnier than the originally over-the-top profanity used in the first place. Don't let immaturity keep you (yet again) from playing a one-of-a-kind experience that Bulletstorm offers.
As I mentioned, Bulletstorm's campaign is pretty straightforward – you crash land on a planet called Stygia that was formerly a resort for wealthy people, which was staffed by convicts working off their sentences, but they revolted and released radiation and then they became radioactive cannibalistic mutants. The mutants consist of two rival gangs: The Creeps and the Skulls, but they're all terrified of Burnouts which are these glowing lava rock monster things. None of the backstory ultimately matters as you're just gonna be killing everything without remorse or justification. Essentially, you're stuck and need to get the hell out.
Grayson picks up an energy leash from a fallen Final Echo soldier and that's when the fun begins. Bulletstorm comes across like every other FPS game at first glance, but then you quickly realize that Bulletstorm is actually an arcade style shooter where you're given style points based on how much variation you kill enemies with.
The game has a lengthy list of skill shots, and you'll gain a certain amount of points based on the first time you perform these shots per area. These points are then used to purchase upgrades, permanently unlock weapons, and refill ammo. The skill shots encourage you to do all sorts of stuff, including bonuses for difficulty based shots – such as a killing an enemy suspended in the air from a kick or kicking an explosive barrel into the face of oncoming hordes. Some of my personal favorites are "Fire in the Hole" which requires opening the butt flap on the back of a miniboss and then shooting their exposed ass, or "Drilldo" which requires using a weapon named the "Penetrator" that shoots drilling missiles and shoving the spinning drill into enemies as you slide under them. It's horribly inappropriate and hilarious.
I'm normally pretty hard on remasters because these games often still look old even after being updated, but Bulletstorm: Full Clip Edition is flawless in the graphical upgrade. This game is gorgeous and the unaware would never guess it was a remaster. There are, however, some serious framerate issues when dealing with bosses. I had a hell of a time dealing with fights where explosions would cover the entire screen, such as the boss fight with the plant where you have to destroy the healing pods. There are also some pop-in issues and some texture loading problems, but nothing as bad as the framerate issues. Still, I had a great time playing through it again in glorious 4K on the PS4 Pro.
Perhaps the main reason I was hyped to get my hands on the Full Clip Edition was the inclusion of Duke Nukem as a playable replacement for Grayson. Where there are radioactive mutants, Duke is always nearby, and Bulletstorm is no exception to that rule. While I appreciate the effort that went into bringing Duke to Bulletstorm, including totally new voice lines recorded by Jon St. John himself which is vital to making Duke feel like part of the experience natively – however, Duke is a pre-order bonus and it costs $5 if you didn't.
Bummer. I love the shit out of Duke, and I love that Jon St. John himself has recorded Duke realizing that he's almost a parody of himself at this point, so when he drops into the Bulletstorm cast I would have loved new interactions with the original cast – but, instead the cast continues as if Grayson is still with them. Duke voices his disapproval by constantly reminding them that he's the King and that isn't his name, eventually culminating with a comment about the entire ordeal being a case of mistaken identity. It works in a pinch, but here's to hoping that Duke remains part of the cast if Bulletstorm ever gets the long overdue sequel it deserves.
See, while Bulletstorm isn't the best game, it's creative and that's what makes it fun. There are new echoes to play, as well as ultimate echoes which continue adding new rules as you progress through the stages of those echoes.
Multiplayer includes four-player Anarchy mode, though I'm not sure how popular it'll be, Bulletstorm is nuts when doing all the energy whipping alongside three other players. The shooting is still a little floaty and the hit detection is still sometimes weird, which is fairly common for older games since the technology is constantly getting better, but at $60 it's tough to recommend Bulletstorm: Full Clip Edition because it's an old game.
At $39.99, I would whole-heartedly recommend a romp through the Stygian wasteland, especially if you missed it the first time. This game is fun as hell even if it's not as technically sound as it could be. Thanks for giving an underrated classic a second chance, Gearbox, but c'mon down a notch with that price.
Bulletstorm: Full Clip Edition was played on the PS4 Pro and was provided for review by Gearbox Software.
Follow us on Flipboard, Google News, or Apple News