The Controller People: a rollercoaster of a review
A little pricey, but incredible service.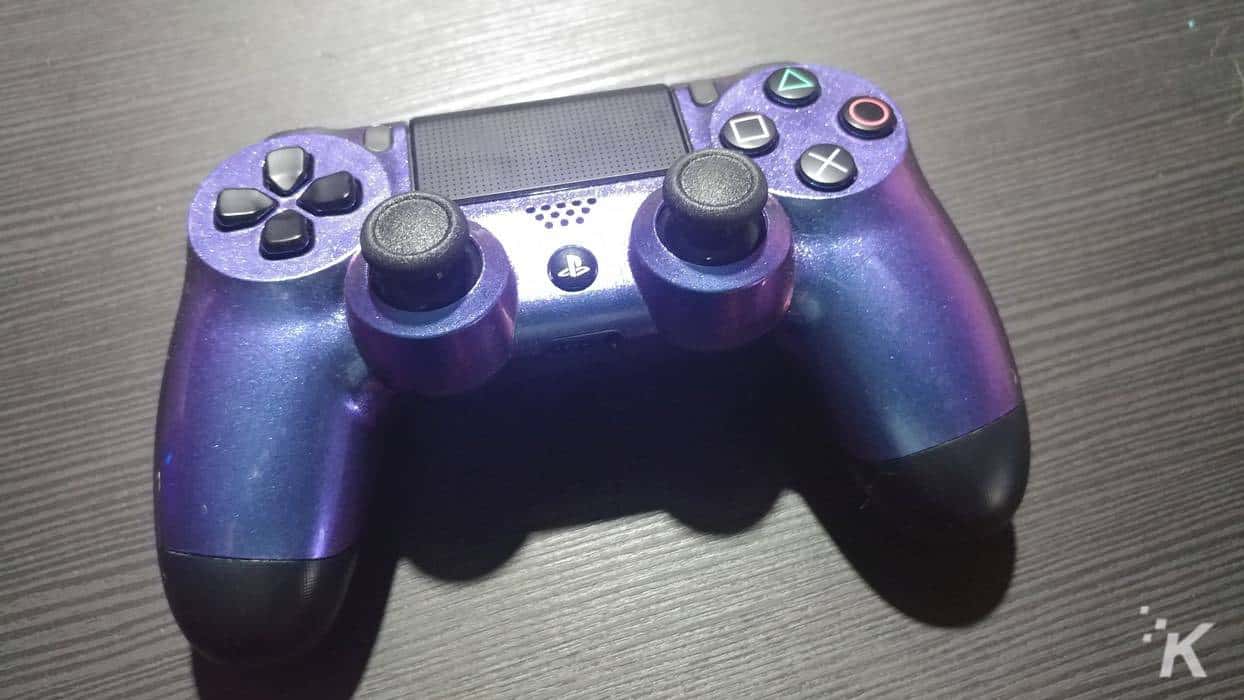 The Good
Those ClickSticks are really something else
This is the sexiest controller known to man
The thumbsticks offer a variety of customization
Less sharp spots that 2 of my factory direct models.
The Bad
A slight defect with the Share button.
UK Shipping
When we do product reviews, we do our best to take our time and explore all the features that the games or products have to offer us. Every once in a while, something happens, as was the case with our review with The Controller People's custom controller. To give you an idea of what we were looking at, this review totaled out with three shipped review units, one lost unit, one destroyed unit and another that made it through the entire review period. Now, that sounds kinda rough, but I want you to look at this as a win for The Controller People because if anything, they stuck with it in ways I never imagined they would.
Earlier this year, Kevin hit me up to ask if I wanted to review a custom controller. I was more than happy to oblige because how often are you given carte-blanche on a custom controller builder and allowed to build a monster among controllers? Not very often. So I select all the doo-dads and gizmos that can be added to the controller and had Kevin send the order to The Controller People. Not too long after, I'm given a UK shipping invoice and my initial thoughts are "Shit, they are UK based, this is going to take forever!"
My fears were proven right, as somehow the controller was stuck in customs for so long that I at one point forgot about it even coming. Then when it finally cleared customs, the courier "delivered" it to my home, only for it to never arrive. Probably not the best first impression. I figured I would point out the issue to Kevin, who put me in direct contact with Alex from The Controller People, a turning point that I'm sure Alex regularly loses sleep over.
After getting in contact with Alex, he agrees to send me out a new controller and makes sure this one is loaded to the brim, just like the first one. It takes a little bit to clear customs and then ends up being bounced around to 3 different post offices in my area because the government hates video games, apparently. I pester my wife to pick this controller up and excitedly unbox it. Holy hell, this controller looks like a million bucks. It is big, bulky, feature-rich and almost no part of the controller feels standard. I was floored.
Too good to be true though. One of the things I've creatively neglected to tell you is that in the ping-pong game that my local postal service decided to play with my package, the box actually looked like they may have tried to play ping-pong with it. The grips on the controller felt a little wobbly, and the R2 button felt a little stiff. After firing up Destiny 2 to take it for an official spin, I realized where the problem was. I pulled the trigger for the first time to be greeted with a disgusting feeling of a trigger completely disintegrating under my index finger. In my dismay, I rotated my wrists to survey the damage, accidentally removing the plastic grips fastened to the controller. The controller was utterly destroyed.
I reached back out to Alex and told him the issue. I was livid at first and was pretty sold on the idea that The Controller People were using crappy materials. Alex was totally mortified, he paid for a courier to pick the controller up and offered to send a new one right out. I packed up the broken pieces and decided to keep the current review in drafts as this story wasn't over just yet. I'm sure that The Controller People likely paid to expedite the process as well, but the turnaround smoked the first rounds. Alex told me that due to the issues in the second controller, he didn't want to send a controller that wasn't as feature-bloated. There were some new colors. So I selected a new pearlescent purple controller and waited to see what would happen.
This new controller showed up almost immediately, went to the right post office, and was ready and plugged in by the end of the day. I did notice that while the original controller I received was built off of the new Dualshock model, the new one I just received was built off of the original style. I didn't find any issue with that and continued to check the controller over before fully diving in. One small issue I did notice is that the "Share" button seemed a little sunken into the controller, kind of like the buttons were misaligned in some way. I almost brought it up to Alex but realized that if I did, he'd replace it and we'd never get this review done. I neglected to show him proof of this error to continue forward.
I want to share this all with you because honestly, Alex and the team went far beyond any reasonable expectation to make sure I was taken care of, and while I wasn't spending any money, they sure made me feel like a paying customer. If they handle all their customers with such assurance of quality and expectations, they win a gold star for service on that alone.
However, you aren't here to read a story about a review gone south, are you?
When my custom controller showed up from The Controller People, the first thing I noticed was that the thumbsticks were missing. Interestingly enough, the custom controller includes different thumb-stick heads to mix and match the controller. W̶h̶i̶l̶e̶ ̶I̶'̶v̶e̶ ̶n̶e̶v̶e̶r̶ ̶h̶a̶d̶ ̶a̶n̶y̶ ̶r̶e̶a̶l̶ ̶p̶r̶e̶f̶e̶r̶e̶n̶c̶e̶  Nope, turns out I really like the thumbsticks that are modeled after the Xbox One controllers and I like them low. This was a neat little thing that I can't say I've ever dealt with with a custom kit. I've been presented with a few different options but to have multiple heights and textures really made me happy not to have to readjust. Speaking of readjusting, the original R2 and L2 buttons were slightly extended, which I found really interesting. The current controller seems to be the same as the stock size, although, it feels perhaps just ever so slightly longer. There are little magnetic stoppers on each button as well that will let you go for full-press to just far enough for the button to be registered. I had no issue with these, and the new texture actually felt sturdy and durable.
On this controller, my face buttons and D-pad remained completely stock. This was a little bit of a bummer because the original had a disk instead of the D-pad and some neat chrome face buttons. The pearlescent body of the controller is sleek, and it is smooth but doesn't seem to smudge much or look messy as the color is deep. Instead of the textured grips from the first controller I have the original Dualshock texture. These features are all more-or-less mostly cosmetic with only a little performance added in for flair. The real star of the show here is the ClickSticks.
So, the coup de gras of The Controller People is this fascinating feature that has 2 mapped buttons attached to the back of the controller. These ClickSticks are little triggers that are where you would usually rest your middle fingers when holding the controller. It took a lot of getting used to, but I found a ton of uses for these ClickSticks as I spend time with the custom controller. After a long and healthy test period with them, it almost feels alien to pick up and hold a controller without them and equally awkward when I'm playing a game and go to press the ClickSticks only to realize they are missing. Remapping the ClickSticks was actually really easy,  hold down main button first, then hold down ClickStick for 10 seconds. Done.
I really liked using my right ClickStick as the circle button for a quick cancel.
Overall, at the end of the day, it turns out that not only do The Controller People make a nice custom controller with a whole bunch of really cool gadgets, they also have some non-obtrusive options to really enhance gameplay built right into it. Well, for a price at least. The original, broken controller, would have cost at least $100 to purchase, while the cool and sexy purple one would be around $80-$90. I'd love to one day take some of those extra features back out for a spin, but absolutely, for now, I can say that The Controller People got to make three first impressions and impressed us across the board.
Obviously, a sample unit was provided to KnowTechie for the purpose of this review. 
The Good
Those ClickSticks are really something else
This is the sexiest controller known to man
The thumbsticks offer a variety of customization
Less "sharp" spots that 2 of my factory direct models.
The Bad
A slight defect with the "Share" button.
UK Shipping
Follow us on Flipboard, Google News, or Apple News