Darksiders Genesis has the wildest collector's edition I've ever seen
Ok, but, I kinda want it.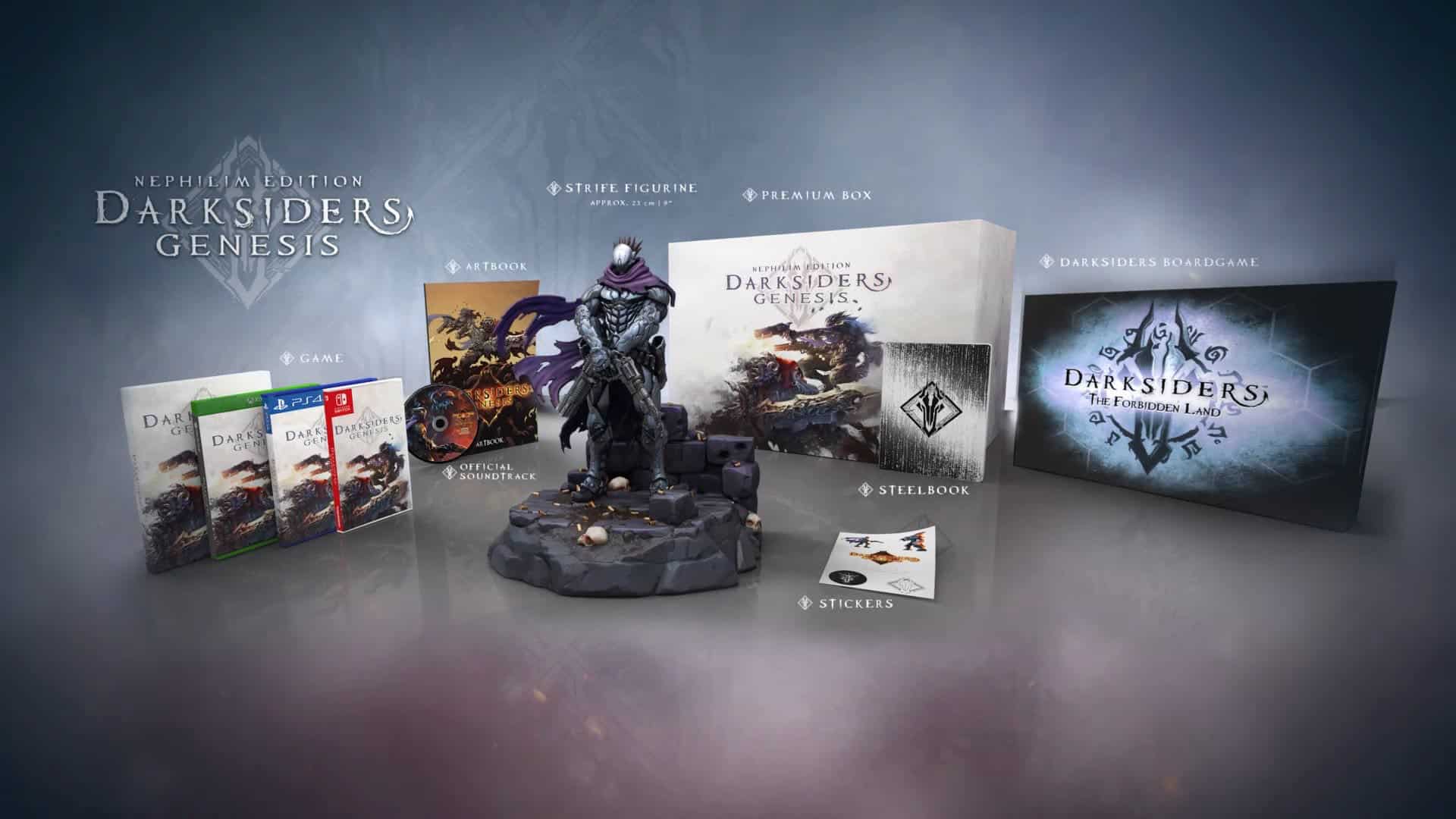 First off, the Darksiders series is getting a new game, Darksiders Genesis, as an isometric action into the series. Cool, I'm with you so far.
Darksiders Genesis is retailing for $39.99 on PS4, Nintendo Switch, Xbox One, and PC. Bold, releasing a new, big studio title at $39.99, but I appreciate the lower price point for the experimental take on the series. The previous installments, after all, were 3rd person action games.
The Darksiders Genesis collector's edition is $119.99, which sounds about right for a collector's edition given the contents. You get the game itself, a 9″ tall statue of the game's protagonist, Strife, a hardbound art book, a soundtrack CD (do people still use CDs?), a few stickers, and the game comes in a steelbook case.
That's not the wild part. There's a third version of Darksiders Genesis: the Nephilim Edition*.
Aside: For a game that doesn't want to be compared to Diablo, invoking "nephilim" in the title is rather audacious.
That Nephilim Edition? $379.99. That's not a typo. Yes, the Nephilim Edition of Darksiders Genesis costs more than any console you can play it on. Why? What on earth is in this version that's so expensive? Why is it $260 more expensive than the next most expensive version?
A board game. There's a 1-5 player, cooperative (or asymmetrical 4v1), original Darksiders board game. They're only making 5,000 copies ever and this is the only way to get it.
Here's the trailer, because of course this edition of the game has its own trailer
This board game, known as Darksiders: The Forbidden Land has you taking control of all four horsemen to fight through campaign "levels" together. The lead designer on it is Heinrich Meyer, whose only other tabletop credit on BoardGameGeek is for design in The Guild 3: The Card Game. 
Why is a board game $260, more expensive than the ludicrous Kingdom Death and almost as much as two brand new copies of the infamously massive and expensive Gloomhaven? Turns out Darksiders: The Forbidden Land includes a ton of stuff, including a whopping 61 pre-painted miniatures.
I have three leading thoughts for such a monstrosity:
I love it. I can't help but admire the boldness of this move.
I hate it. It's so expensive and there are only 5,000 copies being made, making this one of the rarest, least economically accessible board games ever. Coming from someone who offers pay-what-you-want PDFs so more people can play his games, a $280 edition feels rather ghoulish.
I want it. I need to know how amazing/awful/upsettingly mediocre this behemoth is.
THQ, if you want to send us a copy, I'm the resident tabletop designer at KnowTechie. Just sayin.
How about you, reader? Where are you at on such a gargantuan special edition? Must-buy? Avoid forever? Let us know down below in the comments or carry the discussion over to our Twitter or Facebook.
Editors' Recommendations:
Follow us on Flipboard, Google News, or Apple News