I switched to Destiny 2's soundtrack for work and now my boss pays me in engrams
And not the gold ones, neither.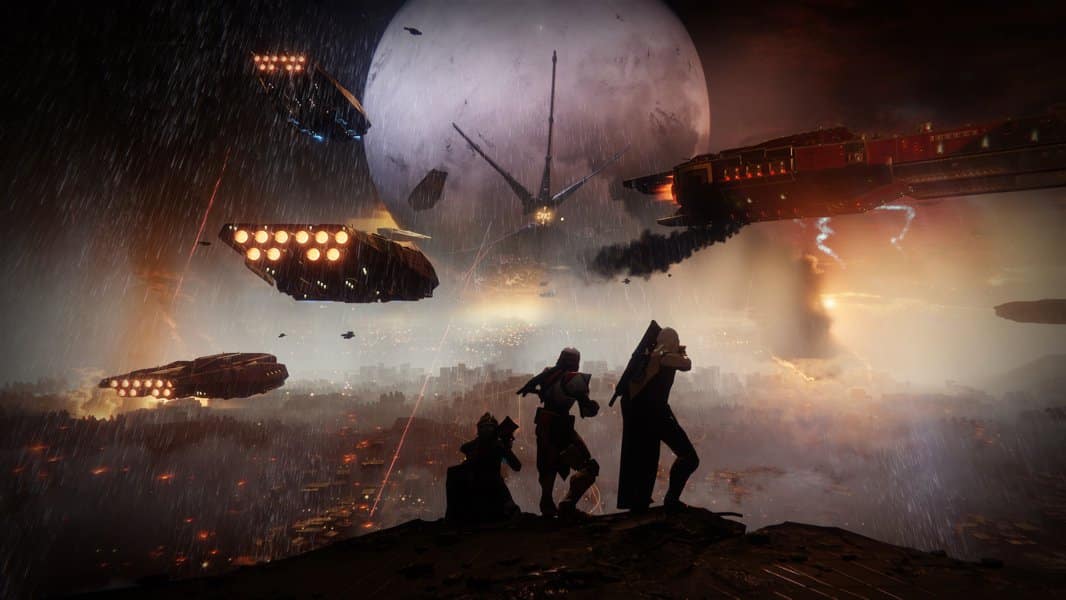 Most of us use music to get through workouts, traveling, and the workday. My usual go-to for turning housework into epic questing was the rousing soundtrack from The Witcher 3. With the finishing of that odyssey, I was looking for a new daily game with action, loot, and most importantly – a tight soundtrack that I could use IRL to get through the days.
Having just picked up an Xbox One S, with the Halo Collection, and being mildly disappointed by the games after Bungie left Microsoft, it was only natural to pick up Destiny.
I was entranced. All the tight gunplay that I'd just experienced in the early Halo series, with expansive orchestral pieces interspersed with sci-fi glitchy sound effects – blissful.
Now, I came late to the game. I know there were issues early on with lack of end-game content and the first two DLC packs were free to make up for that. The ship was on the way to righting when The Taken King released, and this part of the storyline is my favorite in the first game. Weird dimensional-twisting magic users from outer space – it's like everything I loved in the '80s got mashed together and made monochrome.
Lore, lore and more lore
With how much I loved Norse mythology as a kid, I expected to enjoy Rise of Iron, but I kept finding myself pulled back to the darkness and strange sound effects of the Taken. That distorted scream noise as the Taken Captain's ball of Darkness floats towards you, making it seem like it's moving slowly but you're powerless to move to get away, only to dodge at the last second. The repeating worm motifs of all sizes. The weird crystalline stuff that grows everywhere that you can find them.
Lore everywhere you turned, up cliffs, down side-paths that led nowhere except for a small piece of detritus that your trusty Ghost could scan for clues. A lover of Myth like myself could get lost for hours just piecing together the back-story from weapon descriptions or small quotes from the NPCs.
All of this majestic space opera told as a story of multiple parts, factions, and heroic actions, all soundtracked by Michael Salvatori, C Paul Johnson, Martin O'Donnell, and Sir Paul McCartney, backed by a 106-piece orchestra recorded at Abbey Road Studios no less. Halo plus my favorite Beatle and recording studio. It was the stuff of video game wet dreams and I still think it's some of the best music recorded for a game. It's such a shame that O'Donnell wasn't around for Destiny 2.
The music of Destiny
Sometimes I feel working on a metaphor is a little like decrypting engrams, there's the rush as you go to create, that sometimes the gods smile on you and you get a good one at the end, sometimes not. (sometimes the trash should be broken into little useful resources)
Okay, so now we feel like a Guardian. Maybe. I mean I don't have the Traveler's Light inside me but I do have bad puns and caffeine so I should be okay.
So about my boss, maybe he doesn't pay me in Engrams. But the metaphor kinda holds true. With the cross-pollination of ideas, workplaces and 'fun', listening to music from an activity I enjoy while doing work really helps my focus and motivation.
It's a grind of a different nature, instead of Raids, Strikes, or PvP, it's gladiatorial combat of another form in the office workplace. Instead of intangible in-game rewards, it's tangible rewards in the form of cash money (although it might as well be intangible with how long it stays in my bank balance).
And Guardians, if you've not used The Whisper of the Worm as sex music – you're missing out.
What do you jam out to at work? Let us know down below in the comments or carry the discussion over to our Twitter or Facebook.
Editors' Recommendations:
Follow us on Flipboard, Google News, or Apple News