Can you really earn by sharing your bandwidth? Giving Honeygain a try
Honeygain is an internet-sharing application that promises to pay its users for effortlessly sharing their excess internet bandwidth.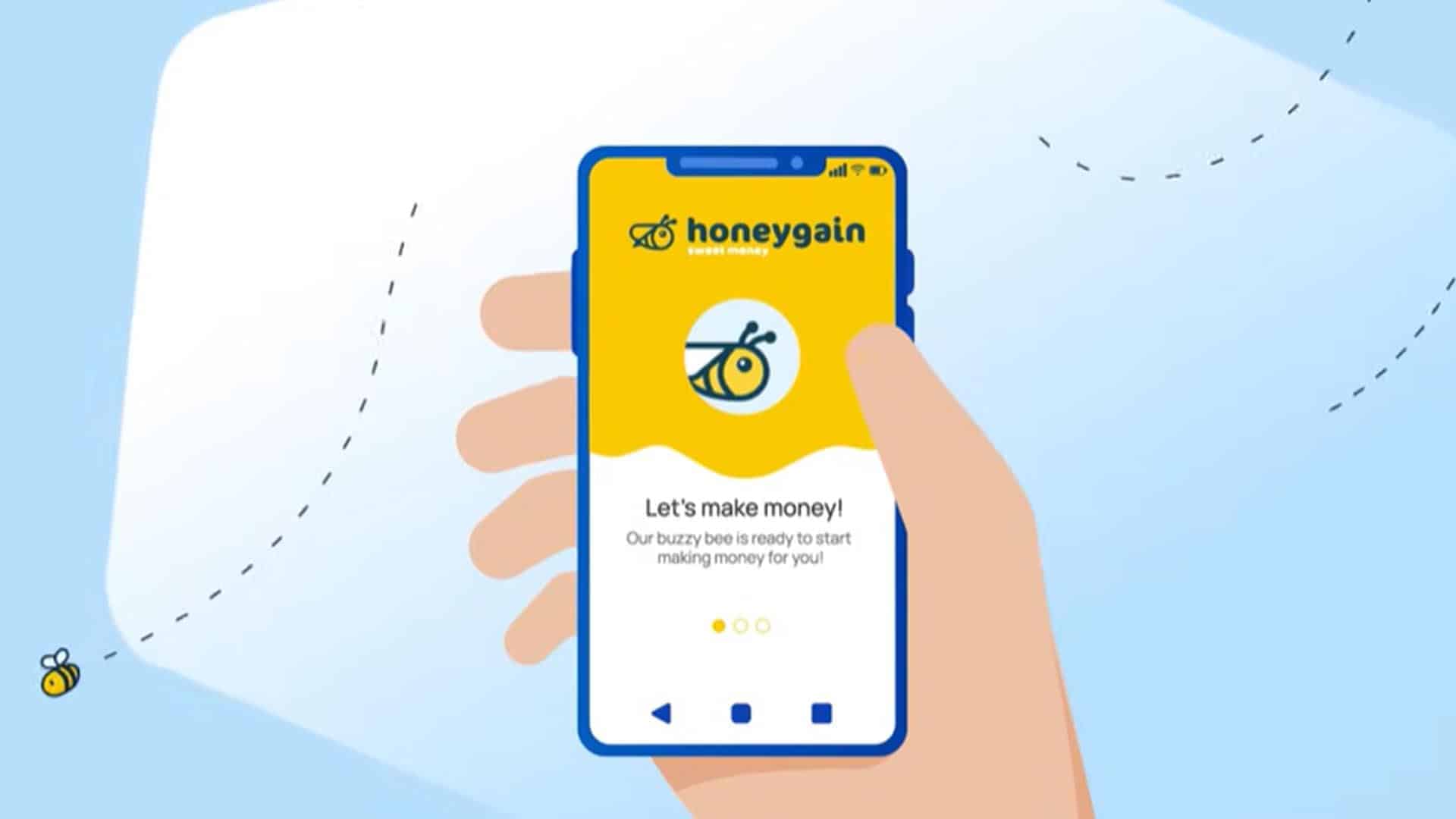 The variety of money-making apps has certainly grown a lot in the last few years – and so has the caution of their potential users.
It's only natural – since the internet is ripe with all types of financial scams, it's certainly wise to take most potential earning opportunities with a grain of salt.
In this article, we're going to review Honeygain – an internet-sharing application that promises to pay its users for effortlessly sharing their excess internet bandwidth.
We'll dive into deep research and try it yourselves so you don't have to – and deliver the verdict on whether it's worth trying to earn money with Honeygain.
First things first: How does Honeygain work?
According to its official website, Honeygain is an 'easy way to earn passive income without compromising security.' What a promise, eh? Let's see if it's actually this rosy.
The concept of the app seems rather straightforward: a user signs up, downloads the app, signs in, and leaves it running on their computer, tablet, or smartphone.
From this point on, the app does all the active work involved, sharing one's excess internet bandwidth with Honeygain's network, and the user gets rewarded per every GB of traffic shared.
This means that while this money-making opportunity is a pretty great option for those with unlimited (or just really generous) internet plans, it might not be suitable for someone who only has a few GBs of data available to them every month.
Using publicly available WiFi (let's say, the local cafe's) is often not an option, too, since there can only be one device sharing bandwidth with the same IP address at one time.
Another thing to consider is that even if you had a completely unlimited WiFi or data plan and wanted to share thousands of GBs every day, that would not be an option since Honeygain is programmed to only use a limited portion of your bandwidth.
The reason for that is simple: the developers strive for the app to have no effect on your device's performance and internet speed so that you're able to use your device as you normally would at the same time the app is actively sharing.
What makes Honeygain stand out?
Launched in 2018, Honeygain remains one of the oldest and strongest players in the internet-sharing app arena. The number of its competitors has certainly expanded in recent years – however, most of them can boast much smaller followings.
While none of the apps has published exact user statistics, the number of followers on various social media platforms lets you draw a pretty clear picture.
Honeygain is active on Facebook, Twitter, Instagram, and TikTok – moreover, it has active user communities on both Reddit and Discord.
In addition to this, a separate Twitter account is run by its Customer Support team, which uses it to not only answer frequently asked questions in its public tweets but also communicate with users directly.
Honeygain is also more appealing due to higher operating system compatibility: it's currently available on Windows, macOS, Linux (on Docker), Android, and iOS.
Getting on Apple's App Store is especially worth noting: Unlike Android, iOS doesn't allow for downloading and installing apps from external sources, and its App Store is rather notorious for strict requirements and conditions.
Honeygain's website and app: User experience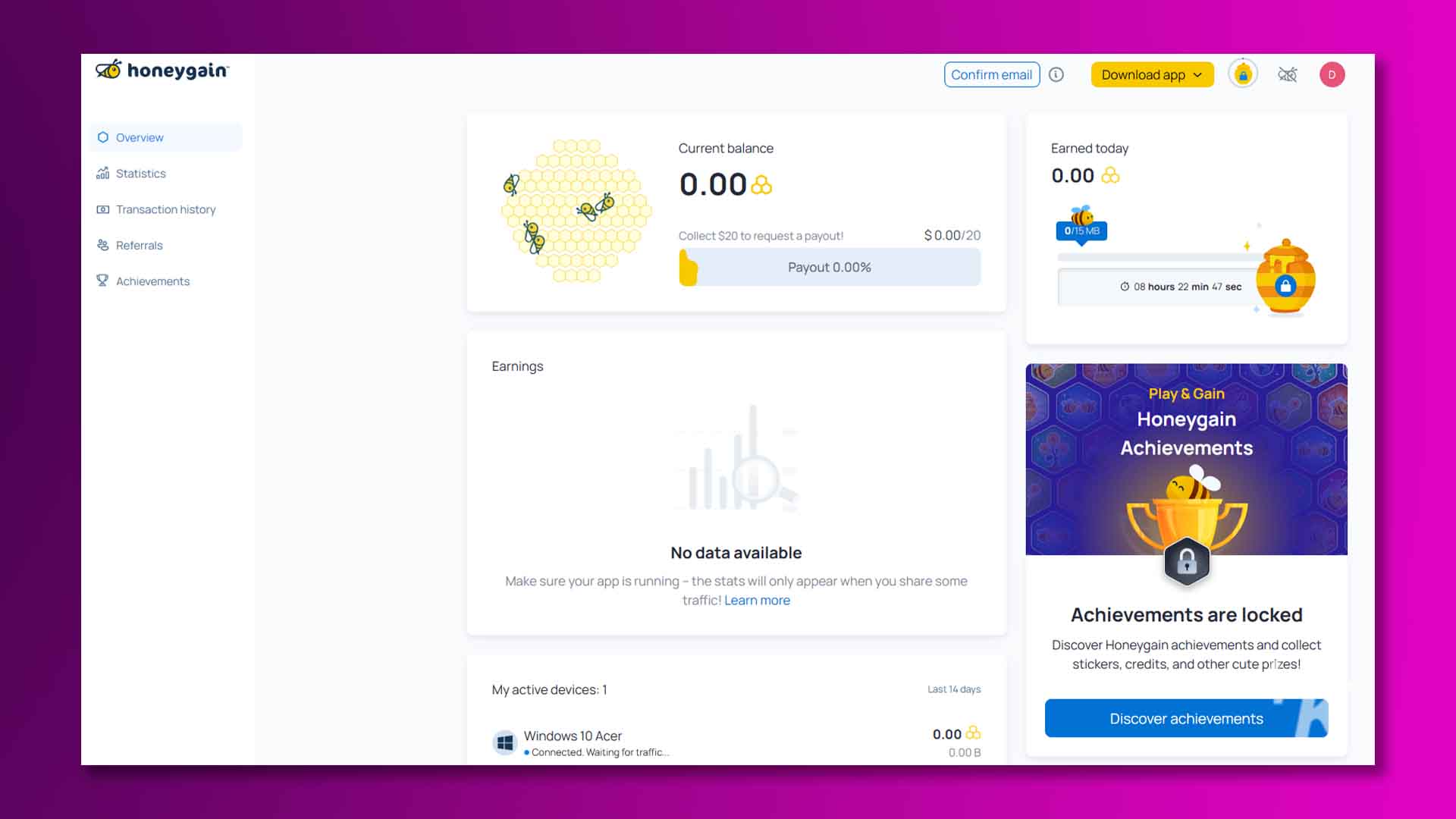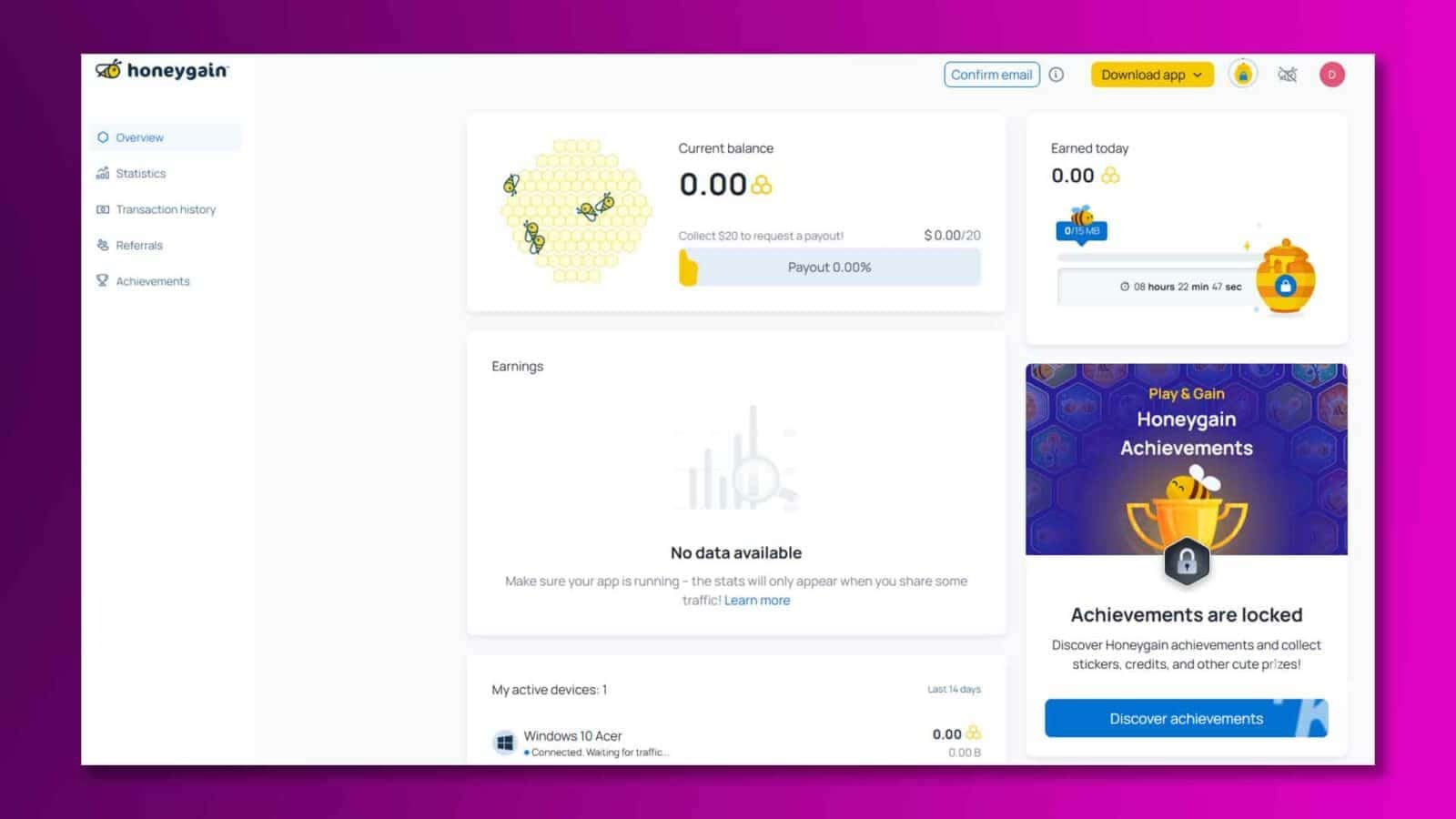 Creating an account on Honeygain takes literal seconds: all we had to enter to sign up was an email address and a password. We also used a promo code GET5, presented in a popup on the home page of the website, to get a free starting gift of $5.
Not too shabby! The minimalized sign-up process felt nice from the security point of view, too: the less personal information is involved, the fewer safety-related worries live rent-free in our heads.
Downloading the app didn't take a ton of time, either. The installer for our macOS was smaller than 12MB, and if your internet connection is too slow to download that in seconds, you're probably not Honeygain's target audience anyway.
According to their website,  devices with unstable or slow internet (<1Mbps) are typically not used for sharing anyway.
Once you log in on the website, you're presented with a pretty informative dashboard where you can monitor your activity, devices, earnings, and referrals.
The design seems pretty sleek – however, being the night owls we are, we weren't too happy about there not being a dark mode.
The macOS app, on the other hand, seems to be a bit outdated in terms of style – which is hardly surprising with the last update having been released over a year ago now (not that it included any design tweaks, either).
All in all, there's little in terms of user experience we could define since Honeygain's aim is for the users to have to interact with the app as little as possible. It's the definition of 'set it and forget it'… Until you have to collect your earnings, that is.
Potential earnings: Is Honeygain worth it?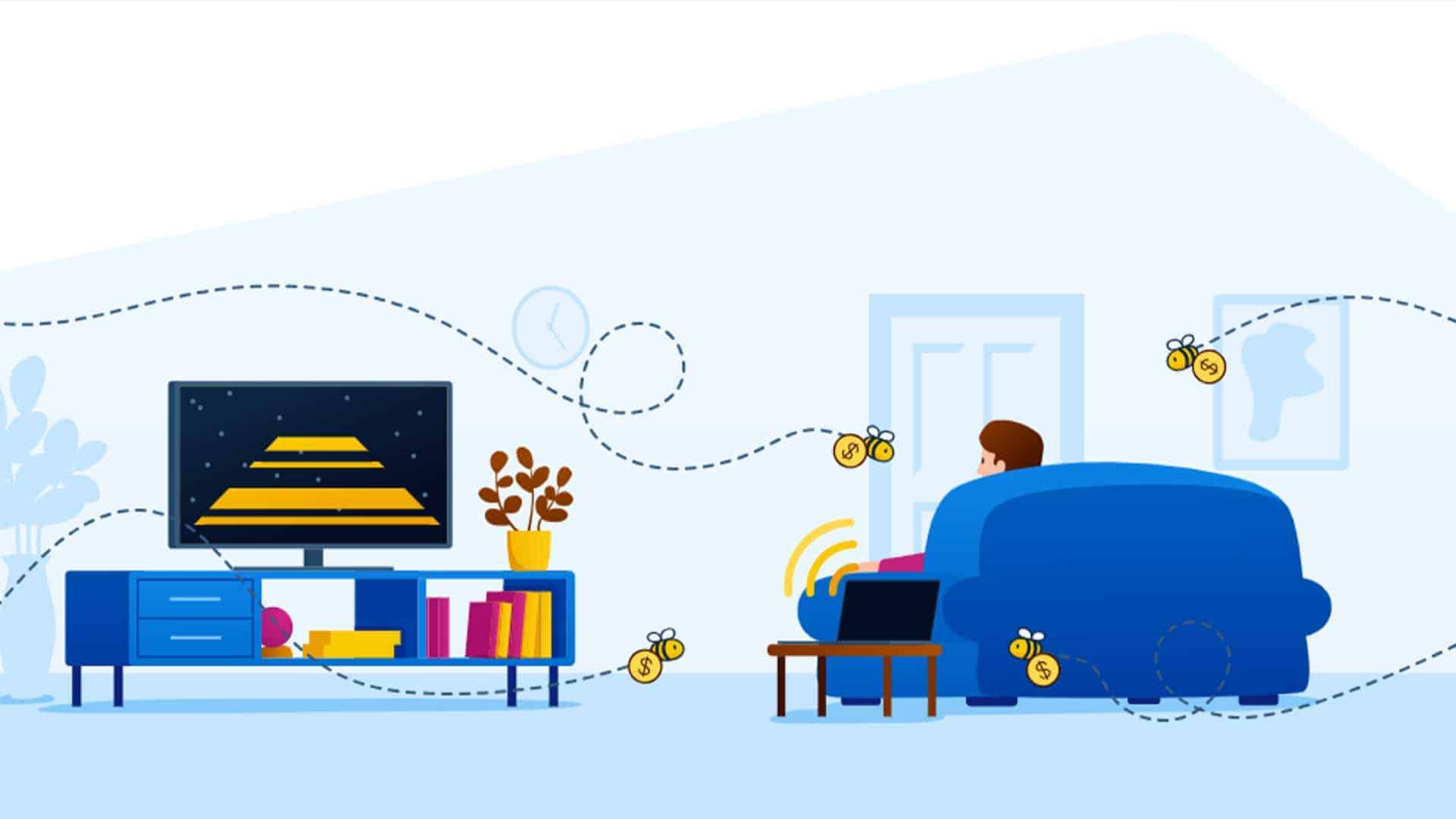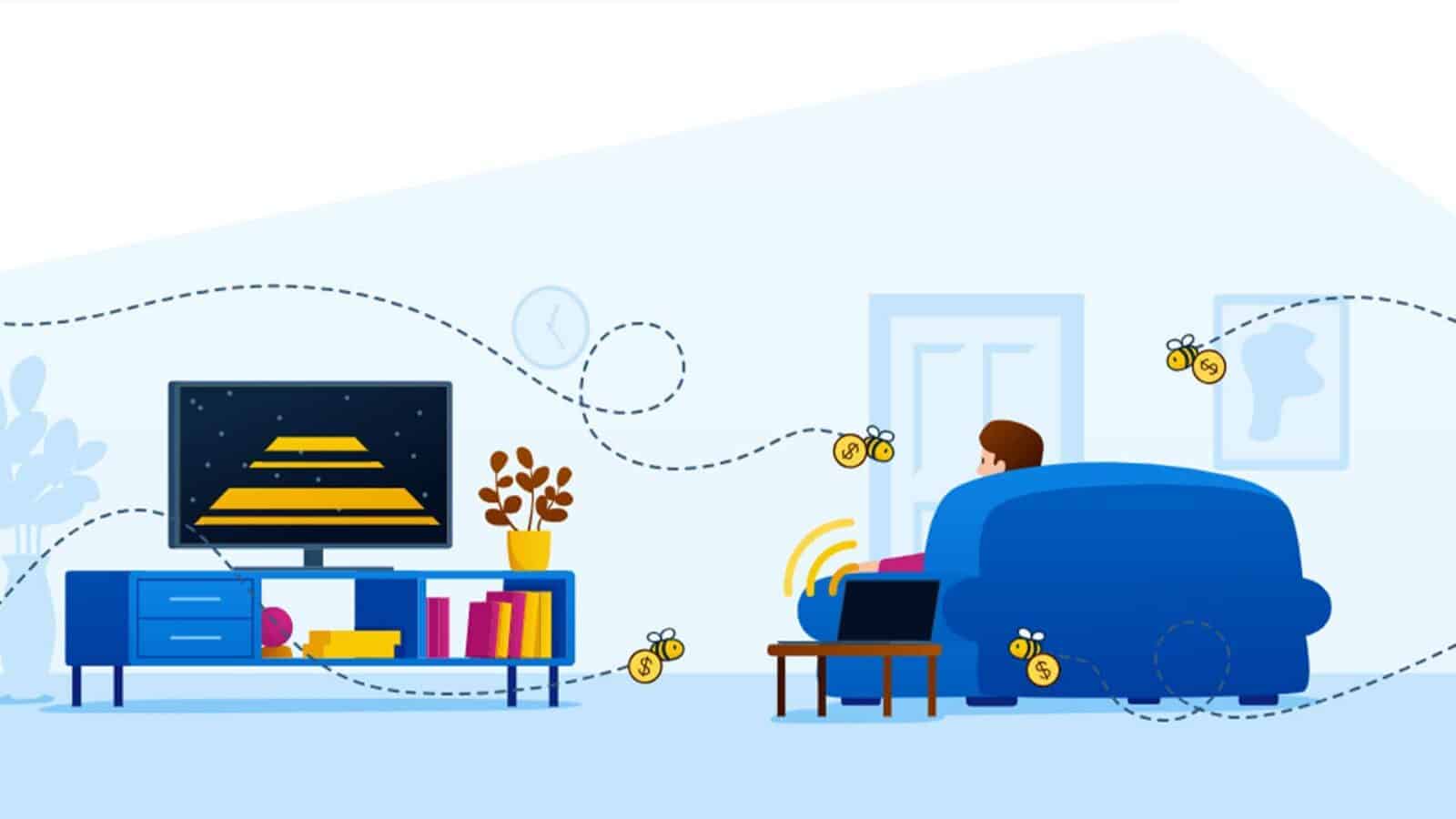 We'll be honest here: Honeygain does not pay a lot. With $3 per 10GB (or its equivalent in crypto), the earning potential is much closer to an extra pizza per month than a replacement for your primary income source.
On the other hand, there's no active work involved – which makes for a pretty sweet exchange.
The important thing is the app does actually pay as promised. There are two payout options currently available – PayPal and crypto, and both seem to be rather reliable. We came across hundreds of people posting their payout proofs on social media.
The app's rating on the independent reviewing platform Trustpilot is also a whopping 4.5 – which is massive when compared to some of its competitors (e.g., Packetstream is rated at 4.1 at the time of writing, and EarnApp is at 3.6).
The PayPal transactions are completed through a third-party partner, Tipalti Inc., and crypto transactions in JumpTokens (JMPT) are made directly.
It's also important to note that 2-factor authentication is mandatory for every payout request, adding an extra layer of security to the earnings gathered. 
All in all, Honeygain is a nice app to try in your free time – if any harsh data limits do not restrict you, that is. While it certainly won't help you make millions of dollars, getting virtually free money for doing (and risking) nothing is fun in any amount!
Have any thoughts on this? Drop us a line below in the comments, or carry the discussion to our Twitter or Facebook.
Editors' Recommendations:
Disclosure: This is a sponsored post. However, our opinions, reviews, and other editorial content are not influenced by the sponsorship and remain objective.
Follow us on Flipboard, Google News, or Apple News