Grumpy Cat stomps off to meme hell
All memes must die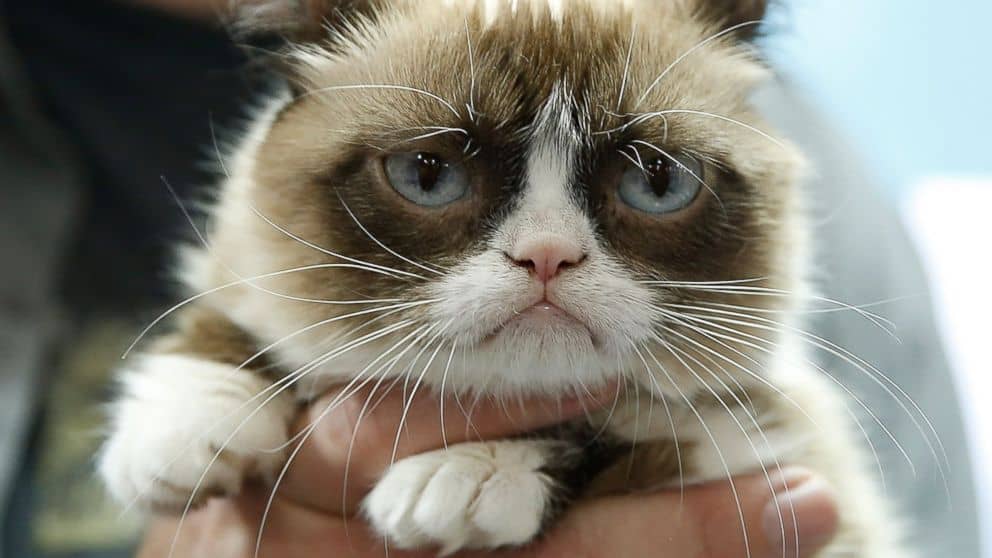 Grumpy Cat, the meme started in 2012 from an actual animal that may or may not have been perpetually grumpy, has died. The animal, which had a real name was seven years old and kicked it due to complications from a urinary tract infection according to an early morning eulogy from CNET.
Grumpy Cat is currently crossing the River Styx, doing that weird catwalk when they pad across surfaces they don't like.
It's a known fact that All Dogs Go to Heaven, whereas all cats go straight to hell. There are no exceptions, especially for a meme lord such as Grumpy Cat. The cat, while likely unaware of its unwilling participation in becoming the grandfather of many modern memes, probably just wanted to bask in a sliver of sunlight and lick itself. Instead, it was shuffled around the country and treated like a young Donny Osmond.
Some days are grumpier than others… pic.twitter.com/ws209VWl97

— Grumpy Cat (@RealGrumpyCat) May 17, 2019
At the height of the cat's success, there was a Grumpy Cat Christmas movie, which was straight garbage but paved the way for Hollywood to accept a pitch for The Emoji Movie. Since then, Grumpy Cat kind of faded a bit, even though its social platforms still have millions of followers. Let's be honest, you already thought this cat was dead.
2012 was a much more content time of existence in America, so Grumpy Cat was able to thrive within this system of light amusement
With the current political atmosphere, the cat would be hard pressed to lighten the tone when the topic of the day is usually some sort of basic human right being violated by the administration. Its death might bring people together, might remind them of a simpler time, or it just doesn't matter.
It's sad when someone's pet dies, it isn't sad when a meme dies. Another meme will always pop up in its place. As a pet, Grumpy Cat's death sucks for the owner. As a meme, it can fuck off into the depths of the internet because it was a dumb meme. Who are we to assume the nature of an animal just because of its appearance? That could have been the happiest cat alive. It's still going to hell. Cats go to hell. If you believe in such places.
But you sure do believe in memes. That much is certain. And for a while, the internet worshiped Grumpy Cat. So for that, a legend is being laid to rest. A legend that met Stan Lee. Did you ever meet Stan Lee? No, you did not. So at least Gumpy Cat has that going for it as it punches its ticket to eternal damnation.
Will you miss Grumpy Cat? Do you need a minute?  Let us know down below in the comments or carry the discussion over to our Twitter or Facebook.
Editors' Recommendations:
Follow us on Flipboard, Google News, or Apple News