HIX.AI: a comprehensive review of the all-in-one AI Writing Copilot
HIX.AI is a powerful suite of AI writing tools that are designed to help streamline and automate numerous writing and editing tasks, thereby boosting productivity.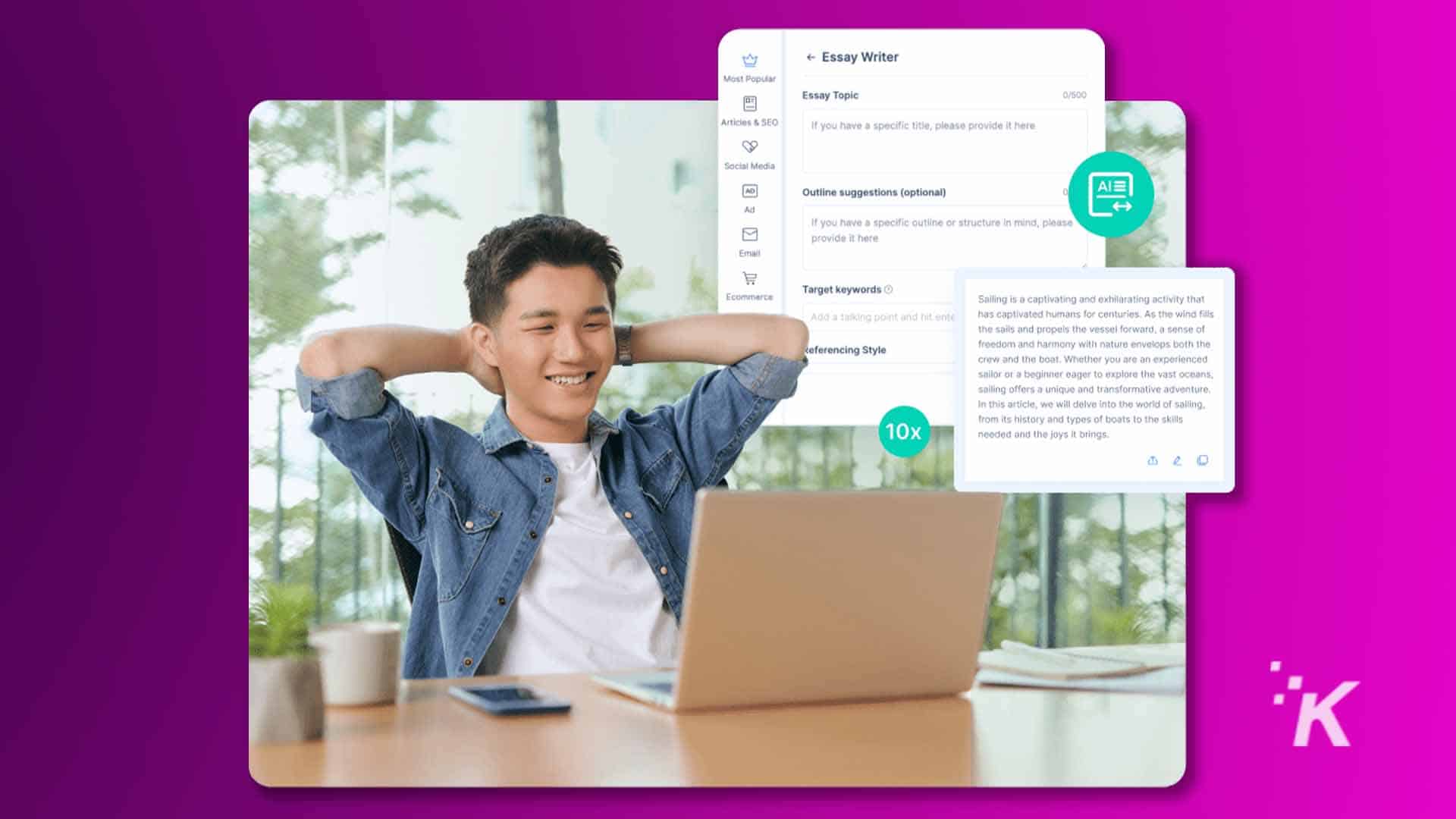 The rise of AI over the past two decades has already begun to completely change how we carry out tasks in nearly every field, with content writing being one of the most impacted areas.
AI writing tools and editors can now be used to not only detect plagiarism and fix small grammar errors but even generate whole new lines of content.
This is why an AI assistant like HIX.AI has started to garner a lot of online attention, as it is the ideal tool for any working professional looking to unleash their creativity.
Its unrivaled features, product options, intuitive interface, and powerful algorithms are worth exploring, so here's a comprehensive review of what makes it the ultimate AI writing copilot.
Meet Therabody's All-New TheraFace Mask
TheraFace Mask is a breakthrough FDA-cleared LED skincare mask with added tension-relieving vibration therapy. Clinically proven results include firmer, smoother, healthier-looking skin with a visible reduction in fine lines, wrinkles, and uneven tone in as little as 8 weeks
HIX.AI overview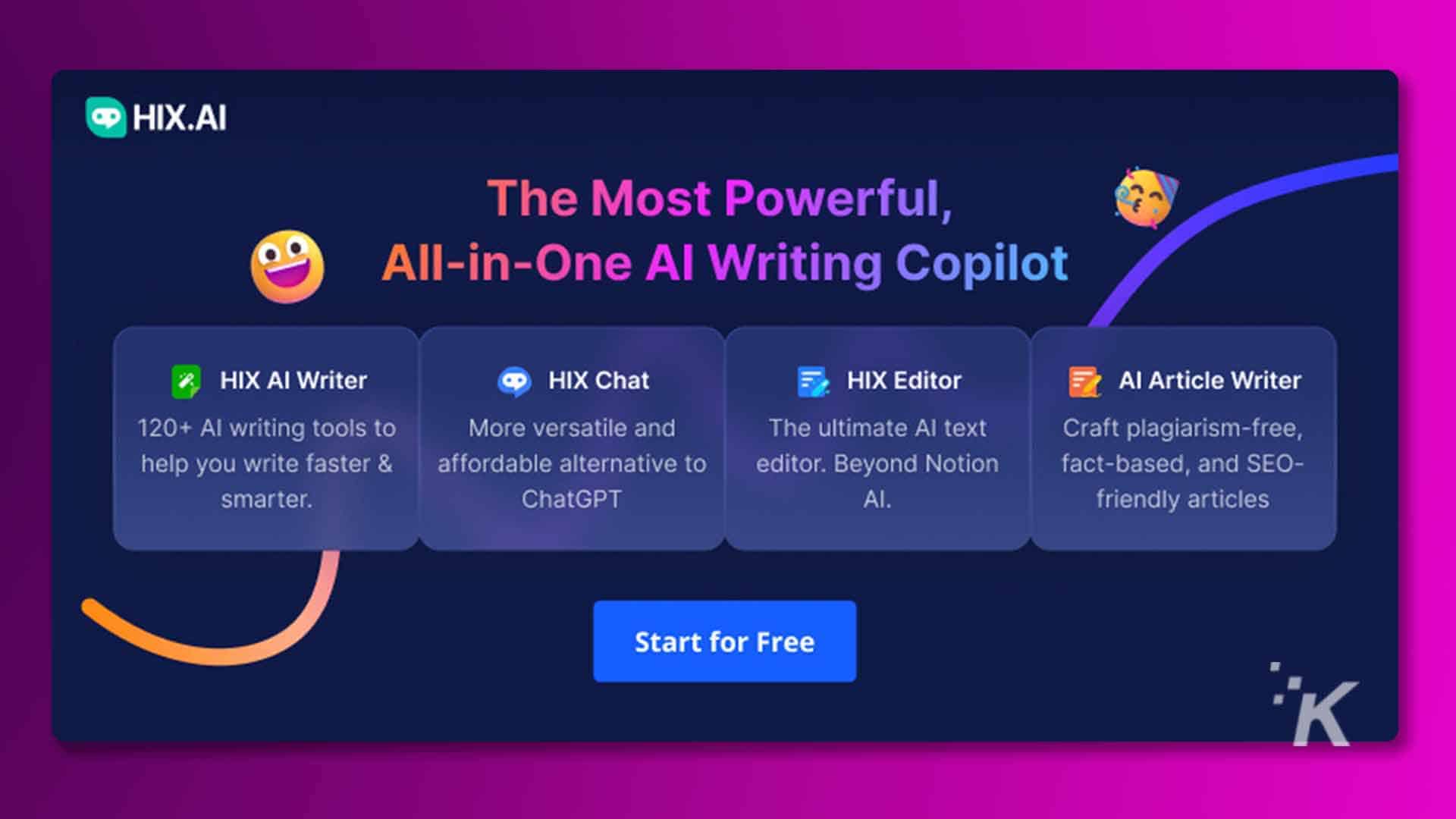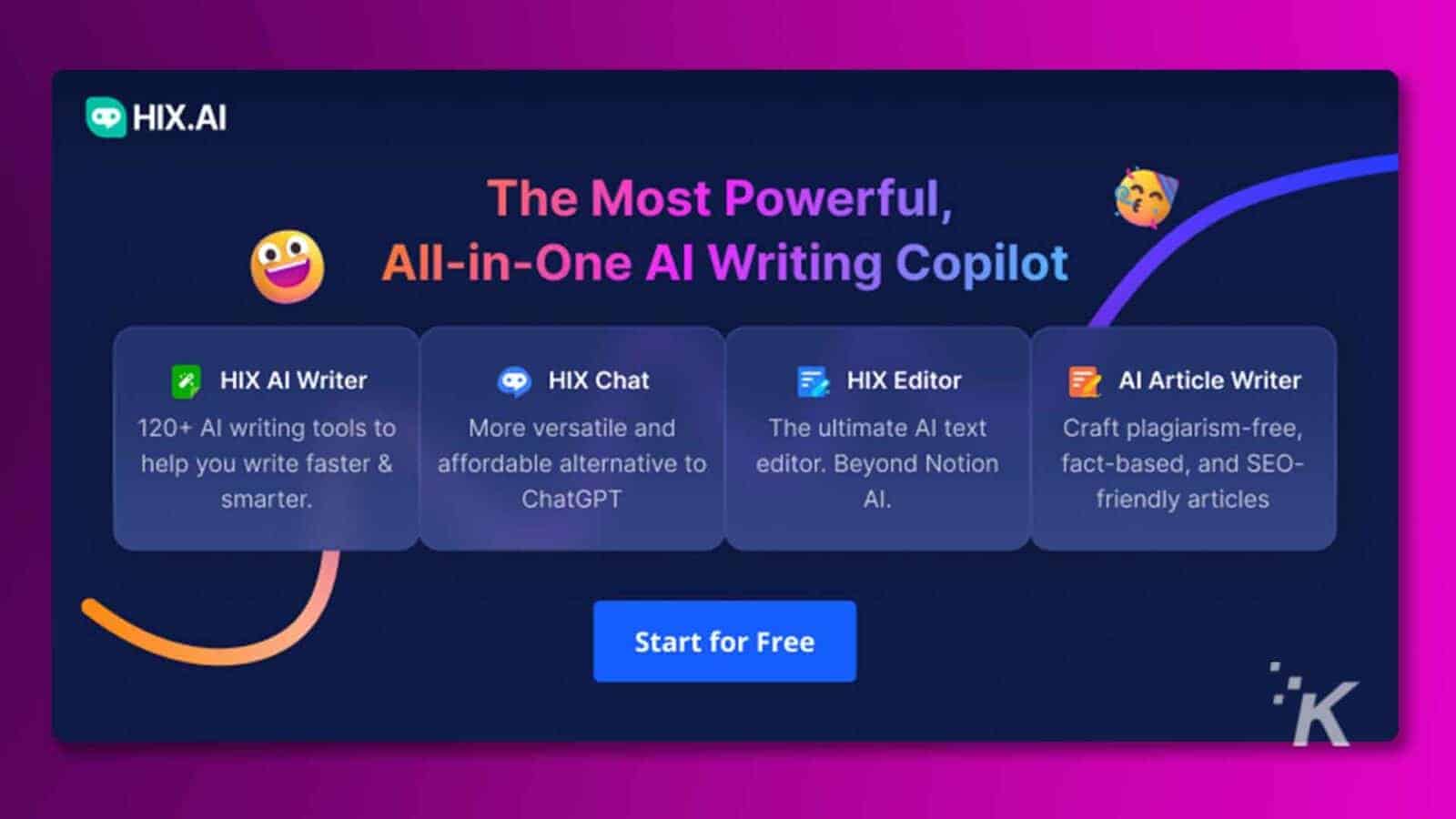 HIX.AI is a powerful suite of AI writing tools that are designed to help streamline and automate numerous writing and editing tasks, thereby boosting productivity.
With HIX.AI's help, users can easily edit and rewrite any erroneous text, summarize lengthy content, and even eliminate writer's block by generating plagiarism-free content and outlines in just a few clicks.
To this end, it would be fair to say that HIX.AI is more than just a simple writing tool, as it effectively acts just as a true writing assistant would, to help optimize your workflow.
It has an AI Writer that can be used in idea generation for almost any type of content. There is also a Long-Form Article Writer that caters to blog writers and marketers looking to draft SEO blog content in a hurry.
In addition, HIX.AI has an Editor tool that proves handy for proofreading, editing, and optimizing content that has already been written.
You can craft email copy and responses using their AI Email Writer and Generator tool, which can be very convenient when creating email marketing campaigns.
Plus, they even have a Chatbot tool similar to ChatGPT that can provide you with accurate answers to difficult questions in minutes.
Whether you're a brand, student, writer, marketer, researcher, or working professional, HIX.AI can serve as an invaluable tool to improve your writing, save time, and enhance your overall productivity.
Why should you choose HIX.AI?
HIX.AI can be a powerful tool that effectively streamlines your daily workflow and enhances your creative writing process. There are several practical ways that this AI writing assistant can prove to be worth the investment, some of which include:
Elevate your content creation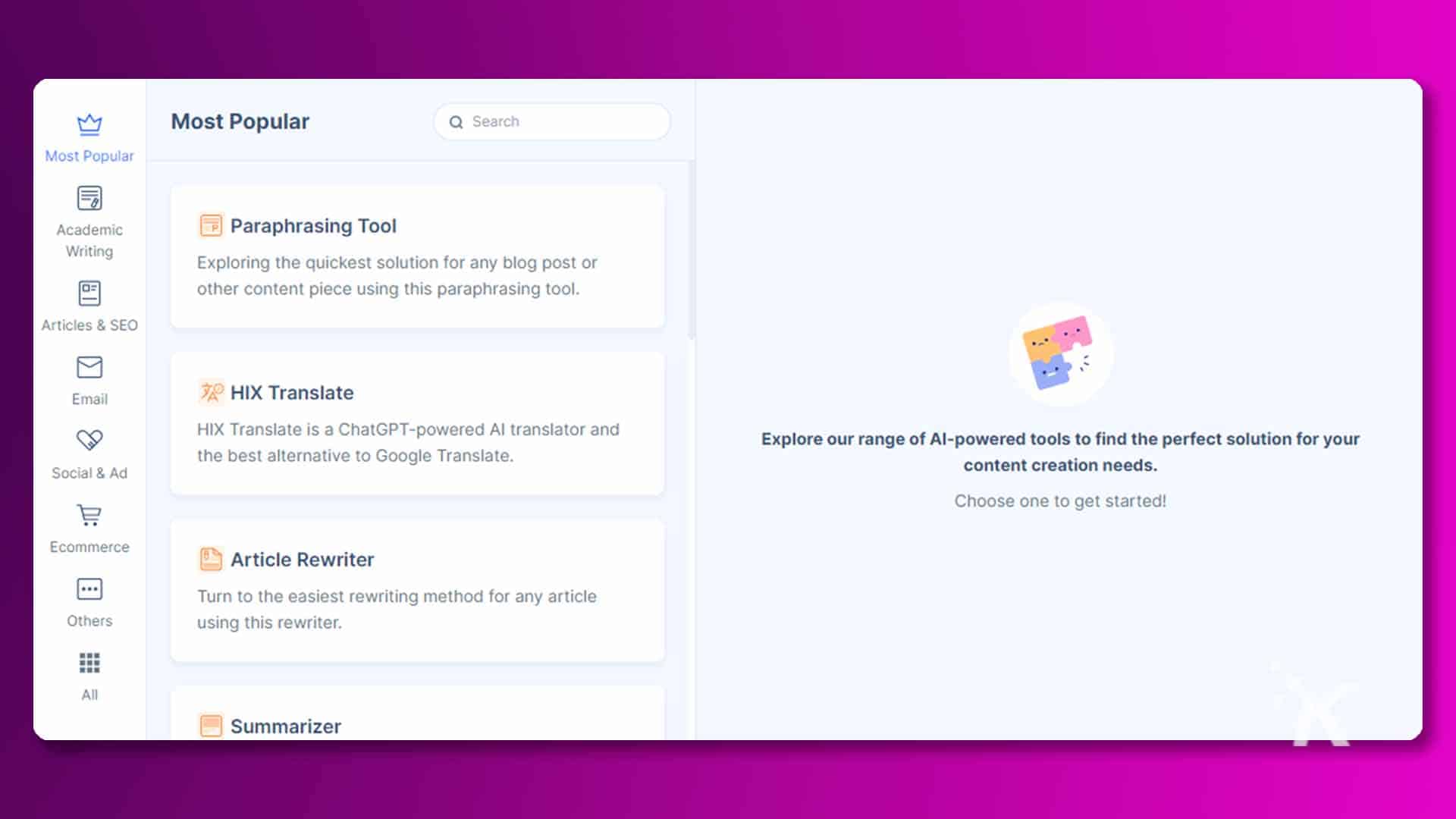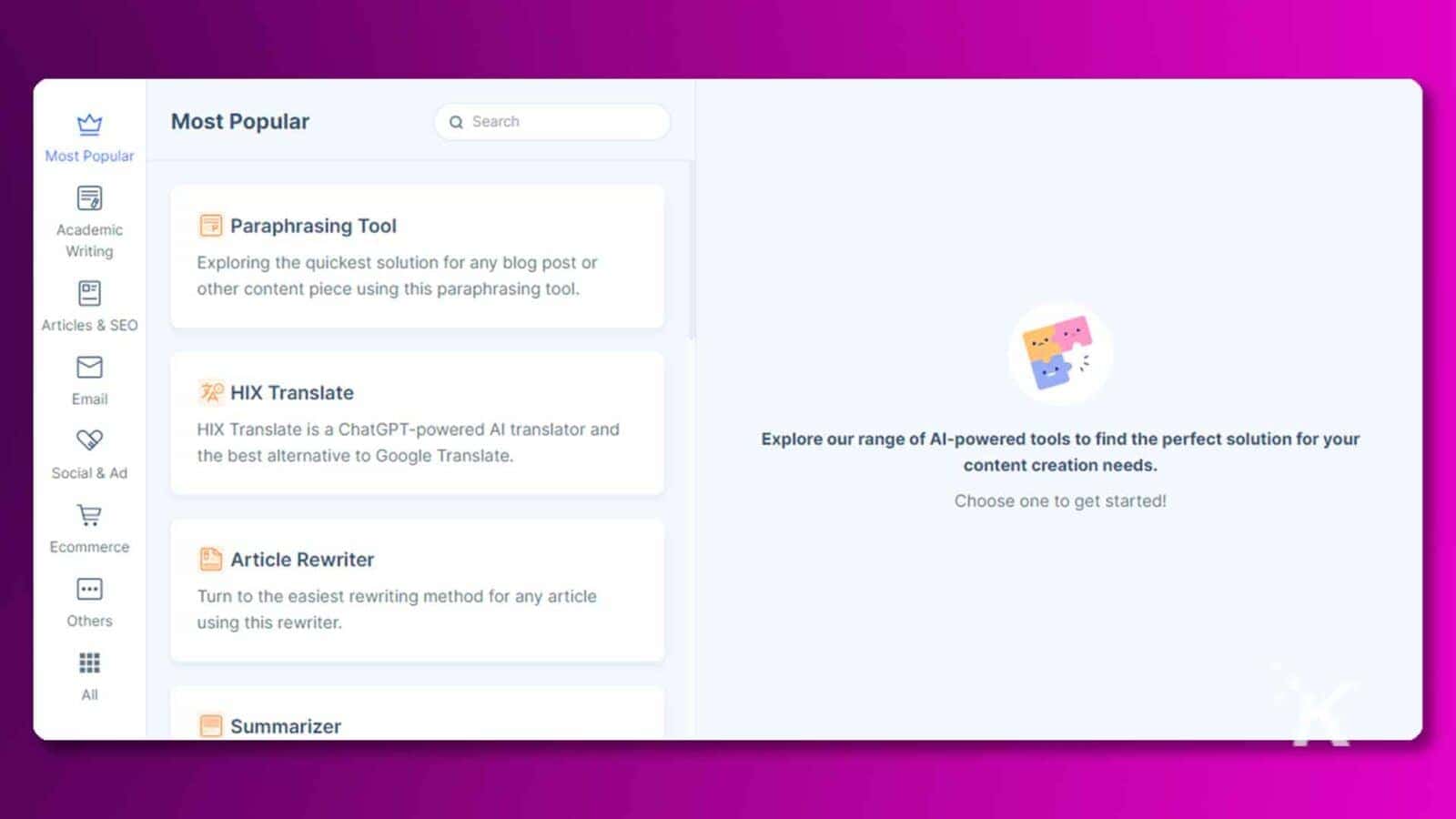 There are times when you may find yourself stuck with no idea of how to start or improve your written content, which can be inconvenient, especially if you have deadlines to meet.
When this happens, HIX.AI can help you quickly get back on track, as you can use their AI-based tools to get inspiration for topic ideas, construct better sentences, alter the style of writing, and even accurately translate the text into different languages.
You can even use it to conduct research and ensure that you are always using accurate information.
Increase content production
One of the biggest challenges of content writing is scaling the amount you put out without compromising the quality. This can be an especially frustrating experience for SEO marketers, who often need to get more done with less time available.
To this end, HIX.AI can help you optimize a lot of the writing work, such as drafting articles, editing, proofreading, and more. This can help save a lot of time that can be used to work on other writing tasks for greater overall productivity.
Expand audience base
The ultimate goal when it comes to creating content is to make sure that you can get it seen by as many people as possible.
With the help of HIX.AI, you will be able to access a plethora of tools that can enable you to better optimize your content for greater success and increased engagement.
For instance, you can use HIX.AI's translation features to accurately translate all your written text into over 100 different languages, such as French, Spanish, Japanese, etc. In doing so, you will be able to reach wider audiences.
Facilitate SEO optimization
Any quality AI writing assistant needs to be able to help you with on-page SEO optimization, and HIX.AI does just that.
It can effectively provide you with useful tips on how to improve your writing to increase text readability and reduce high bounce rates, which impact search rankings.
You will also be able to save yourself a lot of time researching keywords, as the writing tool will offer suggestions that can help ensure your blog posts rank higher than your competition's.
What are the main products of HIX.AI?
HIX.AI offers a handful of AI writing tools and features that can be used to streamline a wide variety of tasks.
Each tool is unique, and since the platform comes with a free trial, you can test every one of them out to see the difference that they can make. Check out a brief list of some of HIX.AI's main products below:
HIX AI Writer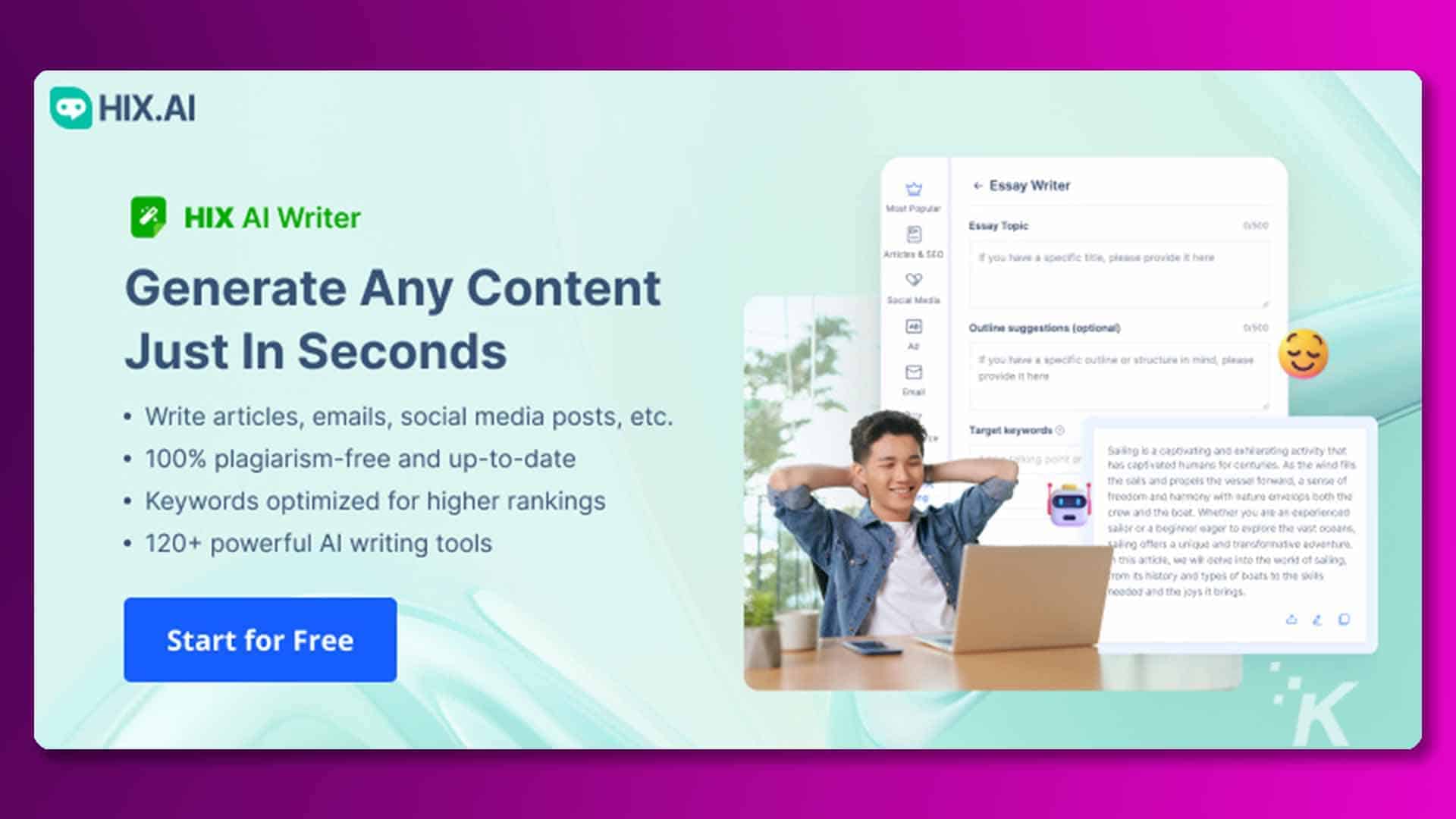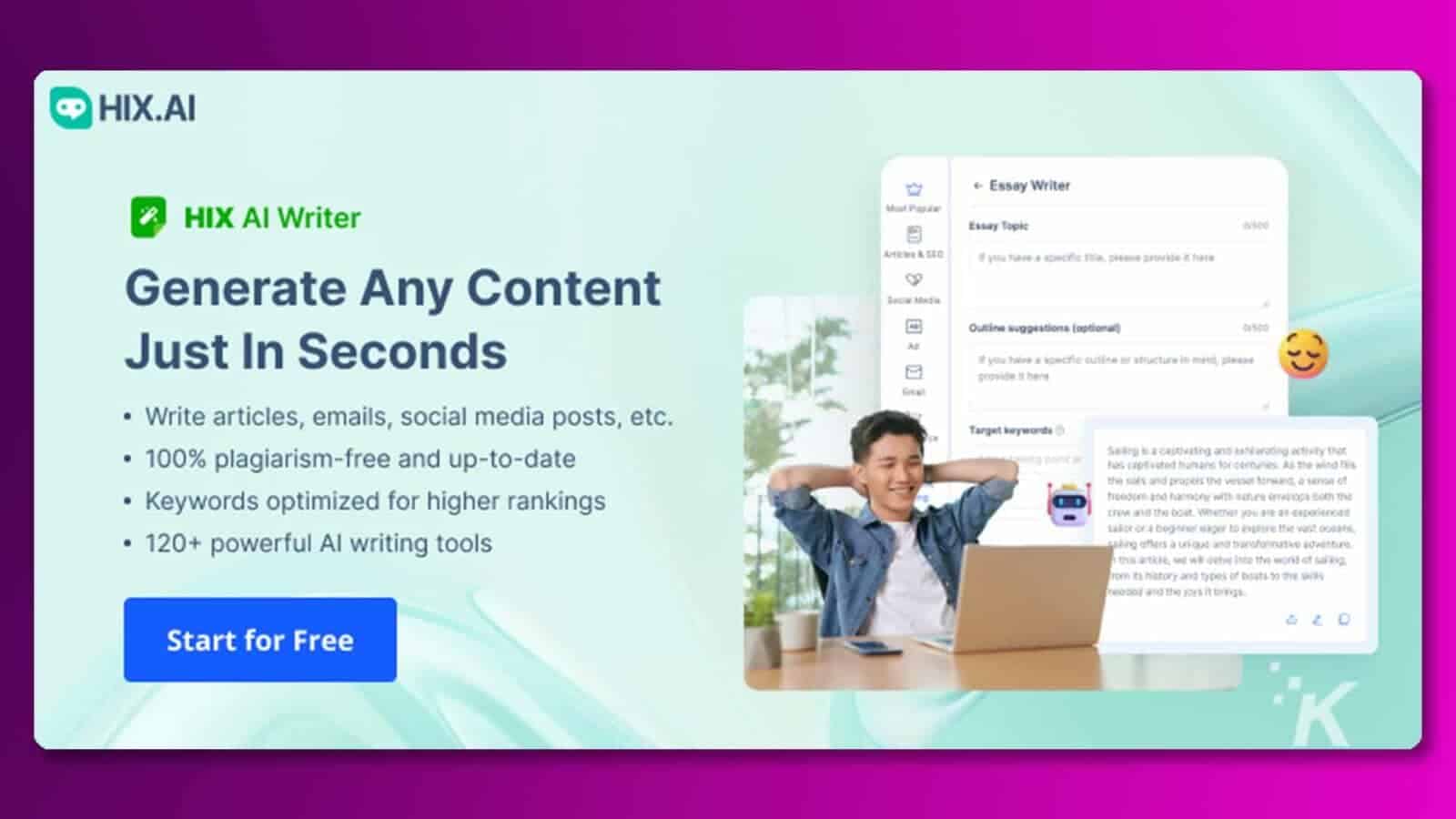 HIX AI Writer is ideal for users who seek assistance in crafting new content or simply coming up with new topic ideas, which can help you overcome writer's block.
It comes with 120+ specialized AI writing tools and aids you through every stage of the content writing process. One notable tool is the article rewriter, which can produce results in over 50 different languages.
It also enables users to customize the desired text to match their intended preferences, such as length, target audience, tone of voice, etc.
HIX AI Writer can even help in generating SEO-optimized content, and it ensures that any text produced will always be 100% plagiarism-free.
Users will also have access to the video-to-article feature that makes it easy to convert the audio from any video into text in minutes and with incredible accuracy.
HIX Chat (ChatGPT-like chatbot)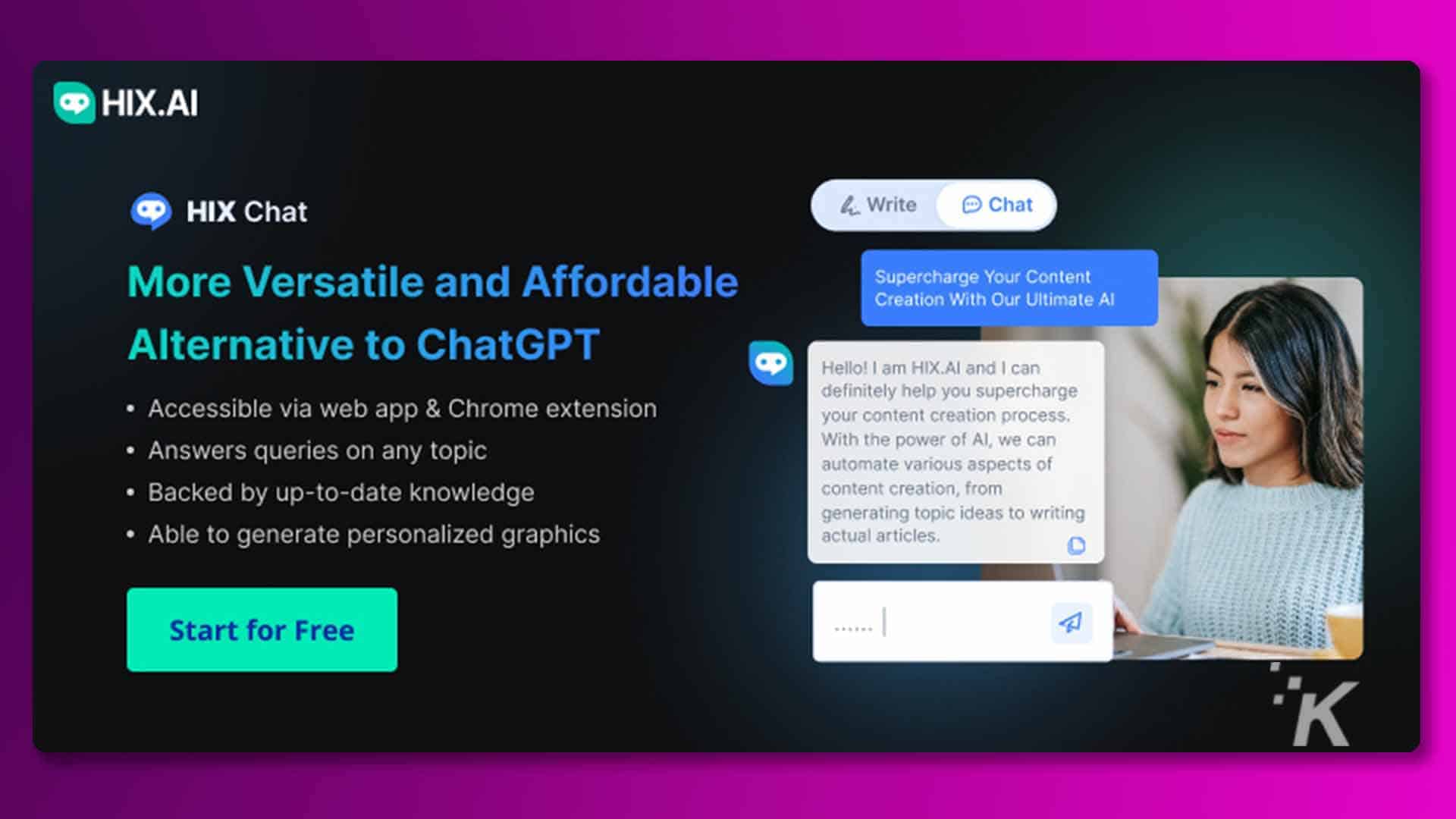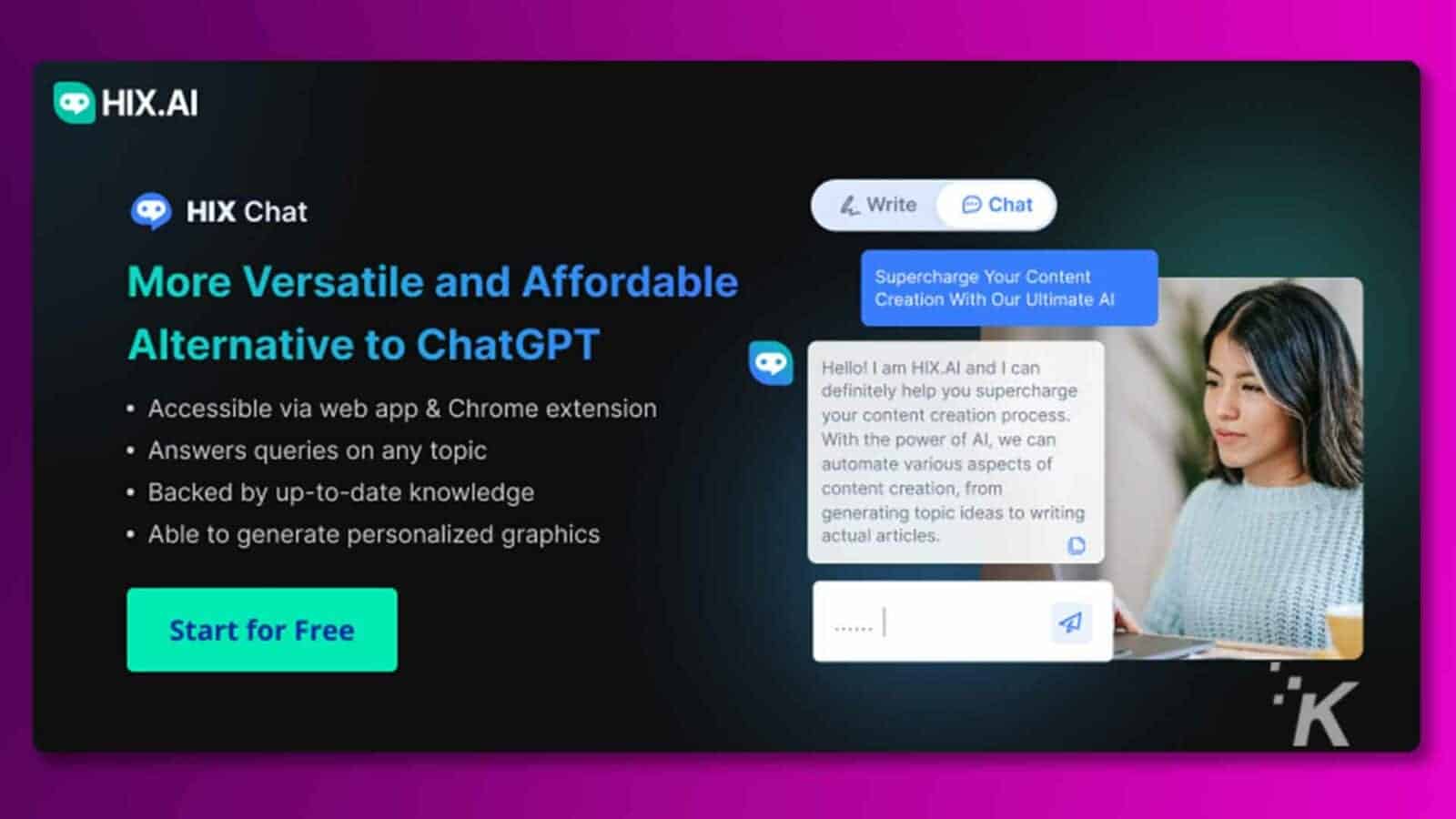 HIX Chat is a more versatile and affordable alternative to ChatGPT that users can try without login. Since it is connected to the internet, you can use it to get updated information from all the latest data sources.
You can use it to get answers to difficult questions, stay informed on the latest trends, or even break down complex ideas and concepts into clear and simple explanations.
Users can also benefit from a wide range of unique features such as "Chat with PDF," which makes it easy to use the tool on manuals, research papers, books, essays, etc.
It also has a webpage summarizer and a YouTube summarizer, allowing you to conveniently condense lengthy content into its core message and facts.
The tool even comes integrated with AI image generation technology that can generate unique images tailored to your needs.
All in all, HIX Chat is the ideal research tool that eliminates the need to spend hours constantly checking information through manual online searches.
HIX Editor (Notion AI-like editor)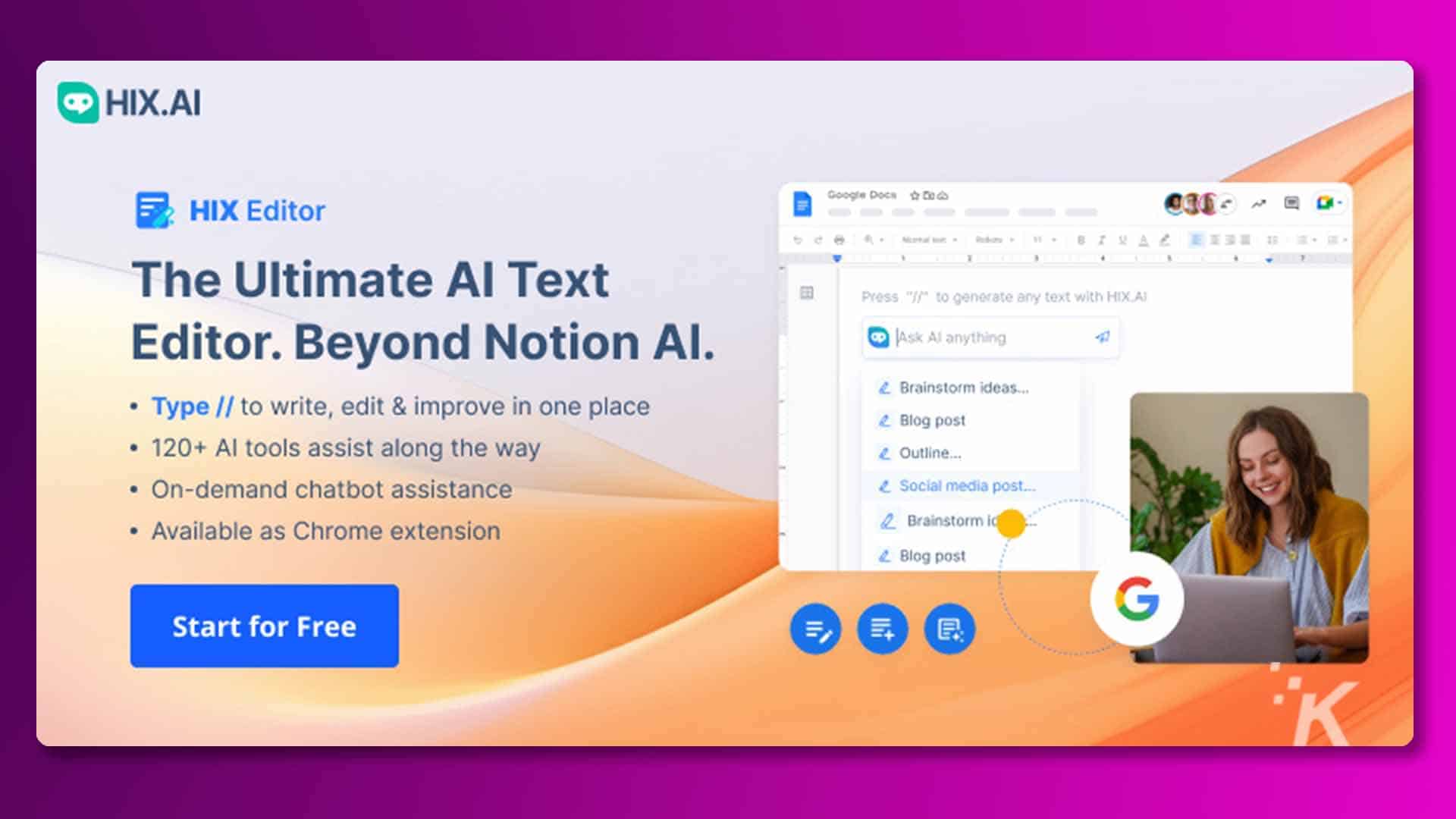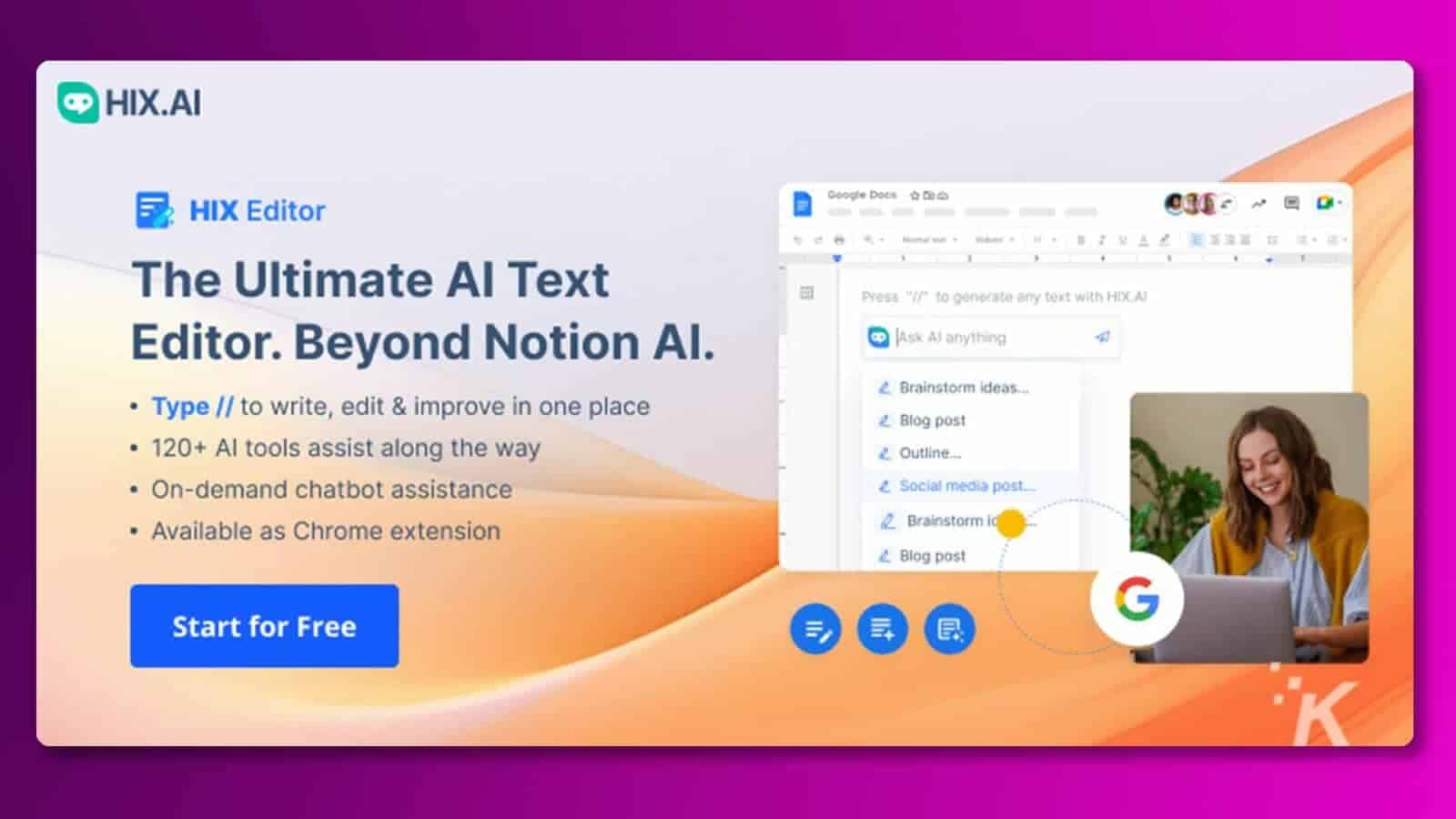 Notion AI is well-known for having a powerful AI editing tool, but the HIX Editor is a strong competitor that combines the 120+ AI writing tools and HIX Chat, offering an even better writing experience. It operates on three main modes. 
AI Mode provides on-demand insights that can help to improve and even expand upon your writing. Chat Mode can be used as a source of inspiration by providing smart content suggestions and tailored answers to difficult questions.
Power Mode gives users access to 120+ dedicated AI writing tools that can help streamline various aspects of the writing process.
The tool also offers instant plagiarism checks, which can help to speed up the proofreading process. Users will also be able to conduct SEO score audits, making it easier to optimize content for search engines.
Plus, it comes with Grammarly integration, polishing your content even further across sites like Google Docs and WordPress.
Long-Form Article Writer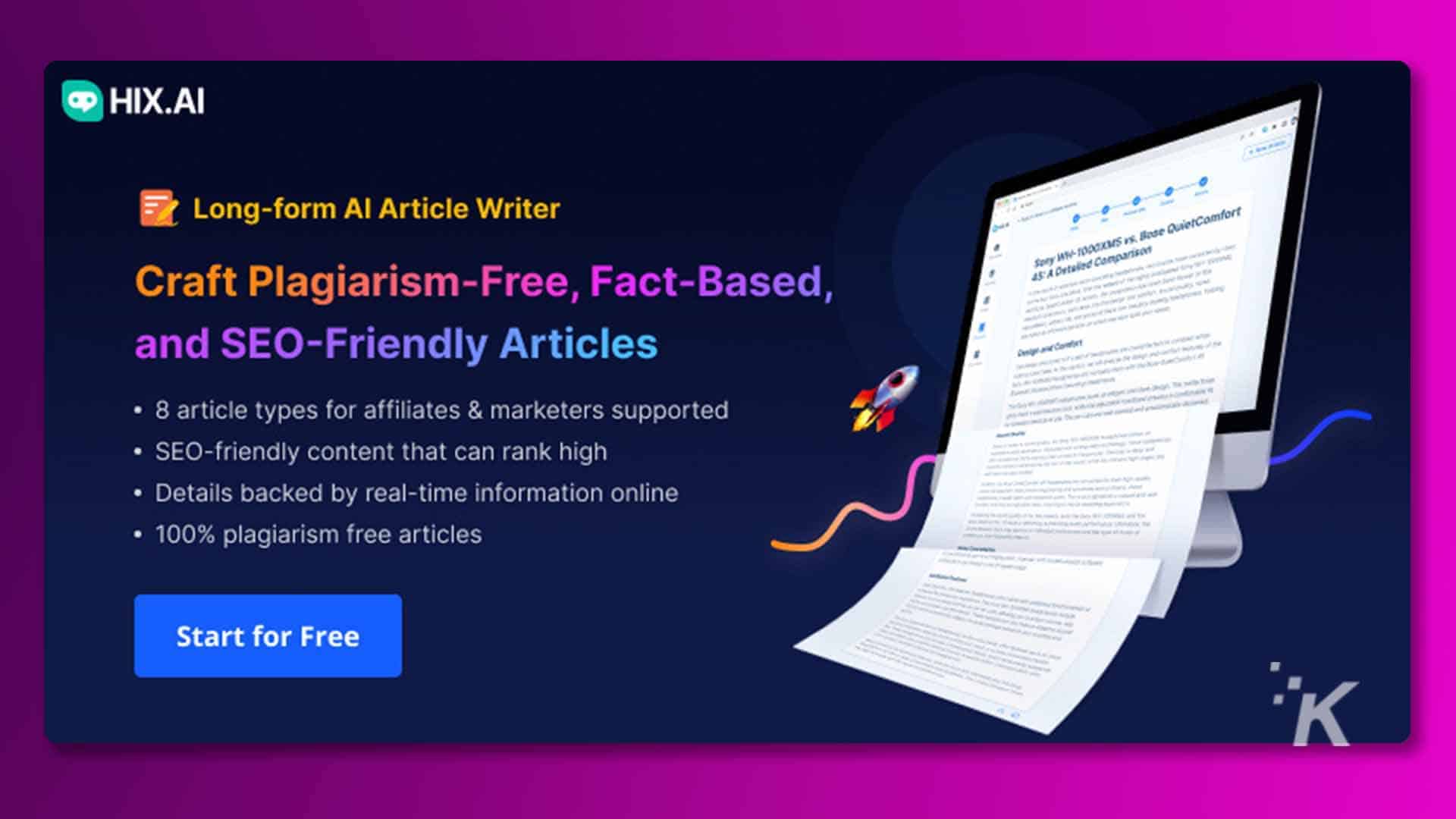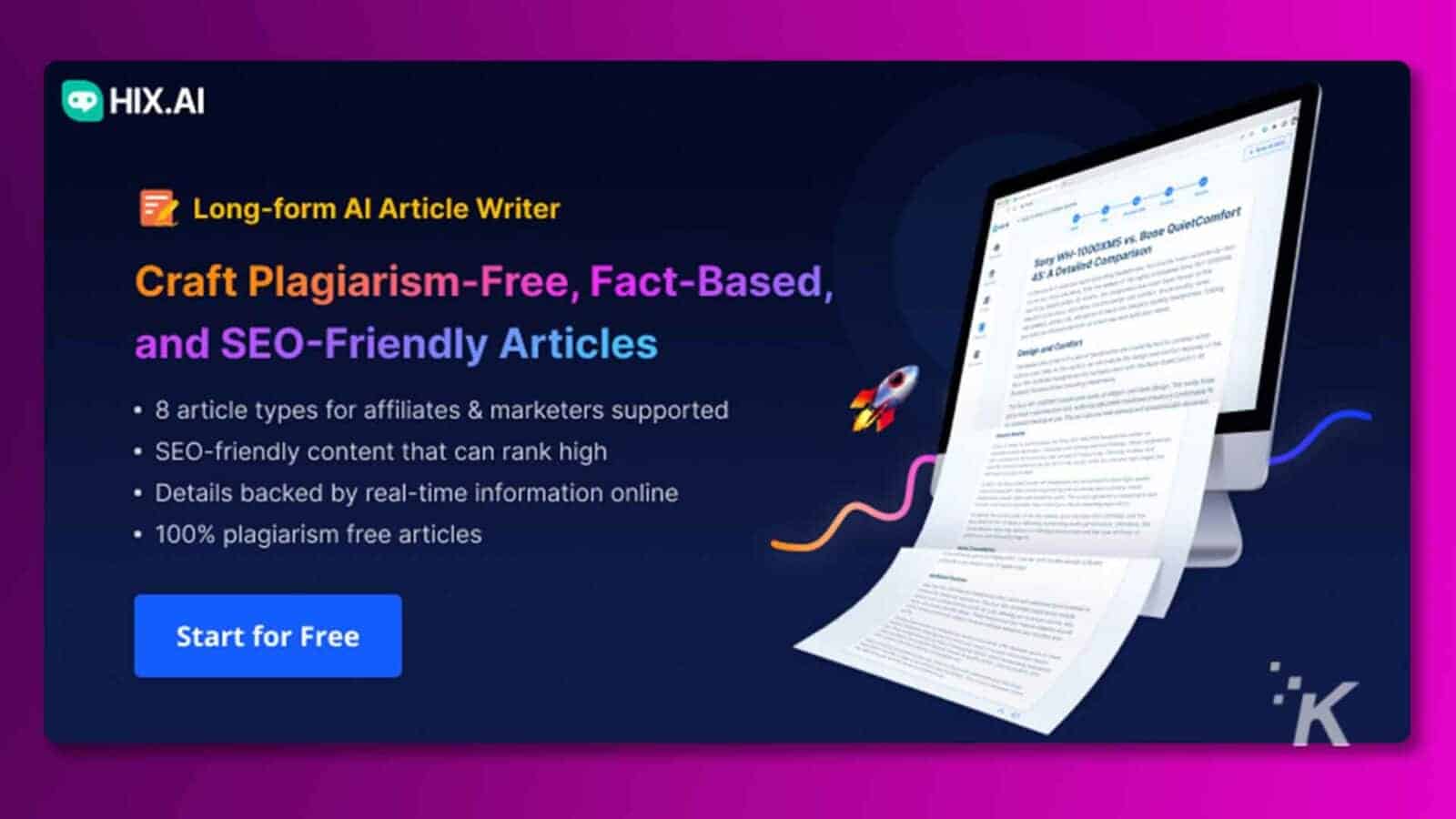 Blog and essay writing tasks can often be extremely time-consuming and tedious, but with the help of HIX.AI's long-form article writer, all that can be handled in record time.
From product roundups, product reviews, product comparisons, and news articles to how-to guides, you can use it to craft plagiarism-free and SEO-optimized content.
The tool draws on real-time insights sourced from Google, so the content will be completely up-to-date and fact-based.
All you need to do is provide a small brief on what you want, and it will provide you with an outline structure that you can freely edit before it generates a full article within seconds based on the style requirements you initially set.
You can even utilize the tool's 'Brand Voice' feature to tailor the content's tone to precisely fit your brand's unique style. And if you need to produce the content in bulk, there is also a 'Bulk Processing' feature that can come in handy.
HIX Email Writer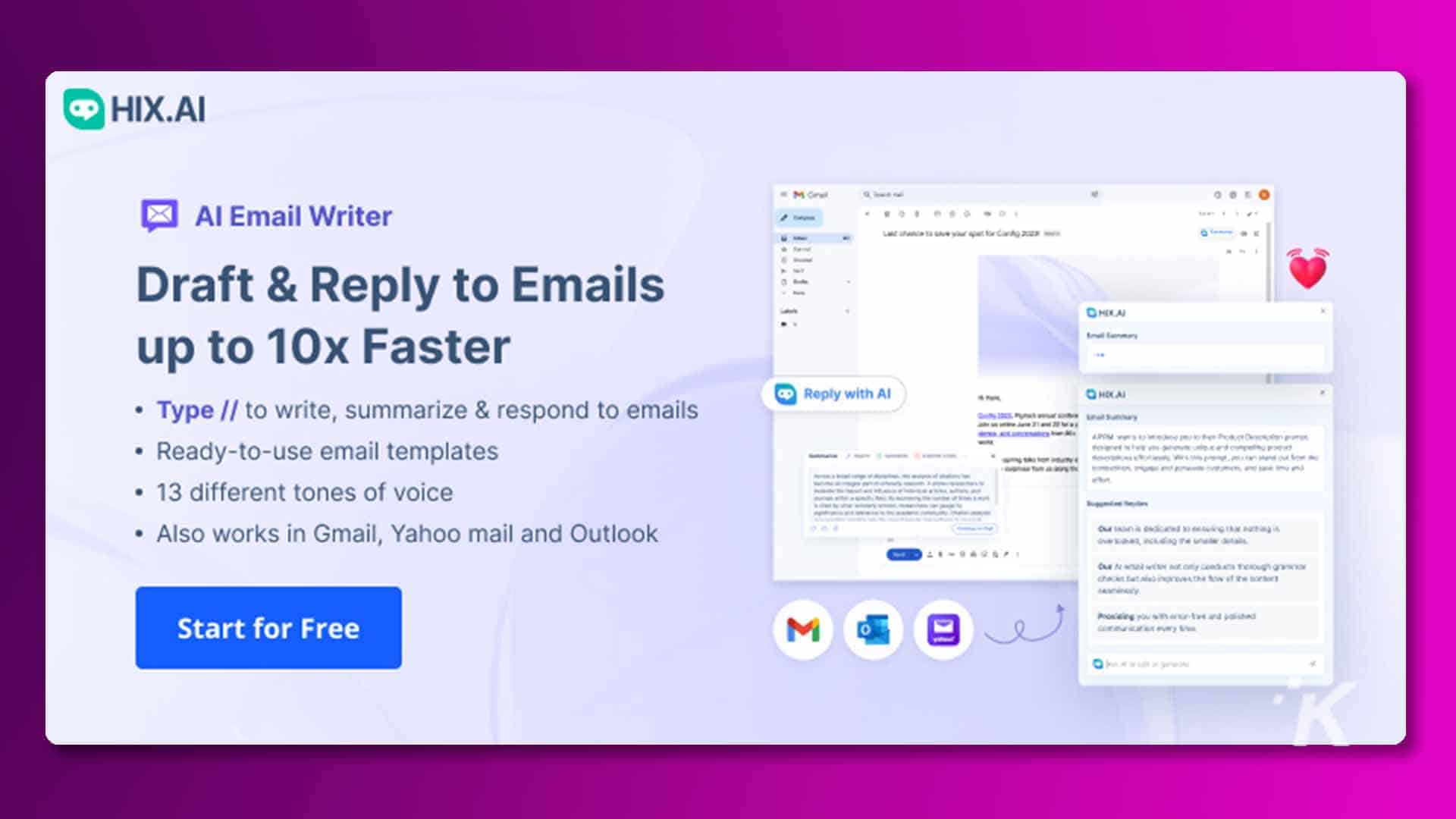 As the name suggests, HIX Email Writer is essentially designed to instantly generate quality drafts of email copy, thereby saving you a lot of time and effort in the process.
The tool can provide you with access to 20+ quality pre-made email templates that can fit a wide variety of different scenarios, not to mention provide contextually relevant response suggestions that are tailored to fit any type of email.
You can also use it to summarize long emails, which can be especially useful when it comes to communicating important points in a hurry.
Plus, it can even be implemented into your daily email workflow via the web app and Chrome extension for greater convenience.
HIX.AI All-In-One Chrome Extension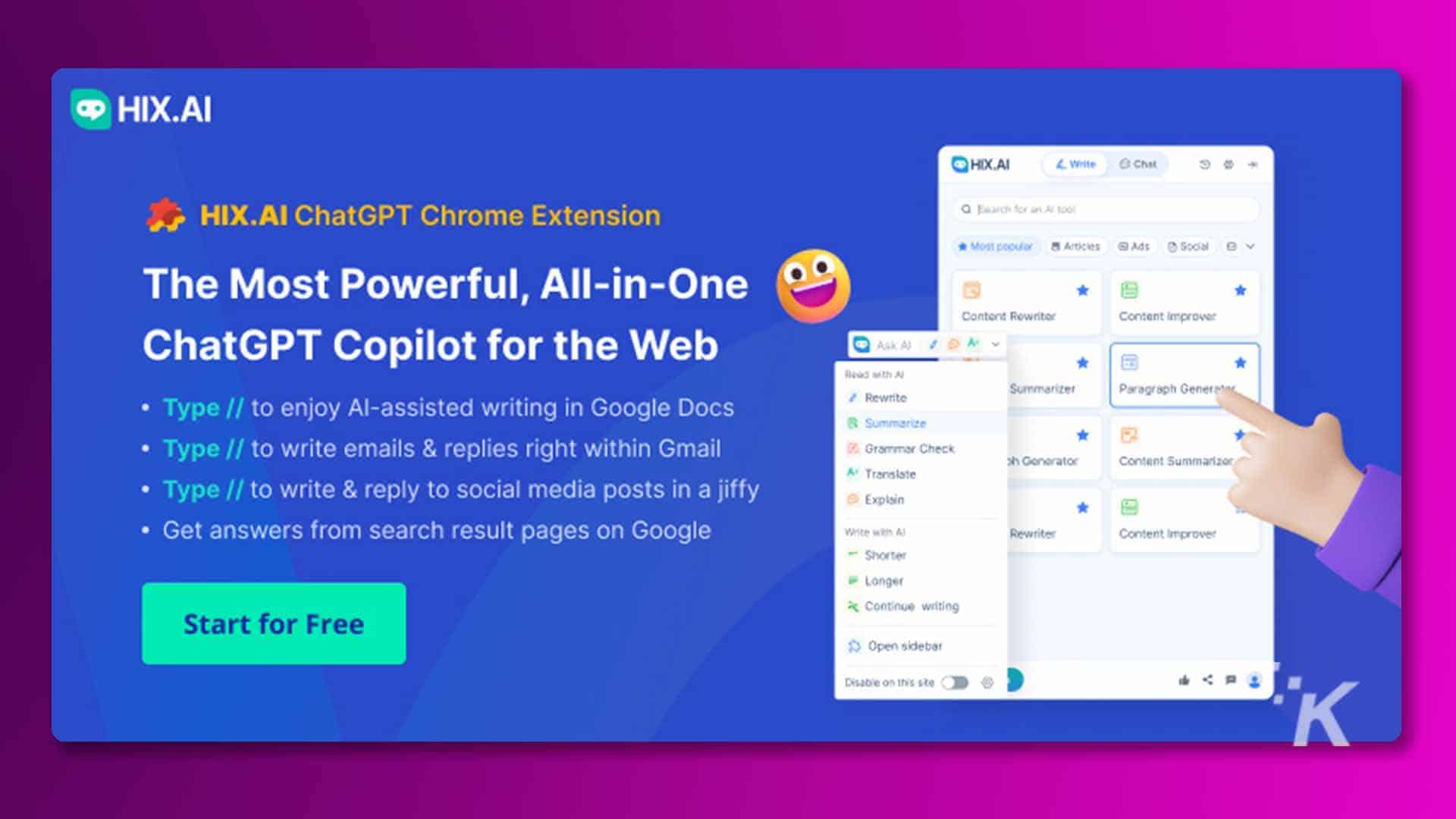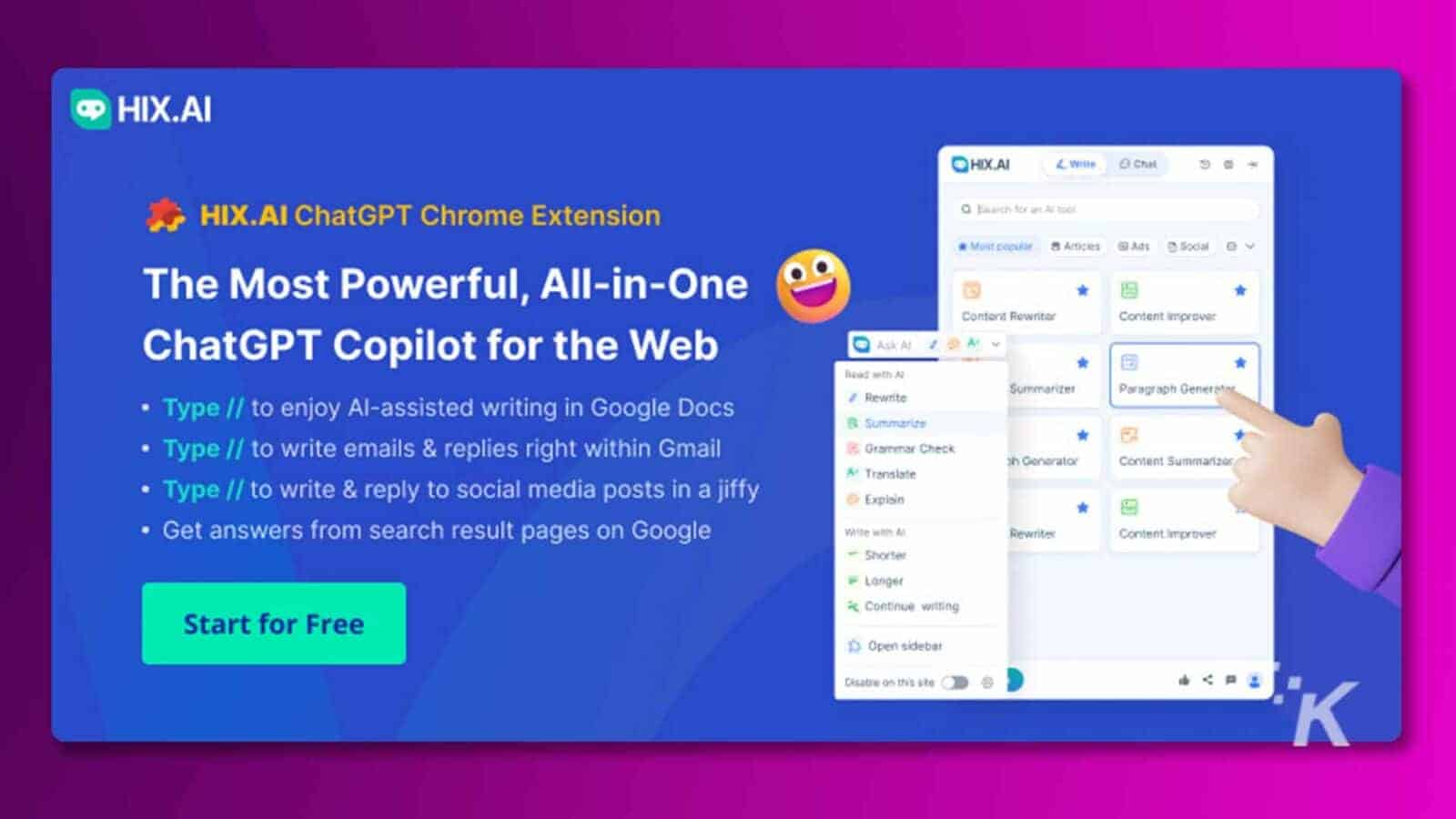 HIX.AI users can install the All-In-One Chrome Extension, which alleviates the need to open multiple tabs for all your AI writing and editing needs.
Whether you need help with content writing, proofreading, translating, researching, composing email replies, or rewriting text, the extension can be installed to support you on any website at any time.
Once installed, all you need to do to use it is press Command + P on Mac or CTRL + P on Windows to open the sidebar. This will give you access to 120+ writing tools and HIX Chat for a convenient and easy writing experience.
A further glimpse into HIX.AI's writing tools
HIX.AI goes the extra mile by providing users with an extensive collection of specialized writing tools that cater to specific use cases.
For instance, if you need an AI tool to help you in your academic tasks, then you can check out HIX.AI's research paper summarizer, thesis statement generator, essay shortener, or any other tool based on your precise needs.
Another good example is that if you need help managing your e-commerce store, you can use HIX.AI's Amazon, Etsy, Flipkart, or Shopify description generators.
You can even find a social media-based writing tool to help you generate ad copy, captions, or even unique bios, e.g., Snapchat bio generator, TikTok caption generator, Facebook ad copy generator, etc.
In essence, the platform's developers have done well to ensure that there is something for everyone, no matter what their personal and professional needs or requirements may be.
Who is HIX.AI designed for?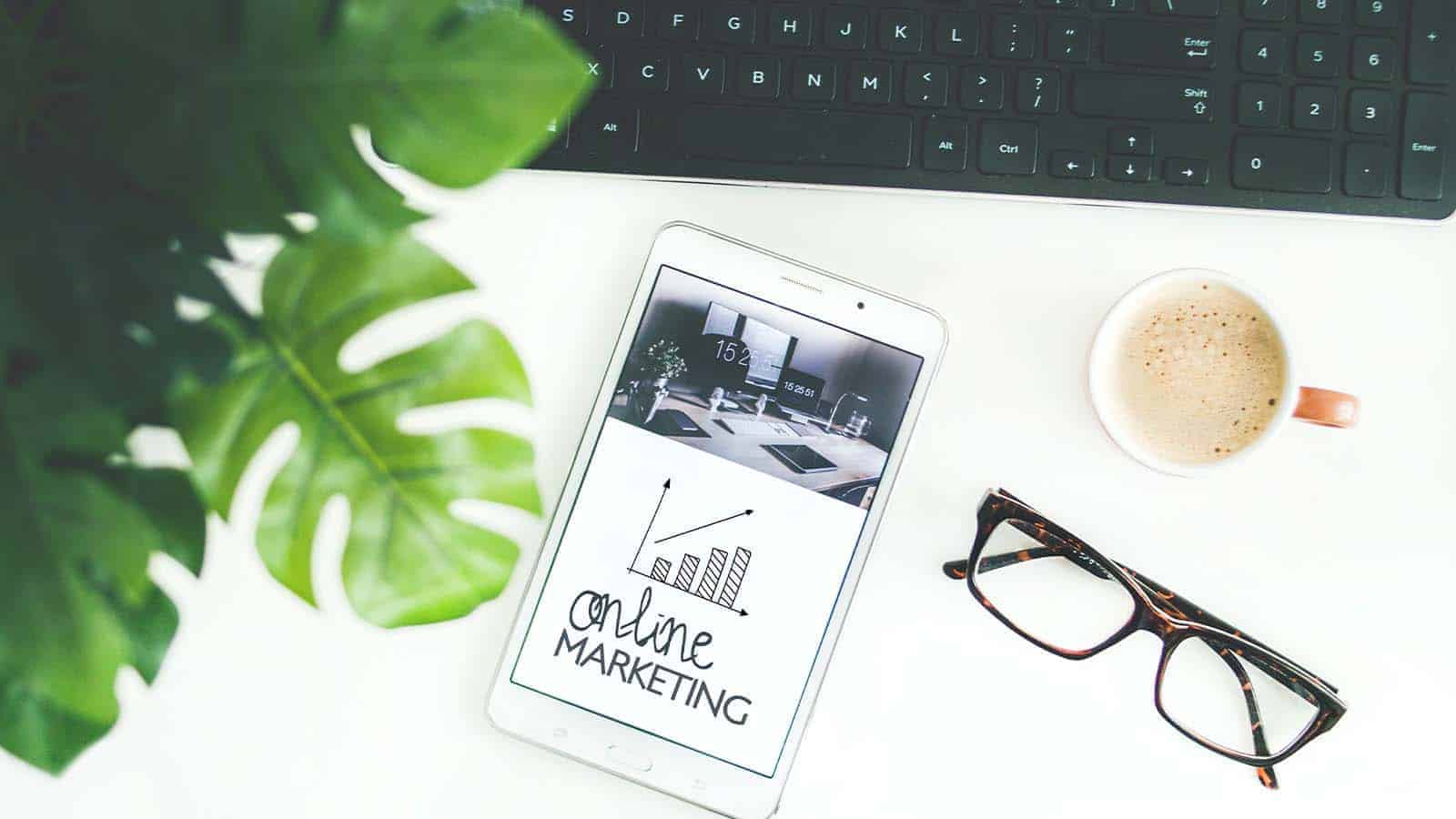 For starters, marketers will find huge value in implementing this tool into their daily workflow, as they can use it to craft engaging headlines, enticing calls-to-action, and insightful marketing and PR copies.
They can also create, edit, and personalize email marketing copies to help boost conversion rates.
Another group of users that can use this platform are business owners, as these tools can help streamline the process of creating and optimizing content for search engines.
They can also use these writing tools to improve their product descriptions and website copy to enhance the overall customer experience.
Students can find a good use for HIX.AI's ecosystem, as the writing tools can effectively help by churning out plagiarism-free essays and white papers.
Plus, the AI chatbot can also play a key role during the painstaking research process, which can help reduce the risk of missing academic deadlines.
Editors and publishers are other segments that can use HIX.AI to efficiently review and refine written content on a large scale.
As a result, there is less likelihood of having to deal with a massive backlog of books and articles to edit into polished content that can effectively keep readers engaged and emotionally stimulated.
Other working professionals who can typically utilize HIX.AI to their benefit include freelancers, bloggers/vloggers, researchers, and more.
Conclusion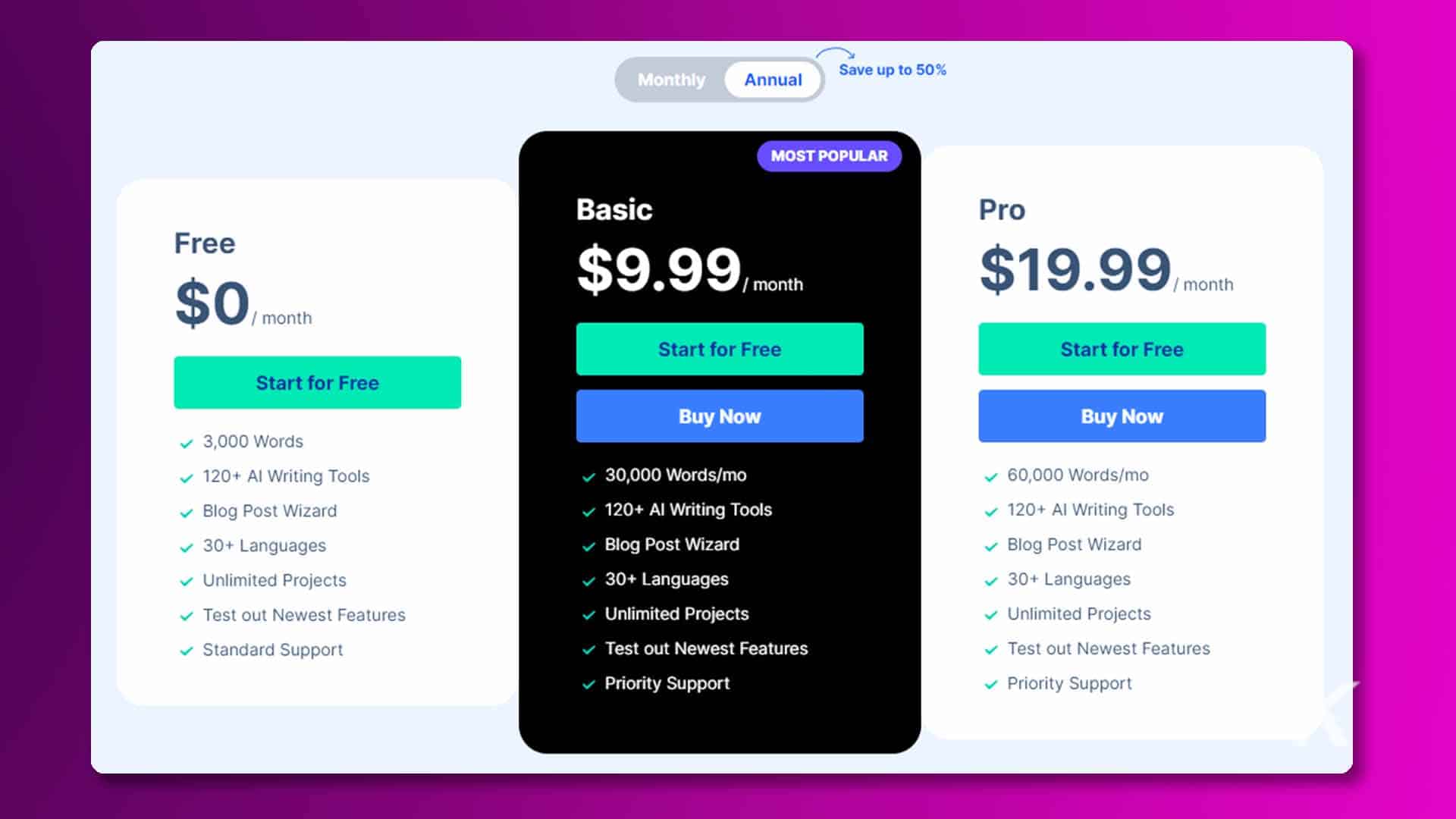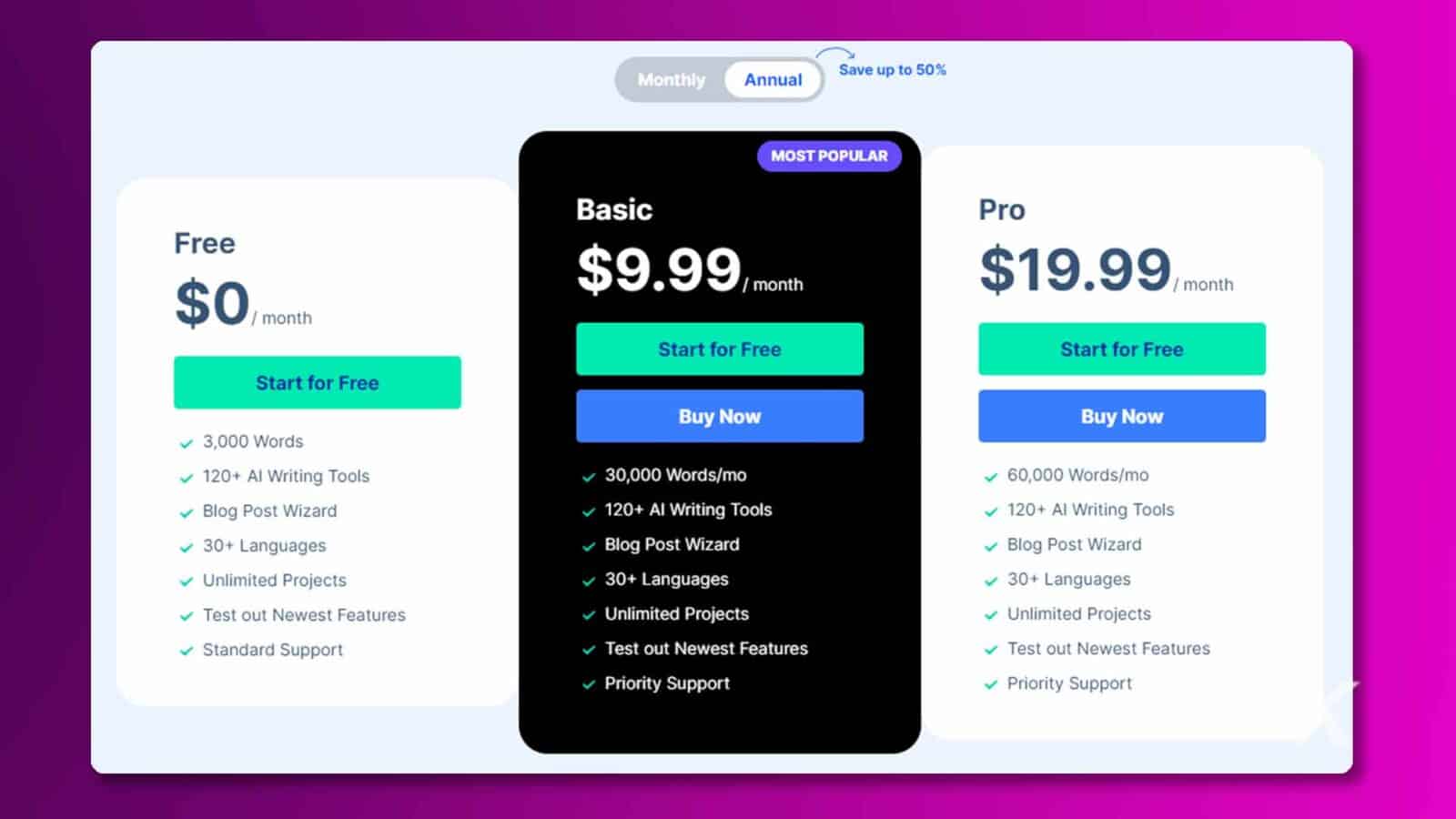 AI writing assistants like HIX.AI have emerged at the forefront to cater to all kinds of working professionals who are seeking out ways to streamline their daily tasks and responsibilities.
In this review, it's safe to assert that its developers pulled out all the stops with an expansive and feature-rich AI suite.
Whether you need help crafting engaging emails, coming up with ideas for academic/marketing/creative copy, or simply need an efficient editor to help polish your text, HIX.AI can do it all.
And since they offer a free trial period, you can try out all that they have to offer until you are convinced that they can fulfill your writing needs.
So, if you haven't already, make sure to take their AI tools out for a spin today and see just how much better the overall writing experience can become.
Have any thoughts on this? Drop us a line below in the comments, or carry the discussion to our Twitter or Facebook.
Editors' Recommendations:
Disclosure: This is a sponsored post. However, our opinions, reviews, and other editorial content are not influenced by the sponsorship and remain objective.
Follow us on Flipboard, Google News, or Apple News