I didn't get the Nintendo Labo until I showed it to my ten-year-old
Nintendo Labo is Minecraft in real life.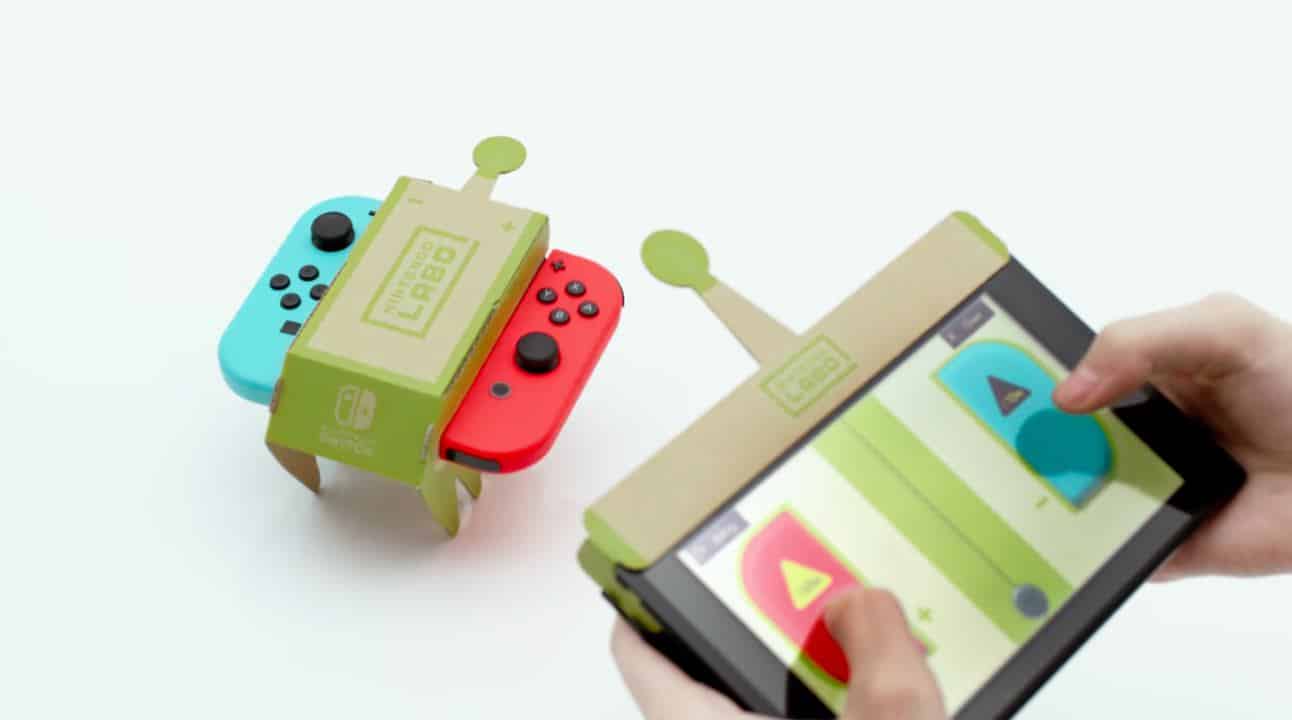 I may not have realized it at first, but Nintendo's new peripheral is a Labo of love.
Last night when I got home, I sat in my office and was watching and researching the Nintendo Labo teaser. The video inspired a sense of wonder but also had me concerned about durability and longevity. Sure, turning your Switch into a fully functioning mini piano is neat, but how long until the kit is more duct tape than cardboard?
As I sat there, under the glow of my monitor with the playful Nintendo Labo tune playing, my 10-year old son walked by to tell me YouTube had suggested Jake and Logan Paul for him and he wanted to know how to remove that suggestion. I asked him to come over and watch the commercial with me, to see if I was missing something.
It turns out I totally was.
Aiden stood there next to me as the Nintendo Labo commercial started. He immediately asked if the new product was cardboard circuit boards. I laughed but told him that circuit boards don't work that way and to keep watching. As they punched out pieces of the kit, Aiden commented that this looked like some puzzle and when they started to assemble it, he said that it was like the Gunpla that adorns my office. Once we got to the fully assembled piano part, Aiden audibly gasped. "Oh wow, is this something that you can build with cardboard and then play with using the Switch?" He was floored. Aiden sat in total silence for the remainder of the announcement trailer.
https://youtu.be/P3Bd3HUMkyU
I turned to him and asked him what he thought of the Labo. His response was simple, but said quite a bit, "Wooooooooow!" He asked me if we could get them and excitedly started telling me what he saw in the trailer. He was intrigued by the robot kit and couldn't wait to get his hands on the software to see what it could do. He ran out of the room, yelling down the hall, "Mom! You have to see what Nintendo is coming out with soon! It's so cool, and dad says we can get it!"
It clicked. The Labo is going to instill a sense of pride and wonder into kids and adults in a way that only Lego has done before it. These games will allow players to use tools that they built, giving them a sense of ownership over the games they play. The engineering breakdown that Labo has shows how the kits work, allowing the mechanics to work with other personal projects. To me, the Labo was initially a neat idea with a silly little gimmick. To my son, the Labo is a device of limitless potential that allows him to learn while building and playing video games.
That's really cool.
The odds are that Labo is going to be a massive hit. Of course, these two kits are going to pave the way for many other kits, and I'm confident that there will be some creator's kit down the road. In many ways, Labo takes a lot of the awe and adventure that Minecraft inspired but instead of being in a stuffy blocky world, Nintendo Labo is Minecraft in real life.
Now, the big question will be if Nintendo will be able to produce Labo kits fast enough to keep them in stock or are we getting a 6-month run before the current kits go out of print. I'm sure we'll find out more as the time comes.
Are you excited about Nintendo Labo? Let us know your thoughts below!
Follow us on Flipboard, Google News, or Apple News