PAX East Hands On – Blizzard and Square Enix
Diablo 3, Final Fantasy XII, Dragon Quest Heroes 2, and some great times finish out our PAX East coverage.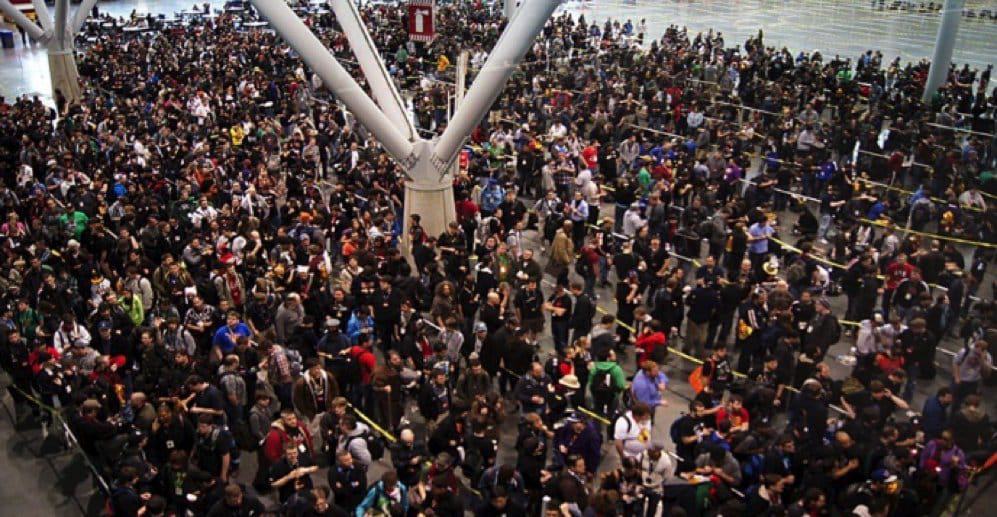 First up from the gang at Blizzard, we were invited in to take a short but sweet look at Diablo 3's newest hero – the returning Necromancer. In the playable build, we got to demo, we were able to take the female variant out for a little test drive and check out some of her abilities. In this build, the focus was how to use her Consume skill to manage her resources while still remaining a viable threat amongst the horde of demons.
Unlike the other classes, bodies will drop a piece of meat which is non-lootable, but the Necromancer can consume these dropped meats to restore her health and essence (mana) in order to fuel her devastating attacks. While running alongside the Necromancer was her faithful Blood Golem, those of us who are familiar with Diablo II noticed that the Necromancer's Poison Nova has now been replaced with Blood Nova, which casts out a satisfying radiating circle of blood that does damage to enemies at the cost of both Health and Essence. To add insult to injury, you can throw a curse on enemies to increase damage taken while also healing anyone who attacks cursed enemies making the Necromancer a welcome addition to any adventuring party online.
While I would have liked to have seen more variation of skills as well as gear, this was a demo that lasted about 15 minutes and gave us just enough to satisfy our urge to kill. With Seasons heading to the console versions of Diablo III soon, the release of the Necromancer might just be enough to suck me back in even though I completed my Platinum trophy long ago.
Switching gears, Square Enix invited me to take a look at some of the goodies they've got just around the corner. They were showing off Nier: Automata, but because time was limited (and the fact that I had already purchased a copy before PAX because I'm a sucker for anything PlatinumGames does) I watched a friend of mine check out a few moments of the action before diving into other things. From the few moments I saw, I can't wait to actually get my hands on it – if I can only get more time.
The first thing I actually played was a few minutes of Final Fantasy XII: The Zodiac Age. I remember being super excited when this game originally came out, only to find myself extremely frustrated by the License grid. I had no idea what I was doing or how to build any of my characters, and adding in the complications of learning how Gambits worked, I wound up giving up on Final Fantasy XII way too soon – swearing it off as being not so good.
Now that I'm older and have more patience for learning new things, I'm extremely interested in picking up the HD remake of the International version which I've heard makes the complications far less obnoxious. It's pretty incredible how good Square Enix has made these old PS2 games look for these remasters and Final Fantasy XII: The Zodiac Age is no different. I actually forgot this is a game from 2006 numerous times while playing it and I can't wait to spend more time with it this summer.
After spending a few moments in Ivalice, I switched gears and dropped into the town of Zelbion for a little monster slaying fun with Dragon Quest Heroes II. I absolutely loved Dragon Quest Heroes and I still recommend it as an extremely underrated Musou game for those who aren't normally drawn to Omega Force titles.
The biggest and immediate change I noticed was while Dragon Quest Heroes II feels very much like it's predecessor, Dragon Quest Heroes II doesn't lock the characters into a certain type or role. There's more freedom now as you can change the classes or jobs of your characters as you wish which opens up completely new feels of gameplay for fans of the original. Healix is back, and this time it's alongside Theresa and Lazeral. With two protagonists, you know Dragon Quest Heroes II is gonna have a story that gets wild – but I did notice a lack of monster coins and summoning companions for combat. I'm really curious to see how this is handled when the final game releases next month.
Finally, I got to spend time with the newest DLC for Final Fantasy XV – Episode Gladiolus. In this DLC, Noctis is nowhere to be found while Gladiolus ventures off to become stronger in order to reinforce his place as the King's shield. Gladio meets with Cor and tells him of his desire for more power, and Cor tells him that he must defeat the Blademaster to gain that which he seeks. If you're a fan of Final Fantasy, terms like Blademaster and Weapons Collector set off your inner fanboy/girl because you know that can only mean one thing: Gilgamesh.
Indeed, Gladio meets Gilgamesh in what I can only imagine is going to be an epic confrontation – but I only played through the first of the series of trials because I wanted to savor every moment of this DLC at home where I can play uninterrupted and free from distraction. Gilgamesh is represented looking somewhat ghoulish in this Final Fantasy XV DLC which doesn't bother me much, but I noticed that he's got a much more serious attitude and tone – something that Gilgamesh is not known for.  Perhaps his demeanor changes as you get further, but I walked away with more questions and far more exciting to play the upcoming episode when it releases next Tuesday – March 28th.
Both Square Enix and Blizzard had some delicious morsels and tasty teases gaming goodness on display and I'm super excited to get my hands on everything I saw in the coming months.
Follow us on Flipboard, Google News, or Apple News