Review: All-Star Fruit Racing – Ripe for the picking
A solid kart entry, but to peach their own.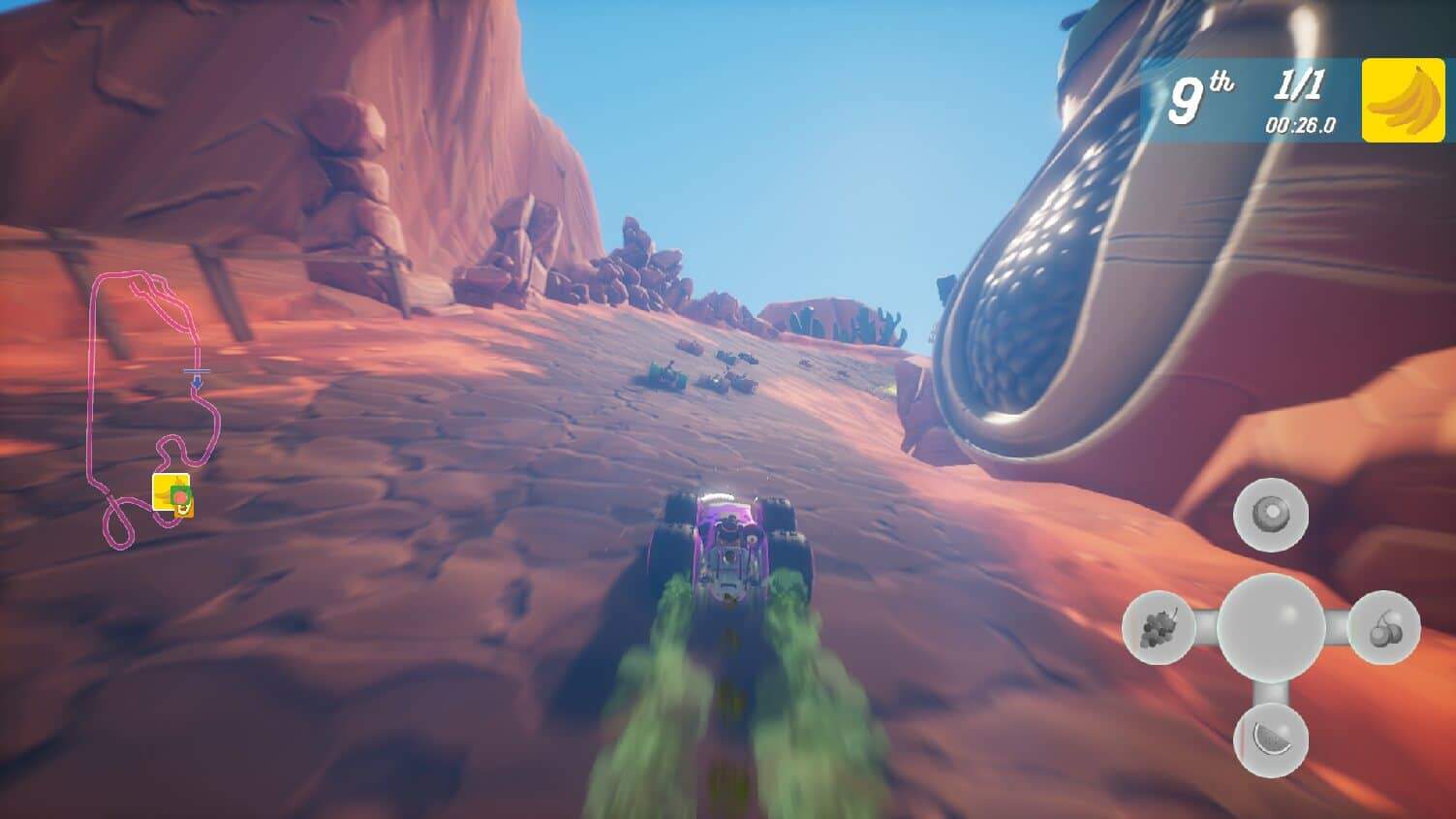 The Good
Lots of characters, courses, and powerups
Interesting powerup mechanics
Informative, fruit-based loading screens
Solid controls
The Bad
Power sliding feels off
Questionable AI decisions
Tracks are sometimes confusing
When you think of kart racers, it's easy to head straight to the likes of Mario Kart, but that doesn't mean that there aren't other options available – as shown with All-Star Fruit Racing.
At its core, the game is your standard karting affair, you race around tracks against competitors using power slides and power-ups to maintain the lead and snake it out from those who find themselves in front of you. And like its namesake, the title focuses heavily on fruit. Fruit is everywhere. The courses are fruit, the characters are fruit-themed, and even the orbs you collect to beat your opponents into a pulp are all fruits.
With the game, you have the choice between doing custom races, career mode, some various championship modes, and time attack. The lower difficulties are pretty straightforward and do not provide much of a challenge, but higher difficulties in both racing and time trials do a berry good job of ramping up the difficulty to provide a challenge.
Controls on the game feel solid, but something about power sliding never feels perfect. The raisin? It could be due to the small gap in time before the speed boost provided from a power slide kicks in, but after a bit of playing, it does become much more manageable. The game also adds an interesting twist with the feature, requiring users to not abuse power sliding by having a meter that gauges tire strain. Slide too much and your tires will overheat, causing you to slow down substantially.
The best feature of the game is how All-Star Fruit Racing manages powerups. Instead of simply grabbing powerups along the track, many of the courses require you to collect different fruits that go into vats, with four in total. These four vats can be turned on and off to combine different fruits for different, character-specific abilities. Some are less useful than others, but it is an appeeling dynamic and rewards players for playing a character long enough to understand their different "combos."
Sadly, during my testing on Steam, I was unable to see how online multiplayer played out, as no one seemed to be playing. If you are looking for online multiplayer with your kart racer, it seems, at this time, All-Star Fruit Racing is not for you. This might be different on Switch and other consoles, but fair warning.
Overall, All-Star Fruit Racing is a solid entry into the world of kart racing. It's not genre-breaking and there are some issues with kart feel and courses that have questionable design choices, but with over 20 tracks and tons of unlocks for characters and kart customizations, there is plenty to keep you interested and not take the game for pomegranate.
All-Star Fruit Racing is available on Steam, PlayStation 4, and Nintendo Switch. An Xbox One version is in the works. A copy of the game was provided for the purpose of this review.
For more gaming news and reviews, check out:
The Good
Lots of characters, courses, and powerups
Interesting powerup mechanics
Informative, fruit-based loading screens
Solid controls
The Bad
Power sliding feels off
Questionable AI decisions
Tracks are sometimes confusing
Follow us on Flipboard, Google News, or Apple News