Review: FiiO FH1 Hybrid In-Ear Monitors
Big sound, small pricetag.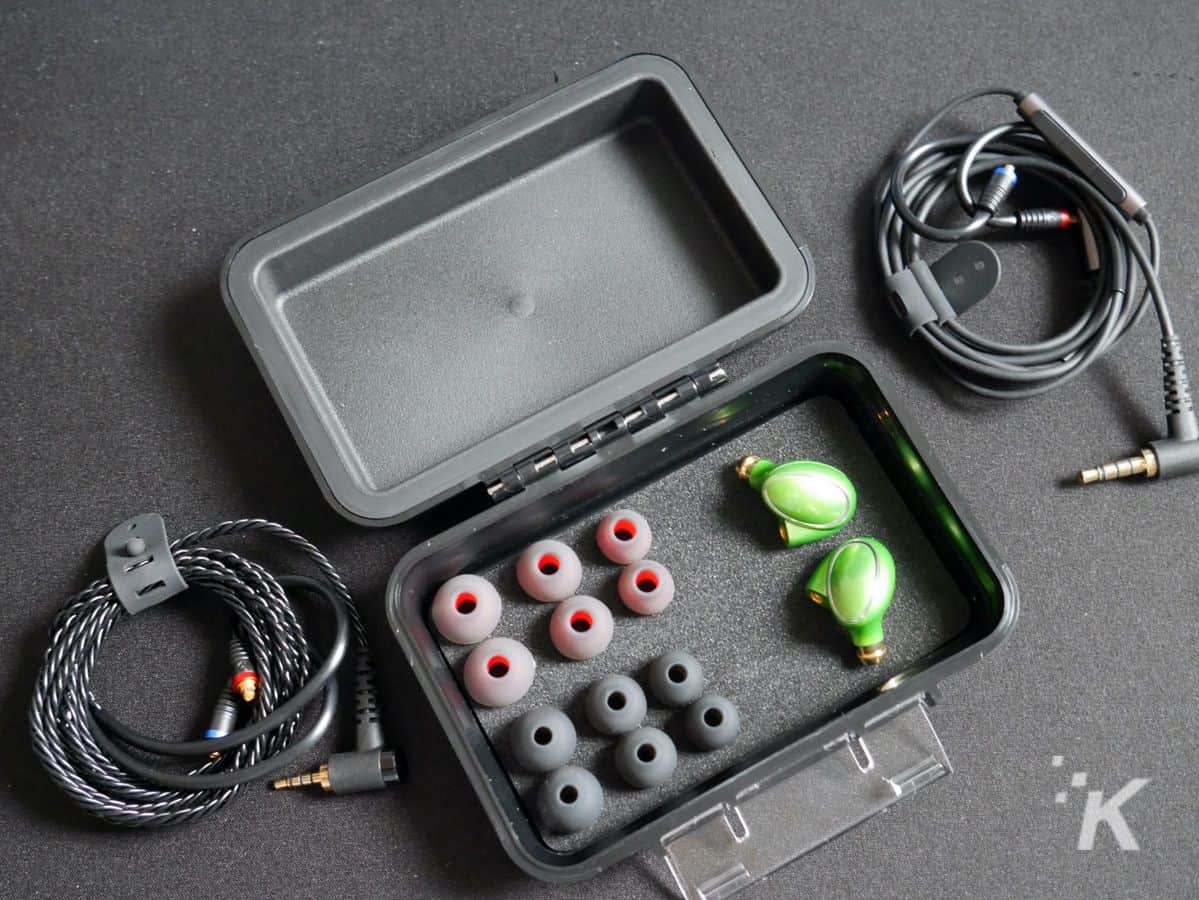 If you've spent any time on one of the major audio equipment forums in the last decade you're probably acquainted with FiiO. For those joining us for the first time, FiiO has been around since 2007 when they broke into the market with some low cost (vs the competition) portable headphone amplifiers. They have built their brand by actively listening to their potential customer base, integrating their ideas and their preferences to expand their product range. FiiO lives by an ethos that high-quality, high-fidelity audio equipment can also be affordable, and their recent FH1 offering fits that profile perfectly.
Preferred audio signature and inherent bias
I tend to prefer a flatter audio profile, with a small uplift on both sub-bass and mids. I do have a very eclectic taste in music, with everything from jazz to k-pop and between. The eclectic nature of my collection probably has the largest influence in my audio equipment choices, with me not knowing what I'll listen to at any one time, I like equipment that is good across various categories.
I do prefer to hear what the producers were intending when recorded, with perhaps only minor EQ adjustments to get the most out of the tracks. I grew up listening to Laurie Anderson, Leonard Cohen, Vivaldi, and West-End musicals, so crisp vocals without muddiness is a must. That also influenced my later tastes, with Drum N Bass, 4×4 Speed Garage, and Underground House/Techno also requiring both crisp vocal presentation and separation of instrumental tracks. I'm on the spectrum so comfort and an overall tonality that isn't fatiguing are also sought after.
Of course, auditory preferences are inherently biased, but I try to describe the soundstage for an eclectic mix to accurately convey the overall tonality of the equipment.
The FiiO FH1
Today we're looking at a set of hybrid in-ear monitors, the FH1 from FiiO. This is a lower-cost version of their well-received FH9 range, with one balanced armature for clarity and one 10mm titanium driver for deep bass. The FH1 has a plastic housing, which helps to lower the price tag and has a nifty trick to reduce resonance – the sound tube is made of brass. That ensures that more of the sound intended by the sound engineers gets to your eardrum without unwanted distortion. The set retails at $74.99 currently and is aimed as an introduction to better fidelity listening without the usual price tag.
Some science here
So most in-ear headphones produced in the last decade either use dynamic or balanced armature transducers to produce the sound. When you only have one or the other of these units in your ear, you only get part of the soundstage that you would get with both. Dynamic transducers cover the whole audible spectrum and have a strong bass emphasis, but lose resolution and separation, and this is what is used in most low-cost IEMs. Balanced armatures get used the higher priced or professional segments of the market, and come with a host of benefits such as faster transitions and a more precise sound.
This makes them ideal for stage musicians, but they tend to sound too clinical for home enjoyment. Hybrid IEMs unite these complimentary drivers and use one dynamic transducer for low frequencies and at least one balanced armature to cover the midrange and treble. The idea is that adding the best qualities of both will give an overall more enjoyable listening experience.
Specifications
(x1) Dynamic 10mm Titanium
(x1) Balanced armature drivers. the "Knowles"33518
Frequency Response: 20Hz – 40KHz
Impedance: 26Ω
Sensitivity: 106dB/mW
Maximum Input: 100mW
Plug Type: 3.5mm with mic/controls + 2.5 mm balanced cable
Cord Length: 120cm
Single Earbud Weight: 3.65g
Design and accessories
The FH1 are an over-the-ear cabling style IEM with an organic driver housing that Fiio refers to as Un Belle Oeil, which is French for "A Beautiful Eye." They're available in four colors, and I was sent the green colorway for this review. The housing is plastic but still retains the elegance that FiiO is known for, and the brass sound tube adds as much visual character as it does to the sound.
They use the standard MMCX plug connections so you can use the cable of your choice with them, and unusually for this price point – comes with two sets of cables. One balanced set with a 2.5mm plug for balanced audio equipment, and one set with an in-line remote and mic so you can use it with your smartphone.
The FH1 also comes in a stylish Pelican-style lockbox, which has thick padding inside to protect your IEMs. FiiO doesn't skimp on other accessories either, with multiple sets of tips in both normal and reinforced channels.
Comfort
I've been using the set of FH1 hybrid In-Ear monitors that FiiO sent over for review for about a month now. Once I got used to the way you put them into your ear canal, they felt like they were part of my body. FiiO has managed to make a supremely comfortable set of IEMs that is as close to custom-fit as any mass market set will manage. I have large ear canals, so usually, earbuds fall out easily, but not with this set. The ergonomics have been really well designed, and with the number of different tips that they come with, will almost guarantee a snug fit for any ear. I'd like to see some Comply-type tips included also, or even sold as an accessory but that's just a personal preference.
Listening tests
If you're interested, here's the current playlist I use for testing new equipment. Headphone Testing Playlist on Spotify
During Metamorphosis Five, composed by Phillip Glass and performed by Joohyun Park, the attack of the treble keys combined with the warm lingering tonality of the bass notes with a separation of keystrokes that I could have sworn I was in the room. The differing tempo of this piece usually shows up any muddiness that the drivers possess, and none was to be heard.
In Bjork's Army of Me, the haunting melody provided by her voice is offset by the raw industrial background, with all the emotion coming across through the drivers.
The fast picking in Radiohead's Street Spirit comes across beautifully, with separation from every note as intended and nothing obscuring Thom Yorke's melancholy vocals.
Bob Dylan's unique voice sounds as it should, in The Time's They Are A-Changin', with the additional bass of the drivers complimenting his guttural delivery.
Conclusion
With the added sub-bass emphasis that the FH1 comes with, it feels to me that FiiO was aiming at the "Beats" generation. I would say they've exceeded their target, however, as the FH1's clarity across the frequency range puts them in a tonal class apart from the Beats range. This is the best sub-$100 set of IEMs I've used to date, and almost runs the risk of overproducing and eating into FiiO's own higher end range.
This is the only set of headphones in my experience that keeps the separation of instrumentation at the higher frequencies while delivering the bass kick that I crave. The FH1's excel at vocal representation, so if you're not a basshead you'll find plenty here for you also. FiiO has set a high bar with this set and it will be hard to not compare all subsequent IEMs against it. If you like your music bass-laden, you don't have to sacrifice the highs anymore – the FH1's are your salvation.
A sample unit was provided to KnowTechie for the purpose of this review.
The Good
STYLISH
GOOD PERFORMANCE OVER A WIDE RANGE OF MUSIC
NICE SUB-BASS KICK
FANTASTIC VOCAL REPRODUCTION
COMES IN A PELICAN CASE
The Bad
NO COMPLY TIPS
PLASTIC HOUSING
Follow us on Flipboard, Google News, or Apple News