Review: Gjemeni – The Connected Couch
Transform your living room.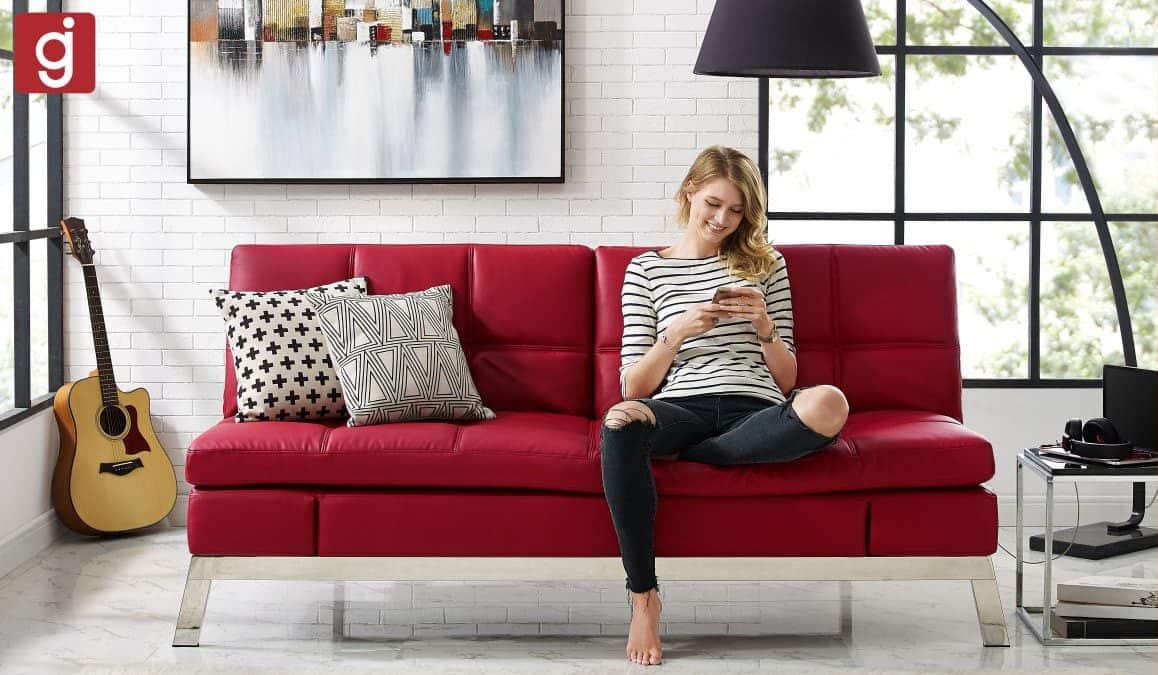 What's the worst thing to happen once you've sat down on the couch for an afternoon of binge-watching Grey's Anatomy for the third time? Okay, this isn't leaving the remote next to the TV so maybe second-worst? That's right, your phone battery running out, necessitating not only you getting up but also ferreting around on the sideboard for the charger cable.
What if I told you that you didn't need to get up to charge your devices? Awesome, right? That's one of the pain points of modern life that Gjemeni has solved with this couch. One cable discretely snaked to a wall socket gives both sides of the couch a normal socket and two USB ports for all the device charging you could need.
The White Glove service is worth it
Gjemeni sent me a couch, which was carried up the four flights of stairs to my apartment by a cheerful deliveryman from their network of carriers. I'm pretty impressed he was cheerful, as the couch as shipped is a couple hundred lbs in weight. Once he wrestled it into my living room, a few quick cuts on the box got the internal packaging out. I highly recommend the $99 White Glove delivery add-on, especially if like me, you live above the ground level.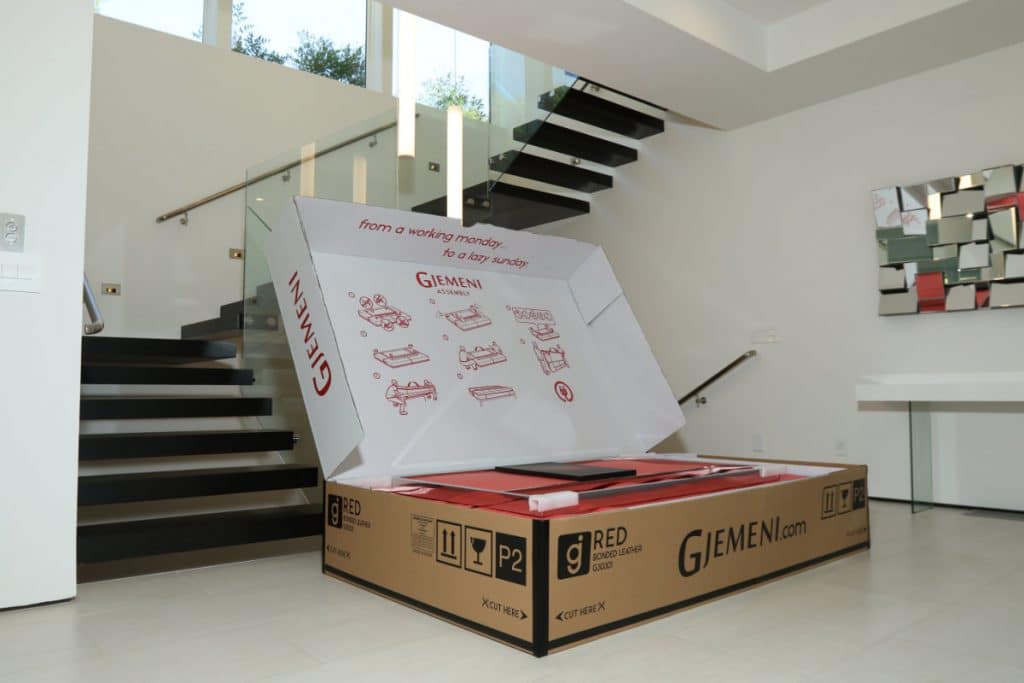 The level of packaging Gjemeni uses is pretty impressive, I've had all sorts of furniture delivered and the majority of it is barely covered by plastic, never mind two layers of thick cardboard. The inner box opens with the bottom of the couch in view, showing the stainless steel frame and with a box that has the four legs in. All four legs are individually-keyed to the mounting holes, so there's no way for them to be assembled wrongly. There's even a leather-backed thumb saver to help you push the locking pin into the leg while you slide it in. Then it's just a matter of flipping the couch around, finding the power cable and plugging it into the wall. Gjemeni calls this "4 Clicks & a Flip" and it really is that easy. No IKEA-level deciphering of instructions or left-over parts needed here.
Powering and adjusting your couch
That power cable provides power to the two AC sockets and the four USB ports, the adjustable parts of the couch are still manually-adjusted. There are three levels on each half of the backrest, flat, reclining – which is around a 45′ angle, and upright, where the backrest is 80-ish degree angle. There are also four positions to each end of the nominal seating area, flat, 45-degrees and two in-between, for your ultimate comfort. Flat would be great for if you have company around, as it reclaims a seating position from the 6.5-ft wide couch.
Now I say nominal because really, any part of the couch could conceivably turn into a seating area. Need a bed for visiting family or to nurse the flu in front of the TV? How about a daybed or 'fainting couch' for an afternoon power-nap? The reclining position is great for lazing in front of Netflix. All of the sections of the Gjemeni are covered in layers of memory foam, which is fairly firm but that's a good thing. If you want a pillowy-soft couch to get buried in, go take the one from your aunt's house. All that memory foam is then wrapped in a temperature-control layer, so the bonded-leather upholstery doesn't get hot and stick you to it.
Check it out in action
I love that temperature-control layer. Seriously. This is the first leather furniture that I've been able to sit on for hours on a stretch, without getting too hot or sticking to it. It's changed my perspective on leather. I'd like for Gjemeni to add a premium option to their range, so you can get higher quality leather. They've started adding microfiber to the range, so a premium option would make their range more accessible to a wider audience.
Oh, and the bonded leather is super easy to clean. Our household now has a newborn in it, and anyone who knows – knows that means milk everywhere. A couple of seconds with a wet cloth and it's new again.
The only minor quibble I have is that I'm in the 'big and tall' category. The seating area could do with maybe another two inches in depth for my frame. Then again, maybe the ottoman that Gjemeni sells is the fix for my lanky legs. It isn't a dealbreaker by any means, and with Gjemeni's 60-day trial period only you can really decide if it's right for you.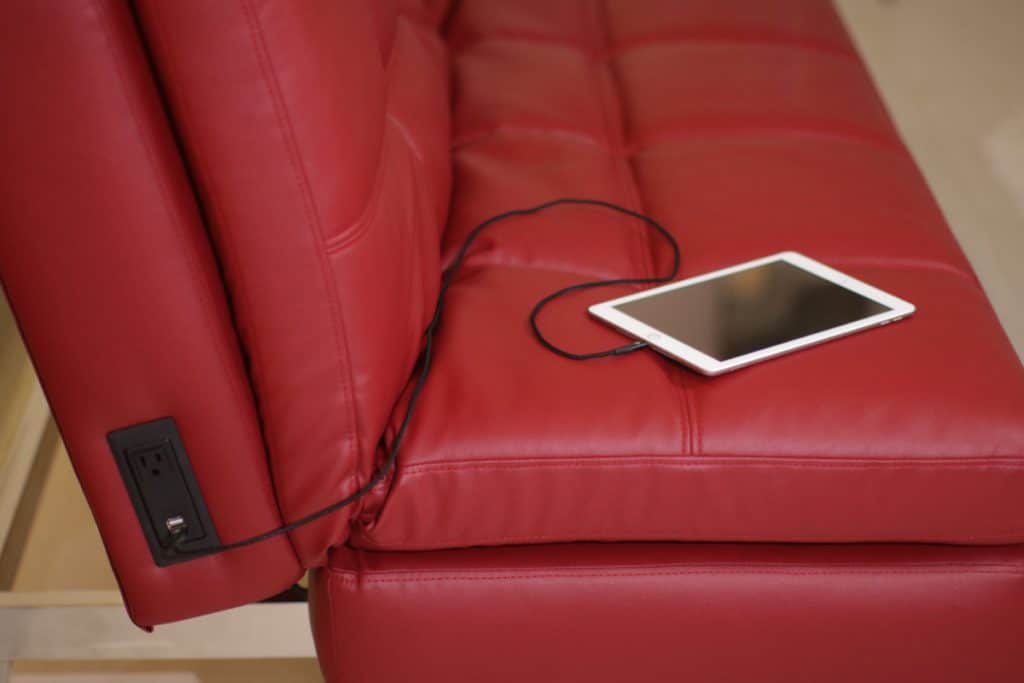 The USB ports are rated at 5V, 1.5A; which is enough to charge even tablets – but they won't fast charge. It'd be cool if Gjemeni could add either USB PD or even Qualcomm's Quick Charge to the ports on either side, maybe even as an upgrade module for existing owners.
Still, with two AC sockets, you can plug in a faster charger if you need it. I've been using the ports mainly for my phone to trickle charge and for my MacBook's charger so I have fewer cables snaking to the wall. Those AC ports aren't surge-protected either, so you might want to plug them into one at the wall. Maybe that's something that could also be added in the future.
So is it worth it?
For $999, if all you got was a couch, the Gjemeni would still be pretty good value. It's super solid thanks to that steel frame, comfortable to sit on with all that memory foam, and would grace even the most stylish of rooms. When you add in the customizability, and the built-in charging stations – you get more for your money than other couches on the market. It's an easy choice – easy to set up, easy to use daily and easy to clean.
Right now they're even offering 20% off with code: NYE20
A sample unit was provided for the purpose of this review.
Editors' Recommendations:
The Good
Four 1.5A USB ports and two AC sockets from one plug
Temperature shield layer fixes the main issue I have with leather furniture - getting stuck to it
Easy to adjust to fit your mood
Setup was a breeze
The Bad
Could do with surge protection built-in
USB ports don't support fast charging, so USB PD or QC3.0 would be a good upgrade in future
Follow us on Flipboard, Google News, or Apple News