Review: LG G6 – why I prefer this phone over the Samsung Galaxy S8
The Samsung Galaxy S8 is all the rage right now, but the LG G6 is a worthy contender flying under the radar.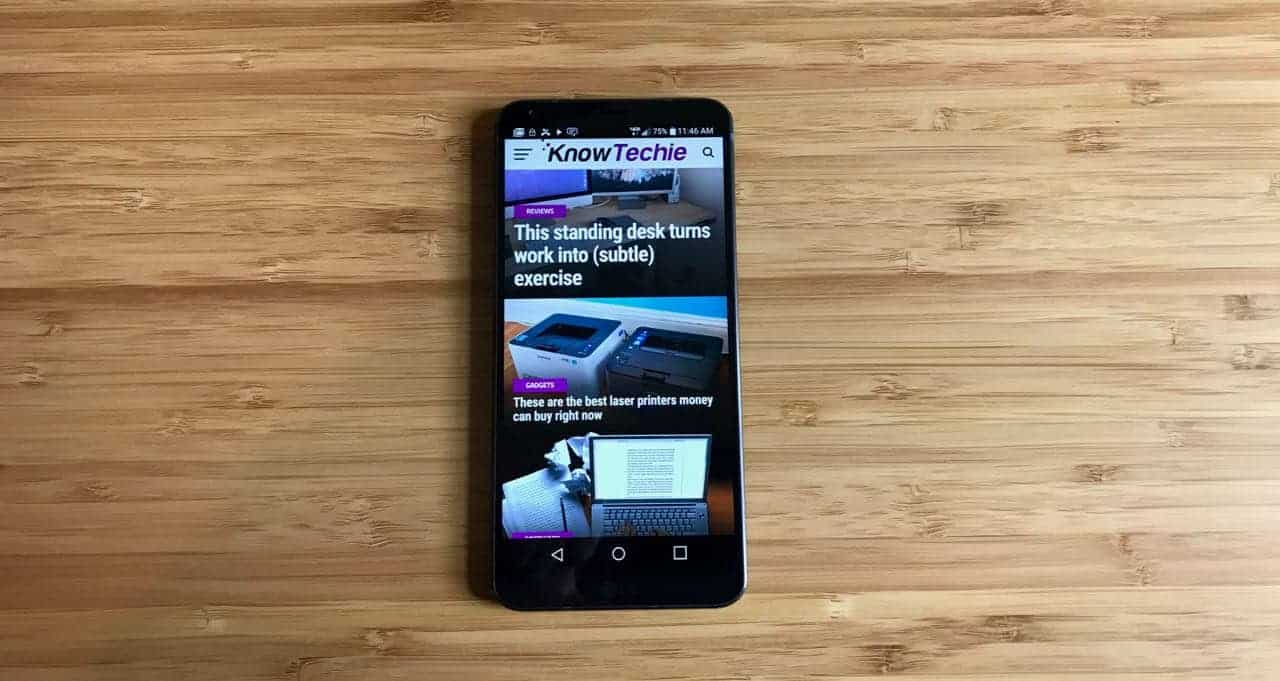 If you had three new Android smartphones to choose from, which one would you choose: OnePlus 3T, Google Pixel, or the Samsung Galaxy S8? Depending on personal preference, I think the obvious choice here is the Samsung Galaxy S8 or S8 Plus. To be fair, it was just released recently and judging from all the reviews, it seems to be the clear winner.
But, there's another contender flying under the radar that should be worth considering – the LG G6, and it's actually cheaper than the Galaxy S8 and isn't filled with all the bloatware you would normally get on a Samsung smartphone. Does it stack up to the Galaxy S8? Not exactly, but don't count it out just yet. For folks who are not ready to throw their money at Samsung after the whole Galaxy Note 7 ordeal, this may be your next best bet.
Here's why the LG G6 is a good pick: 
Design: the LG G6 is a gorgeous looking phone. Sure, it doesn't quite stack up to the Galaxy S8, but it's almost there. If you prefer a more simplistic design, the LG G6 rocks it quite well with its smooth body finished look and thin bezel. Without a case, it resembles the iPhone 7 a lot, which isn't a bad thing.
Finger Print Sensor: One thing the LG G6 does have in common with the Galaxy S8 is that both their fingerprint sensors are located on the back the phone. However, the LG G6 has an edge in which its sensor isn't directly located next to the device's rear dual cameras like the S8. Instead, LG was smart enough to place it right below the cameras, this way your fingers don't smudge any of the lenses, which is going to be something that's going to be quite common with the Galaxy S8
Water Resistant: In a first for an LG smartphone, the company finally went all in and waterproofed the LG G6, something also offered in the S8's, as well as the iPhone 7s. It's rated IP68 which means you can immerse the phone in up to 4.9 feet of water for about 30 minutes or so. In other words, if you drop it in the toilet or shower, the phone is designed to keep on kicking. Heck, you could even take calls in the shower if you please.
Battery: One thing that LG did differently on the LG G6 was eliminating the removable battery. Ugh, I know. This is definitely a bummer for all the diehards out there who prefer that option. But, the good news is that they beefed up the battery from 2,800mAh in the G5 to 3,300mAh. The other plus side to a non-removable battery is that waterproofing the phone makes it that much easier.
Display: I'm really enjoying the LG G6's screen. It's huge, similar to the Galaxy S8. To be exact, the device features a 5.7-inch screen, which takes about 80% of the front of the device and highlights the insanely thin bezel. What sets the LG G6 apart from all a lot of the smartphones you find out there is that it utilizes an 18:9 aspect ratio (with the exception of the S8, most phones are 16:9).
Camera: Like the iPhone 7, the G6 utilizes two cameras on the back of the device. Unfortunately, LG's offering doesn't provide the same "bokeh" effect as you with an iPhone 7, but the 13-megapixel lens and the 120-degree wide-angle surely makes up for it.
Some of the things I don't like about the G6: 
The home button is weird: The fingerprint sensor acts as the home and power button. That's weird. There were many times I found myself looking for an actual home button or power button on the front of the phone as well as the side. Coming from an iPhone 7, this really confused me. At least with the Galaxy S8, they have a home button that displays on the front of the screen. This might mix some people up, I know it did for me.
Processor: For a new smartphone, I would expect it to have all the latest processing power, but unfortunately, it doesn't. The G6 features a Qualcomm Snapdragon 821 processing system, similar to something you would find in a Google Pixel or OnePlus 3T. Sure, it's not a huge noticeable difference, but when I buy something new, I expect all the components in the device to be up to date.
The design sets it's up for scratches: The G6 rocks a jet black glossy surface on the back of the phone, similar to the iPhone 7. If you're unfamiliar with the reports, a lot of iPhone 7 users complained that the smooth glossy service is extremely vulnerable to scratches and fingerprint smudges. Again, not a major deal breaker, but if you're someone who drops their phone a lot, it's probably best to slap a case on it.
LG G6 spec comparison
| | LG G6 | Samsung Galaxy S8 | Google Pixel XL | OnePlus 3T |
| --- | --- | --- | --- | --- |
| Display size, resolution | 5.7-inch, 2,880×1,440 pixels | 5.8-inch; 2,960×1,440 pixels | 5.5-inch; 2,560×1,440 pixels | 5.5-inch; 1,920×1080 pixels |
| Pixel density | 565 ppi | 570 ppi | 534 ppi | 401 ppi |
| Dimensions (Inches) | 5.86×2.83×0.31 in | 5.86×2.68×0.315 in | 6.1x3x0.34 in (at its thickest) | 6.01×2.94×0.29 in |
| Dimensions (Millimeters) | 148.9×71.97.x7.9 mm | 148.9×68.1×8 mm | 154.7×75.7×8.6 mm (at its thickest) | 152.7×74.7×7.35 mm |
| Weight (Ounces, Grams) | 5.7 oz; 162g | 5.5 oz; 155g | 5.92 oz; 168g | 5.57 oz; 158g |
| Mobile software | Android 7.0 Nougat | Android 7.0 Nougat | Android 7.1 Nougat | Android 7.0 Nougat |
| Camera | 13-megapixel (standard), 13-megapixel (wide) | 12-megapixel | 12.3-megapixel | 16-megapixel |
| Front-facing camera | 5-megapixel | 8-megapixel | 8-megapixel | 16-megapixel |
| Video capture | 4K | 4K | 4K | 4K |
| Processor | 2.35GHz Snapdragon 821 with Adreno 530 GPU | Octa-core Qualcomm Snapdragon 835 (2.35GHz+1.9GHz) or Octa-core Samsung Exynos 8895 (2.35GHz+1.7GHz) | 2.15GHz + 1.6GHz quad-core Qualcomm Snapdragon 821 | 2.35GHz Qualcomm Snapdragon 821 |
| Storage | 32GB | 64GB | 32GB, 128GB | 64GB, 128GB |
| RAM | 4GB | 4GB | 4GB | 6GB |
| Expandable storage | Up to 2TB | Up to 2TB | None | None |
| Battery | 3,300mAh (nonremovable) | 3,000mAh (nonremovable) | 3,450mAh (nonremovable) | 3,400mAh (nonremovable) |
| Fingerprint sensor | Back cover | Back cover | Back cover | Home button |
| Connector | USB-C | USB-C | USB-C | USB-C |
| Special features | 18:9 aspect ratio; wireless charging (US-only); water-resistant | Water-resistant (IP68); wireless charging; Gigabit LTE-ready | Google Assistant; unlimited cloud storage; Daydream VR-ready | Dual-SIM, Dash Charging |
| Price off-contract (USD) | AT&T: $720, Verizon: $672 T-Mobile: $650, Sprint: $708, U.S. Cellular: $597.60 | AT&T: $750; Verizon: $720; T-Mobile: $750; Sprint: $750; U.S. Cellular: TBA | $769 (32GB); $869 (128GB) | $439 (64GB); $479 (128GB) |
| Price (GBP) | £649 | £689 | £719 (32GB); £819 (128GB) | £399 (64GB); £439 (128GB) |
| Price (AUD) | AU$1,008 | AU$1,199 | AU$1,269 (32GB); AU$1,419 (128GB) | Converts to AU$590 (16GB); AU$652 (128GB) |
Final Verdict
When it comes to actually using the phone, it's a breeze to navigate. I remember when I reviewed the Google Pixel, it took me about 10-15 minutes to get everything all set up. With the G6, it virtually took me less than two minutes to get up and running. That's a huge plus for people who have a hard time navigating through startup prompts.
Overall, I really liked the G6. If you want a simple phone that works great and isn't always in the headlines, the LG G6 is a perfect fit. I fell in love with the phone's display and insanely thin bezel, along with a lot of little other things. Sure, there were a couple of things that put me off, but I guess it's nothing I can't get adjusted to.
Meet Therabody's All-New TheraFace Mask
TheraFace Mask is a breakthrough FDA-cleared LED skincare mask with added tension-relieving vibration therapy. Clinically proven results include firmer, smoother, healthier-looking skin with a visible reduction in fine lines, wrinkles, and uneven tone in as little as 8 weeks
If you're contemplating between this or the Galaxy S8, I guess in the end it all comes down to personal preference. For me, I would go with the G6 since it's a considerably cheaper, but if you're a brand whore, it wouldn't be surprising to go with the S8.
The good thing about the LG G6, you know it doesn't have a history of blowing up.
The Good
There's a headphone jack
Gorgeous design. It reminds me a lot of an iPhone.
It's waterproof
The battery improved from 2,800mAh in the G5 to 3,300mAh
Great camera.
The Bad
Non-removable battery
The fingerprint sensor is the phone's power button. That gets confusing.
Older processor
Follow us on Flipboard, Google News, or Apple News