Review: Linksys WRT32XB Dual-Band Gaming Router
This is the first router from the "Designed for Xbox" program.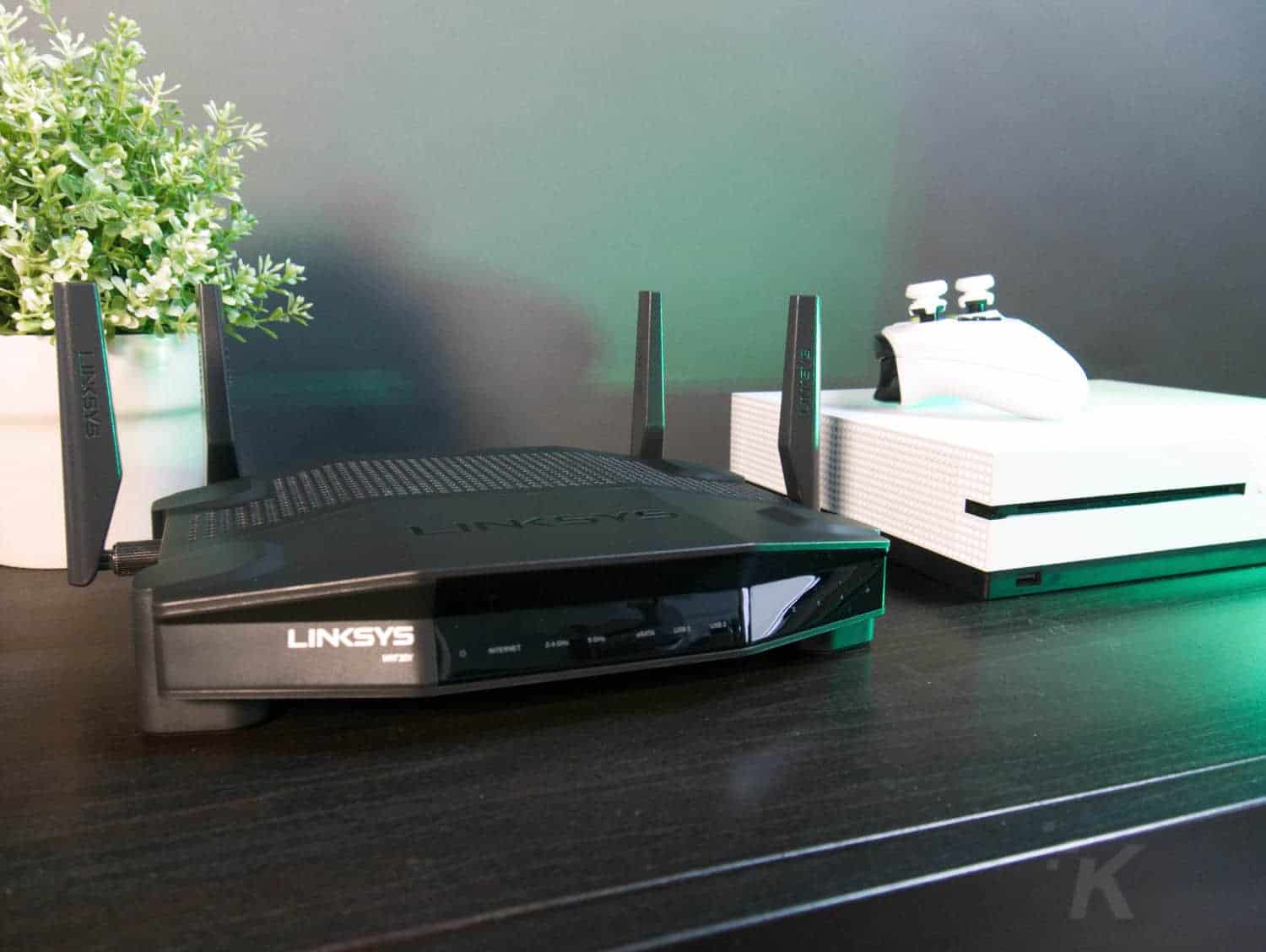 The Good
Lag-killer
Likely to help your KD
Blazing fast, both on wired and wireless
Good wireless coverage
The Bad
Slightly pricey
Doesn't support non-Xbox automatic optimizations yet
This is an exciting product in the test lab today for gamers. The Linksys WRT32XB is the first networking device from the Designed for Xbox partner hardware program, which Microsoft set up to enhance their ecosystem by ensuring that accessory partners were building to the rigorous standards the Xbox community is used to.
This is also the first router with the KILLER Prioritization Engine (KPE). Well, technically the second, but this is a variant of the PC-only router Linksys released earlier this year. We all know that in competitive online gaming, milliseconds might mean the gap between chicken dinners and failure, and this router looks to give you the best connection possible.
The high-performance hardware in this router can automatically detect and prioritize your Xbox on the network to reduce peak ping times by up to 65% and deliver smooth, lag-free gaming.
Bold statements here, I'm well acquainted with Quality-of-Service (QoS) features, but in my experience, they're complicated to set-up, maintain and tweak to get performance. This router promises to slap balm onto that pain and get you back to gaming.
Hardware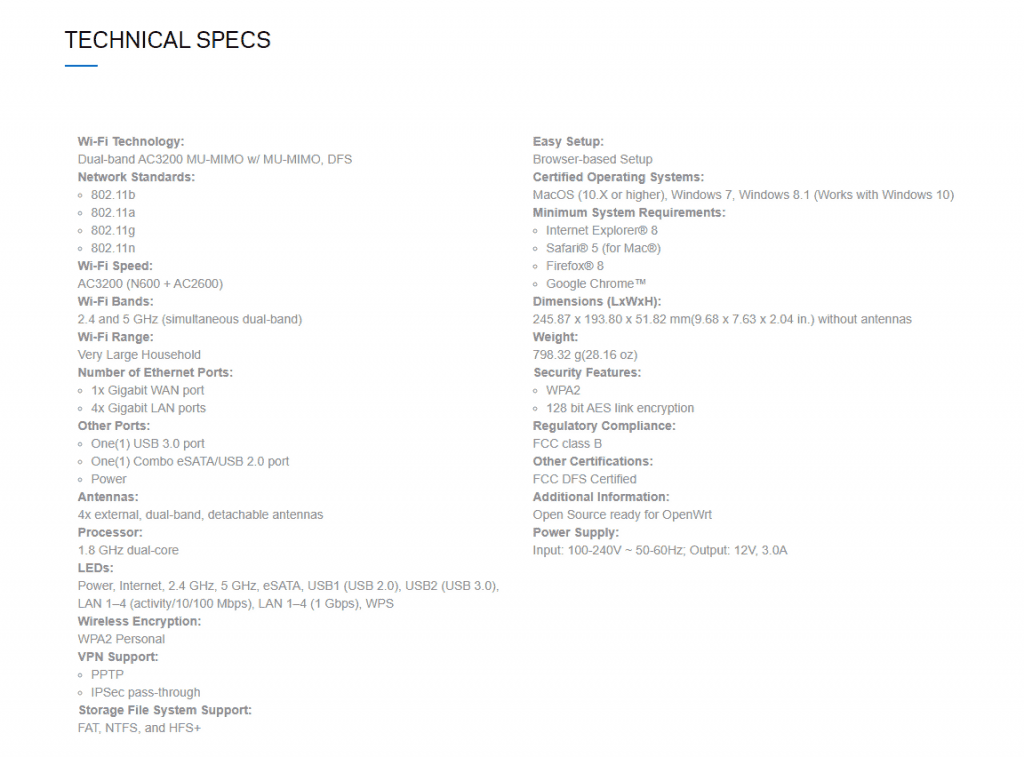 Okay, a fairly daunting list of features here. However, you really need to only focus on a few of the main ones. It's got four high-gain antennas blanketing your home in the latest Wireless-AC at up to AC3200 speeds. It's also got the bandwidth to go with it, the tri-stream 160 is double the usual AC bandwidth of 80MHz.
It's got Gigabit LAN ports in a Pro-grade Ethernet switch, and some USB ports so you can put storage onto your network easily.
All of that speed needs a beefy core to run it, and a dual-core at 1.8GHz is well up for the task. It's also got an uprated heatsink to cool it, which is nice to see when usual consumer networking equipment is built to run hot. Rounding up the core specs, there's a 256MB Flash module for the firmware and 512MB of DDR3 Memory to handle all the networking rules.
Meet Therabody's All-New TheraFace Mask
TheraFace Mask is a breakthrough FDA-cleared LED skincare mask with added tension-relieving vibration therapy. Clinically proven results include firmer, smoother, healthier-looking skin with a visible reduction in fine lines, wrinkles, and uneven tone in as little as 8 weeks
Software
Okay, now we get down to the exciting stuff. Networking is usually pretty droll to cover, there's only so many times you can describe things built to the same standards and it often comes down to aesthetics. Not the case here, with the Killer Prioritization Engine (KPE) that's baked into the router.
This essentially works as a conductor, detecting Xbox traffic on the network and shunting it to High Priority QoS rules to ensure it's not impeded by other network users.
This functionality has been on high-end desktop PCs and laptops until now (my current build has it on one ethernet port), but this is the first time it's been put into a router. The WRT32XB also has new custom-built firmware and GUI built from the ground-up to make it easy to use.
It's also been tested and validated by Microsoft to deliver a great online gaming and streaming experience on the Xbox One platform.
Test Procedure
We're testing the KPE functionality using an artificially restricted connection to our ISP to simulate the average internet speed of U.S. users. That means we're going to make our Gigabit connection behave like a 30Mbps down, 5Mbps up connection. This is to ensure that we're able to test the network contention features by trying to saturate the network with a running legal torrent (probably a series of Linux ISOs).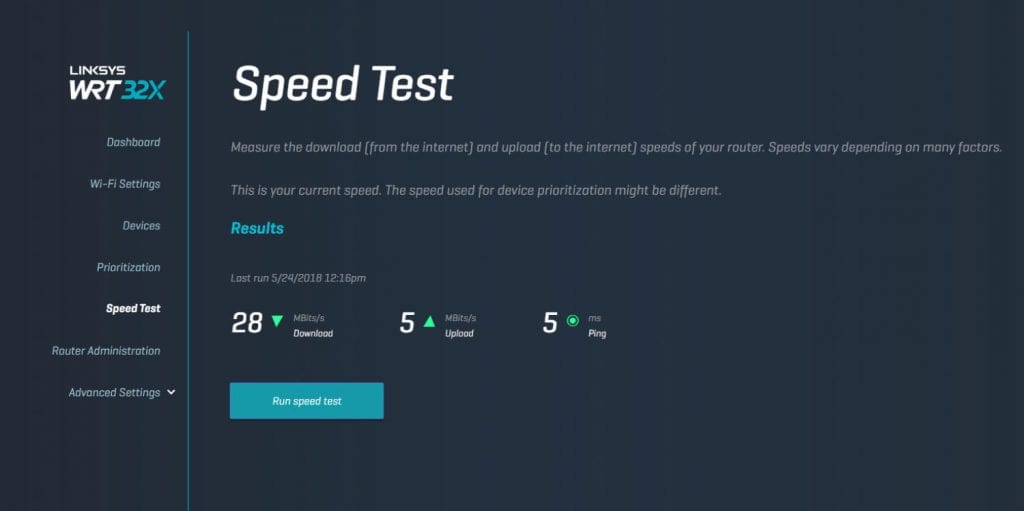 We'll be testing overall ease of connecting devices to the network, and also Xbox One Device Prioritization vs other devices on the network once connected. This should give us a good overview of the Xbox-tweaked KPE functions to test the marketing claims.
Setup and Testing
The WRT32XB is super easy to set up and can be installed on most tablets, smartphones, or from PC browsers. Linksys says it takes six steps to get online, but four of those are plugging things in so it's really simple.
[envira-gallery id="62573"]
Now we'll move onto the interesting parts, the Xbox Prioritization features. We'll be using Battlefield 1 to test multiplayer latency, and then Netflix to test streaming video performance while saturating the link. Both of these programs have on-screen displays for latency performance, BF1 has an on-screen overlay and Netflix shows a spinning white wheel when it's having trouble getting bandwidth.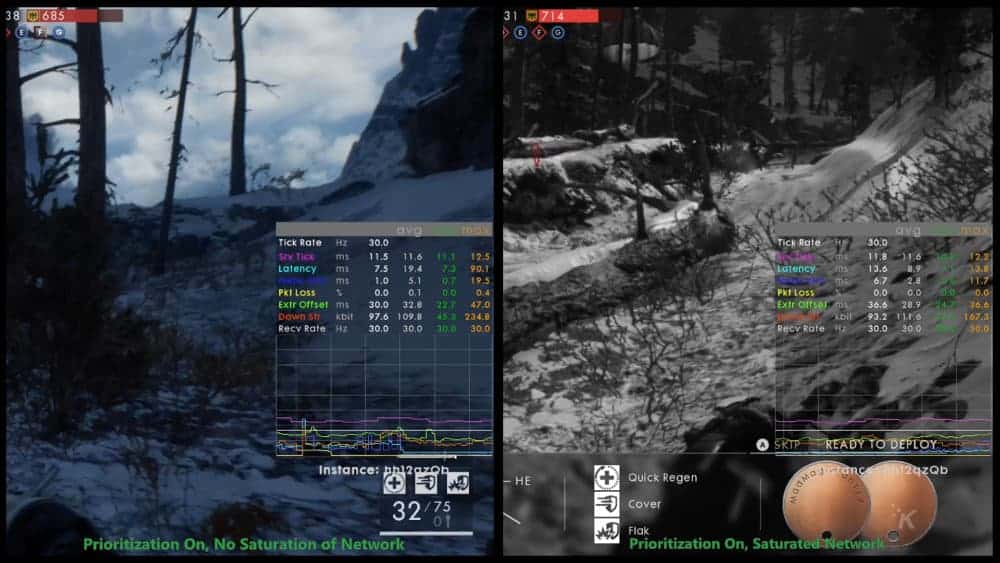 With the Xbox set to the highest Prioritization level in the settings, we can see that the latency does increase slightly when the network is saturated with traffic, but it's still in acceptable levels.
If we now look at the same map with the Xbox Prioritization level set down to Normal, we see that the latency spikes to 27ms once the saturation happens. With Battlefield 1 running on a 30fps tickrate, that's almost a full frame of latency without the KPE Prioritization being on – which is easily enough to make you lose any competitive edge.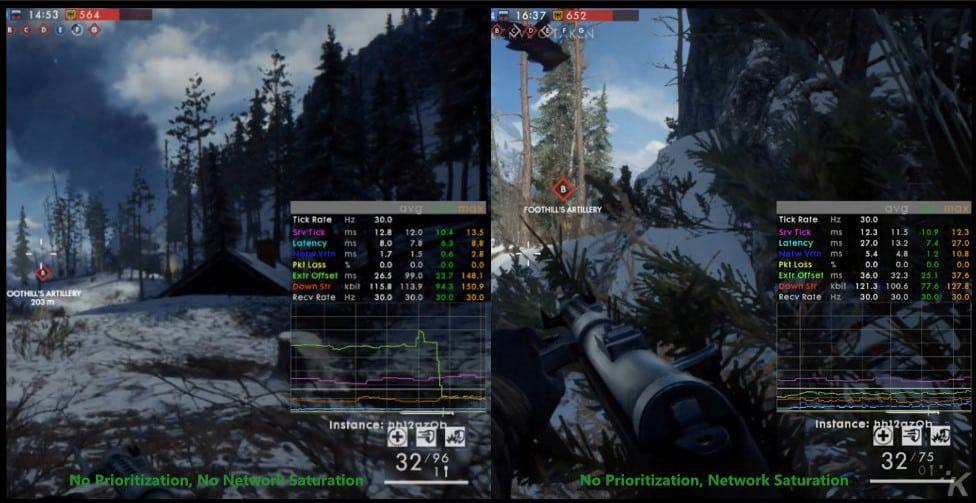 Netflix has a lot of 4K content now, and it was one of these shows that I tested the prioritization on. Like with the BF1 tests, streaming was consistent while the Xbox was in the highest priority settings, even while saturating the link with Linux iso torrents. Once the priority was changed to Normal, the 4K content was too much for the available bandwidth and it dropped to HD only.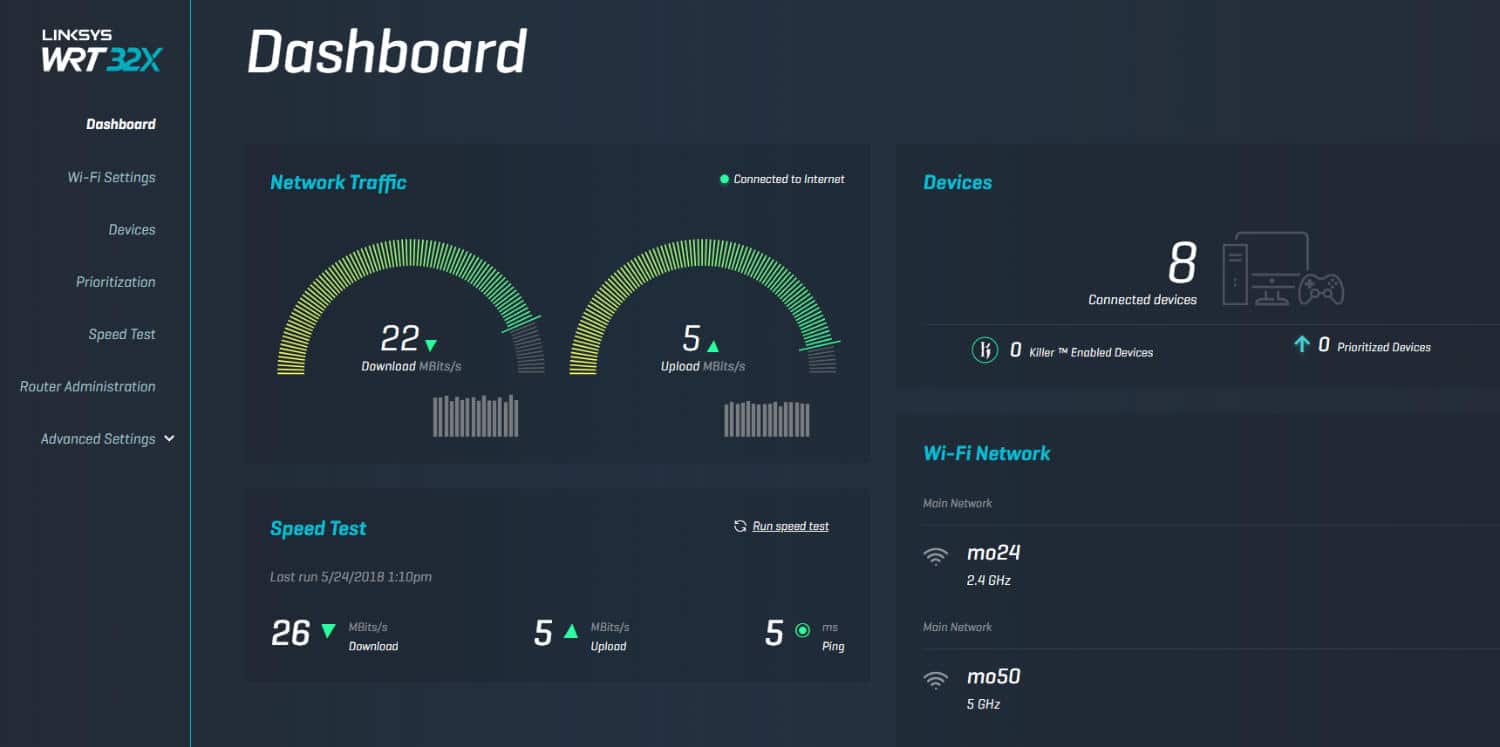 Wrapping up
This is the first router from the Designed for Xbox program, and it sets a high bar to follow. The Prioritization that the Killer Prioritization Engine provides keeps your latency to similar levels regardless of what else is going on your network, so you can't blame lag on your K/D score anymore.
When the full KPE functionality comes in the summer so it can do the same magic to your other hardware as well, it'll be all the router you'll ever need.
The WRT32X comes highly recommended, even at the spendy $200-250 price tag.
A unit was provided to KnowTechie for review.
The Good
Lag-killer
Likely to help your KD
Blazing fast, both on wired and wireless
Good wireless coverage
The Bad
Slightly pricey
Doesn't support non-Xbox automatic optimizations yet
Follow us on Flipboard, Google News, or Apple News