Review: Naztech Volt Power Station
27,000 mAh, Qualcomm Quick-Charge, USB-C, AC outlet, and more.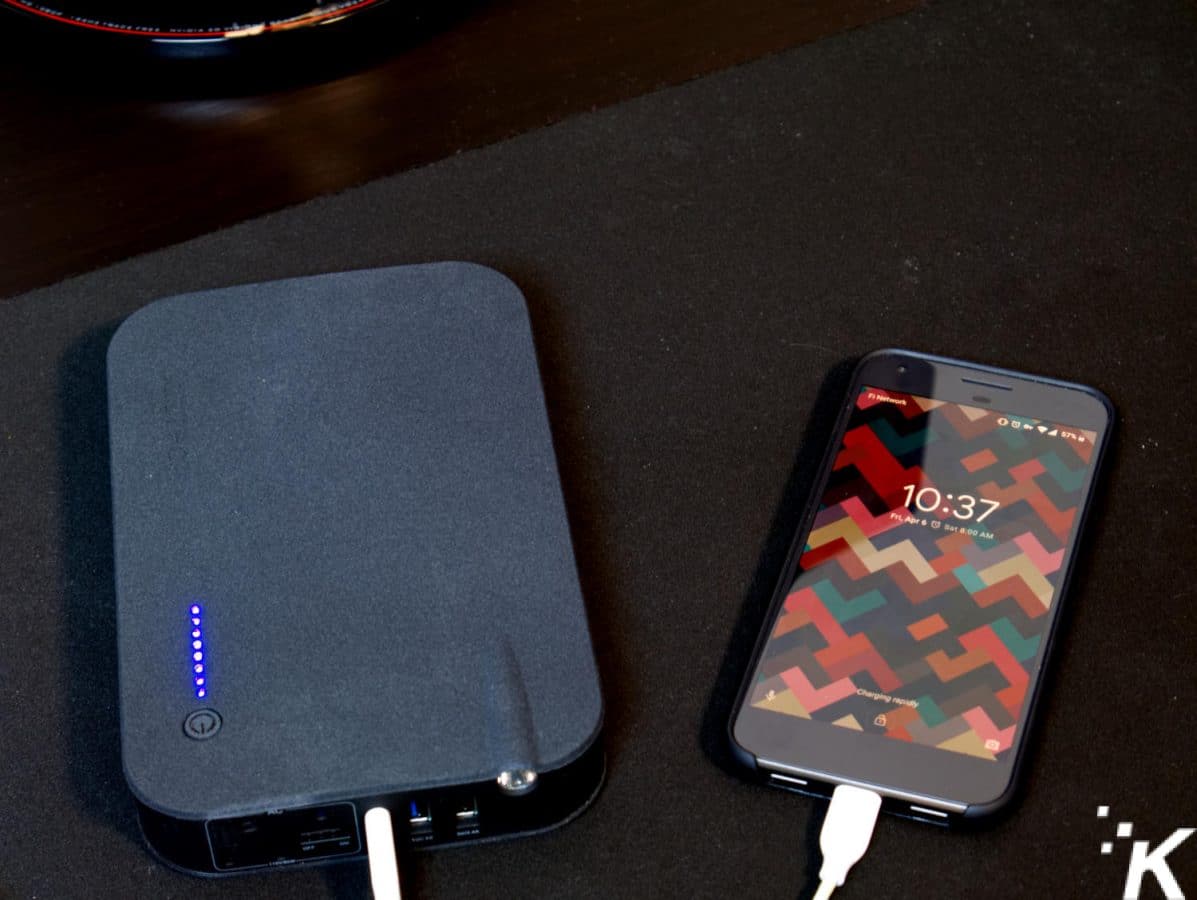 They say with power comes great responsibility. Now in our ever-increasingly connected world, one of those responsibilities is ensuring that all our gadgets stay charged. Battery tech is getting better, but to continue typing or browsing all day we often need to top up with power. Naztech is hoping to be that power source.
I've got a fairly extensive collection of battery packs, ranging from pocketable to backpack-stowed, but one thing I didn't know I was missing until I had it in my hands was an AC-socket. This VOLT Power Station from Naztech has a whopping 27000mAh battery, USB-C, a Qualcomm Quick Charge 3.0 port, a LED-flashlight, and an insane AC-socket.
Accounting for inefficiency in charging due to heat, that's enough power to charge your 13″ 2017 MacBook Pro to full charge and still have some left in the tank for your smartphone! I was able to charge my MBP while I was still using it, and it took about the same amount of time as charging from a wall socket, even beating the estimated time to charge that OSX was predicting. The AC socket on the Naztech VOLT is rated up to 85W, so most laptops should be able to be charged by the unit. Naztech does caution users not to plug appliances into the unit, as they will draw more than designed and could possibly damage the VOLT.
I really like that the AC socket allows me to charge things like my DSLR batteries that I couldn't before with any of my other power banks, and the option to run small AC-powered devices like electric razors while away from main power is great. One thing to take note of is that when using the AC socket, you can't use the USB ports to charge other devices.
It's a fairly hefty unit at around 1.5lbs so you're going to want to stow it in a laptop bag or similar. Naztech has also thought of their users, including power socket adapters for most worldwide sockets. This is a nice touch, with most companies wanting to sell adapters as a premium accessory. I was impressed by the looks of the unit also, it has a nice soft-touch covering on the large sides which is nice to handle and also makes it look more premium than the usual hard plastic from other power banks.
The unit features a multifunction power button. This button is used to show the charge remaining by tapping it while the unit is in standby mode. You can also turn on the flashlight feature by double-tapping it, and to completely power on/off the unit by holding it down for a couple of seconds. When on standby it does lose charge faster than when fully off, so it's recommended to power down the unit if not using it for a period of time. Also, like any battery pack, it's recommended to fully charge the unit every few months to mitigate any loss of capacity.
The USB ports can deliver a powerful 2.4A, which is more than enough to quickly charge smartphones, iPads, and even the Nintendo Switch. All of my gadgets showed "Quickly Recharging" when plugged into the VOLT, and it can charge up to three USB devices at the same time. Seriously time-saving if, like our household, you have a multitude of gadgets. It recharges quickly also, with a four hour empty to 100% time. Be careful that you don't mix the charge adapter with your other wall-warts, as it delivers 20V/40W which I've not seen on a charge adapter before.
The Naztech VOLT comes with a host of safety features, Temperature Resistance, Input Over-Voltage Protection, Overcurrent Protection, Short-Circuit Protection, Power Overload recovery, Battery Cell Protection, Output Current Stabilization, Overcharge Protection and an automatic reset. Clearly, the premium price tag is warranted, with such a large battery you really do want to know it's going to be as safe as possible for use. A two-year warranty rounds up the overall protection.
There's also built-in circuitry that monitors the devices being charged to deliver their specific power needs, to ensure that nothing gets damaged on either end.
The Naztech VOLT Power Station is a well-designed and thought-out addition to your existing power needs. It is a premium product with a premium price tag, however, having a variety of high-amperage USB ports and the nifty AC socket gives you a level of flexibility in keeping your gadgets and laptops powered up that wasn't available before.
A sample unit was provided to KnowTechie for the purpose of this review.
Follow us on Flipboard, Google News, or Apple News