Review: Plenty vaporizer by Storz & Bickel – This thing doesn't mess around
When smaller portable vapes can't get the job done, this is where the Plenty comes in.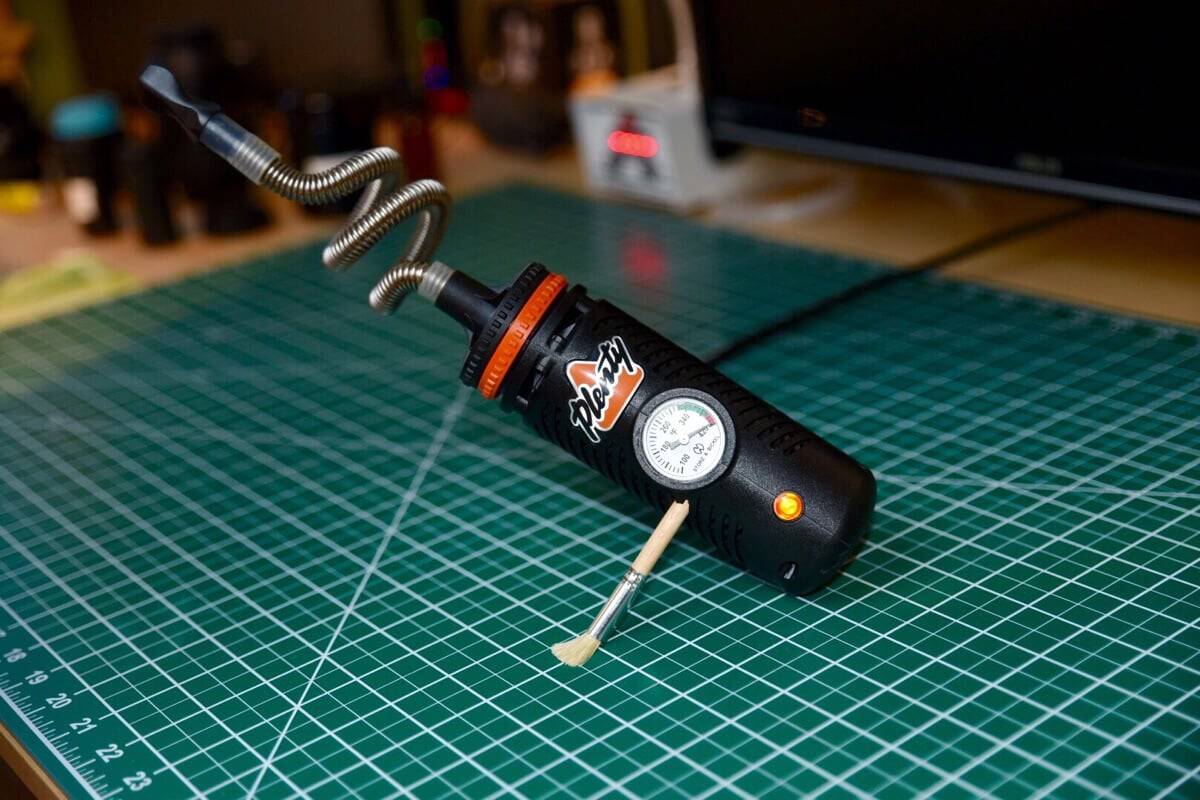 The first thing you'll notice about the Plenty vaporizer is that it looks like something out of the Black and Decker catalog — in fact, when I saw it laid out at my editor's apartment, I assumed it was some kind of industrial-strength hot glue gun.
But! Once you get past the weird, Brutalist design, the unconventional device offers a deeply pleasurable vaping experience, featuring large clouds, precision temperature and a quick-warming convection heating system that evenly warms your plant material. The power tool feel starts to make a lot of sense when you realize you're basically running a small — but wickedly efficient — space heater for your weed. In fact, I've come to relish the design now that I can see the kinds of clouds this smoke stack can pump out.
The Plenty is manufactured by Storz & Bickel, the German engineers behind ~the ultimate~ vaporizer, the Volcano. So, I had some pretty major league expectations coming into the experience.
The bowl offers a large, wide shallow bowl, that, when screwed into its connector piece, is entirely contained — no need to worry about spilling your stuff, once it's packed. That design allows for even distribution of heat over a significant amount of material (about a grinder's worth), leaving you with some very tasty ABVs and no need to stir the pot, so to speak, during a session.
The Plenty also offers a range of temperature settings with an accompanying temperature dial — I found keeping it between 5.5 to 6.5 is the best — around 370 to 385 degrees (note: while the dial playfully goes up to 420 degrees — heh heh heh — the maximum temperature is just below 400).
Though the cooling coil does a great job in chilling the vapor (pro-tip: throw it in the freezer for about ten minutes before you start vaping for an added effect), I also found I could easily connect the rubber tube from my Da Buddha vaporizer, and — with the help of the proper head — also send the vapor through my bong. Even without a water pipe, the longer hose also made communal use a much less clunky experience than passing around the, at times, awkward device.
Another great feature for the adventurous? You can add wax into your bowls with the included liquid pad accessory, which can really increase the potency of your vapor. Hold onto your butts, though.
All in all, the Plenty is a fantastic vaporizer, and one of the best tabletop, convection heating experiences I've had in a long time. There was a slight learning curve — for example, expect to take a couple dry hits before seeing the clouds reach their full potential — but after mastering the minor idiosyncrasies, the Plenty would easily be a proud addition to any self-respecting stoner's arsenal.
The manual is comprehensive, but a bit confusing to start. I found this tutorial on Smokazon to be a much better starter's guide.
The Good
Big, consistent, very tasty clouds
Cooling coil easily connects to hose for bongs or a longer range
Large, self-contained, evenly vaporized bowls
The Bad
The manual is comprehensive, but a bit confusing to start.
An audio cue when the vaporizer reaches optimal temperature would be nice
Needs a longer extension cord
A digital thermomarter would be nice on this