Review: Roccat Suora FX Keyboard – Basic never felt so great
Sometimes you don't need a ton of bells and whistles. Sometimes you just want a keyboard that looks great and performs well. Meet the Roccat Suora FX.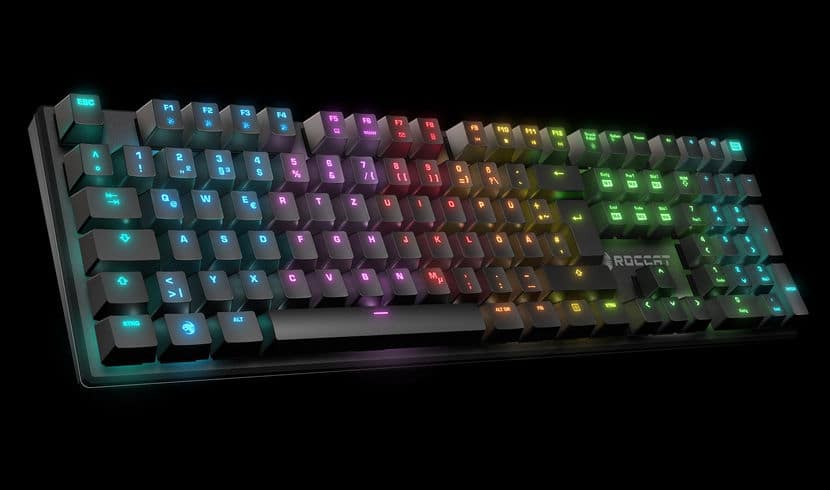 I'm certainly no stranger to keyboards. God knows I've been through a billion of them with all the typing I do, but Roccat's newest RGB mechanical keyboard dubbed the Suora FX is probably the nicest "basic" keyboard I've ever used. When I say "basic", I don't mean that the Suora FX doesn't have any ability nor do I mean that it isn't designed with gamers in mind. It's got six programmable macro buttons and they're placed well – they rest on the insert/delete/page up keys which are rarely used in gaming, which allows players to activate said macros without accidentally pressing the edge buttons like we've all done so many times on SteelSeries, Razer, and other keyboards. keyboards.
Along side great macro button placement, Roccat's Suora FX keyboard features a "frameless" design. This means there's very little between you and the actual keys.
Easy to clean, but easy to get dirty as well. At first I wasn't sure how I'd feel due to the feel of having very little space to put my hands on the keyboard that weren't directly onto the keys, but the more I used it the more I actually preferred the feeling.
The raised keys made my  typing accuracy feel great, kind of like Corsair's keyboards, but these aren't quite as large as some of the competition. The Suora FX fits really well on small desks.
Roccat's software for the Suora FX still isn't the best, but I applaud their efforts of continually trying to be innovative. This is a peripheral that really needs little more than some color swap options and maybe some custom layouts, and that's exactly what you'll get.
However, if you don't care about the software, you can still choose between four custom lighting layouts by holding the FN key and pressing F1 – F4: F1 makes a color changing wave from right to left, F2 makes a breathing effect that lights up a different color each time.
F3 makes the keyboard dark and causes a ripple of color to go flying out from whatever button you press, lighting up adjourning keys with different colors until it hits the edges. This is a really cool idea that looks super awesome in person. F4 simply illuminates the keys with in the typical Roccat Blue color.

Unfortunately, there are a few complaints to be made about the Suora FX, even in spite of its simple design.
The biggest complaint I have is that the Suora FX doesn't seem to work on the PS4 and that's a bummer cause I really wanted to use it there. It's also extremely loud, so if you're not a fan of tactile keys you probably won't like the Suora FX's volume. I actually prefer typing on the Suora FX, but I'm spoiled by how quiet my keys are on the Corsair Strafe RGB.
Roccat sent over the version with Blue switches and I definitely like the heavier button press to register. The TTC keys on the Suora FX are inherently better for me as I often rest my fingers on the keys while I'm thinking of how to phrase my next sentence and on the Suora FX I definitely don't find myself accidentally typing a line full of spaces.
Ultimately, if you're looking for a gaming keyboard with no fluffs or bullshit, Roccat's Suora FX is probably the best bang for your buck. It's not the flashiest keyboard on the market, but the key presses are precise, it's built on a sturdy aluminum frame which means it feels like it can take a beating, and that n-key anti-ghosting rollover feature means you're only going to press the keys you want to press when you want to press them.
If only this keyboard had existed when I was into League of Legends maybe I would have sucked less (no, it wouldn't have, but you get the idea.) I would have liked to have seen the Suora FX priced just a little bit cheaper than it is, as it currently sits at around $139 which is pretty competitive with other high-end gaming keyboards, but the lack of USB inputs on the Suora FX are what make me wish it were just a bit cheaper.