Review: Urban Armor Gear iPhone X and MacBook Pro Cases
A little pricey, but able to withstand the daily beating and still look flawless.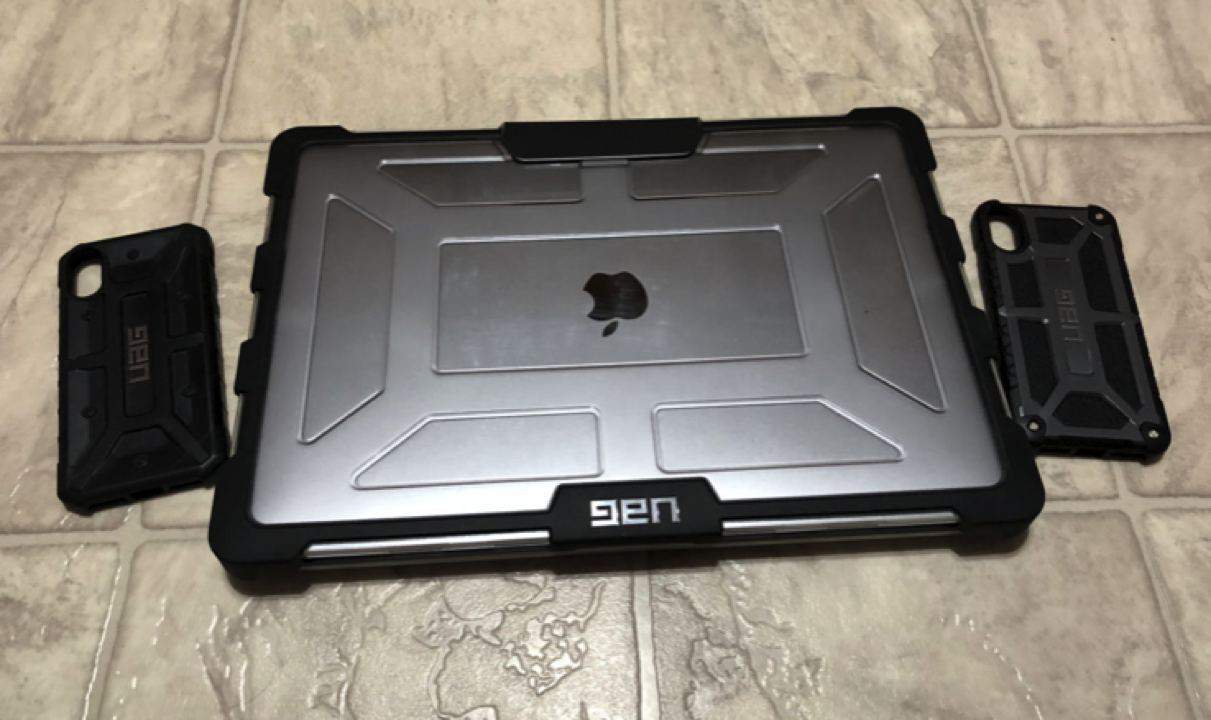 The Good
Sturdy
great support
The cases still look like they're in mint condition after two months of daily use
The Bad
The look won't be for everybody
There aren't a lot of color options
They feel a little too pricey given the basic design/offerings
I'm willing to bet you've seen Urban Armor Gear cases at one of those vendor kiosks stands in your local mall. They generally look like the "boys" side of the case, sitting opposite the overly glitter-covered cases.
You know the ones I'm talking about, with Minions or other cutesy things that attract unknowing teens and randos at the mall who impulse purchase things because they're unaware of the plethora of alternative places to buy protective cases for your expensive electronics.
Those cases likely cost about 30 cents to make yet sell easily for $20 because people don't care enough to research their case makers. Urban Armor makes a considerably better case though their asking price might be a little higher than it should be.
I recently got a few cases for the iPhone X as well as a case for my MacBook Pro, so we're going to take a look at the those and see how much value you're getting for the investment.
First up, the cheaper of the two iPhone X cases – Pathfinder. The $35 Pathfinder case is a sturdy thick plastic case, with the raised indents underneath that would likely help cushion some damage if the phone were to fall while in the case.
READ MORE: This new MacBook case turns your laptop into an actual book
The inside of the case is a smooth material that seems like it would help with shock absorption as well but it ultimately comes across as generic. There's certainly superior construction here than what you'd find out of a basic case that costs $20 at the mall or $5 on Amazon.
But, it certainly doesn't feel as nice as my Spigen Neo-Hybrid case which has a much cleaner and business professional look and costs $5 less than UAG's Pathfinder. I think if you're going to spend that much, UAG's $40 Metropolis case is a better value (since it has the folding front and credit card holder) and looks nicer.
Up next, the far superior of the two – Monarch. The $60 Monarch case feels immensely more premium than the Pathfinder case does. It features the same case design as the Pathfinder but has plastic that sits on top of the design found on the back of the Pathfinder, and the space between the design is filled with leather that really makes the phone case look nicer, as well as a honeycomb grip on the sides that make it feel nicer in the hand.
There's definitely more material and investment in the Monarch case, and I do feel like if being dropped it would be more stable than the Pathfinder, but only because there's a piece of metal in the center of the case that acts more like a backbone. The Monarch also supports wireless charging and has done a great job protecting my phone the few times it's fallen out of my pocket.
Is it worth $60 though? It's hard to recommend it at the price because you can get other full body support cases for around the same cost. But I can say that my Monarch case looks just as good now with daily use as it did the day I pulled it out of the box, and that's rare since cases fade and the plastic wears down. Ultimately, it depends on how much you like the aesthetic. UAG's gear mostly looks like military/sci-fi stuff, so it checks the right boxes for my taste, but it's probably not everyone's cup of tea.
Finally, let's talk for a few moments about UAG's case solution for the MacBook Pro. I have a new MBP, so the first thing I wanted to do was get some sort of protection on it. While the Plasma case is extremely limited in variations – it only comes in clear and black – it's offered exceptional protection for my laptop thus far. I hated it at first because some design issues take some getting used to: The big bumpers make it hard to open the notebook when you want to use it, and the case actually covers the grooves in the front that Apple intended to be used to open the lid.
Once I started using it though, I realized the point was to keep it from popping open if you drop it, so while it's annoying to open my laptop like some weird briefcase, it's going to stay shut if it were to fall off my desk. Putting the case on was a bit of a struggle and I'm not entirely sure how to remove it when/if I choose to but it's a damn nice case even if it's a little bit pricey at $80. There's also a nice little rubber grip on the back side which makes it feel comfortable in your hand if you tuck your laptop under your arm while you transport it, but the way it's cut on the sides make it so you wouldn't be able to use a USB-C dock that's supposed to sit flush without a bit of a gap.
Ultimately, I'm extremely happy with UAG's Monarch and MacBook Pro cases. I think their prices could come down just a notch, but there's quality in their design that so far seems unrivaled.
These cases were provided to KnowTechie for review by Urban Armor Gear.
Follow us on Flipboard, Google News, or Apple News