Review: WarGroove – an impeccably good, turn-based strategy title
Super groovy.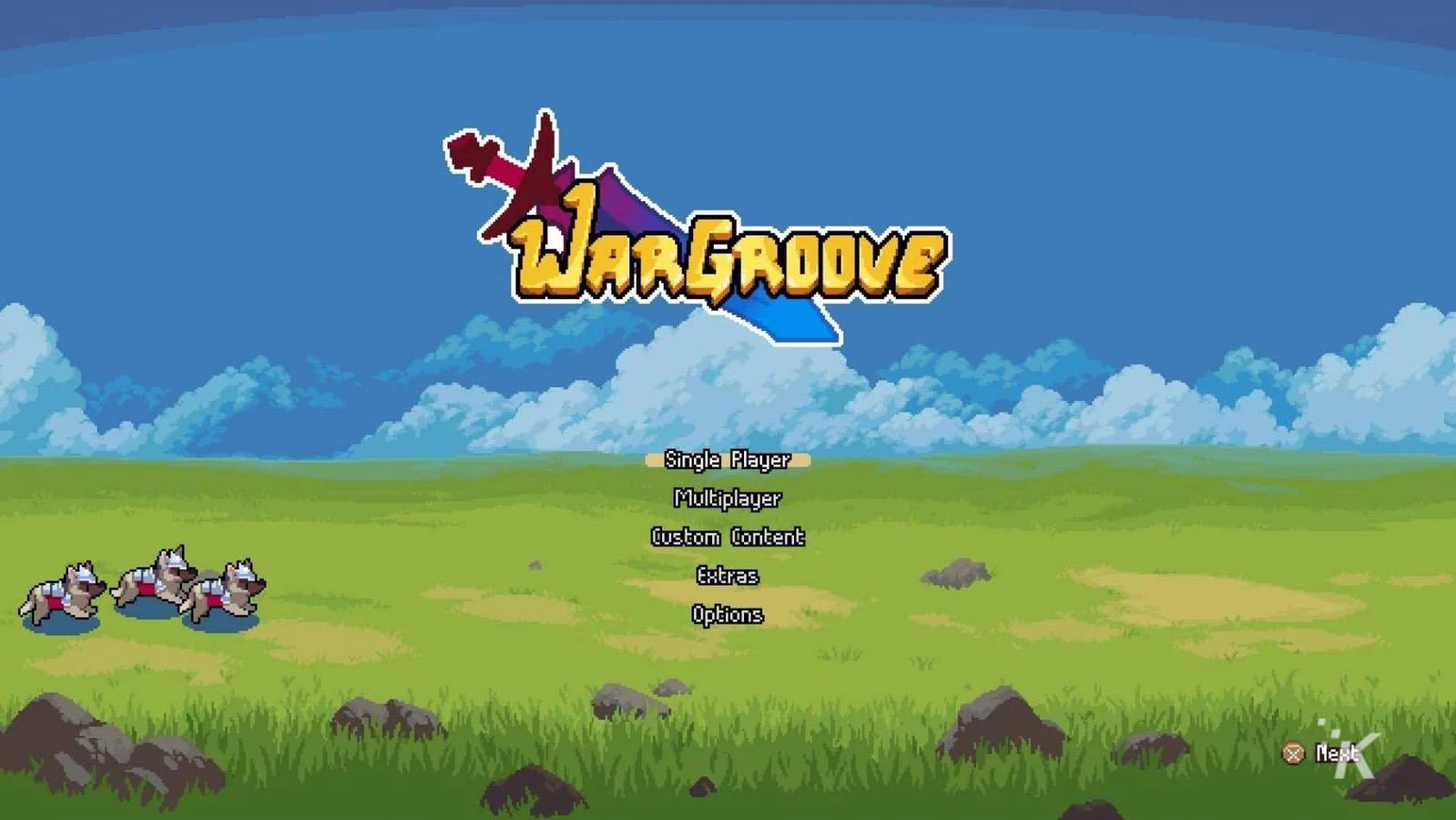 The Good
Snappy, smart, well-designed strategy
A fully realized editor
Tons of modes of play, including cross-platform multiplayer*
The Bad
Occasionally fidgety controls
Just a few missing features
*Cross-platform multiplayer doesn't include PS4
There will most likely never be another Advance Wars. This is a reality you're going to have to accept if you're a turn-based strategy enthusiast who's played – and almost certainly loved – the series made famous on the Game Boy Advance.
That may be for the best, however, as without that yearning for another strategy game to scratch that itch we might not be blessed with WarGroove, developed and published by Chucklefish, who you might know from Starbound, Timespinner, Stardew Valley, and several others.
Do I have your attention yet? Good, let's dig in.
I started up WarGroove for the first time and are you kidding me, there was an anime opening cinematic. WHAT?
After I collected myself from the stellar opening, I dove headfirst into the tutorial mission
I knew pretty quickly that this game was intelligently, meticulously crafted, because it's an excellent tutorial. You're given control of one massively overpowered unit, Sigrid, and you're on your way to assassinate the king. In between turns, you get a glimpse into the story, where the kingdom you're part of seems to have a dark history.
Before you can learn too much, you reach the king and Sigrid gets her killing blow in one attack.
I want to cover a term you've probably heard before: "Spiritual successor"
This is a descriptor that means, "it's basically the same series, but we didn't have the IP rights." That's important, because WarGroove is absolutely, definitively, unabashedly a spiritual successor to Advance Wars, and I mean that in the best way possible.
From the game's chunky, pixelated style to the way units have a quick, screen-splitting cinematic battle when they clash to the way units with less HP remaining deal less damage, WarGroove is medieval, magical Advance Wars through and through. I try to make game-to-game comparisons as infrequently as possible, but this one is just impossible to ignore.
Simultaneously, WarGroove is atomically simple and systemically enormous. Here's what I mean:
There are infantry units. They have a movement range and can attack other units.
Every unit has a circumstance in which their attacks will critically hit. For example, spearmen critically hit when they're standing next to other friendly spearmen.
Some units have ranged attacks.
Units will always counterattack if they're within range to do so.
There are cavalry units.
There are different kinds of terrain that can protect your units and change how they move around the field.
There are wagons that can load other units and they move differently on roads.
There are commander units that can charge and use special, unique abilities.
There are settlement structures that generate money that can be used by barracks structures to bring reinforcements onto the field, but they can only be captured by infantry units and they also have their own health bars that can be used to heal your units and and and
It starts to sound dizzying in its complexity, but this is all taught to you one digestible piece at a time in such a way that I wasn't sure when I had finished the tutorial and when I had started the main game. Truly, that's exactly how it should be done. The onboarding process for a game is just as important as the "I fully understand how to play" phase and WarGroove is an excellent game to lead by example.
In between intense, strategic battles are these gorgeous little cutscenes that play out the game's story
In this one, Caesar is, as always, being a Very Good Dog and growling at Valder, the lone living, human antagonist whose minions include loads of skeletons, the previously-mentioned vampire, Sigrid, and a shambling hodge-podge of warriors sewn into one very angry person, Ragna.
When you're not fighting things or learning about the things you'll be fighting, you can also access an expansive Codex, including story entries, technical entries, world lore, and an overview of the game's rules. In this one, Caesar is, as always, being a Very Good Dog.
Did I mention that Caesar is also one of the game's commanders and that dogs are a unit type? Both of those things are true.
We could stop here and WarGroove would be an excellent strategy game that I would recommend wholeheartedly, but we aren't done. Not even close, really.
WarGroove has a fully-featured editor in the game, as well
Note that I didn't say "campaign" editor or "map" editor, because I mean full editor. You can make solo maps, you can make campaigns, you can make dialogue and cutscenes, you can make co-op maps, and you can make multiplayer competitive maps. I didn't mention that? Beyond the solo story campaign, WarGroove has both competitive and cooperative multiplayer, arcade mode, and puzzle mode. Every way you can think of to play this game is a fully fleshed-out mode of play.
In these map types, you can also set all sorts of custom settings in an array of options that just feels absolutely dizzying. I think the only thing this editor doesn't include is an undo button, weirdly enough. Still, you can make the entirety of WarGroove inside of WarGroove and that feels absolutely wild to me. As someone whose first foray into digital game development was the Starcraft editor, I'm here to say that this one is excellent.
When you've finished a map you can upload it, where it's discoverable organically or directly with a code that you get for it. I decided to check what kind of user-generated content was out there and was immediately floored by the creativity of this community.
I damn near fell out of my chair at this one. Are you kidding me? Chucklefish have not only released a stellar strategy game, but they have also released everything players need to create an infinite number of scenarios inside of it.
I've been making deterministic strategy games for years now and I'm impressed by everything WarGroove does.
My complaints are minor, limited to issues summarized with no more than a bullet point each:
The act of selecting units and where to move them is a little bit clunky with a controller (and probably feels better with a touch screen or mouse, but I reviewed this one on PS4). You get used to it and this becomes relatively invisible fairly quickly.
There's no singular way to see the danger zones on the map. You can highlight individual enemy units and see where they can move and attack, but there's no way to see all of them at once.
There's no undo button in the custom editor.
Sometimes once you've tipped past the point of, "I'm definitely going to win this level," getting through the rest of it can be repetitive.
WarGroove is everything I want in a deterministic (i.e. non-random) strategy game, from an engaging story mode to an impossibly large myriad of alternative modes of play, plus a fully-featured editor to make whatever content you could possibly want in this world. If you like games like Advance Wars, get this one post-haste. If you don't, I really don't know how you read this far into the article.
Jake reviewed WarGroove on PS4 with a code from the developers. It's way better than his own deterministic strategy war game. WarGroove is available now on PS4, Nintendo Switch, Xbox One, and Windows.
Technical note: Please don't bitch at Chucklefish for no PS4 cross-play, because it's Sony's fault. In this ResetEra thread, the CEO states, "We were told no." We're not sure where to direct frustrations about this issue, but we can say that Sony's support forum is located here.
Curious what our scores mean? Find out more in our comprehensive guide to Understanding KnowTechie's Game Review Scoring.
Editors' Recommendations:
The Good
Snappy, smart, well-designed strategy
A fully realized editor
Tons of modes of play, including cross-platform multiplayer*
The Bad
Occasionally fidgety controls
Just a few missing features
*Cross-platform multiplayer doesn't include PS4
Follow us on Flipboard, Google News, or Apple News