Review: SCUF Infinity 4PS Pro – The ultimate competition controller
All the utility of an Elite controller, with a focus on streamlining performance.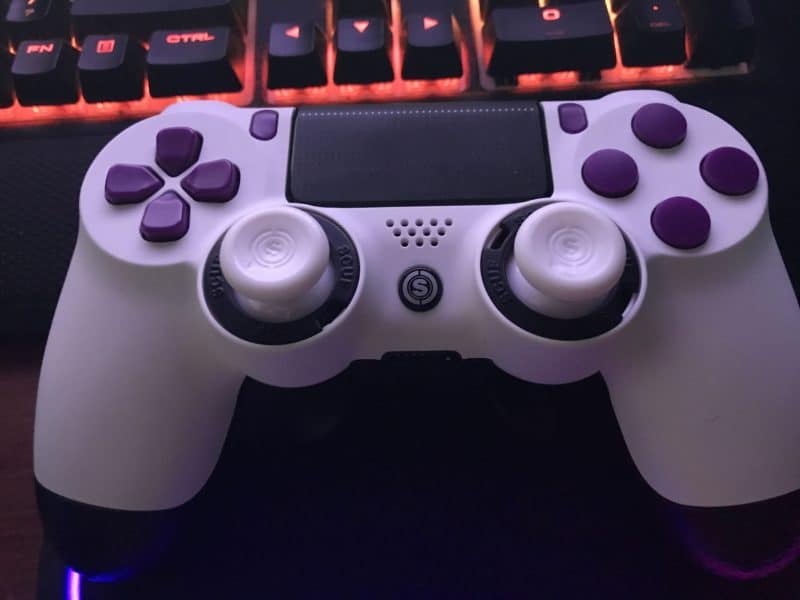 At this point in the game, you probably don't need anyone to tell you about SCUF Gaming as a brand. They certainly aren't the only custom controller company – in fact, some of their competitors such as Evil Controllers have actually been around longer than they have – but SCUF has always found a way to not only outperform but completely dominate their competition. SCUF controllers can be found all over the place, including use and sponsorship with some of the best-known players and organizations in competitive gaming.
Xbox created the Xbox Elite controller to give players more utility and customization options with paddles that allow your idle fingers to press the face buttons from the back – but compared to the work that SCUF has been doing since the Xbox 360 days, the Elite controller feels like a half-cocked copycat.
In fact, SCUF is so good at it that Microsoft made them an official 3rd party controller for professional gaming. When Activision decided to swap the lead platform for Call of Duty over to the PlayStation brand with Black Ops III, SCUF saw a prime opportunity to capitalize on the lack of Sony's first-party premium controller. The SCUF Infinity 4PS Pro serves as the middle ground for those who are focused on precision tactical ability without having to expand the familiar body size of Sony's legendary Dualshock.
Featuring two paddles on the back as opposed to four, the SCUF Infinity 4PS Pro is a return to the roots that made SCUF a famous name in the third-party controller scene. With only two paddles, the curvature of the plastic rests even more comfortably where your fingers sit idly when normally playing. This design not only makes for a more natural grip but even if you aren't actively using the paddles the plastic serves as a finger rest that helps to stave off hand fatigue because your fingers aren't just floating in space.
If you don't like the paddles or don't want the extra bulk, you can quickly slide them off their railing system – which also gives you access to quickly smash in the buttons that are normally triggered by the paddle presses. I'm not sure if removing the paddles make actions any quicker or not, but since previous modified PlayStation controllers had stationary paddles, the option to remove them is always a good thing.
Even if the shortcut paddles don't appeal to you, SCUF's Infinity 4PS Pro still offers all of the same great features you'll find on their entire lineup of controllers – a textured grip coating on the rear plastic to help prevent controller slippage, elongated triggers to help make sure your button presses are accurate (cause on the standard PS4 controller it's easy for your fingers to slide off the back of the L2/R2 triggers causing button presses to not hit the actuator and register correctly), a patented key lock and ring system that allows for quick access to completely replace and clean/swap out thumb sticks, and discreetly installed trigger stops which ensure the buttons only have to be pressed down far enough to register a command – which saves you precious milliseconds when you're in a firefight.
Compared to their competition which favors the design of the Xbox Elite's magnetic swappable thumb sticks, SCUF's design allows (easily swap SCUF's sticks out for anything you want – I put glow in the dark domed sticks on mine) for more options and with direct access to the analog stick housing you can keep your controller free of debris prolonging the life of your controller.
The quality of these controllers is incredible, but it comes with a price – as SCUF's Infinity 4PS Pro starts at $129.99. Keep in mind though that SCUF uses official first party Sony Dualshock 4 controllers, the newest version of the light bar inside the touchpad, and that's half the controller cost alone.
SCUF realizes that the price can seem a little steep for those who are new to the customized controller space so they'll allow you to send in your own controller and they'll turn it into an Infinity 4PS Pro starting at $59.99. If you manage to snag a controller on sale this can actually beat SCUF's standard pricing and welcomes you into the fold when you're able to afford it. If you're looking to increase your performance, SCUF's Infinity 4PS Pro will definitely help improve your timing – but no controller in the world will help you suck less, so you're still gonna have to put in the work if you wanna climb the ranks.
Simply put, SCUF's Infinity 4PS Pro is the best competitive controller available on the market today. Absolutely no one even comes close on the PlayStation side.
Follow us on Flipboard, Google News, or Apple News