Sexual wellness app Fantasy Match offers a holistic approach to intimacy
The Kama Sutra was originally written in Sanskrit. This app is easier to read.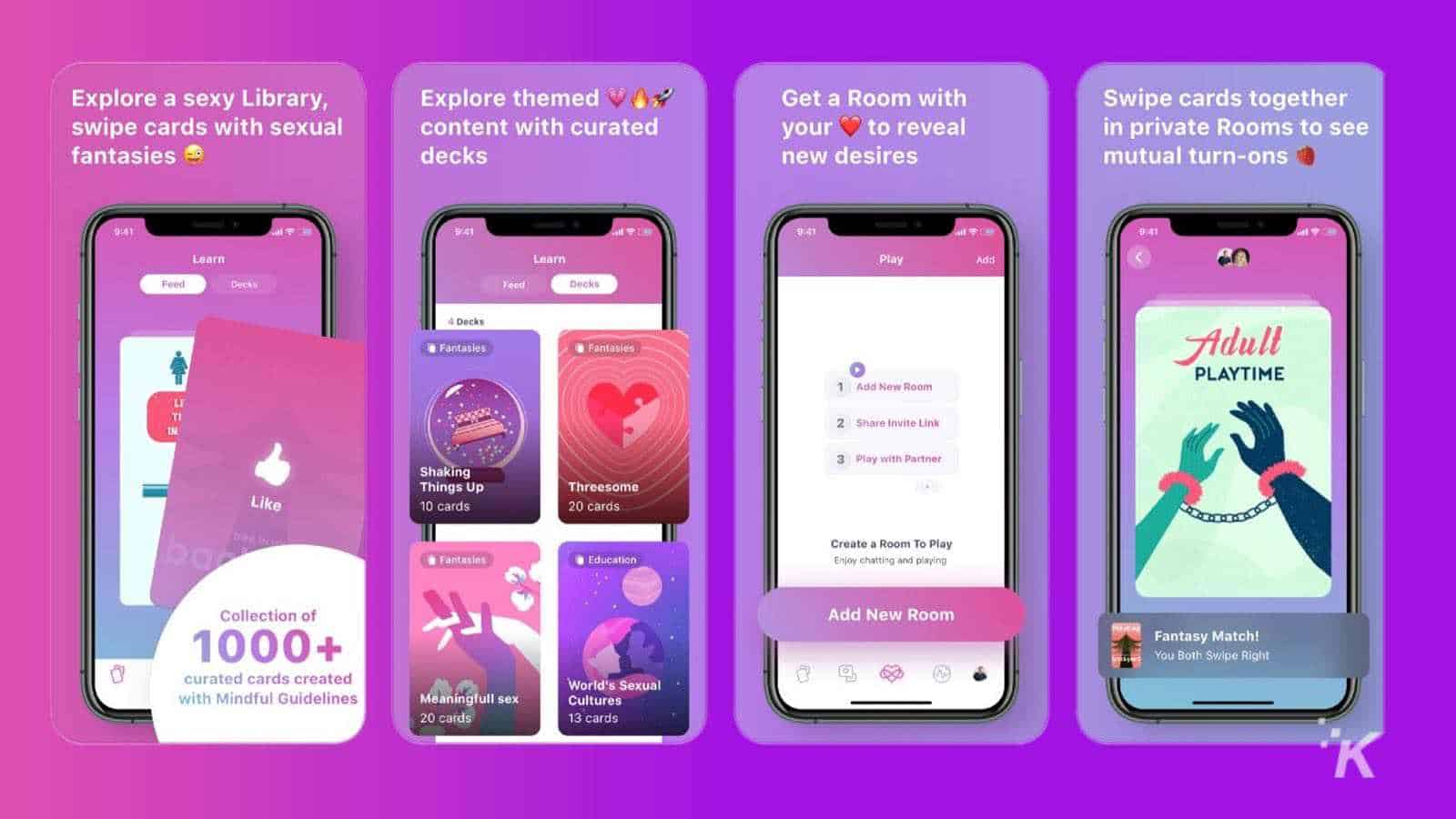 The world is full of sex. Going back millennia. To this point in time, there really hasn't been an app that presents historical, cultural, and current sexual information related to sex itself, love, and morality for our shared consumption. Most sex-adjacent apps are strictly dating apps, cesspools of humanity bubbling with hormones and emojis. Not Fantasy Match, a sexual wellness platform launching today on iOS.
There is a lot to digest with Fantasy Match. In a long-form Medium post, CEO and founder Andrew Yaroshenko lays out not only the app's functionality, but a vision of bringing centuries of sexual education and wellness to the masses with a female-pleasure-centric discourse, yet the gender-fluid view of sexual health. Basically, no matter your gender, there is still pleasure to be had and sexual openness to achieve.
The app itself has three sections: Learn, Play, and Flirt. Each user profile is set to private by default and the Flirt section (which shares your profile with the greater user base) is opt-in only. There is a privacy focus with Fantasy Match, as it is both intended for couples to use to expand their sexual health and communication as well as singles to connect with other freedom seekers.
"We are putting together one of the world's largest sexual fantasy libraries," says Juliya Yaroshenko, Chief Pleasure Officer and a practicing sexologist at Fantasy Match. Juliya stresses that helping users understand and communicate desires — especially when it comes to female pleasure — will lead to not only spicing up foreplay but bridging the gap between sexuality and mindfulness.
"Users can swipe illustrated erotic fantasy cards with their partner to see mutual turn-ons, bringing novelty and much-needed intimacy into the bedroom," continues Juliya. "Singles, in turn, can reflect on their desires and use it as storage of their spicy fantasies."
We all need healthy storage space for our spicy fantasies. There is now an app for that.
The Learn section of the app is where users can find free and paid content in decks with thousands of sexual fantasy cards to spark the imagination. There are also educational cards to help improve sexual IQ, expand knowledge about sensuality, fantasies, and sexual cultures. This section isn't full of overt pornography and Fantasy Match has gone to great lengths to ensure that the content is not offensive or disturbing, but educationally sound by focusing on extensive cultural research spanning ancient Sanskrit, modern authors, anthropologists, psychiatrists, philosophers, and sociologists.
The Play section is where couples can swipe through erotic cards in private rooms and see mutual turn-ons and what not. Users can invite their existing partners or new friends using direct invite links. Only mutual cards can be seen and it's a good way for couples to spark conversation and find out that yeah, they both like that.
The Flirt section (turned off by default) is where users can get in on some of that swiping action (because what sex-adjacent app can exist without some form of swiping) to find either like-minded singles or open-minded couples. This is the community aspect of the app and all users have to create a profile and provide their information in order to create a safe community with transparency and accountability.
Users can use the Learn section without personal information visible in the app. The Play section only shows profile information when a link to a room is shared. The Flirt section, once activated, creates a public profile. Nude photos are prohibited. Illegal content is, of course, prohibited. Moderation is vigilant to keep the community a safe place for sexual exploration, not a festering well of weirdos and harassment.
It's time for sexual wellness and truth in the desire to enter the mainstream consciousness. Too much in our lives is held back because of hundreds of years of puritan repression. We'd be much better humans if we could accept ourselves and each other without judgment and without shame. While we wait another few centuries for that to happen, at least Fantasy Match is existed to help those of us willing to expand our sexual knowledge-base.
Have any thoughts on this? Plan on giving Fantasy Match a shot? Let us know down below in the comments or carry the discussion over to our Twitter or Facebook.
Editors' Recommendations:
Follow us on Flipboard, Google News, or Apple News