Starfighter Inc is the spiritual successor to Star Wars X-Wing Vs TIE
Sign me tf up.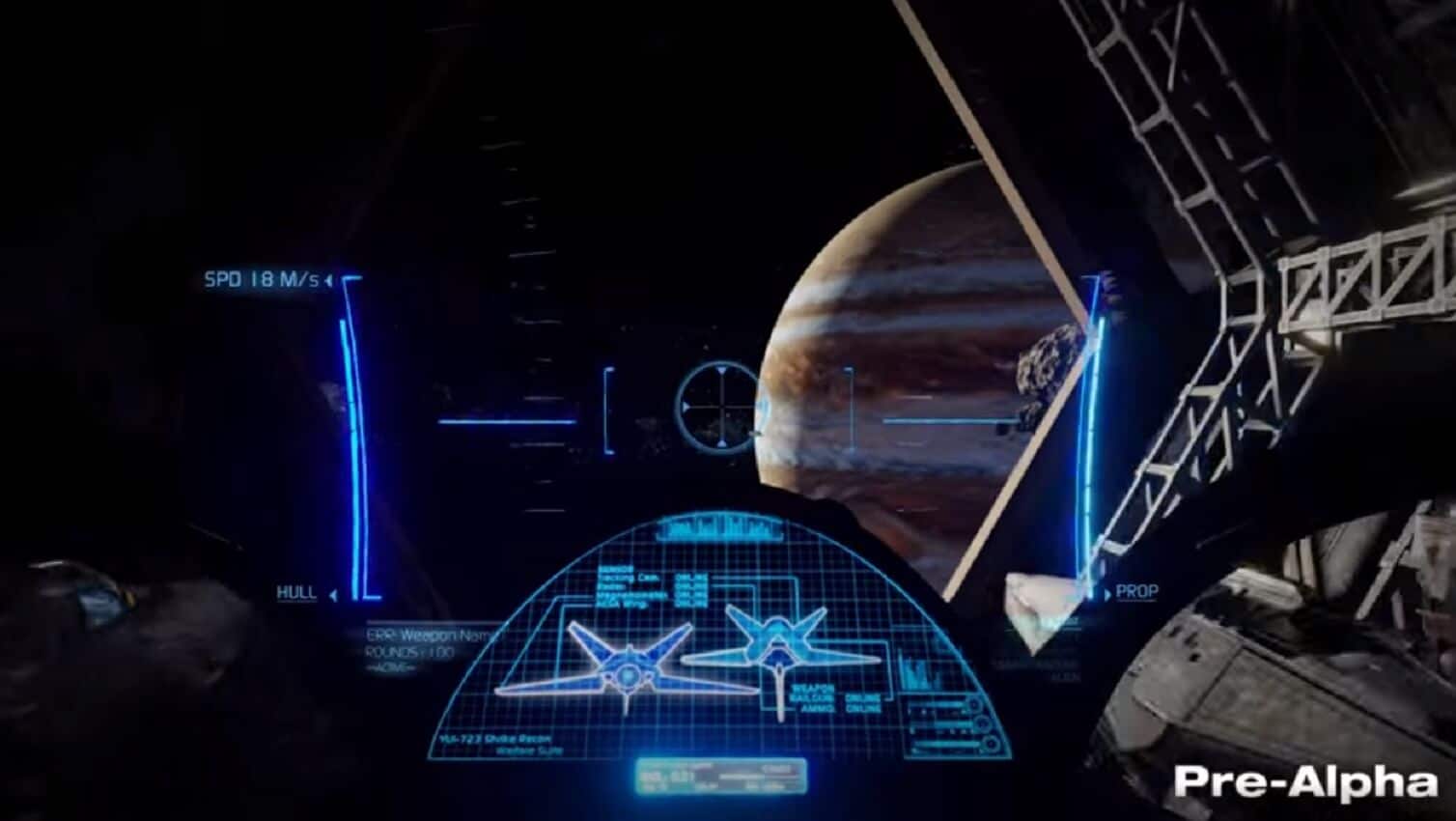 With Star Citizen in a never-ending cycle of hype and missed deadlines, there's a gaping hole in the space sim market big enough to drive a Corellian Freighter through. My generation grew up playing frantic action sim titles such as Star Wars X-Wing Vs TIE, and there really hasn't been anything that captures that feeling. That may change soon with Starfighter Inc (working title) from Impeller Studios.
Starfighter Inc. has some pedigreed names behind it. Jack Mamais, the game's director has been at the forefront of games franchises such as Crysis, Far Cry, MechWarrior 2 and Heavy Gear 2. David Wessman, the game's Senior Producer (and Evangelist) worked as gameplay and story lead on the X-Wing vs TIE Fighter series, as well as roles in the development of games such as Saints Row, The Chronicles of Riddick: Escape From Butcher Bay and Blood Wake.
Skilled operator
They envision a "hardcore team-based PvP multiplayer space shooter game" for PC and VR, that's primarily based on skill. They want you to have that feeling of accomplishment when winning that only comes through mastering your ship and defeating other player-controlled characters. With that in mind, they want Starfighter Inc. to be the "thinking person's shooter that requires a high level of situational awareness and superior tactics" to compete in.
Twin Galaxies had the chance to talk to the pair of them about the game recently, garnering all kinds of interesting tidbits.
According to them, Impeller Studios want to bring "realism and flight mechanics," there really isn't anything like Starfighter Inc. First and foremost, Starfighter Inc. is laser-focused on creating a realistic space combat experience of unparalleled intensity and realism."

"We're not trying to be all things to all people," Jack Mamais explained. "Games like Star Citizen and Elite: Dangerous are BIG games that offer a lot of different play types. They're absolutely amazing, but combat isn't their main focus."
So, big ambitions tempered by a core expectation, which should help them in their development efforts. Here's some early Alpha footage of the game:
Now for the science bit
The team wants to move the Space Sim genre forward, with a hard science fiction thrust. Everything is designed in consultation with rocket scientists, aerospace engineers, and military pilots. They feel that most remakes of 90's sims are trying to get that feel back while keeping the fantasy, and that's not the direction they want to go in. It makes sense, and the way has been paved with more and more movies being hard science.
Speaking of movies, the team has brought in some heavy hitters from Hollywood. Tim Hoffman, whose visual design experience started in MechWarrior 2, also lists major Hollywood and Comic franchises on his resume, such as Firefly, Pacific Rim, Game of Thrones and Marvel's Agents of SHIELD. This overlap between Hollywood and gaming has been a long-running theme, especially in space sims.
Realistic controls
With traditional spacefaring games, the need for a joystick is front and center. Impeller Studios say that they have partnered with controller manufacturers, including Logitech and Thrustmaster to ensure that those who want to use other peripherals, can. Even the near ubiquitous Xbox controller will be supported. They say their game needs a lot of bound keys to work, which makes sense as flight sims are generally feature-heavy.
Hard science and realism in games often become manual-heavy or tiresome. There's always a core player base that loves them, but the average gamer who doesn't want to remember multitudes of button presses gets dissuaded quickly. Impeller wants to dispel that preconception, with a focus on keeping players in the dogfighting action. They give the example of today's state of the art fighter jets like the F-35, where they're incredibly complex machines but are magnitudes easier to fly than prior generations. They aim to reduce the player's cognitive load so that they can just concentrate on the task at hand – defeating the enemy.
They want anyone to be able to pick up the game and jump in, regardless of skill level. I liken their approach to chess, where the core rules are fairly simple but mastery takes time. The game is being designed to have layers of customization so players can tailor their own level of immersion.
"Really," Wessmen explained, "the goal of most designers is to create games that are accessible to casual players, and rewarding to players of any skill level. If the game is skill-based, then the more you play, the better you get. And the better you get, the more fun you have. And the more fun you have, the more you want to play. If all goes well, we convert casual players into hardcore players, and there can be no more noble goal for a game designer."
It will also fully support VR, and they're working hard on ensuring you can use the same controllers that you're used to.
Storytime
While games like Elite: Dangerous eschew conventional narrative in favor of player-created ones, Starfighter Inc. is more traditional. Set roughly 200 years from now, in our Solar System, humanity is on a great expansion wave into the outer reaches. Giant megacorps control everything, and intrigue and treachery are rife. Sounds similar to recent series, The Expanse, with a bit of Shadowrun thrown in for good measure. I'm liking what I hear so far, and am interested to see how the mission structure carries on the narrative.
Heading the narrative design is game industry veteran, Rusel DeMaria. He's probably best known for his Star Wars fiction and strategy guides associated with the X-Wing game series and is working on a detailed story that will captivate and keep you intrigued.
Time for some combat
Impeller Studios are working on a similar development tack to the successful Elite: Dangerous. At launch, Starfighter, Inc. has a focus on team-based multiplayer and will also consist of single-player tutorials. Future updates will include a variety of missions that can be played solo or co-op (with up to two wingmen) as well as scripted single-player stories to continue the narrative exposition.
The $170,000 of Kickstarter funding they currently have has set them a 3v3 max dogfighting PvP mode. They always wanted to go much bigger, and expansion is promised as the game evolves and presumably, as funding comes in.
The game is currently in Alpha with early Kickstarter backers and Impeller Studios hoping to enter into a Beta phase in the upcoming weeks. A roll-out to Early Access and retail editions are also on the roadmap.
I like the working moniker, Starfighter Inc. but Jack Mamais says that's not the final trademark, and to expect an announcement and probable Reddit AMA in the near future.
I love space games, having backed Star Citizen all those years ago.. I can't wait for Early Access, finally, I can scratch my itch to fly through the vacuum.
For more information on this incoming game, you can check out their official website and their funded Kickstarter page. I know I will be.
Follow us on Flipboard, Google News, or Apple News