The smart projector that teaches interactive & STEAM learning skills
Here's a smart projector that's designed to help teach kids how to draw like a professional sketch artist.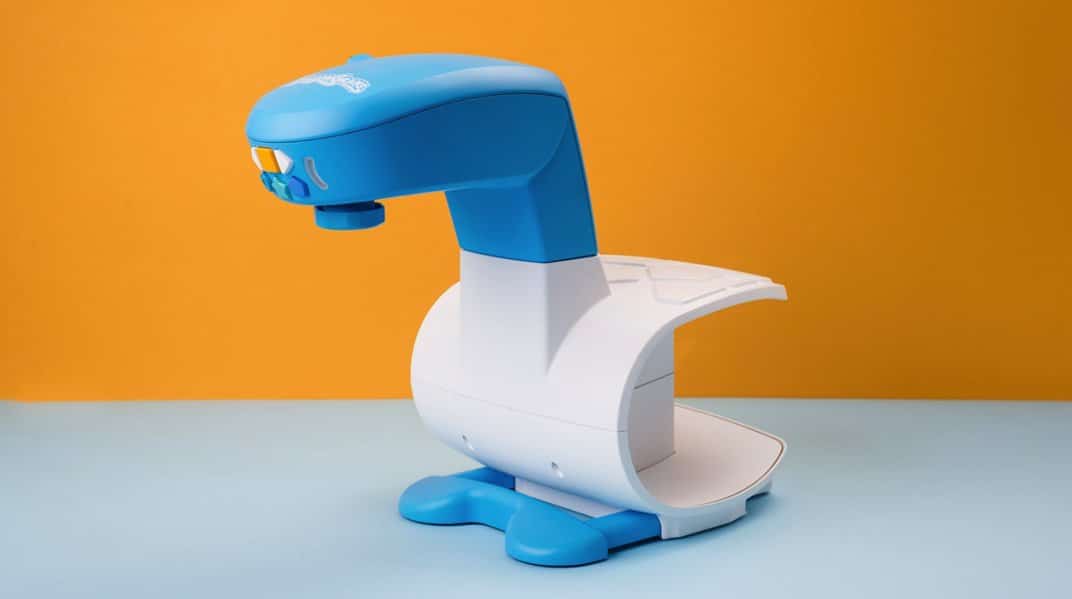 Sure, school teaches the basics when it comes to electricity, but there's always room for improvement. If you're familiar with the technology or educational sectors, then you've undoubtedly heard that STEM is being changed to STEAM to include the arts. This is an initiative that's been widely accepted by various institutions, corporations, and tech professionals.
STEAM learning is a hot topic right now, and the industry is in high demand. As a matter of fact, the demand is so high that the federal government has agreed to extend a provision allowing foreign students who are getting degrees in STEM a 24-month Visa extension. This means that international students will now be able to continue working on STEAM projects even after they've graduated; and with online fraud on the rise, it's reassuring to know that there will be extra help to make the web experience that much safer.
But why is this so important to learn?
Like most students, we need to be engaged in learning and learn in ways that can hold their attention in the same way social media and other internet sites do. The easiest way to do this is by making the material fun and interesting for everyone. The inclusion of smart technologies does this for a wide range of scholars. Something as simple as a video art program has the ability to make learning languages fun. It also prompts young students to solve problems that will, in return, allow them to create projects of their own.  
So, what cool and innovative piece of technology has the ability to teach kids the STEAM skills they need to be successful?
The answer is simple: FollowGrams. This is a smart projector that's designed to help teach kids how to draw like a professional sketch artist. In other words, this projector is a modern take on the idea of projecting an image onto a piece of paper to make it easier for kids to trace. In addition, it also teaches kids their alphabets at an early age. 
How does this projector work?
Currently, there are two main ways the projector can be used. The first is in conjunction with an iOS or Android app that allows users to send images via Bluetooth. Once the image has been selected, a filter is then chosen to help transform it into a more line-based traceable picture.
The second mode, however, is potentially more interesting and provides users with a step-by-step instruction manual showing how to draw a number of different images. In this mode, children can follow lines as they're being displayed onto the paper until the full image has been created. This could help make the process less challenging for young scholars, and teach key drawing skills.
A general rule of thumb: The bigger the screen on the device, the easier it is for children to interact with the image being displayed. An iPhone 7 Plus, for example, would be much easier for a child to operate than a smaller phone. This is because bigger screens allow children to visibly see each and every line as they curve, slant, and tilt in different directions.
How does this design change the way kids learn?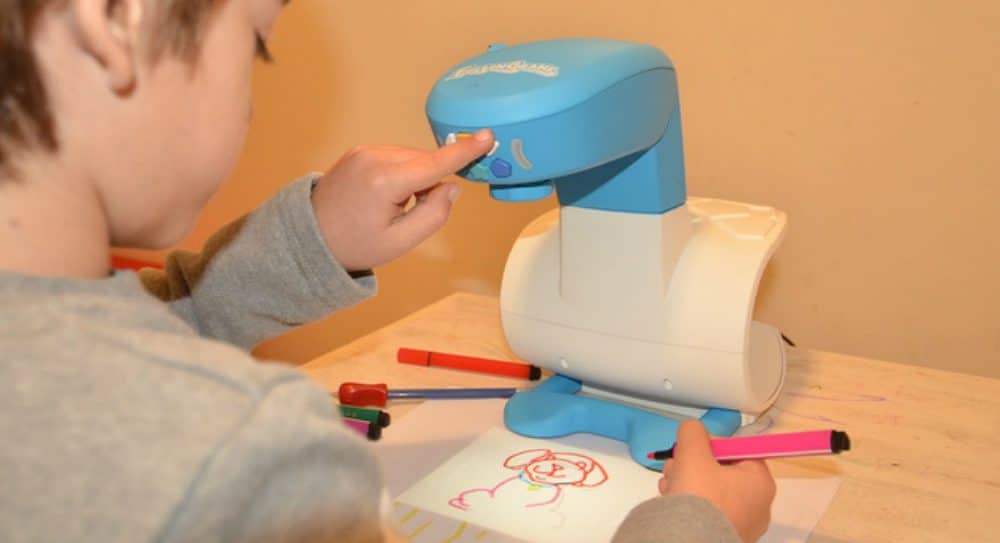 Like board and card games, the FollowGrams projector can help children learn while they are interacting with others in a structured yet playful environment. It's important for children to gain socialization skills in school and at home. Children are naturally egocentric, thinking of themselves as the center of their world, right from the start. With that being said, it takes development and training to teach children to think of others as well as themselves. Furthermore, smart projectors are being used for gaming. 
However, in order for children to learn this successfully, they must learn how to interact with others in a healthy, positive, and productive manner. In order to prepare children in this field, it's vital that parents encourage social interaction, which is just what this cool new innovative toy is designed to do.
Another great benefit of interactive learning is that it can strengthen the bond between a parent and their child. Best of all, this type of game-based learning gives students a custom learning experience. In addition, students are afforded the opportunity to make mistakes in gamification base curricula, correct those mistakes and revisit class content.
How can you continue interactive learning beyond the classroom?
Don't be afraid to ask open-ended questions about their day at school to get a conversation going. The learning benefits that today's technology provides should be embraced and promoted by parents, and other educators alike. That being said, to help improve education technology ask questions. Avoid asking the old "How was your day at school?" question. You'll only get a short response from them. Instead, ask specific questions that revolve around their coursework, and try to find activities that can serve as an extension to what they are learning in their classroom.
Follow us on Flipboard, Google News, or Apple News