A hacked Wall Street Journal post urged people to subscribe to PewDiePie
The most 2018 headline of 2018.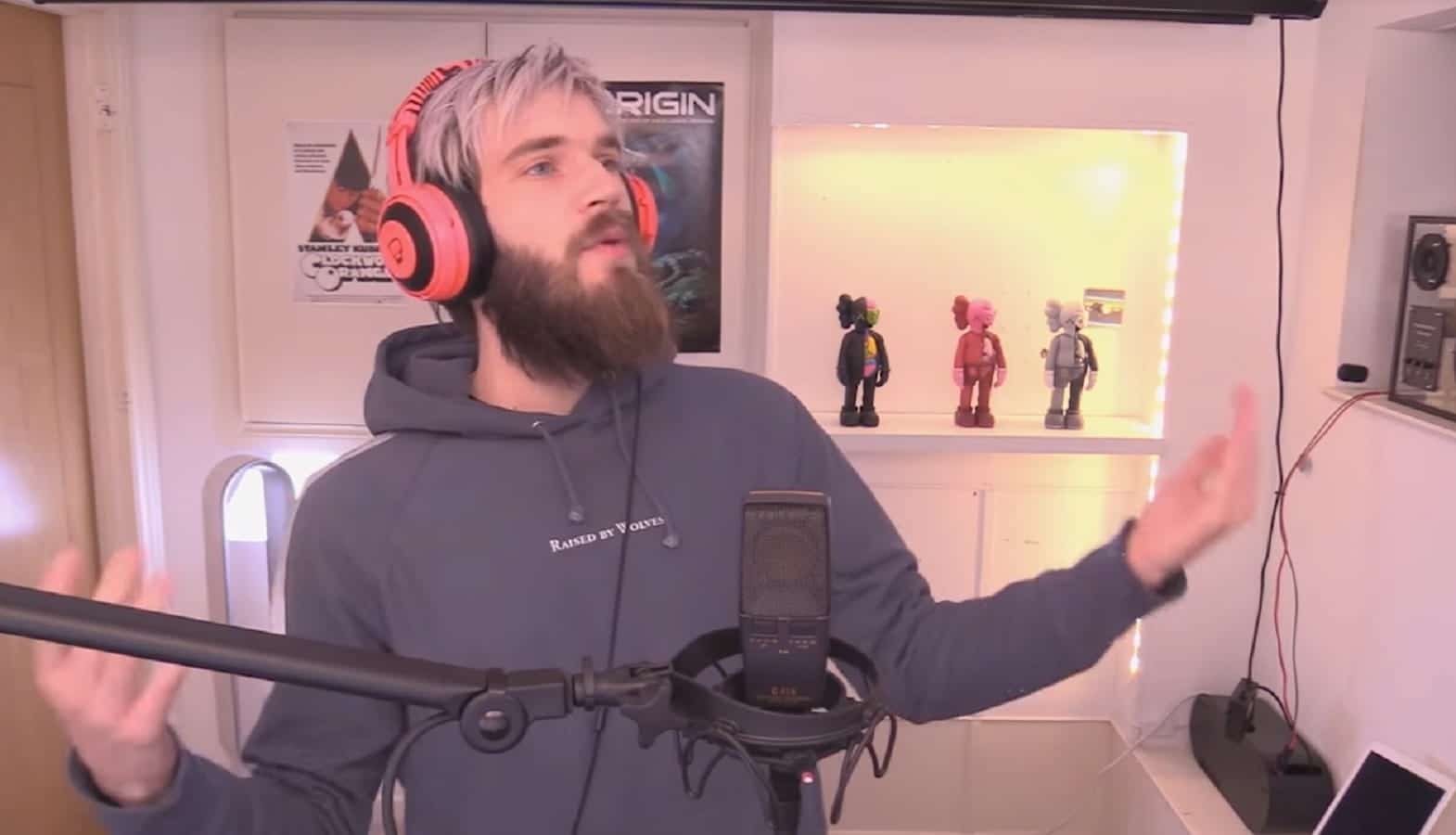 PewDiePie's fans are pretty relentless in their support of the YouTube star. Ever since the pseudo-feud with T-Series, an Indian YouTube channel that posts Bollywood trailers, kicked off, they've been coming up with inventive ways to support their beloved creator.
Now it's the turn of the Wall Street Journal to receive some unwanted attention. A fan (or fans) hacked a sponsored post on the WSJ's Partners site to show a supposed apology from the news outlet to Pewdiepie.
The faked content wanted to "apologize to pewdiepie," going on to say that due to journalistic misrepresentations the outlet would be "sponsoring pewdiepie to reach maximum subscribers and beat Tseries to 80million."
The rest of the posts mimicked the popular meme from VoiceOverPete, where he asks for "your credit card number, expiry date, and the lucky 3 digits on the back to win the chicken dinner [sic] in fortnite."
It didn't take long for the post to be removed
The post was quickly discovered by the WSJ and removed, although nothing put on the internet is ever deleted. Thanks to the Wayback Machine you can still see the hacked message in all its glory.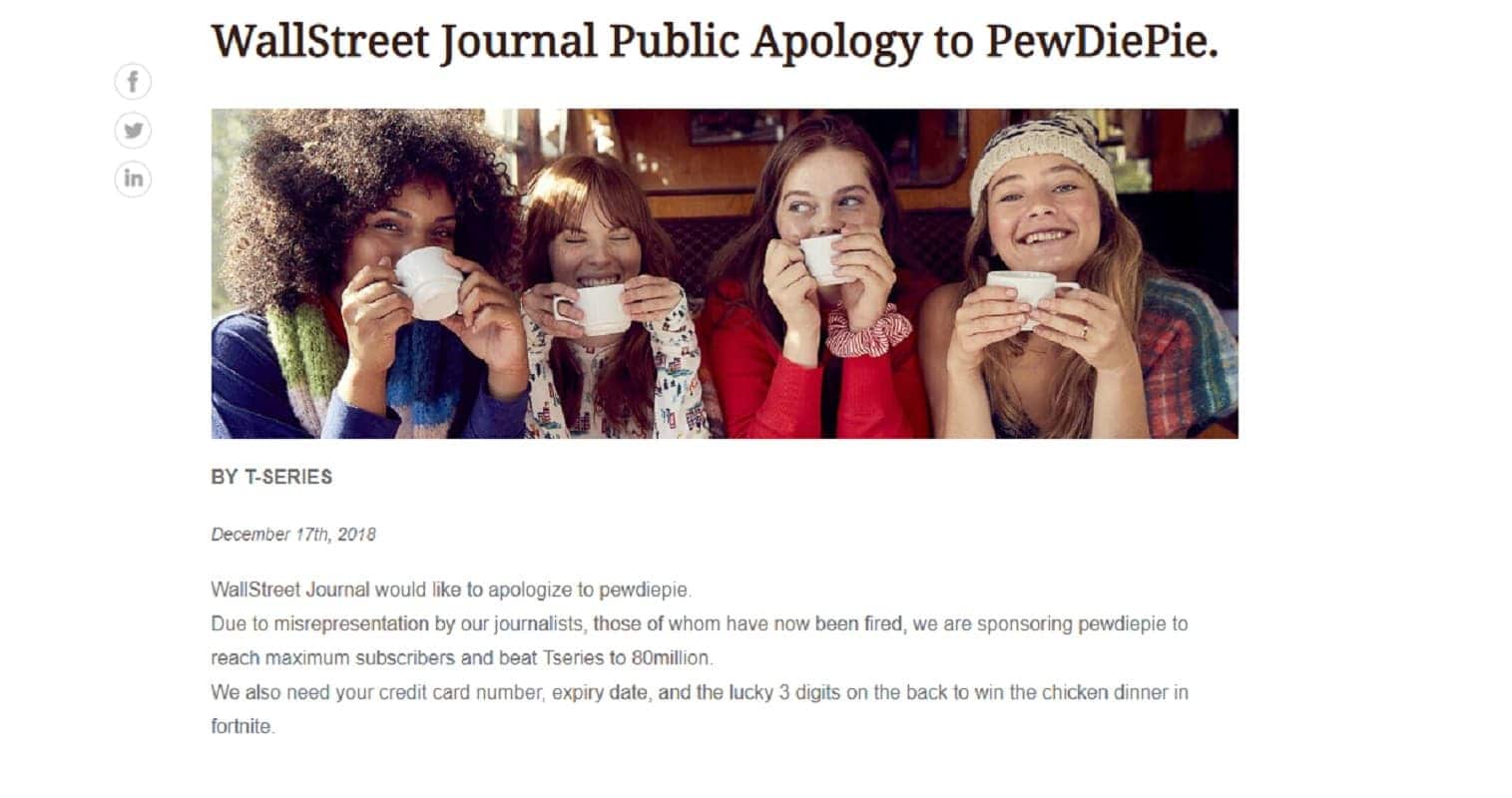 PewDiePie's fans have long considered the Wall Street Journal to be an enemy of their beloved star. That's due to an investigation that the newspaper did into Felix Kjellberg in early 2017, which resulted in the YouTuber losing his sponsorship from Disney, and his YouTube Red series, "Scare Pewdiepie" being canceled.
Don't forget about the printers
This isn't the first time hacking has been used to support PewDiePie. At the beginning of the month, there were reports of people's printers getting hacked to print a pro-PewDiePie message. This hacking reportedly affected 50,000 printers. Just a couple of days ago, the hack was repeated – this time with a supposed total of 100,000 printers.
My Dymo printer just told me that I need to subscribe to @pewdiepie but I'm already a subscriber 😂 pic.twitter.com/Hm7veeyEiO

— Jéssica Llinares (@Thrillka) December 15, 2018
PewDiePie's fans haven't always used illegal means to show their support. YouTuber Markiplier, who has 22 million subs, recently did a recent video titled "I Literally Won't Shut Up Until You Subscribe To PewDiePie."
In it, he literally just rambled on for nearly 50 minutes, with live sub-counts of both PewDiePie and T-Series in the top right-hand corner. During that time, PewDiePie received about 70,000 new subscribers, vs about 5,000 for T-Series. While it's presumptuous to assume all of those subs came from the video, it must have helped.
YouTube also got into the act, removing thousands of spam subscriptions from the two channels, the majority of which came from T-Series' channel subscriber count. T-Series lost over 300,000 in total, where PewDiePie lost about 80,000.
Have you subscribed to PewDiePie? Let us know down below in the comments or carry the discussion over to our Twitter or Facebook.
Editors' Recommendations:
Follow us on Flipboard, Google News, or Apple News