Airtame makes presentations to multiple screens a breeze
Wireless doesn't have to be difficult.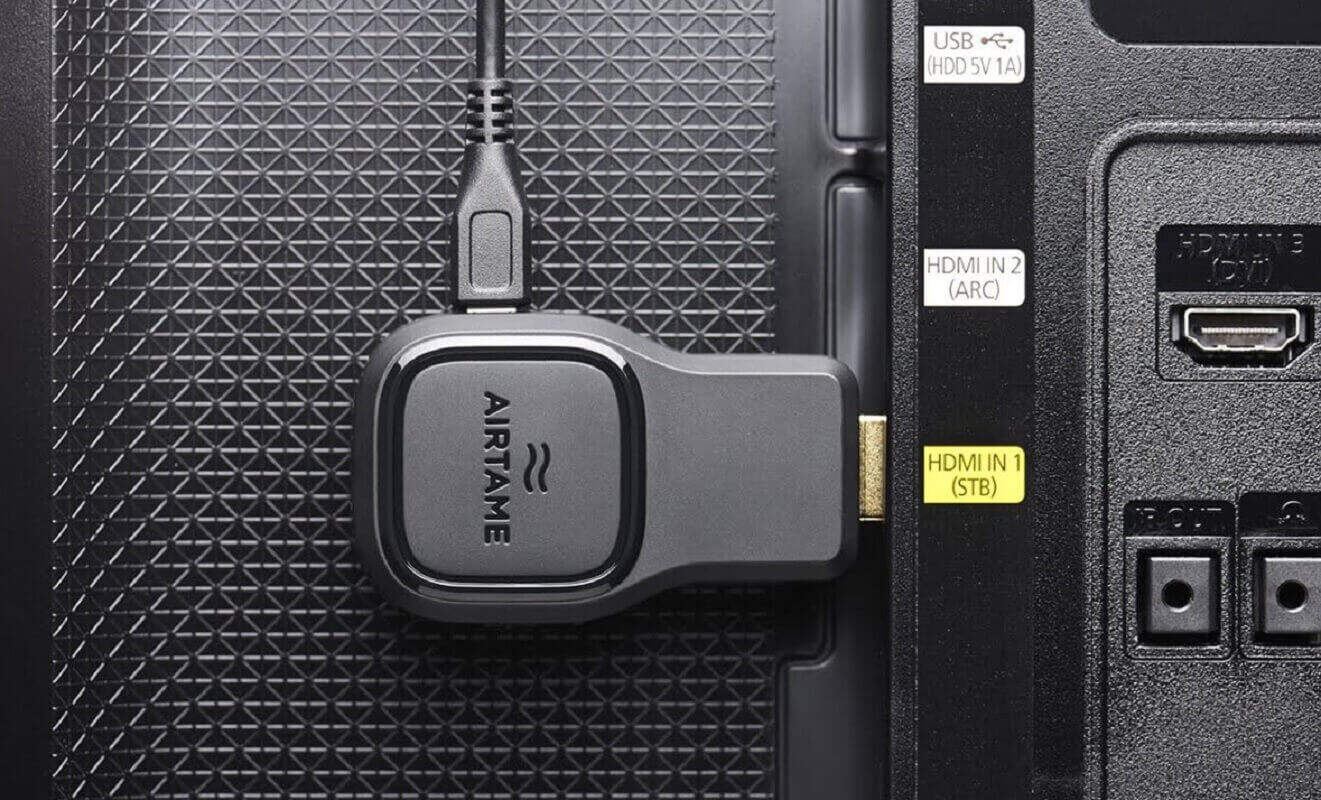 Display methods used with presentations are still stuck in the 90's. VGA, wired everything and if you're lucky – HDMI to plug your laptop in without a dongle. What if you want to display on multiple screens? Use your mobile device instead of a laptop? Currently, you're limited in what devices you can use for presentations, digital signage and other uses around the workplace.
Enter Danish startup Airtame, which promises to revolutionize wireless sharing in the workplace, similar to how Google has changed wireless streaming of content with Chromecast. The Airtame dongle plugs directly into the HDMI port of the TV/sign/projector and enables anyone with the companion app on their device to connect with one click to share content.
Yes, one click. I remember WiDi, Intel's ill-fated attempt to build wireless sharing into every Intel-equipped laptop. I even bought an expensive Samsung laptop because of it. I can tell you – it was anything but easy to use. This system from Airtame looks effortless, can connect to multiple screens (each with an Airtame device plugged in) and is completely platform-agnostic. No more being tied to a particular ecosystem, the one device can support Windows, Mac, Ubuntu Linux, Chromebook, iOS, and Android, and any screen (or projector) that has an HDMI port.
It's definitely aimed at businesses and education use, with an ease of use that looks impressive. The Airtame will pull WiFi details from the device you use to set it up with, so you don't even have to type in the password. If multicast is enabled on your network, the app will automatically find the device and connect. Otherwise, you can still navigate to it with the IP address that the device shows on the screen that it's plugged into.
When you're not using the Airtame to mirror presentation materials, you can customize the standard text it shows to add relevant company information – or even have it display a website. That turns the Airtame into a handy digital sign, so you could show a dashboard of KPIs or a Kanban board or even the schedule for the meeting room that it's in.
iOS devices let you mirror the whole screen, while on Android you're limited to a number of file types through the companion app. That's still enough to run presentations in the current state, and Android screen mirroring is planned for the future. You can also centrally manage multiple devices from the Airtame Cloud, which is a lifesaver for organization-wide deployments.
As it's aimed at organizational use, the device supports all the usual enterprise level WiFi security types, and you can even set it to use the WiFi off your device, for example, if you're in a hotel and you don't want data going through the local network.
The Airtame device isn't cheap, retailing at $299 (or $249 if you buy more than 10), but the simplicity that it offers for enterprise-level management is definitely appealing. Especially in a BYOD environment, the Airtame might just be the best solution for all those devices. Screen mirroring across the wide range of operating systems and devices is impressive, and the cloud-based management means you don't have to physically be there to run tech support.
What do you think of the Airtame? What other use cases can you think of? Let us know below.
For more tech and gaming news, check out: