Five reasons I'm not buying into Amazon's Fire Phone
Amazon announced some big news yesterday – the long-awaited launch of their new smartphone, Amazon Fire Phone.
Amazon announced its widely-anticipated smartphone yesterday, making it the third addition to its "Fire" line of hardware. The announcement was held in Seattle, in front of a crowd of 300 select customers and members of the press.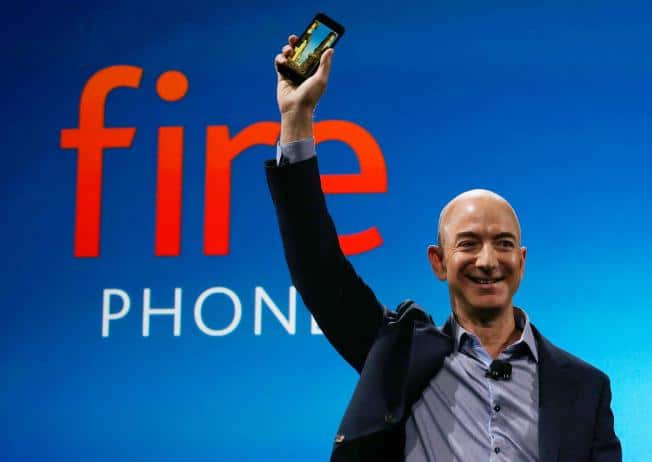 While I listened to Amazon's CEO, Jeff Bezos, speak through CNET's live blog and commentary, it rapidly became clear: The Fire Phone is nothing more than an Amazon app within an imitation iPhone, decorated with bells and whistles. It's simply a tool to Buy More Things – especially products from Amazon.
Here are five reasons why I won't be investing in Amazon's Fire Phone
Exclusivity – Amazon's Fire is available exclusively on AT&T's network. I'm a firm believer in not having to commit to a long-term contract, which AT&T requires. If you go with a contract, the phone will run you $199. If you choose not to sign your name in blood, then you're looking at a hefty price of $649. Thanks anyway.
Unfair undercutting of smaller businesses – The phone allows users to scan any barcode and spits out price comparisons along with purchasing options through Amazon.com. Chances are, most customers are going to go with the best price, but where does that leave small businesses, or even midsize bricks-and-mortar retailers? Can they compete with Amazon even in the short term?
I don't want to be signed into the Mall of America all day – Owning an Amazon phone means you're constantly signed into their store, and it's easier than ever to spend money without thinking twice. Luckily for the average Amazon shopper, this won't be a problem, as their yearly income clocks in at $89K, according to this Marketing Charts report.
First is always worst – With any sort of new hardware, I always like to wait for the second edition before taking the plunge, just to let all the kinks and bugs sort themselves out. Remember Android's first phone, the G1? It was an amazing device, because there was really nothing to compare it to. Then came the G2X and suddenly a rush of improvements came rolling in. So, I'll patiently wait for version 2.0 of the Fire Phone, which I'll bet will be vastly improved.
I genuinely don't want to cheat on Google – I'm an avid Android fan and have a bunch of apps and tools that really are handy. Switching over to an Amazon Fire Phone means adapting to a new OS. I don't much like change, especially to an OS that doesn't even have Instagram in its marketplace. Again, I'll just wait and see.
On the flip side, this phone is loaded with cool features and services that many of you will want to check out. Despite the bells and whistles, I just can't get past the fact that we're seeing our most powerful online retailer create a cellphone. It seems many are similarly cynical about the genesis of this device.
An Amazon phone doesn't have to be a bad thing, but with all the negative publicity the company has received as of late, it certainly feels more than a bit sinister.
Follow us on Flipboard, Google News, or Apple News