Daily Read – TGIF Edition – 6/6/2014
Some really great stuff today in todays daily read, check it out on the way home from work, or while you're on the pooper.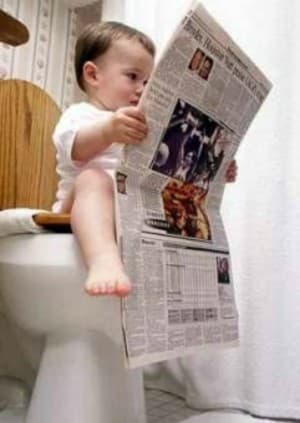 (www.vox.com)
"Netflix app blaming Verizon for the poor quality of Yuri's Netflix streaming. The accusation provoked an angry response from Verizon, who insists that Netflix, not Verizon, is to blame for the poor performance of Netflix streaming on its network"
(www.theweek.com)
"Surely one of the joys of parenthood are all the happy occasions to judge other parents inferior. But should we arrest them? This week Salon published a heartrending story by a mother who let her child play with an iPad in the car while she went into a store for a few minutes."
(www.slate.com)
"As The Fault in Our Stars barrels into theaters this weekend virtually guaranteed to become a blockbuster, it can be hard to remember that once upon a time, an adult might have felt embarrassed to be caught reading the novel that inspired it."
(www.news.vice.com)
"It's no secret that teenagers can be pretty stupid about their social media habits, and this also seems to be true for kids that may be street smart."
by @alicesperi
(www.TechCrunch.com)
"Omron's technology was modified by an internal team at Amazon to allow its upcoming phone to deliver unique stereoscopic effects from a standard LCD screen."
(www.businessinsider.com)
"As much as I loved my brother, I could not understand his obsession with OxyContin. Nor did I know that it had put him straight on the path to heroin."
by Erin Marie Daly
(www.wired.com)
"When iOS 8 hits, the notification center is going to be the most important screen in your smartphone.
"
(www.recode.net)
"Dish says it wants to offer a Web TV service later this year. ESPN and some other Disney channels are on board. Who else could Dish get, if it wants to hit its retail target" price of $30 a month?
Find any good reads out there today? Share them in the comments or shoot them over to my contact page. 
Follow us on Flipboard, Google News, or Apple News