Love hotel in Japan gives you the freedom to 'Dance Dance Revolution' your genitals off
DDR to DTF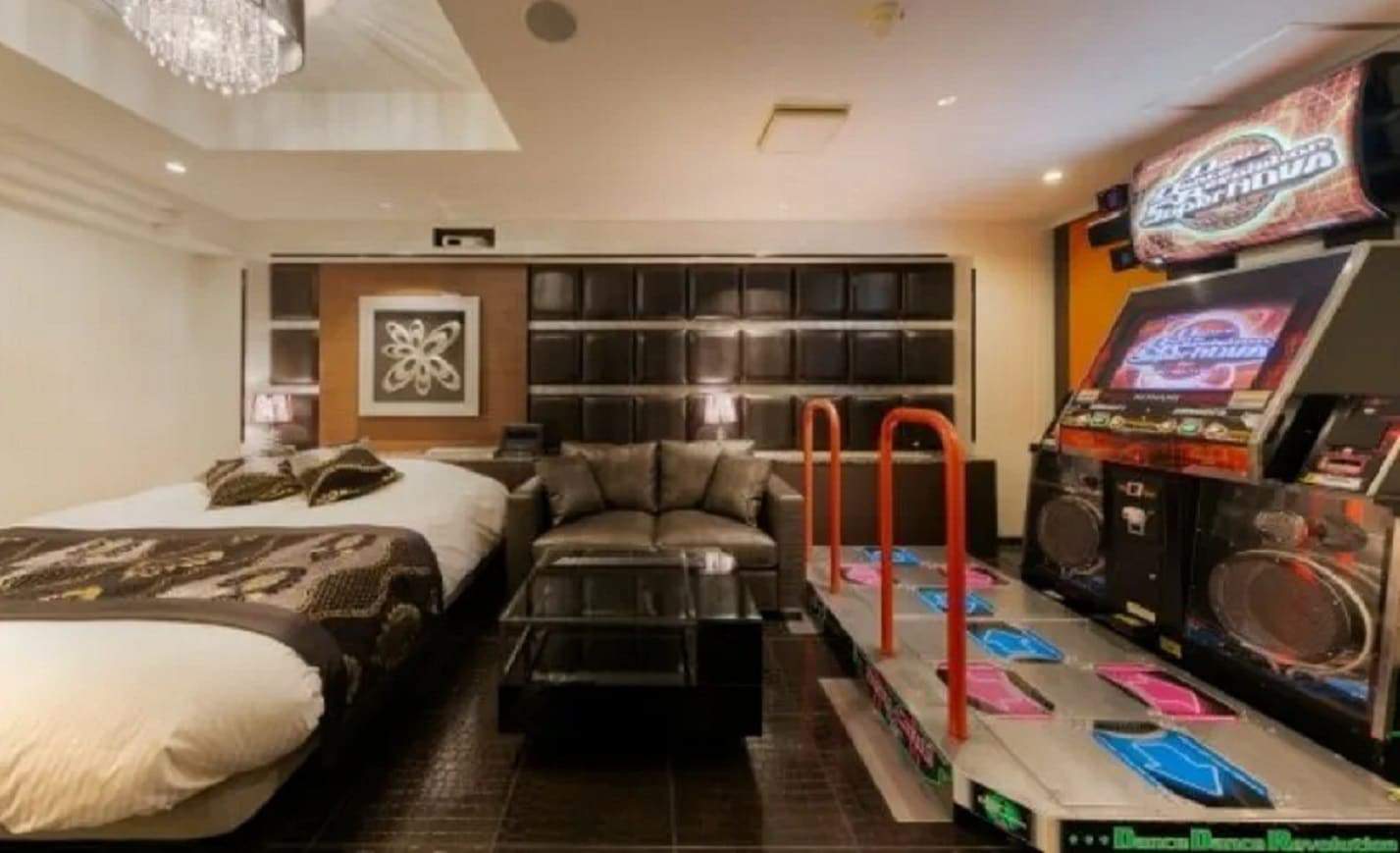 In the United States, we tend to view hourly rate hotels as something of a disgusting blight and a running joke in procedural cop shows. These places are usually portrayed as dingy, black light nightmares that you wouldn't even want your bloated corpse to be discovered in. In Japan, sex hotels are completely different. Bright, clean, engaging temples to the freedom of being a human. And some come equipped with Dance Dance Revolution.
According to Livedoor News, you can rent a room at Hotel Eldia (a Japanese Love Hotel) in Kobe for $58-$67 depending on the day, strip off all the clothes that contain your sweaty skin suit and dance your genitals into a numb slumber on a Dance Dance Revolution Supernova machine. This is what sex hotels should be, not only a place to have quick, midday sex with a person you just met at your Hot Yoga class but a place to swing your skin on the virtual dance floor.
And that's a two-hour rate. While only one room has the Dance Dance Revolution machine, another has some weird giant drum thing. I'm sure that one needs a whole ton of cleaning, because if you aren't drumming with your jangly bits then you aren't really living. Sure, you can have sex in a sex hotel, but you can also have sex in a car parked behind a Tim Horton's. Adding some interactive video game excitement to a sex hotel room makes vibrating beds about as tantalizing as having sex against a warm dumpster.
And then there is the room with the rock climbing wall
There is also another room with a giant slide (bring your own lube) and a rock climbing wall. I'm not sure about the appeal of staring into someone else's bunghole while climbing up a rock wall in a sex hotel room, but everyone has got their something. The point is that this sex hotel truly embraces what it is (it's also a regular hotel with some pretty solid amenities) through offering much more than just a mattress to bang away the banalities of life.
There's part of all of us that wish standard hourly rate hotels were also arcades. Sex and interactive video games go together like hand-stuff and under the bleachers. There is an adrenaline aspect that easily slides from one activity to the next. You don't need a liter of Mountain Dew and a fistful of cocaine to truly get the most out of an hourly rate hotel, you just need the ability to get naked and dance like someone you probably paid is watching.
There are stigmas when it comes to sex, in both the United States and Japan. While Japan does embrace the weird and wonderful with more gusto than the United States ever will (I'm pretty sure most of this country only has missionary sex with their shirts on), it's refreshing to see a new take on giving people an hourly rate hotel option that isn't crawling with perverts, cockroaches and sheets that haven't been changed since Nixon was President.
What do you think? Booking tickets to Japan as we speak? Let us know down below in the comments or carry the discussion over to our Twitter or Facebook.
Editors' Recommendations:
Follow us on Flipboard, Google News, or Apple News